An authorization form is an inseparable part of many apps. Besides, it's one of the stages of the conversion path. That's why developers should pay special attention to it. We will tell you about the importance of authorization forms for marketing in this article.
What authorization is needed for?
The main task of authorization is user personalization in an app. It may seem it's just a formality, but a necessity to register often scares users off and lowers conversion significantly. That's why developers should ask themselves a question about the practicability of registration while creating an app. It's better to avoid it at all, for example, simple games don't need it. But if a specific character of your app doesn't allow you to refuse it, you should be the most careful about choosing the type of authorization. There's a tendency: the more entertaining character an app has, the more conversion decreases while adding a registration.
Types of registration forms:
E-mail
It's a usual method that every internet user knows. But it's not that good for mobile devices as for the web. The main reasons for refusal from registration via e-mail:
The necessity to enter many symbols.
Often a transfer to the web is needed for confirming the registration, it's an additional inconvenience.
Also, some users don't trust an app and are afraid of giving their e-mails, for example, because of possible spam.
From the side of an app owner, several problems with security may appear with such an authorization type:
Possible unhampered creation of fake accounts.
Developer gets a minimum of information about users.
The whole level of security isn't high enough in some cases.
This authorization type is rather unique. You can use it in various apps. It especially suits different business apps: the specific character of the audience is that registration via e-mail almost doesn't affect conversion. And you can also use it for newsletters. Users of business apps are tolerant of them. And you will get an additional marketing channel this way.
Mobile number
It's quite a logical way of authorization for smartphones but its widespread use is impossible due to one reason: low user trust level. However, there's one great advantage of this method: registration process is faster and more simple than of registration via e-mail.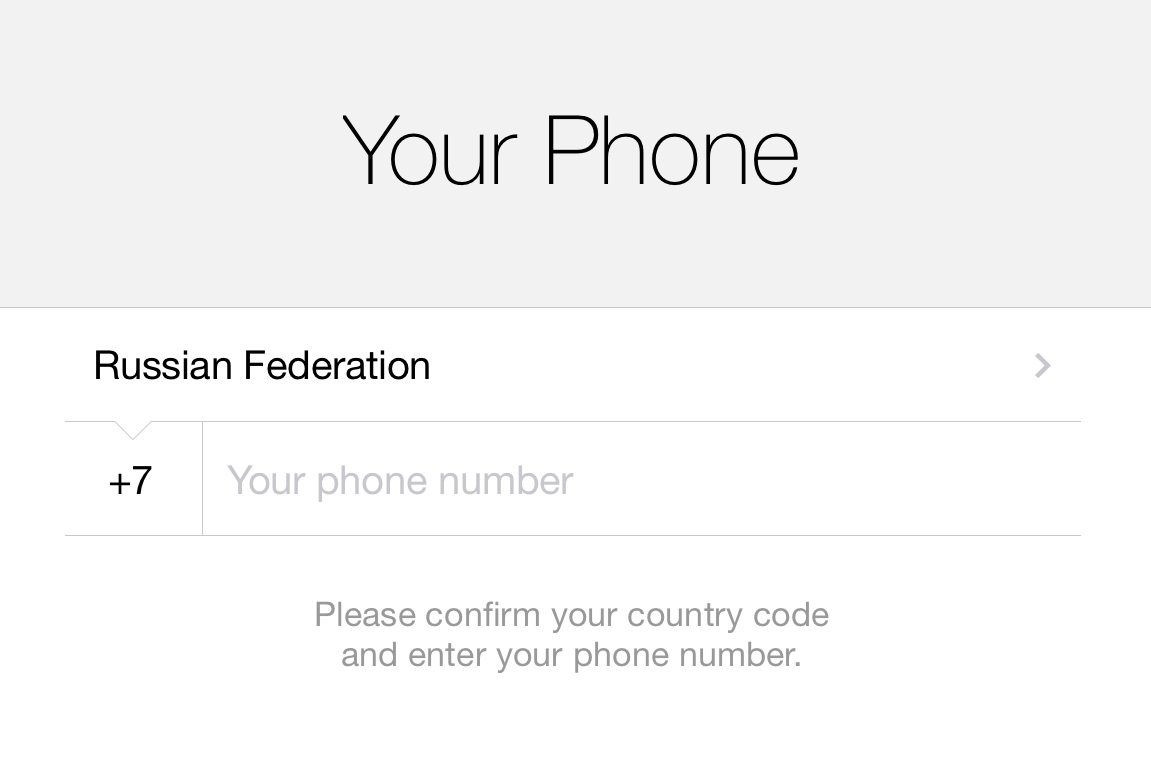 Besides, it's one of the safest registration methods. And the probability of creating fake accounts is quite low. But it's a costly method as you have to pay for SMS delivery. And developers should also remember that password recovery demands sending a message which costs money as well.
This method is great for messengers. For example, Viber, WhatsApp, and many others use it.
Social networks
Nowadays almost all people have accounts on Facebook and other social networks that's why it's a widespread method and it's used in many apps. It's quite simple and demands a minimum of user time.
Such an authorization provides wide possibilities for marketing. When you get user account data, for example, a list of friends, you can use it for getting additional traffic. It's an irreplaceable method for a lion's share of mobile games.
You should take into account the specific features of your audience while using an entry via social networks. You need to answer the following questions:
What social networks are the most popular in the country where you want to release your app?
What social networks do your target users prefer?
For example, authorization via VK and OK is more important than via Facebook. Asia has its own social networks which you should also use. If you use an entry via several social networks, place them in the order of importance. Maybe, you'll have to carry out an additional investigation of your potential audience and make a test.
Other ways of authorization
Some apps use entry via accounts in cloud services, for example, iCloud, Evernote, or DropBox. It's similar to authorization via social networks where data is stored in a cloud, for example, in apps for scanning.
There's also a "registration without registration", i.e. a user doesn't need to take any additional actions, everything happens automatically. It's realized due to a link to a definite device. There's only one advantage — no hindrance on a conversion way, but there are many disadvantages to it. That's why the method is used very rarely.
Sometimes developers use an unusual approach — non-obligatory registration, i.e. you may skip a registration process and register later on. It decreases the level of users who leave after app installation. But the most valuable part of audience — loyal users — do register. The method is suitable not for all the app types, but it uncovers all the advantages in the apps where it's justified.
Combined method
Each method of authorization has its own disadvantages but there's an approach when you can minimize them — a combination of several methods.
Offer users to authorize via e-mail and several social networks. It'll surely increase the conversion rate. But don't make registration via all the possible networks, choose only main ones.
Bank apps
A complex registration form is due to security reasons. It's difficult to make it more simple but the process should be done as clear and transparent as possible. You can use several screens with information in a comprehensible way instead of "sheets" of text.
Besides, try to give alternative variants. For example, the additional possibility to register without "live" contact with a call-center operator.
Ecommerce-apps
It's usually necessary to indicate a great quantity of information in online stores. It's easy to do in the web but it becomes a problem, if doing it on a smartphone. That's why many ecommerce-apps delegate filling out of all the necessary fields to call-centers. A user only indicates a mobile number and an operator calls him/her and gets all the necessary data.
Registration screen
Pay maximum of attention to the registration screen as it's the first thing a user sees after installation. A/B-testing will be good here. Test all the components: from background to the order of buttons for entry via social networks. There are cases when wise testing can increase conversion several times.
Authorization screen should be compact, without any distracting factors. Only the necessary fields and buttons. But this principle doesn't work for all the countries: for example, users from Asia are very suspicious about conciseness, vice versa they like an abundance of information.
If you hope that loyal users will indicate additional data about themselves, make special fields for it which they can open by a special button.
Don't forget that inexperienced people can download your app. Even a simple registration form may evoke difficulties for them. So make hints or simple guides for such users which will help them during a registration process.
There's another important moment which increases conversion significantly — information why you need user data. Tell them why you need their phone number or an e-mail in a comprehensible way.
Useful tips
Don't hide password while it's entered or make such a possibility as an option, for example, by the "Hide" button. It almost doesn't affect safety but it causes additional difficulties for a user.
Use Touch ID for authorization in apps for iPhone 5S and higher. Such an entry is very convenient for users and demands a minimum of time if compared with other authorization methods.
Think thoroughly of a moment when you ask a user to authorize. If a specific character of your apps allows it, then put it aside for some time until users get accustomed to it. For example, dating services allow users to look through profiles and photos of beautiful women and only then they offer to register.
You can use 2-stage registration. The scheme is simple: a user needs to indicate e-mail only at first and fill out additional information sometime later. For example, to indicate age and add a photo. This solution is great for social networks and dating services.
If registration is rather complicated and it's impossible to simplify it, make it a part of a tutorial. This way the registration process won't be a routine for users. This approach is good for games. If you are creative, you can make an adventure out of it and a part of game process.
Try to make an authorization form as clear and simple as possible in order not to scare users off. Don't use it at all, if you can. Explain users why you ask data from them. And carry out testing as it allows to find ideal solutions.
Read more about mobile app promotion