Nowadays powerful project management software can go a long way for the success of your team. A Kanban board tool is an example of an awesome solution that may help teams to visualize where they are spending work time and provides analysis to easily identify and address issues. That is why incorporating a digital Kanban platform into your team can allow your company to reap benefits. 
Today you may find so many Kanban-focused tools to choose from. But which one is the best? What tool will provide you with proper Kanban functionality? We have made this decision easier by narrowing down the range. In this article, we highlight the top Kanban tools available in 2021. But before we get to the list, it is critical to properly understand what Kanban is and why implementing it will benefit your business.
What are Kanban boards?
A Kanban board is a visual tool aimed to provide users with an overview of the current work status and simplify team collaboration. This is the key component of the Kanban method that is applied globally around the world. It helps to improve and enhance different business processes. 
With the help of online colorful Kanban boards, you will be able to accelerate productivity and minimize chaos at your workplace.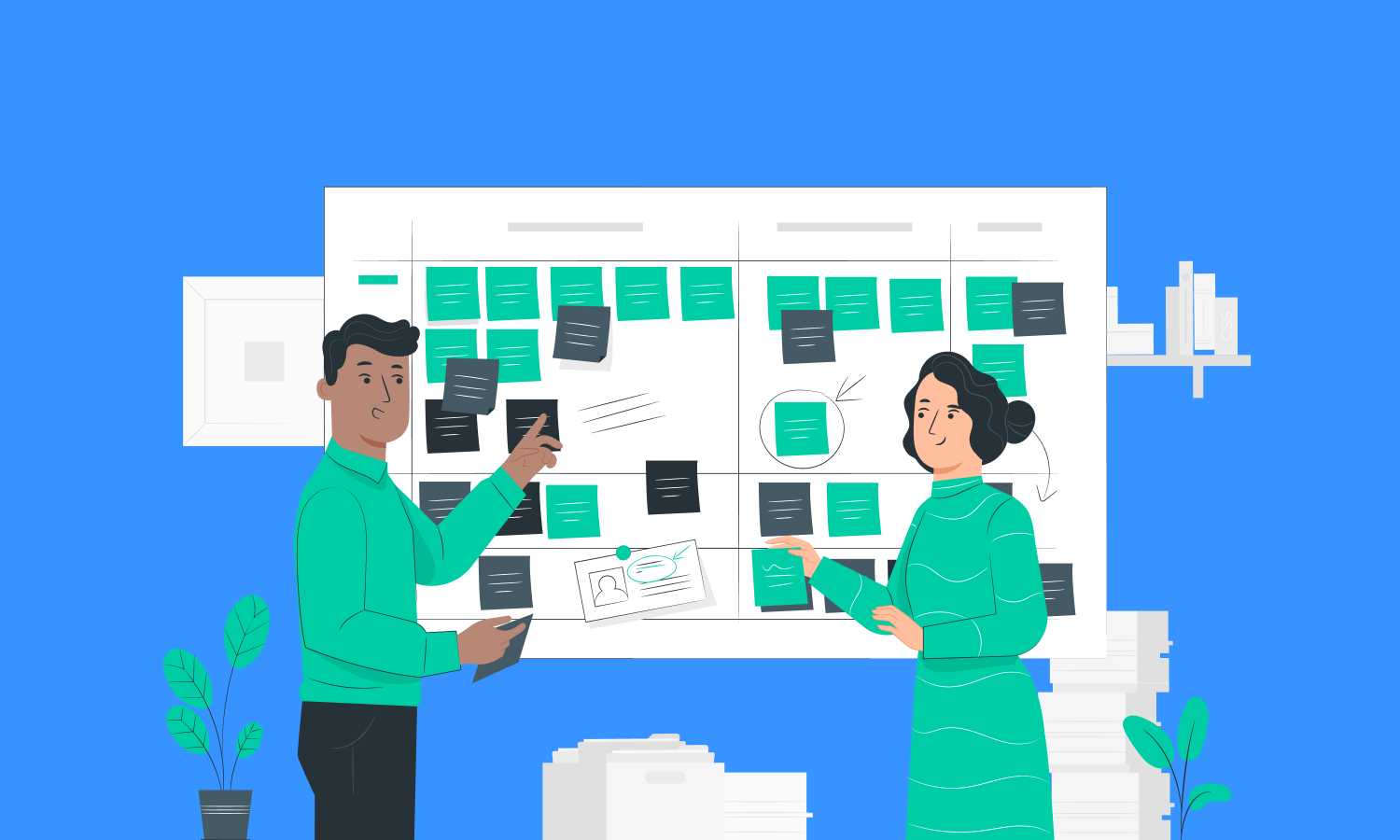 The principle of Kanban board work
The Kanban methodology is based on 3 main principles:
To visualize a to-do list for the day.
To determine the amount of work in progress (WIP) and avoid overallocation.
To improve workflows by pulling the next high-priority task from the backlog as soon as a given task is completed.
You get columns that represent the value stream. These are particular steps that tasks must go through from the start of work to finish. You also get cards where you should place your work items and put the cards into their respective columns. Horizontal rows (Swimlanes) are used to organize teams working on the same board. Some columns have a limit on capacity. Your team members and you should pull cards moving them through columns from left to right.
What are the benefits of Kanban tools?
Kanban-focused tools accelerate accountability and transparency as they provide convenient boards accessible to everyone working on a project. The boards allow team members to clarify who will do what and when that provides transparency into workflows and keeps everyone prepared. Every team member is responsible for completing the assigned task and moving it along the Kanban board.
These tools make tasks and projects flexible. With online Kanban software, teams can prioritize their backlog tasks and drag them from the previous board to the current one. This also increases flexibility in the workflow.
What does a robust Kanban tool include?
For someone, Kanban may seem complicated and not applicable. However, the natural power of Kanban is that, once people implement it, they may optimize and improve their workflows with relative ease.
Luckily, there are awesome software solutions that do the job better and more effectively than others. And you'd better consider some specific criteria when looking for the best Kanban-like tools on the market. These criteria will help you to choose a platform that will control your projects and provide the functionality you want to make Kanban work for you.
Kanban board

that is aimed to organize your cards with Swimlanes, WIP limits, Sub-columns, tasks with checklists, time tracking, and standard columns (for example, «To-do", "In Progress" and "Done").

Kanban card

– an element of the Kanban board. It assigns tasks with checklists and attachments and provides different views, the ability to link tasks, add task hierarchy, and assign to resources.

Automation

— the ability to customize the workflows to suit the required project environment.

Integrations

with other

project management systems

.

Analytics

, reporting system that allows creating reports.
Best Kanban Board Software
1. Hygger – Best for software development
If you want a friendly and multifunctional Kanban tool, then Hygger is the best option. This is the new generation of project management software for development teams, product companies, startups, and medium-sized enterprises. 
Hygger provides online Kanban boards with Swimlanes, WIP limits (work in progress), and time tracking. Manage numerous projects on your board and track everything in one place. Use Swimlanes to split the board horizontally for easy categorizing lots of tasks. Add WIP limits to define all roadblocks and inefficiencies in the work process.
Hygger also proposes handy roadmaps for advanced planning and scheduling and powerful prioritization matrices to prioritize your backlog (Value-Effort, Value-Risk, Eisenhower matrix, and others). 
Pricing:
Free trial available

Standard – from $7 per user/monthly

Enterprise – from $14 per user/monthly
Take a look at how Hygger works in this video tutorial:
Pros
Cons

Colorful and intuitive online Kanban boards for various teams.
Convenient time tracking.
Helpful templates of different features and tools.
Powerful prioritization frameworks are available.

Does not provide an opportunity to link several tasks on the timeline at the same time (only one at a time is available).
No way to customize reports.
No pdf export for a Kanban board.
2. JIRA – Best for tech teams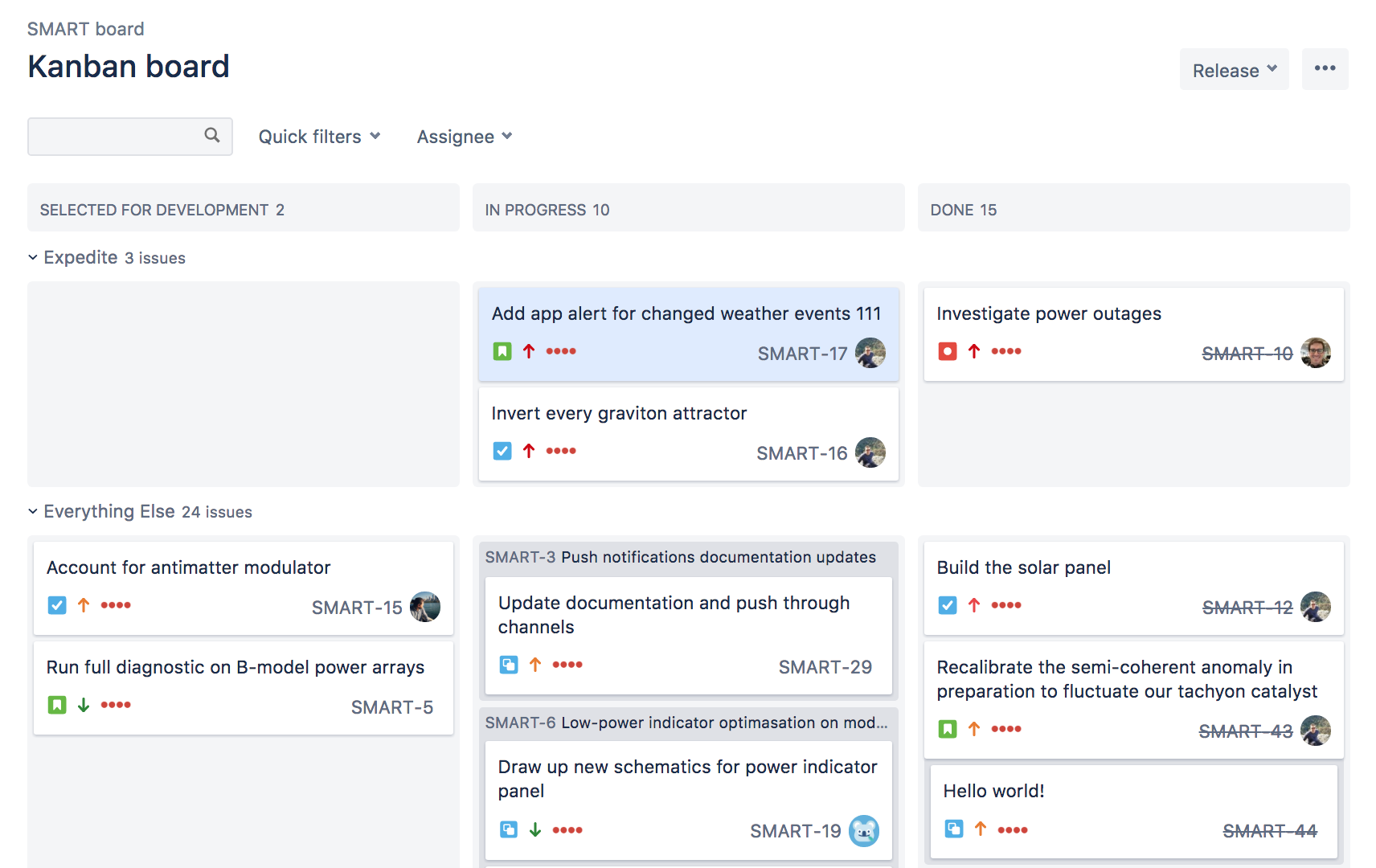 JIRA is a famous management tool used for project management, bug tracking, issue tracking, and workflow management. This powerful software designed by Atlassian Inc. is an independent tool that can be used with any OS.
It allows development teams to plan tasks and sprints, assign performers, manage backlogs, set priorities, and deadlines. You get a number of filtering settings, convenient visualization, detailed reports, and a cozy time tracker. JIRA is multi-lingual; it supports MySQL, Oracle, PostgreSQL, and SQL Server in the backend. You may integrate it with many available tools.
Many admit that JIRA suits perfectly well tech teams, however startups, and small businesses simply cannot use the full breadth of its functionality. 
Pricing:
Free trial available

Standard – $7 per user

Premium – $14 per user
Take a look at how JIRA works in this video tutorial:
Pros
Cons

Provides great functionality for automating the workflow. Allows assigning tasks, track progress, and follow-up.
Provides a handy ticketing system, which ensures that tasks are completed timely.
Integrates with another Atlassian tool – Confluence.

Complex Kanban board functionality predominantly for techies.
Not easy onboarding.
Complex UX. The information architecture is all over the place.
3. Trello – Best for multipurpose project professionals
Trello is well-known since 2011 when it was created as the solution to solve high-level planning issues. This is a smart Kanban-based collaboration tool that will help you to organize projects into boards, manage tasks, to-do lists, discussions, initiatives, and ideas in one spot.
Trello is simple and intuitive. Businesses from many industries just need their basic free version to work. It looks quite suitable for everyone who needs clear and handy Kanban board functionality.
Despite its great functionality, Trello still has some obvious drawbacks. It does not provide its own time tracking and some more essential features, so you will have to pay for additional software.
Pricing:
Free trial available

Business Class – $9.99 per user/monthly

Enterprise – $1.50 per user/monthly
Take a look at how Trello works in this video tutorial:
Pros
Cons

Clear and functional Kanban boards with no complex features.
Great visibility to share projects and boards with other members.
Good for organizing bugs and features.
Simple project tracking and the ability to add subtasks.

Often users put any board in another category by mistake when organizing the boards.
Many (not always necessary) features that are sometimes confused.
The lack of essential features. It only offers additional paid tools.
4. Asana – Best for small and mid-size teams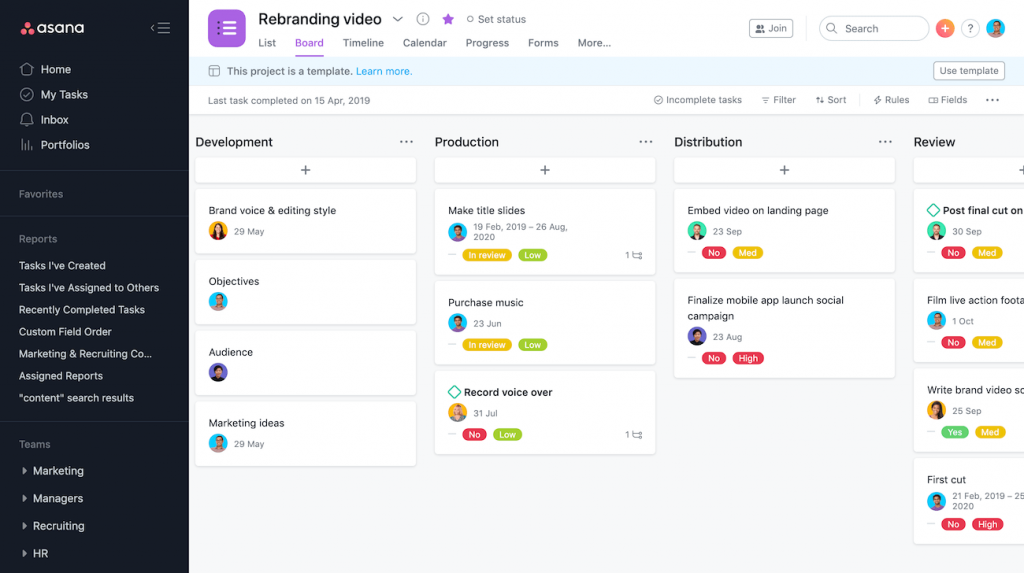 Asana is a powerful work manager for teams, headquartered in San Francisco, CA. It helps to organize work so teams know what to do, why it matters, and how to get it done. 
The customers of Asana rely on it to manage everything from company objectives to digital transformation to product launches and marketing campaigns.
The tool lets you organize work in your way with lists, Kanban boards, calendars, Gantt charts, and other nice features. The service is accessible in iOS and Android apps. The platform is unlikely to be useful for marketing and creative agencies or service companies as there is no time tracking feature in it. 
Pricing:
Free trial available

Premium – 10.99$ per user/monthly

Business- $24.99 per user/monthly
Take a look at how Asana works in this video tutorial:
Pros
Cons

A strong feature set for communicating with team members (as well as with remote employees).
Provides robust tracking achievements allowing teams to see what everyone has achieved.
Effective within a business and as a personal organization solution.

Too heavy and awkward, at first sight.
Requires time to set all the features for seamless communication.
Email notifications look annoying and hard to disable.
5. Kanbanize – Best for Agile project management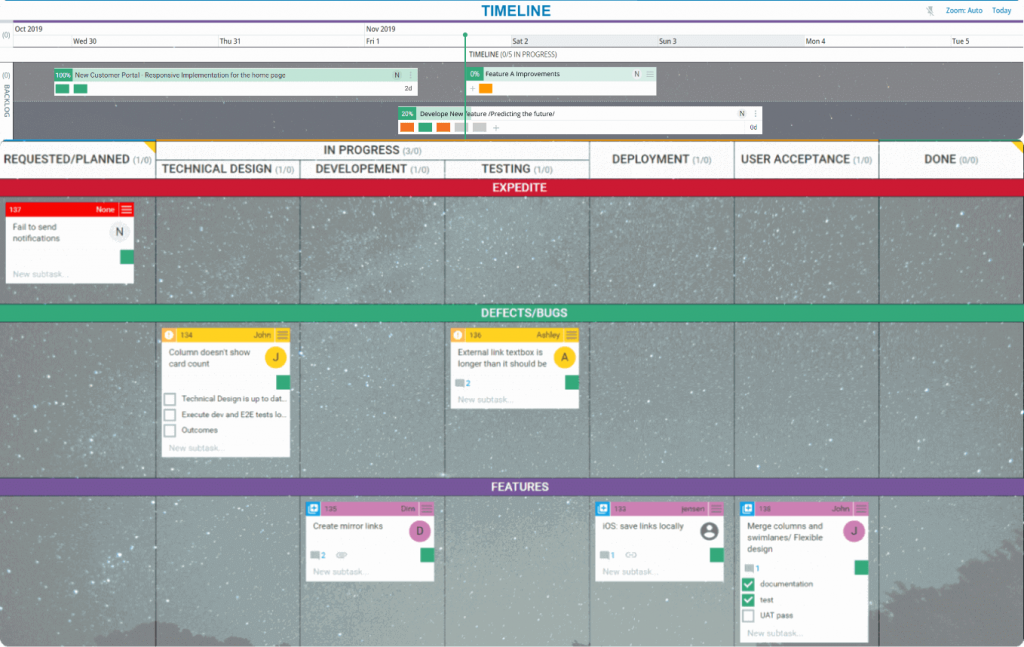 Kanbanize is an Agile project management solution that will help you to see the big picture of your projects. It allows having a predictable workflow where your team members can get things done in a quick and efficient way. 
Kanbanize proposes comprehensive Kanban boards that are easy to modify at any stage of the project. You may adapt to changing requirements, no matter how frequently they occur. It allows you to visualize progress as you move cards across the board. Set WIP limits per column, or useful Swimlanes. It also provides timelines to plan, breakdown, and track projects, all at the same place. 
Kanbanize has been successfully adopted by numerous work teams in various industries including product development, construction, aerospace engineering, IT sector, pharmaceutical, architecture, etc.
Pricing:
Take a look at how Kanbanize works in this video tutorial:
Pros
Cons

Great flow analytics and Lean management.
Easy to use and intuitive if you already used any Kanban tool like Trello and similar.
A simple interface design and the ability to quickly customize it to your work.

Requires time to recognize and rollout all its features.
Doesn't interface to many existing systems. Integration is an area where the tool should invest in.
6. Kanban Tool – Best for all-size businesses carrying about productivity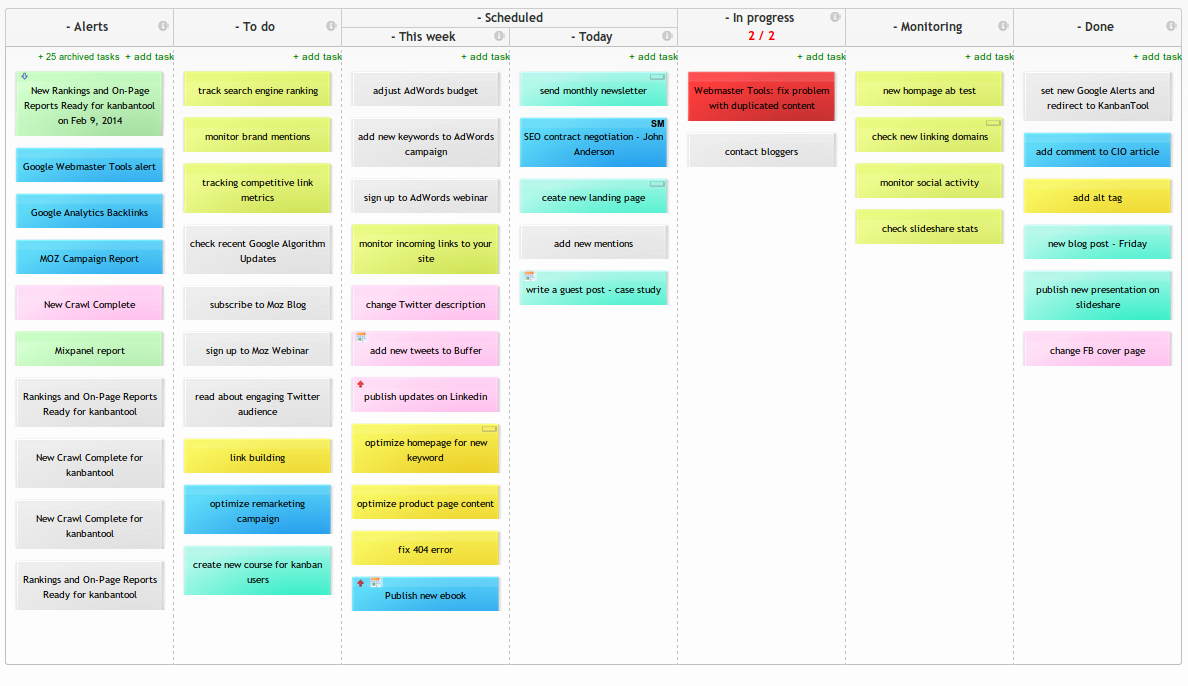 Kanban Tool is a visual collaboration tool that empowers teams to collaborate more efficiently by sharing workflows and documents as well as assess and enhance processes. Using this platform, teams can simultaneously manage multiple projects and leverage real-time communication with their colleagues.
It provides information analysis tools to derive insights, allowing users to make intelligent business decisions and take decisive actions. The boards provide an online hub where members can organize their tasks and work, allowing other members to see their progress. 
Kanban Tool integrates with an advanced reporting and analytical system. Its users may also create different charts, graphs, diagrams, and other useful illustrations to demonstrate data in a convenient and user-friendly manner.
Pricing:
Free trial available

Team – $5 per user/monthly

Enterprise – $9 per user/monthly
Take a look at how Kanban Tool works in this video tutorial:
Pros
Cons

Offers a good collaborative space to have multiple team members commenting on multiple tasks.
Also provides a good basic overview of where tasks are on a timeline.
Integrates well with JIRA to track and manage projects.

Gives a higher-level project management view but it lacks customization and personal settings features.
No robust communications component.
Unable to sort cards – change their order visually.
7. Hubstaff – Best for Agile capabilities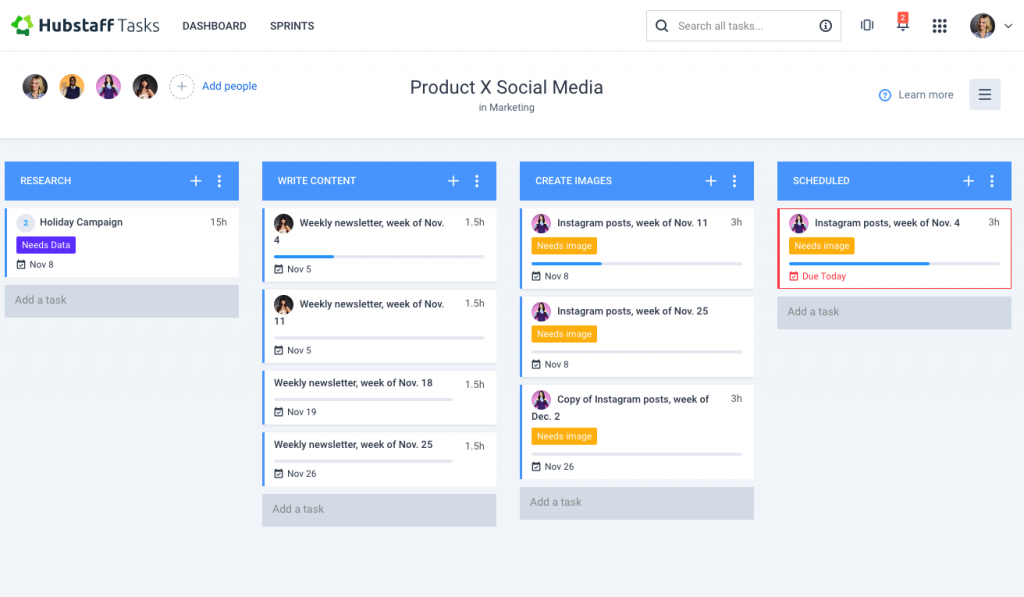 Initially, Hubstaff is a time tracking software aimed to track employee activities during work hours. It allows employees to track time through their desktop app. Workers can choose when they want to record their time. The tool helps to fight inefficiency and work better with streamlined time tracking. 
Hubstaff also proposes automated Kanban-style workflows. Its visual online boards and columns allow you to keep work moving in the right direction. Set up custom workflows to move tasks ahead with a click, and skip all the steps of alerting and assigning others. See all of your team's tasks at a glance with overarching goals. Hubstaff integrates with over 30+ apps such as JIRA, Asana, Github, and many more.
Pricing:
Free trial available

Premium – $5 per user/monthly
Take a look at how Hubstaff works in this video tutorial:
Pros
Cons

Good for Agile-style task management that feeds appropriate tasks to user's timers.
Nice user interface and good reporting functions.
Allows time tracking from different devices.

The time off/holiday feature doesn't allow enough granularity as decimals of hours/ minutes can't be used.
Could be better optimized for Windows.
Sometimes freezes after updates.
8. Wrike – Best for scaling organizations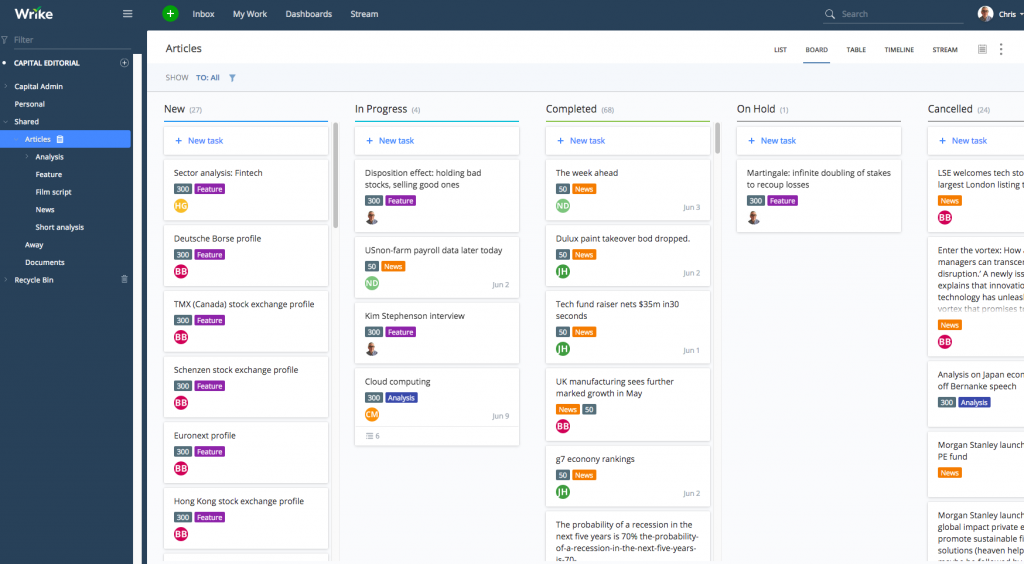 Wrike is considered to be fairly intuitive and easy to use project management software. The tool allows you to start tracking collaborative projects and milestones quickly.
This collaborative work management platform helps businesses to do their best work, no matter where their employees are based. 
Nowadays Wrike is a popular solution to ensure collaboration and deliver efficiencies for teams across the enterprise, as many companies are moving to a remote work environment. It purposes beautiful Kanban boards that allow teams to perform from their home offices.
Pricing:
Free trial available

Professional – $9.80 per user/monthly

Business – $24.80 per user/monthly
Take a look at how Wrike works in this video tutorial:
Pros
Cons

A comprehensive task modeling, and team-organizing tool that boosts productivity.
Looks appropriate for the teams with a greater number of employees.
Widely used for both task management and other purposes.

Requires watching some tutorials to figure it out.
The commenting system could be better. Users sometimes do not notice comments because of the inconvenient arrangement of text blocks.
Tough to get an organization-wide adoption.
9. Favro – Best for Agile distributed teams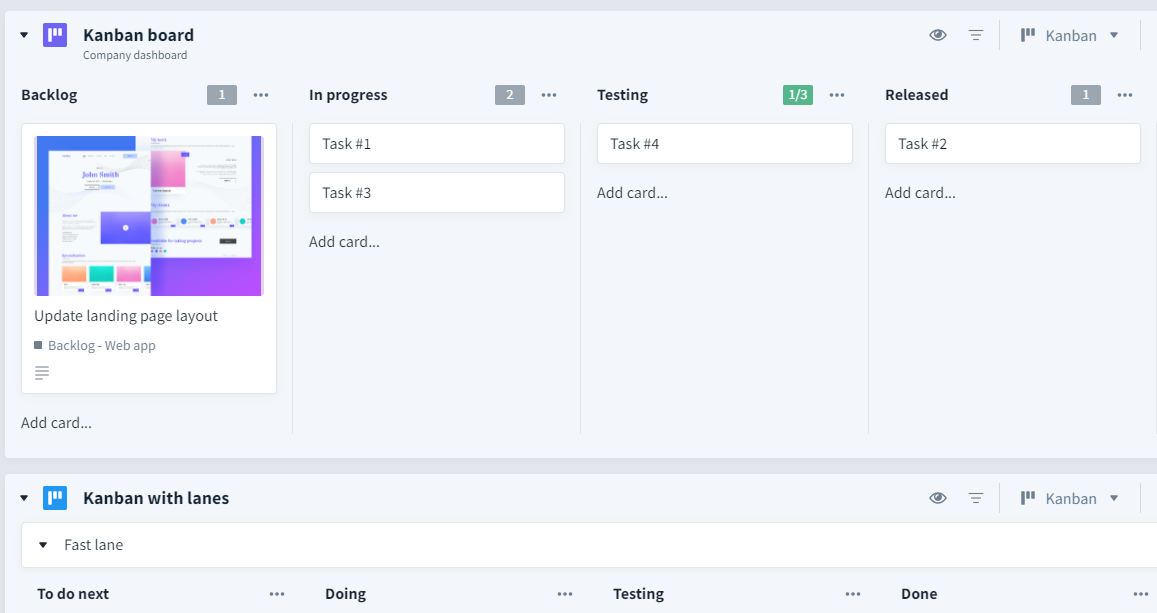 Another project management and collaboration tool with Kanban board functionality that allows developers, marketers, and executives to plan, track, and evolve their ideas and tasks. 
Favro is designed to suit the size and needs of any project, you may also add extra features and integrations if required. The tool proposes convenient team boards, scalable backlogs, and aggregated reports.
Favro transforms companies into Agile businesses empowering their teams to work autonomously. It helps leaders to align all work towards company key objectives. Favro can be integrated with Google Drive and Dropbox to allow files to get attached to the planning board.
Pricing:
Lite – $12/monthly

Standard – $16/monthly

Enterprise – 30$/monthly
Take a look at how Favro works in this video tutorial:
Pros
Cons

Great UI for Kanban-based products.
Responsive and intelligent customer service.
Agnostic to project management styles.
Easy to update cards/add comments/add attachments.

When a large number of subtasks appear, the workflow threatens to turn into chaos.
The mobile app seems a little uneasy to use.
 No ability to link tasks in any way or mark duplicates.
10. Hive – Best for flexible project views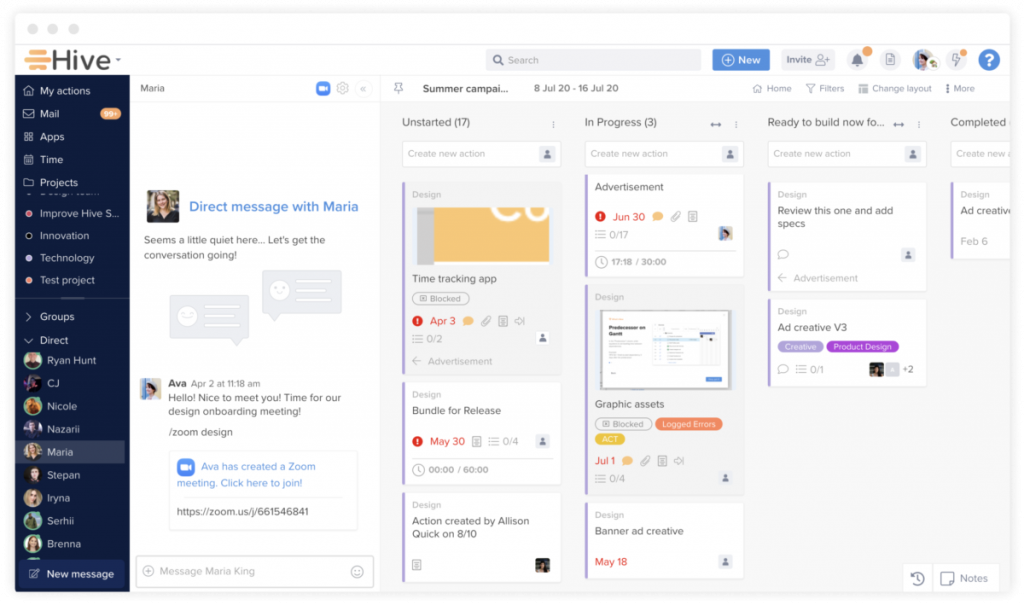 Hive is cloud-based project management software designed for teams of all sizes who need to share files, chat and automate task management. The tool proposes workflow templates, group messaging, multiple task views, and 100+ app integrations.
Hive is dedicated to helping teams move faster and improving company-wide efficiency. A Kanban board is a great feature to succeed in that. The Kanban-style status view lets users track project progress and change deadlines and workloads. Project tasks can be also planned with the help of Gantt charts. You may get access to the files stored in Box, Dropbox, and Google Drive.
Pricing:
Standard – $16 per user/monthly
Take a look at how Hive works in this video tutorial:
Pros
Cons

Combines the features of other PM software. Users can try different views like the table view, Kanban, Gantt chart, status view, and calendars.
Offers numerous integrations.
Multiple users can query data simultaneously.
Tasks cards are easy to use.

There is no search function in each project.
Notifications seem not organized.
The phone app is not as responsive as the desktop version
File deletion is permanent.
11. MeisterTask – Best for automation capabilities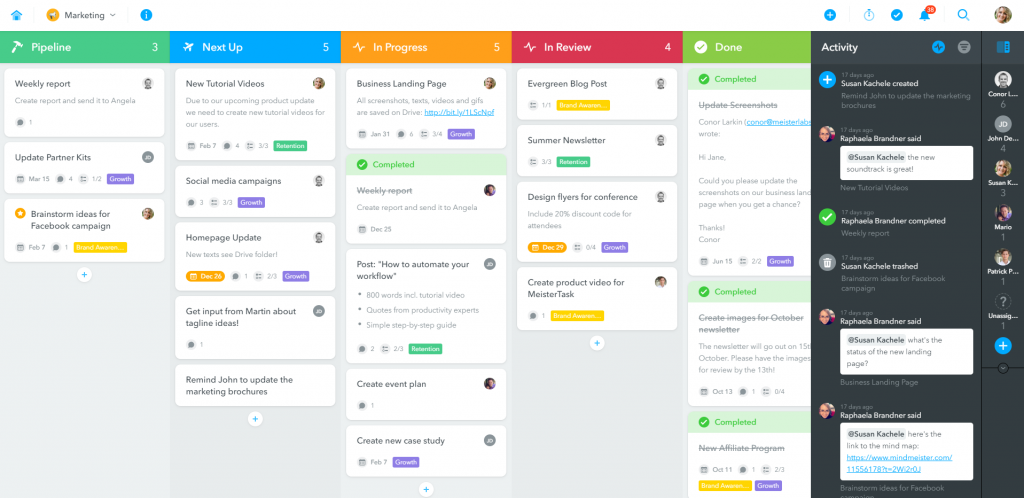 MeisterTask is also a powerful yet straightforward tool that combines the capabilities and features for project management, collaboration, and task management into one platform. The tool streamlines creating projects, adding as many team members as you need, assigning tasks, and more.
You also get project monitoring capabilities as well as collaboration features for team members to boost productivity and speed up the completion of projects. It may work with third-party apps like Google Drive or Dropbox among others, to provide you an extended and flexible platform. 
Kanban-like boards in MeisterTask help to view and manage current activities and active projects, create project plans, and collaborate with team members. 
Pricing:
Free trial available

Starter – $19.99/monthly

Professional – 49$/monthly

Team plan – $299/monthly
Take a look at how MeisterTask works in this video tutorial:
Pros
Cons

Easy to manage several projects at the same time.
Provides a short learning curve compared to other software.
Intuitive onboarding.
Offers multiple columns that you can name and customize.

No calendar that could show in detail when a task has been scheduled and visually appealing when the task is finished.
Limited reports and analytics.
The registration process looks a little bit confusing.
12. Kanbanchi – Best for Agile project teams collaboration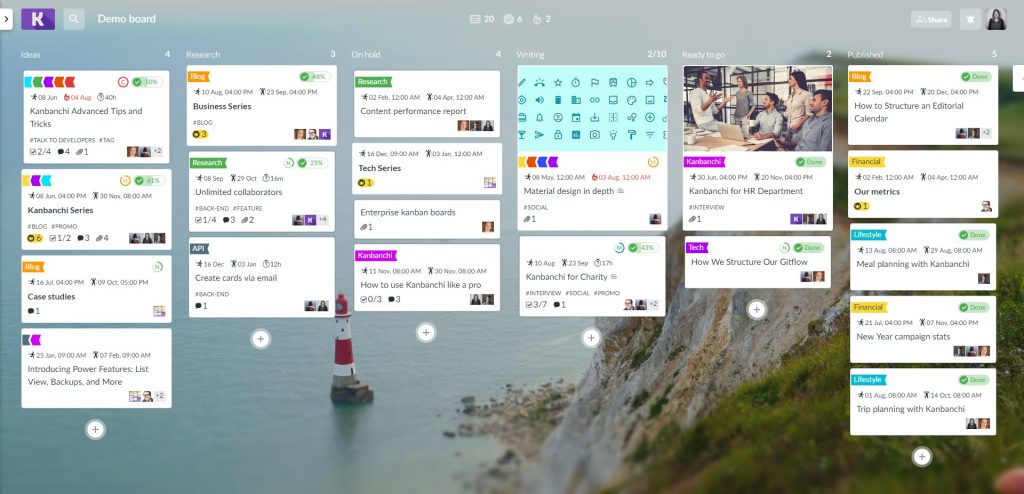 This is another dashboard app that is used to manage workflow. Kanbanchi can be used to capture, store, and distribute information easily. It follows a discussion forum architecture that even lay users can understand. The tool needs no installation and can be accessed from your PC. 
Its time tracker functionality maintains a record of time spent on different tasks by each employee. This allows managers to effectively track daily productivity.
Kanbanchi facilitates integration with Google Calendar and Google Drive. It is available on monthly/annual subscriptions.
Pricing:
Starter – 9.95 per user/monthly

Professional – $24.5 per user/monthly

Enterprise – $34.97 per user/monthly
Take a look at how Kanbanchi works in this video tutorial:
Pros
Cons

Good not only for task management but also for scheduling and team collaboration.
Great for supporting Scrum as part of Agile deliveries.
Provides the ability to drag and drop and the ability to collaborate with other users.

No option to lay cards over each other in a fan arrangement (when grouping them).
No mobile app.
It only works in a Google cloud environment, so your team must be using the Google suite first.
13. Paymo – Best for customizing project workflows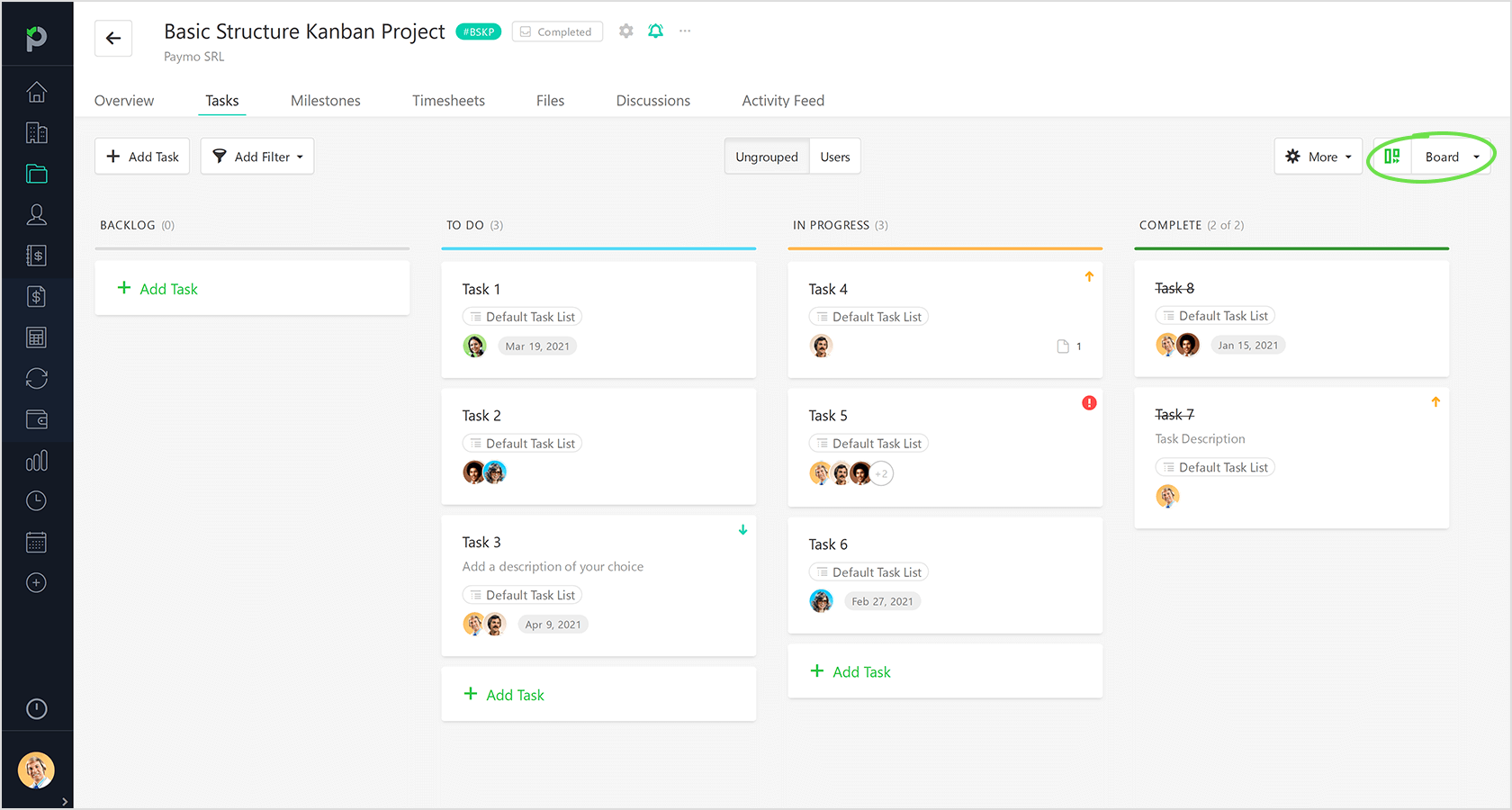 Paymo is capable of making project management easy for your business, even if you are not a project manager. The tool proposes time-saving templates, milestone alerts, task lists, and more features to help companies achieve their goals through measured steps. Kanban bards are also available there.
Today many companies use Paymo for task management issues, team collaboration, automatic time tracking, timesheet reporting, creating Gantt Charts, resource Scheduling, etc. The app is also willing to support nonprofits committed to doing good. Every nonprofit organization is eligible for a 50% discount.
Pricing:
Small Office – $11.95 per user/monthly

Business – $18.95 per user/monthly
Take a look at how Paymo works in this video tutorial:
Pros
Cons

Provides rich features to collaborate on projects of all sizes.
Offers built-in invoicing and time-tracking tools.
Easy to use interface.
Good for client management.

Too many steps required to add items and this has been a barrier to use.
Does not track the cost of each project directly on the fly.
Limited third-party integrations.
14. ZenHub – Best for team's work in GitHub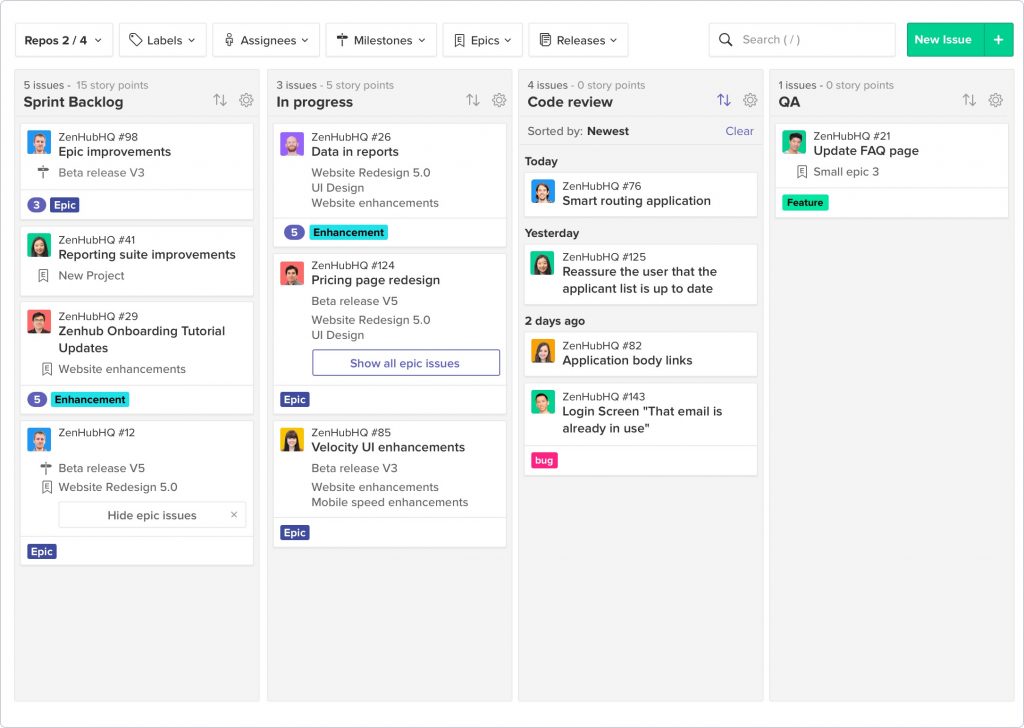 ZenHub integrates natively with the GitHub user interface. It lets developers stay in the habitual environment and project managers may get total visibility about the development process.
Companies all over the world apply ZenHub to organize, plan, and run Sprints with existing GitHub issues and development flow. 
You do not need special training, as ZenHub is widely used by both the product and engineering teams. The main features are digital Kanban boards, to-do lists, Burndown charts, time estimations, Slack integration, etc.
Pricing:
Growth Plan – $7.95 per user/monthly

Enterprise – $12.45 per user/monthly
Take a look at how ZenHub works in this video tutorial:
Pros
Cons

A handy organizing tool that adds to the feeling of accomplishment.
Nice UI makes it easier to look at and review projects and issues, especially with Sprints.
Enables easy to manage IT projects and provides functionality to combine efforts for effective project works.

Looks quite limited to Kanban. You can't have different boards for teams, so you can work off the same board.
Sometimes updates may get lost.
No budget management and expense tracking features.
15. Breeze – Best for Kanban management beginners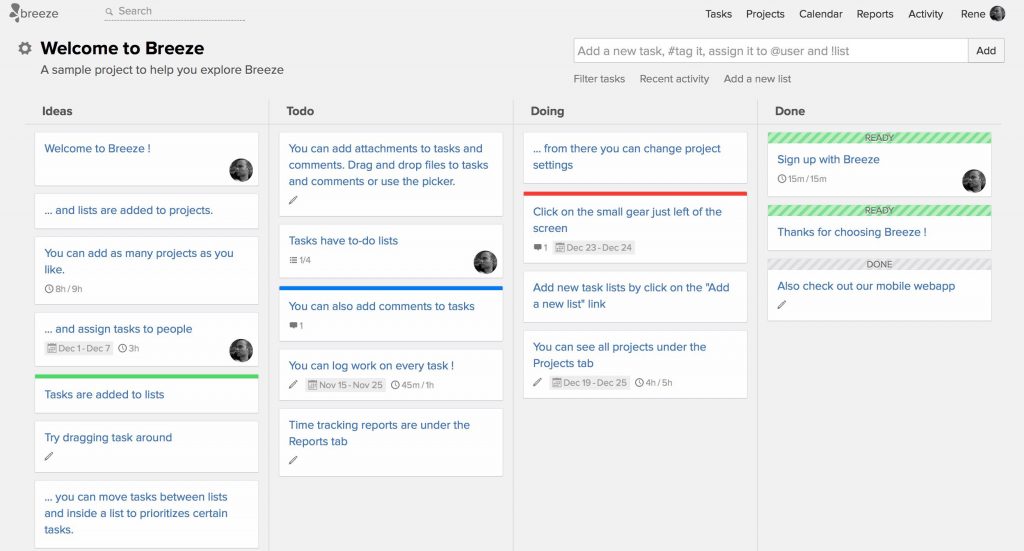 Breeze also provides its customers with convenient and easy to use Kanban boards. This software seems quite suitable for small businesses, remote teams, and freelancers that need to organize and track everything.
Breeze is based on Agile and Lean principles. It includes such useful features as to-do lists, project budgeting, time tracking, reporting, calendar, Android and iOS support, unlimited users. It can be integrated with Google Drive and Dropbox.
Pricing:
Freelancers – $39 monthly

Small businesses – $69 monthly

Large team – $139 monthly

Enterprise – $259 monthly
Take a look at how Breeze works in this video tutorial:
Pros
Cons

Ease of use and powerful abilities to manage various projects.
Friendly user interface and easy learning curve.
Knowledgeable customer service and the cost is low when compared to other Kanban board software.

Sometimes seems annoying to get many alerts at the same time.
The types of reports that you can generate on the software are limited.
Lacks the ability to customize some vital data.
16. ProofHub – Best for on-time project delivery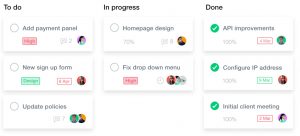 ProofHub is a robust SaaS-based project management software that comes with integrated Group chat, quick discussions, workflows, reports, Kanban-like boards, and other outstanding features.
The platform enables teams to collaborate on their projects in an easy and flexible manner from one place. You may use a free trial before going for the paid version.
Proodhub can be integrated with popular collaboration tools such as Google Drive and Dropbox and email servers. Its web browser platform is compatible with any devices and popular operating systems, including iOS, Android, and Windows.
Pricing: 
Take a look at how ProofHub works in this video tutorial:
Pros
Cons

Easy to use and set up.
Offers a competitive combination of tools and features, powerful Kanban boards, and generous storage.
Works fast, better to use as compared to other software.

The user interface could be better.
Provides too many notifications without the option to control or customize them.
Training modules are basic and too simple.
17. Leankit – Best for applying Lean management principles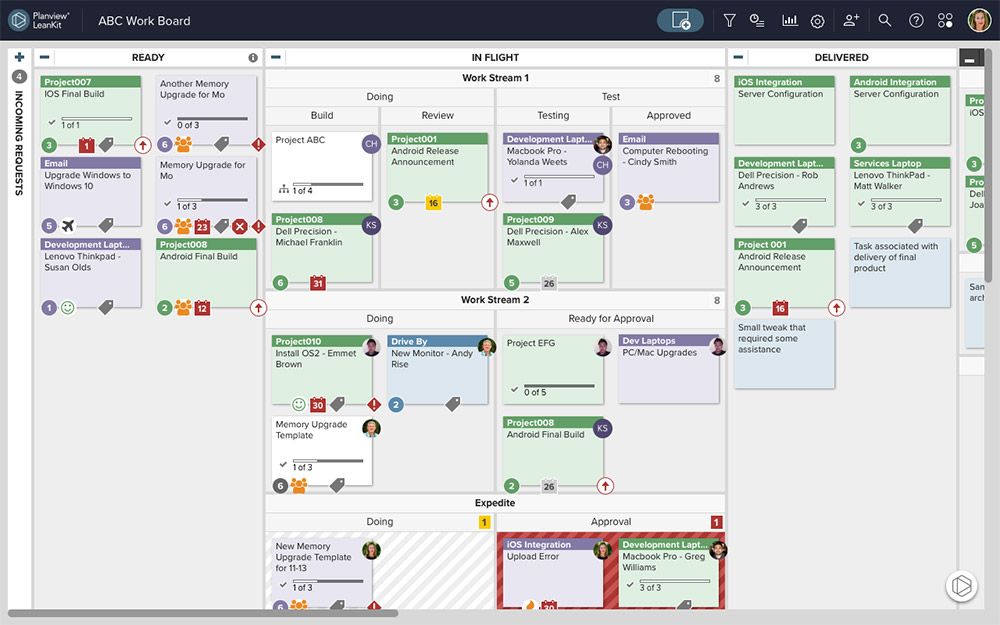 As a Kanban-based app, LeanKit uses a graphical visualization for project tasks, represented by cards on lanes. You can move cards as they progress from stage to stage, and every card has different options inside, and you can tweak different aspects.
Leankit assists project teams in implementing Lean principles and practices painlessly. You also get a reporting and analytics module with useful metrics. The tool supports integration with JIRA, Zendesk, and other tools.
Pricing:
Standard – from $20 per user/monthly
Take a look at how Leankit works in this video tutorial:
Pros
Cons

A competitive and easy to use solution with robust Kanban functionality.
Gives us a fairly good visualization of work progress.
Offers multiple ways of customizing boards, lanes, cards, and reports.

Poor account management backend for managing your team or subscription.
Sends a ridiculous number of emails.
Import/Export of data could be more friendly.
A clunky interface that is hard to set up and customize.
18. Blossom – Best for creating a smooth and continuous workflow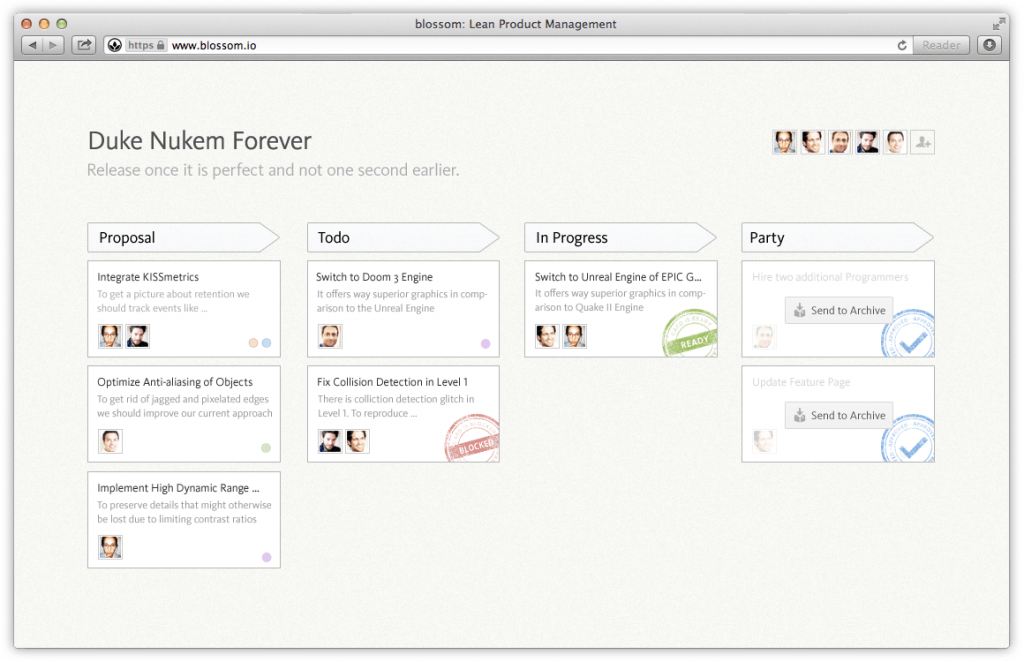 One more app designed for a focused path to complete Kanban project tasks. Blossom also gives you a chance to list all project stages in lists. The main Blossom difference is that each list will be supposed to be the next stage in the process. Add new cards to the 1st column on the left, and the last column on the right will show an archive button.
You can use Blossom analytics with a count of how many cards got shipped and a chart that shows how long every card took to complete. The integration only sends updates to the Slack channel.
Pricing:
Standard – $19.00/monthly
Pros
Cons

Updates are posted to Slack every time a task is created and completed.
Simple and clean interface.
The design is focused on clarity.

There is no free plan like for personal use.
No way to add new tasks. Completed tasks can't be removed, tasks can't be assigned, etc.
The integration only sends updates to the Slack channel.
19. Taiga – Best for multi-functional Agile teams

This cloud-based and on-premise Agile PM platform enables project teams to easily work together whether they use Kanban, Scrum, or just want to track their issues. 
Taiga has an intuitive user interface that makes it particularly useful for multi-functional teams or client teams. You get a cozy backlog and sprint planning, a sprint board with Swim-lanes, a Sprint dashboard with a Burndown chart, customizable Kanban boards with WIP limits, subtasks, issue tracking, and a Wiki feature. 
Specify team roles, estimate story points per role with an estimation game, and move unfinished user stories to other sprints. All in one place.
Pricing:
Free trial available

Premium – $5 per user/monthly

On-Premise – $530 for 100 users/monthly
Take a look at how Taiga works in this video tutorial:
Pros
Cons

It's easy to set up and use. Good for running a self-hosted instance.
Friendly and colorful Kanban boards. You can easily create cards, track progress, and more for your team.
It runs very stably with almost no downtime.

Categorizing and linking items are difficult.
Sometimes it can be confusing working with different kinds of screens.
Overall functionality looks very basic.
20. ProjectManager – Best for ambitious teams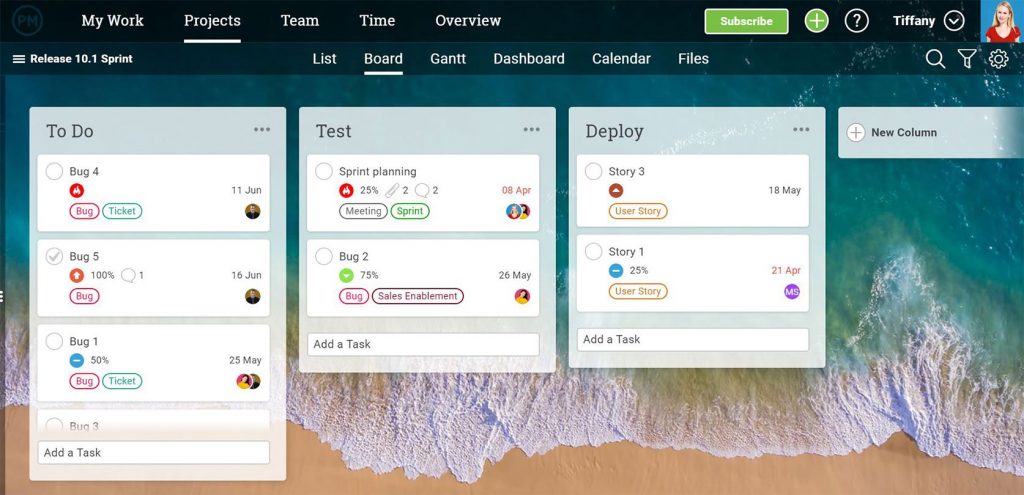 ProjectManager.com is also widely used for managing tasks and projects, no matter the size or scheduled length to completion. 
The platform suits managers and their teams in all industries, from IT to marketing to construction. No project is too big or too small for this handy online platform. Choosing this tool, you will get online project management, time-tracking, and collaboration tools for different teams. With real-time kanban boards, managers can ensure that their projects and their teams are always on track. 
Pricing:
Personal – $15 per user/monthly

Team – $20  per user/monthly

Business – $25  per user/monthly
Take a look at how ProjectManager works in this video tutorial:
Pros
Cons

Easy to use and very effective in planning.
Allows creating job schedules and milestones.
Great real-time communication with clients.
The interface is very user friendly and clean.

The website is confusing to sign up for basic services.
Sometimes you face glitches in it that don't allow you to get the full potential out of the software.
Some reports do not give the required outcomes.
21. Taskworld – Best for collaborating across multiple projects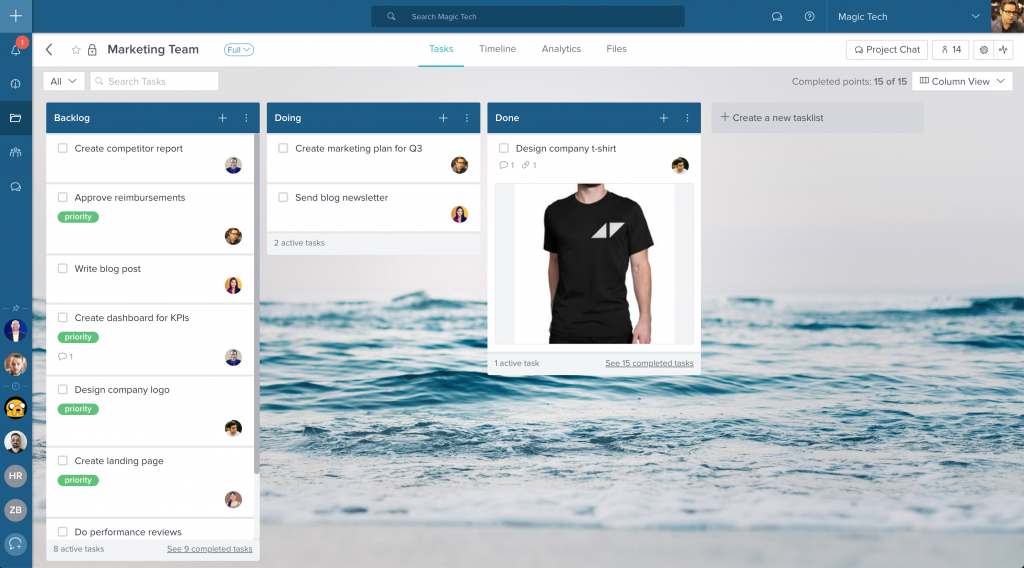 Another solution for the teams that require a clean yet powerful platform to collaborate, share ideas,and get work done.
Taskworld is an easy way for teams to do project management and keep track of work. You get visual task management, project planning, and team messaging into one place. 
The tool also includes time tracking, automated notifications, dependencies, timeline views, and integrations. that is why your team can achieve better and faster results for every project and get things done.
Pricing:
Professional – $13 per user/monthly

Business – $30 per user/monthly
Take a look at how Taskworld works in this video tutorial:
Pros
Cons

Gives the ability to track multiple items across a range of roles and responsibilities.
Good software to use in mobile and system.
Clients can make ventures from an assortment of related undertakings, and task bunches structure a union of related activities.
Responsive, snappy interface.

The introduction tutorial looks monotonous.
Sometimes the screen does not refresh.
Few integrations or standout features.
When you copy a project there is no option to copy the time over with it.
22. Smartsheet – Best for multiple task views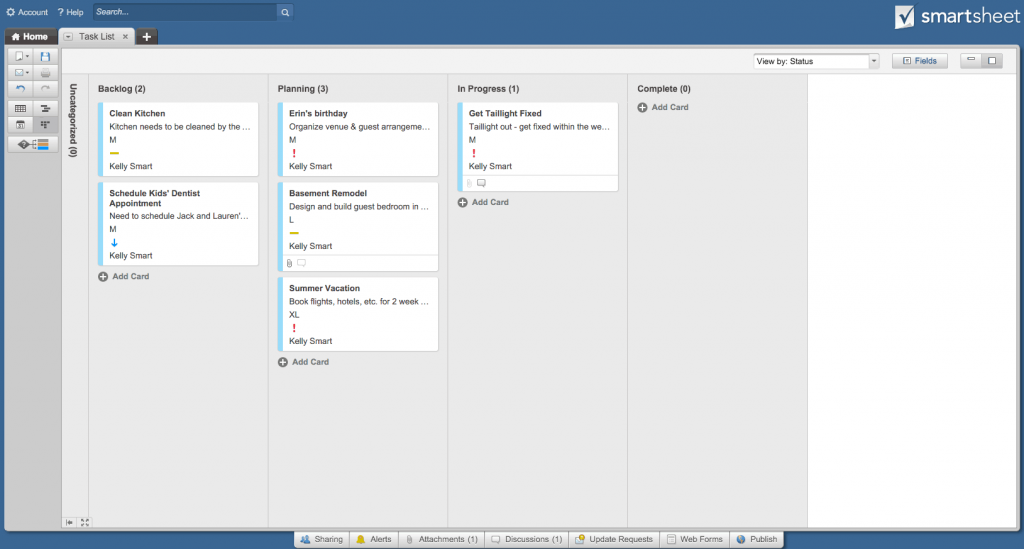 Smartsheet's project management application is used broadly across different companies to track and manage diverse types of work for large and small teams. This is a work execution platform and collaboration tool with an interface that helps teams plan, track, and manage projects in real-time. 
It includes task management, document and resource management, project reporting,  file sharing, and timeline tracking.
Smartsheet app is a good helper for teams that want to get access to project information and workflow data while on the go. The mobile app is compatible with iOS and Android devices.
Pricing:
Individual – $14 per user/monthly

Business – $ 25 per user/monthly
Take a look at how Smartsheet works in this video tutorial:
Pros
Cons

One of the most simple and user-friendly Kanban software.
Proposes handy Gantt charts for projects with dependencies.
Sharing permissions are generous and enable non-paid users the opportunity to collaborate.

It needs smoother import and export to and from MS Excel.
Automation creation could further be refined and expanded in the future.
Dashboard widgets look somewhat limited.
Poor integration with other software.
Summary of the Best Kanban Tools
Wrap Up: How to choose the best Kanban board software?
To sum everything up, let's list the essential things to consider before making your selection among Kanban tools. While making your decision, account for these considerations:
Team size. What Kanban board software is going to best suit your team? Will it scale properly to suit a growing team over time?
Which apps it should integrate with. Perhaps you are using Slack, JIRA, GitHub, or other management tools. Maybe you need it to work across multiple devices. Your best Kanban tool should cover all your needs.
Project workflow. Not all Kanban-focused solutions can handle the volume of projects some businesses produce. Check how many projects you will easily be able to manage at once.
Ease of onboarding. How simple is the tool to start using right away? How much training will be needed to get everyone up to speed?
Set-up time & costs. How soon can your Kanban tool be installed? Is it immediately available on the cloud? What support does it offer?
What do you think of our list of the best Kanban software? What is your own experience?
In case we missed any powerful tool here that you think may help in Kanban project management, please, write in the comments.