Providing customers with essential information and support regarding your product or service is a crucial process. A timely and high-quality response to the client's request can make customers happier.
Smart and handy online helpdesk software is what you need to succeed in this area. Customer support functionality is what should be included in many software solutions for teams from payment systems to project management tools. There are so many help desk solutions to choose from. The only challenge is finding the best one for you. 
When you have a list of must-have tools, you can start narrowing down your choices by comparing them thoroughly. Here we share all the benefits and secrets of modern helpdesk systems and propose to consider the best help desk software relevant for 2022. 
Here we go!
What is Help Desk Software?
A helpdesk is an online tool aimed to organize customer communication, helping companies respond to clients more efficiently and quickly. Helpdesk software allows support teams to provide the best possible experience to their customers. Helpdesk solutions propose powerful features to provide context and insight into customer experiences. They also provide internal features to benchmark the performance of your support team and ensure that your team is professional.



By integrating these tools, you will be able to improve the customer service department's ability to provide fast and effective support to end-users and clients. 
Help desk software also simplifies the flow of new information from users. It contributes to a company's existing call center knowledge base. You may face alternative names of these solutions, for example, IT ticketing systems or HelpDesk.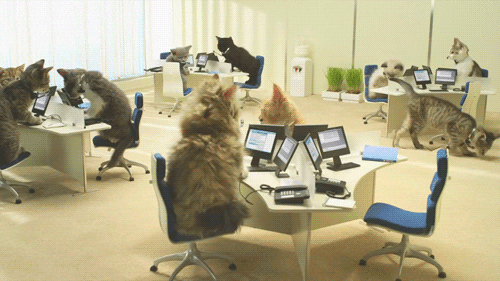 What are the benefits of help desk software?
Boosting customer satisfaction.

It leads to increased clients' loyalty and retention, as well as more revenue. By improving your overall customer service experience, you definitely achieve customer satisfaction.

Improving employees' productivity

. Helpdesk software can be used as an internal IT support tool, helping your team to better track and manage incoming requests for help. Powerful help desk systems impact ticket resolution time and agent productivity.

Staying on the same page.

When employees are working different hours, it's easy for communication to get lost. It means your clients will need to wait longer than necessary. Online helpdesk tools offer multiple ways to improve communication and stay on the same page.

24/7 support option.

The "always-on" solution is a great way for businesses to appear larger than they are. This enables customers to get accurate information about their issues at all hours of the day.

Reporting system.

The ability to quantify performance is really important. Helpdesk tools help companies to immediately see which clients are submitting the most tickets and cross-reference this info with their size.
What is the difference between a help desk and a service desk?
The principal difference between a help desk tool and a service desk system is that a service desk can be considered as the evolution of the help desk. It is more focused on serving end-users in an innovative, fast, and more personalized way. However, the quality of support you provide is what really matters but not how you call your support team.
Why is using help desk software so important?
Helpdesk ticketing tools are important because they unify all communication and records about support issues. This software provides a single system for efficient communication, tracking, managing, and analyzing essential issues.
They are widely utilized by businesses of all sizes that receive handy functionality to provide organized customer support. They also make day-to-day operations for agents effective and easier, providing them with the typical features:
Ticket tracking and issue management

Knowledge base management

Alerts 

Self-service portal

Service level agreement management

Reporting
What is the first tool that pops into your mind when you hear about helpdesk customer service? This is probably Intercom.
Indeed, it is an outstanding and popular tool well-known globally. Most users know Intercom as the leader in the live chat industry. You probably know its bright blue bubble in the bottom corner of many-a-sites across the web. This high-quality help desk ticketing software cannot disappoint anyone when it comes to performance and functionality.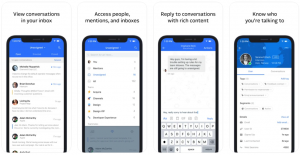 However, there are many more great help desk software solutions and the best helpdesk tools we may consider in 2022. Would you like to dive into details? Let's do it right here and now.
List of the Best Helpdesk Software
1. Zendesk – Best for businesses striving to improve customer relationships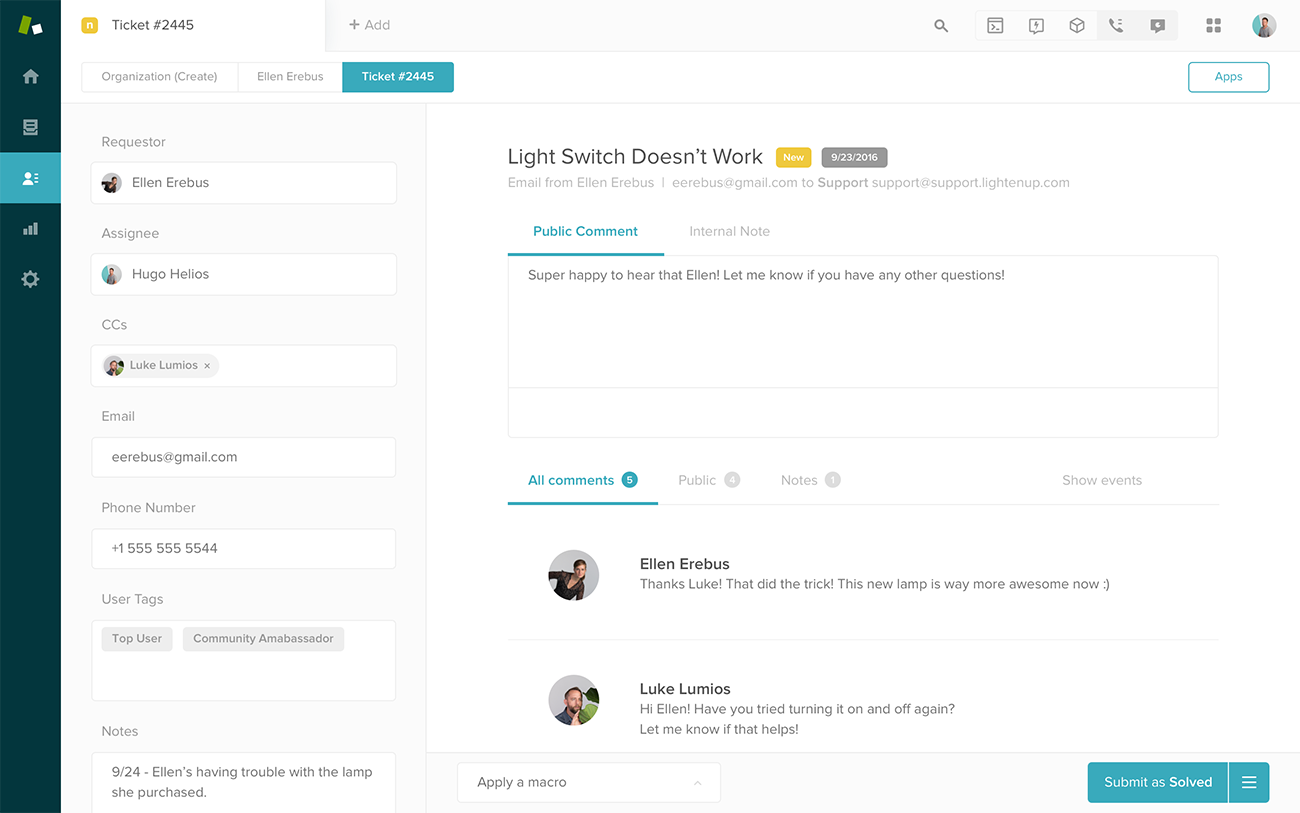 Zendesk is a large established player in the services desk software space. The tool positions itself as more than just a help desk software, proposing multifunctional benefits for its users. 
Choosing Zendesk, you will get a full-service customer service and engagement software that businesses of all sizes can easily apply. This popular helpdesk ticketing system is designed completely with the agent at the forefront. The agents can build their own macros to quickly respond to common customer inquiries and it looks like the most unique feature to Zendesk. This actually saves efforts and time as your team can quickly respond to customer questions on the fly.
Additionally, agents can customize their dashboard views in order to get only the metrics they care about most of all.
Zendesk offers integrations with more than 500 applications including Shopify, Salesforce, MailChimp, and others. These integrations provide meaningful connections to consolidate your workflow into one software solution to streamline your work. Zendesk allows creating a help center, a knowledge base, a customer portal, and an online community.
Pricing:
Free trial available

Support plan – form $5 per user/monthly
Take a look at how ZenDesk works in this video tutorial:
Pros
Cons

Provides a chance to gradually increase the functions of the company to move towards success.

Effective functionality that allows resolving numerous tickets.

Allows setting SLAs with the team around ticket response times and getting the data needed to help clients to resolve tickets timely.

Advanced reporting. 

Setup challenges. When you delete users from your team you should downgrade your seats otherwise you still get charged for them.

It comes through as a confusing email thread hard to follow if you do not communicate with your admin.

A slow routing feature that can not be automated. 
2. HelpDesk – Best for all cases from startups to global enterprises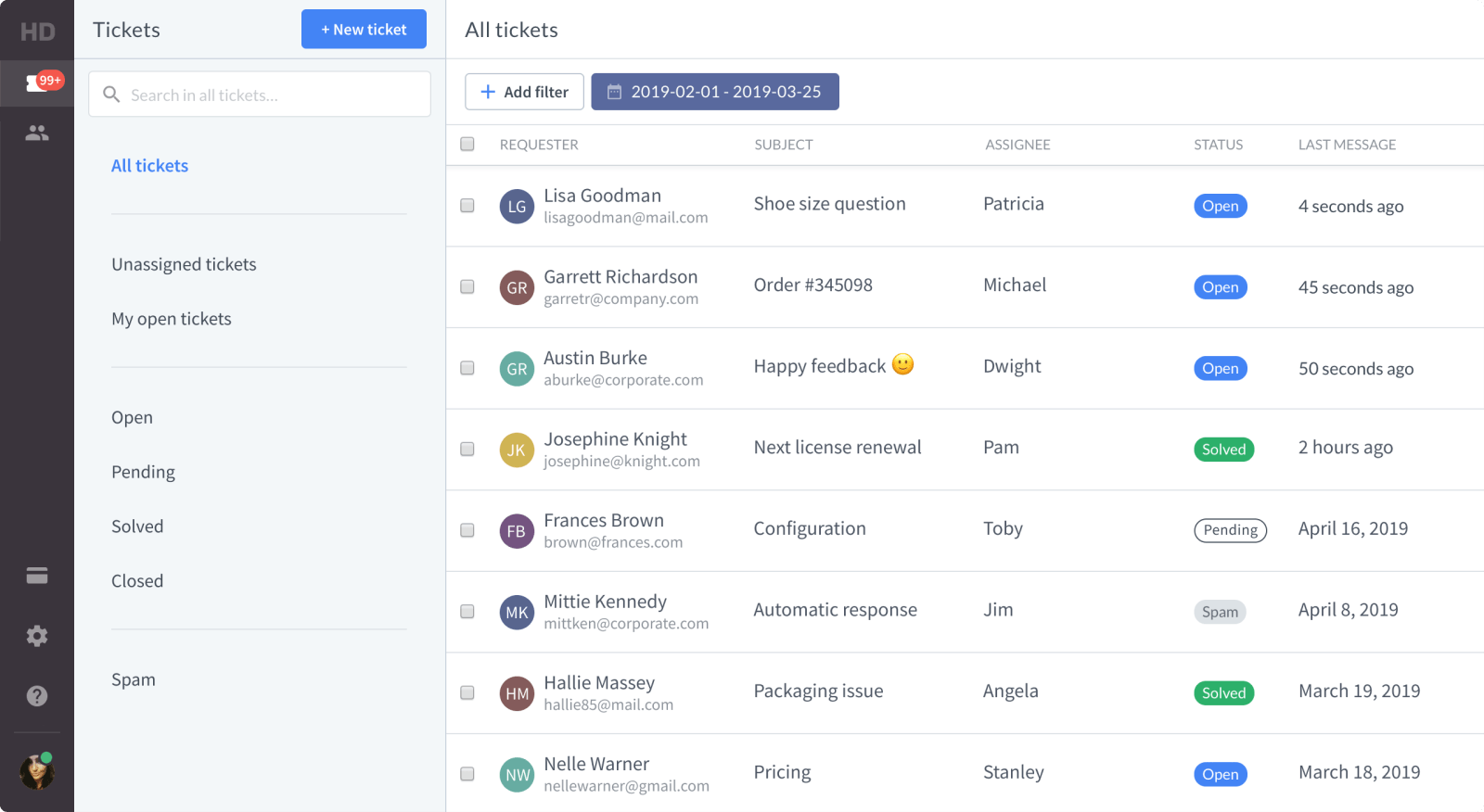 Another great help desk software and a ticketing solution that you can use to optimize communication with customers.
HelpDesk will help to manage all of your communication with clients (live chat, emails, and others) in a simple and easy way. Create ticketing lists, use handy filters or tags, and manage tasks between team members. You can also add your own notes to the ticket letting users see it and use it to solve possible problems. The platform provides reliable data encryption, which maximizes the security level.
Pricing:
Starter – $4 per user/monthly

Team – $19 per user/monthly
Take a look at how HelpDesk works in this video tutorial:
Pros
Cons

Allows adding your personal notes to the ticket.

The ability to manage all support tickets from one place makes team members more organized.

It is easy to understand for agents, who can access it online anywhere.

The annoying spam filter. It often misses non-spam tickets that upset customers.

The lack of some essential features and weak integration with its livechat product.
3. LiveAgent – Best for businesses in the e-commerce, insurance, telecom, and SaaS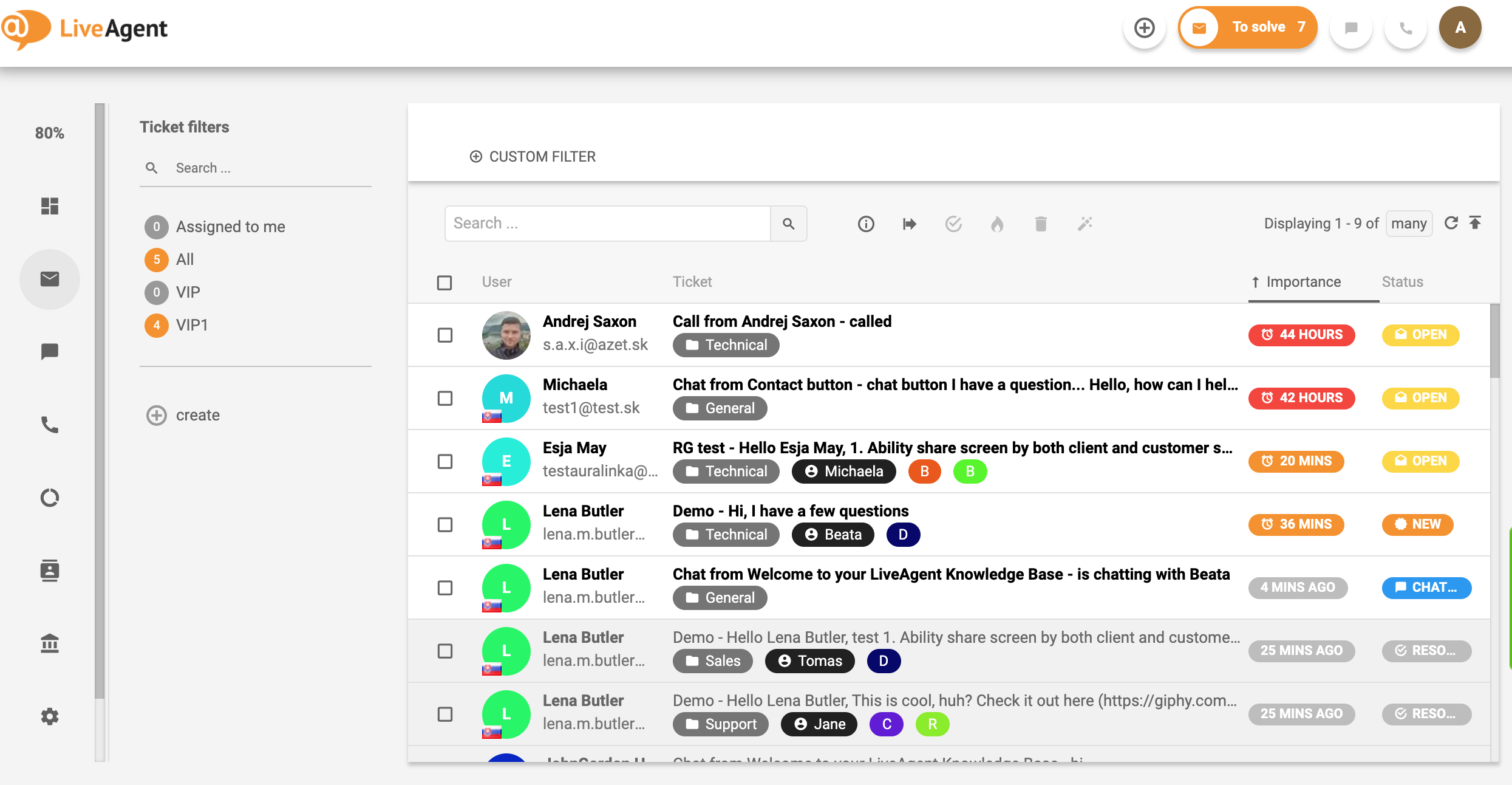 LiveAgent is an impressive helpdesk ticketing system that enables small and mid-sized businesses to engage with their customers by offering handy live chat and help desk functionality. The tool combines all communication channels: calls, emails, live chat, and social media into a shared company inbox, providing an all-in-one help desk solution.
The platform was designed to allow companies to handle large volumes of customer queries in a proper way. Its ticket functionality is highly customizable. Even a very small business can set up the platform to distribute and allocate customer tickets automatically. 
LiveAgent is a valuable service desk software solution for small businesses and startups that strive to propose high-level customer service on a small budget.
Pricing:
Free trial available

Standard – $15 per user/monthly
Take a look at how LiveAgent works in this video tutorial:
Pros
Cons

Helps to be productive in a busy period when you need to be as effective as possible.

Allows tagging and categorizing incoming emails before reading

Allows attaching files directly in the chat window.

Friendly support and documentation.

It puts emails and social media in one inbox. 

Indicates only the time of the first and second response. 

Unfriendly user experience.

Weak knowledge base.

4. Kayako – Best for personal and connected customer service

Kayako is a successful help desk and ticketing software that places all user's support channels in a single spot. The tool can be provided as a SaaS solution or on-premise.
Applying this software, users expand their helpdesk across different channels, including web, email, live chat, tickets, calls, and self-service support. They can also get insights from their customer support engagements to identify buying behaviors, market patterns, and services workflow bottlenecks.
Kayako automates help desk to manage repetitive queries to make agents capable to focus on more essential or urgent tasks. 
Unlike traditional helpdesk solutions, this platform connects the dots between your support channels, customer info, and your team. 130K+ customer support professionals all over the world, including FedEx, Peugeot, and NASA, use Kayako.
Pricing:
Inbox – $15 per user/monthly

Growth – $30 per user/monthly

Scale – $60 per user/monthly
Take a look at how Kayako works in this video tutorial:
Pros
Cons

Allows tracking customers' route in an easy way, assisting them with all the background info.

A strong ability to provide context. Unlike other software, it provides a complete view of every interaction with a customer.

Easiness of use and friendly interface. 

Frequent interruptions in the work of many features.

Does not always respond to requests in a timely manner.
5. Freshdesk – Best enterprise helpdesk software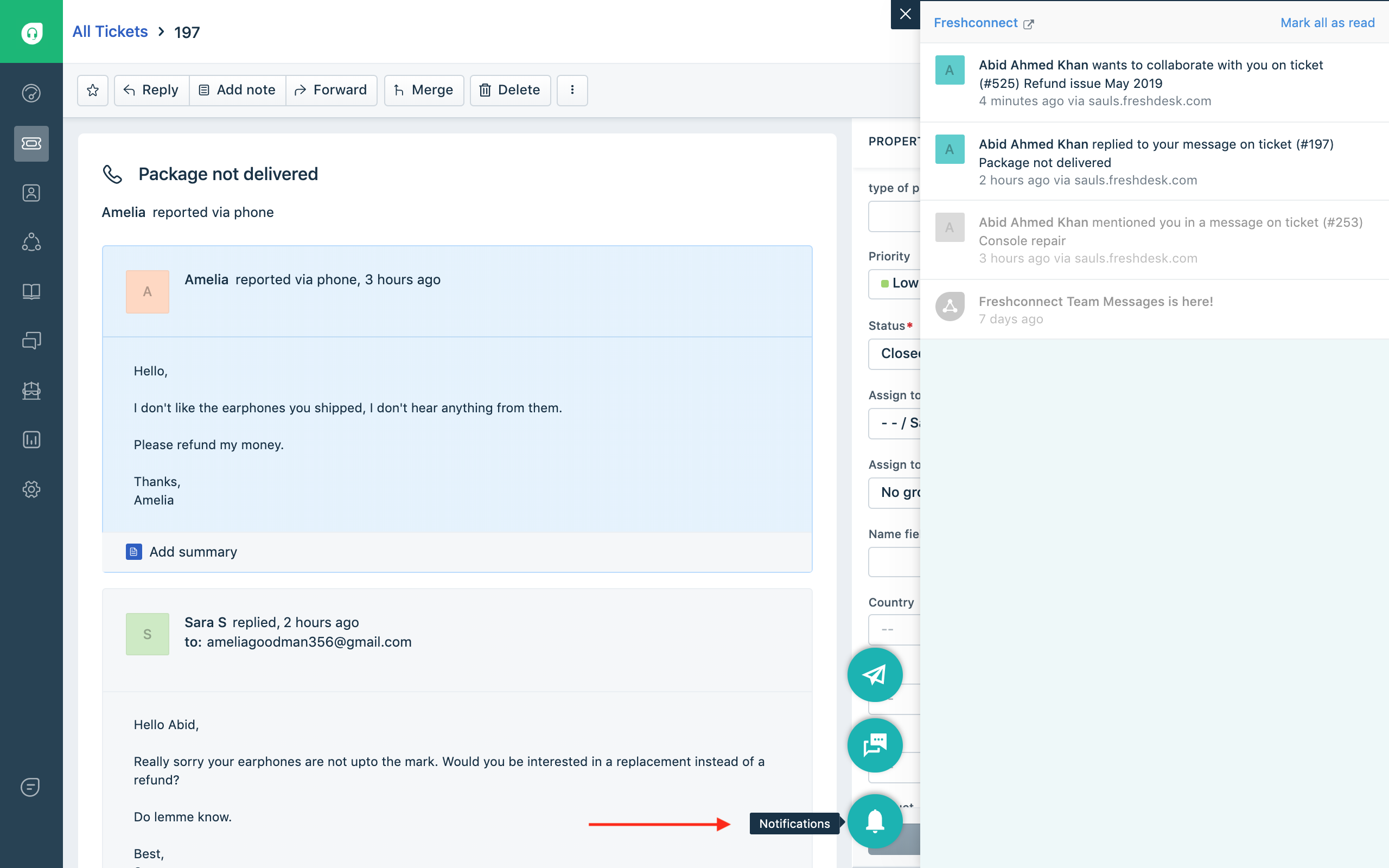 If you are looking for a multifunctional but simple helpdesk and ticketing system software, then consider Freshdesk as this may be really what you need. It offers a trusted way to speed up customer support, automating certain laborious tasks such, and allocation tickets.
The tool is designed for maximized collaboration, powerful ticketing, and qualitative insights. You will get quick ticket updates and instant notifications, and deliver will be able to provide quality customer support to your audience. Freshdesk is also widely used by startups and freelancers.
Pricing:
Free trial available

Standard –  $15 per user/monthly

Efficient –  $35 per user/monthly

Stellar performance – $49 per user/monthly

Enterprises – $99 per user/monthly
Take a look at how Freshdesk works in this video tutorial:
Pros 
Cons

It is easy to set up.

It allows connecting to different platforms such as Slack or social media

The SSO feature looks better than some other market leaders.

Great organization and improved ability to collaborate on projects.

Reports include only average value.

The integration with Salesforce must be checked manually and daily.

Complex default settings of spam filters. Receiving lots of spam with no way of filtering it.
6. Gorgias – Best for e-commerce stores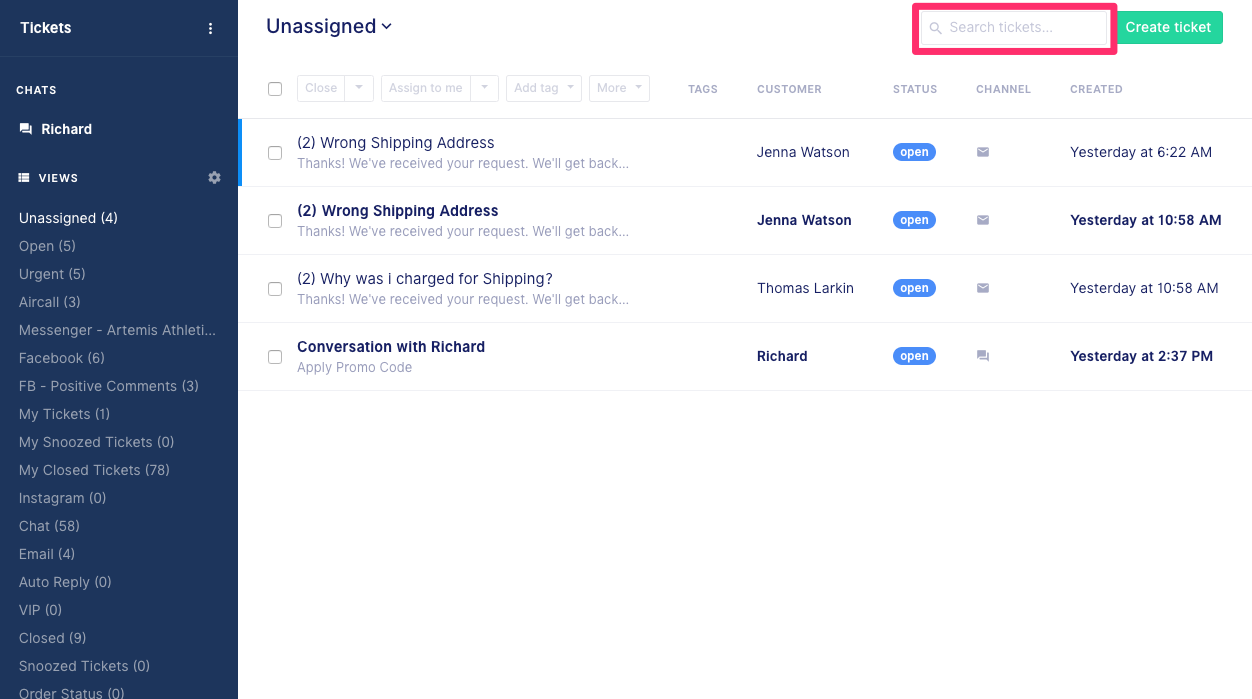 Gorgias is an all-in-one IT help desk service with customer support and live chat that is popular among such e-commerce companies as Shopify, Magento, or BigCommerce stores.
This friendly help desk solution allows customer service teams to manage all of support and customer service in one place. Top online stores use Gorgias to increase the efficiency of their customer support teams and reduce ticket first response time
You get autoresponders, ticket management, email integration, customer history tracking, request assignment, and more features to aid with customer service. 
The tool integrates with different support platforms including Outlook, Twitter, Facebook, Live Chat, so customer queries from multiple channels can be collected and managed in one place.
Pricing:
Basic – $60 monthly

Pro – $300 monthly

Advanced – $750 monthly
Take a look at how Gorgias works in this video tutorial:
Pros
Cons

Provides friendly and easy interaction with customers.

Offers frequent updates and continuous improvement. 

Detailed and clear documentation.

Powerful rules and seamless integration with Shopify

Does not allow you to manually mark your Chat team as unavailable. 

No email tracking feature in the trial.

Old school software look.
7. Groove – Best for small and medium-sized businesses between 1-200 employees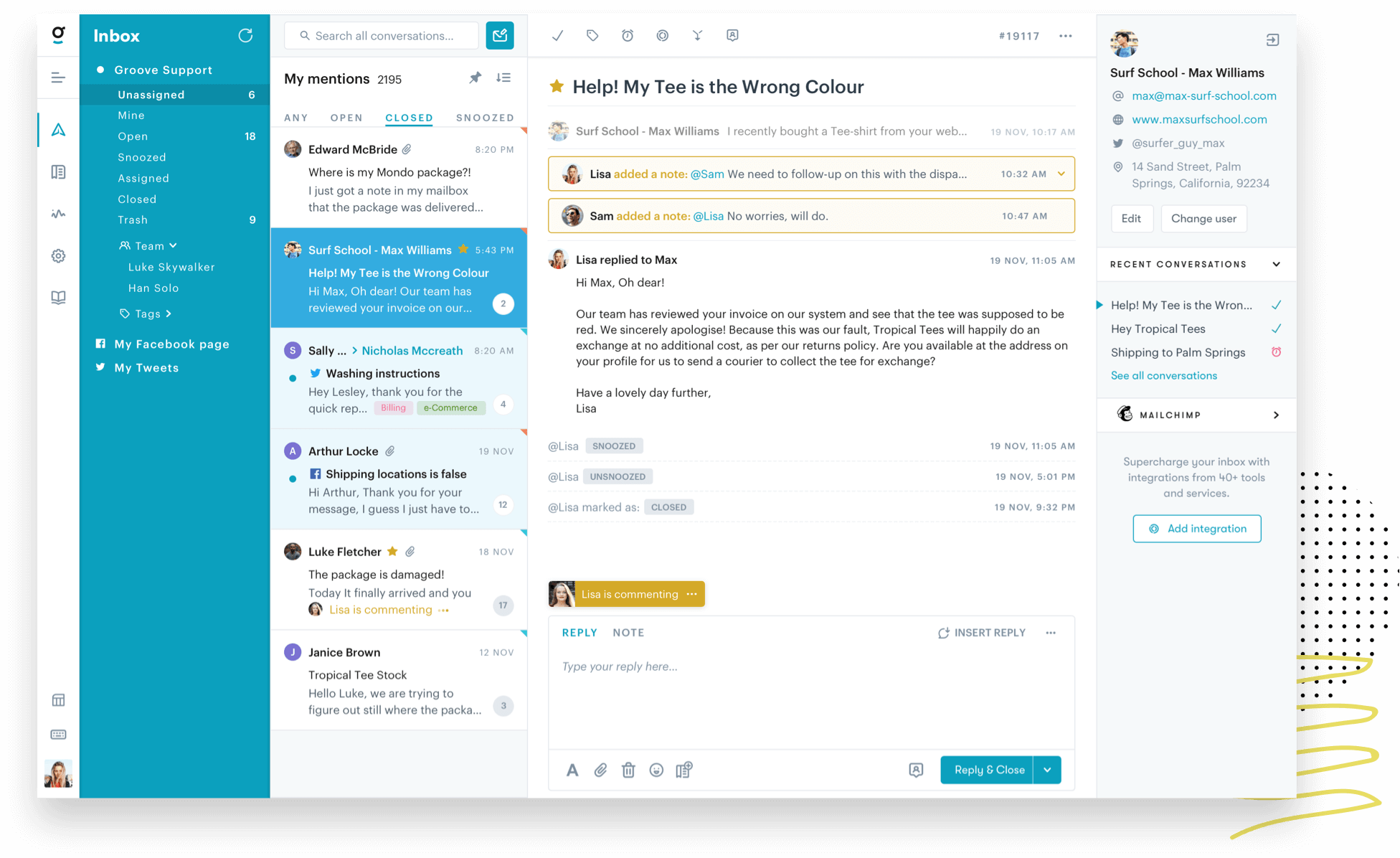 Groove provides advanced online helpdesk software functionality that may assist you in building better customer experiences. With its help, you'll be able to support, convert, and delight your customers. All in one place and no matter how you communicate with your target audience (calls, chat, email, social media, etc.).
Groove is technically an email inbox. All your folders, mailboxes, and contacts are listed on the sidebar so you can easily access them by navigating your mouse to the bar itself. You may color each box and once you open a mailbox, you can sort the contents. All your data can be filtered. You can also create custom reports.  
One of the biggest factors in selecting this tool is the look and feel of its interface and the simplicity of interacting with the system. 
Pricing:
Starter – $9 per user/monthly

Plus – $19 per user/monthly

Pro – $29 per user/monthly
Take a look at how Groove works in this video tutorial:
Pros
Cons

Convenient optional automation.

A convenient knowledge base that can be set up in less than a minute.

Handy email and calendar integration.

Looks still a bit limited in functionality in comparison with the other tools.

No possibility to see the messages themselves, so you need to go back to the search function. The tags don't translate back into Gmail. 

It is daunting to manage multiple accounts.
8. Jitbit – Best for email ticketing managed by freelancers, startups, medium and large businesses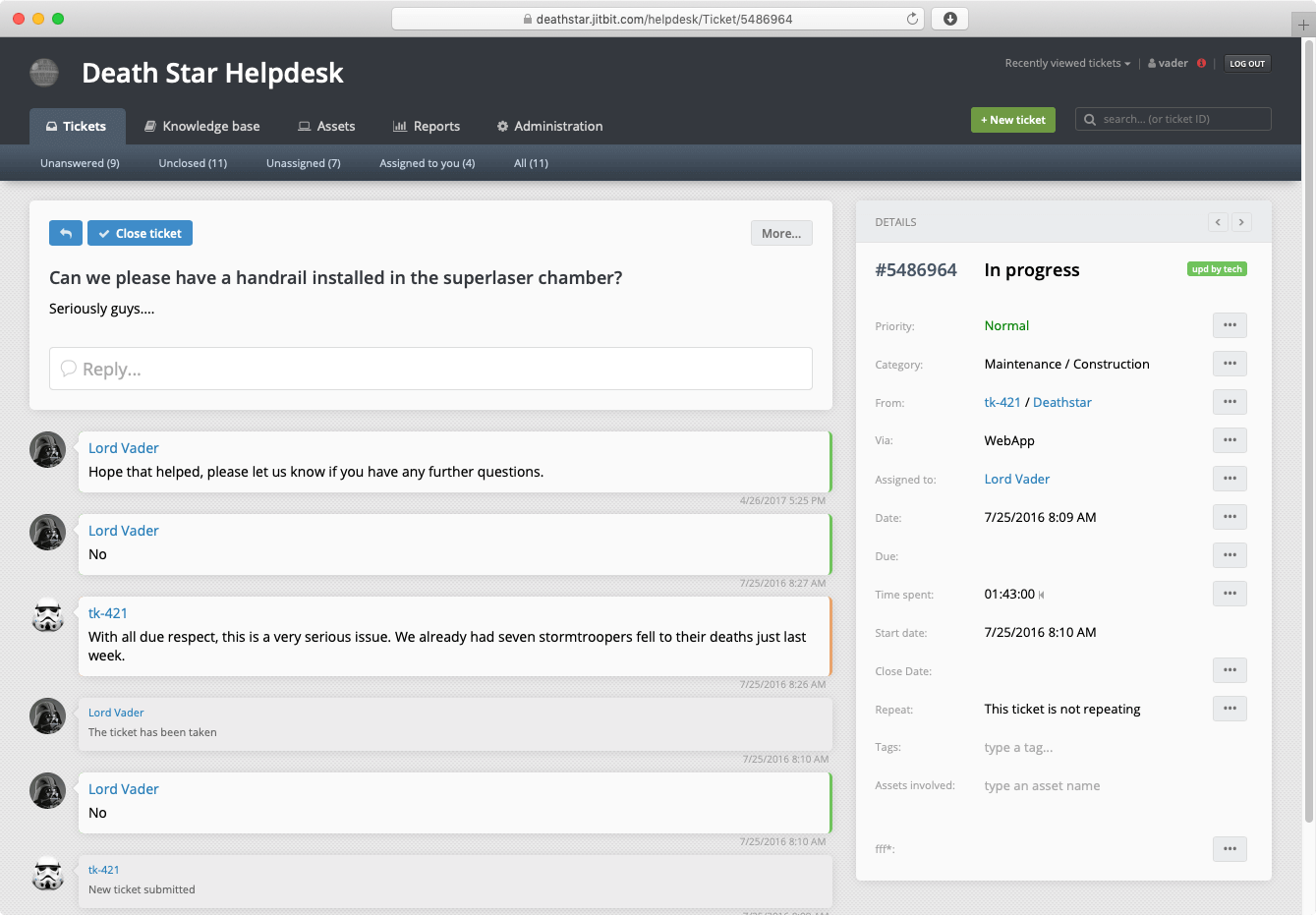 Jitbit helpdesk and ticketing system is one more reliable app with a clean UI and simple set up. When you choose Jitbit, you get all the necessary features: automation engine, advanced knowledge-base module, file-attachments, various integrations with JIRA, Github, or Dropbox, email-integration, and many more.
This helpdesk software is offered as a SaaS and on-premise tool.
It is widely used by freelancers, startups, small businesses, and even global corporations.
Pricing:
SaaS – from $24 monthly

Small – $1699 – up to 10 agents

Company – $3499 – up to 20 agents
Take a look at how Jitbit works in this video tutorial:
Pros
Cons

Perfectly suits teams with a lot of tech specialists.

A flawless SAML single sign-on to the active directory. 

Saves time when changing an email into a ticket.

Seamless Integration with numerous tools.

Frequent interruptions in the work of some features.

No integration with social media.
9. Jira Service Desk – Best for Dev and Ops teams to collaborate at high-velocity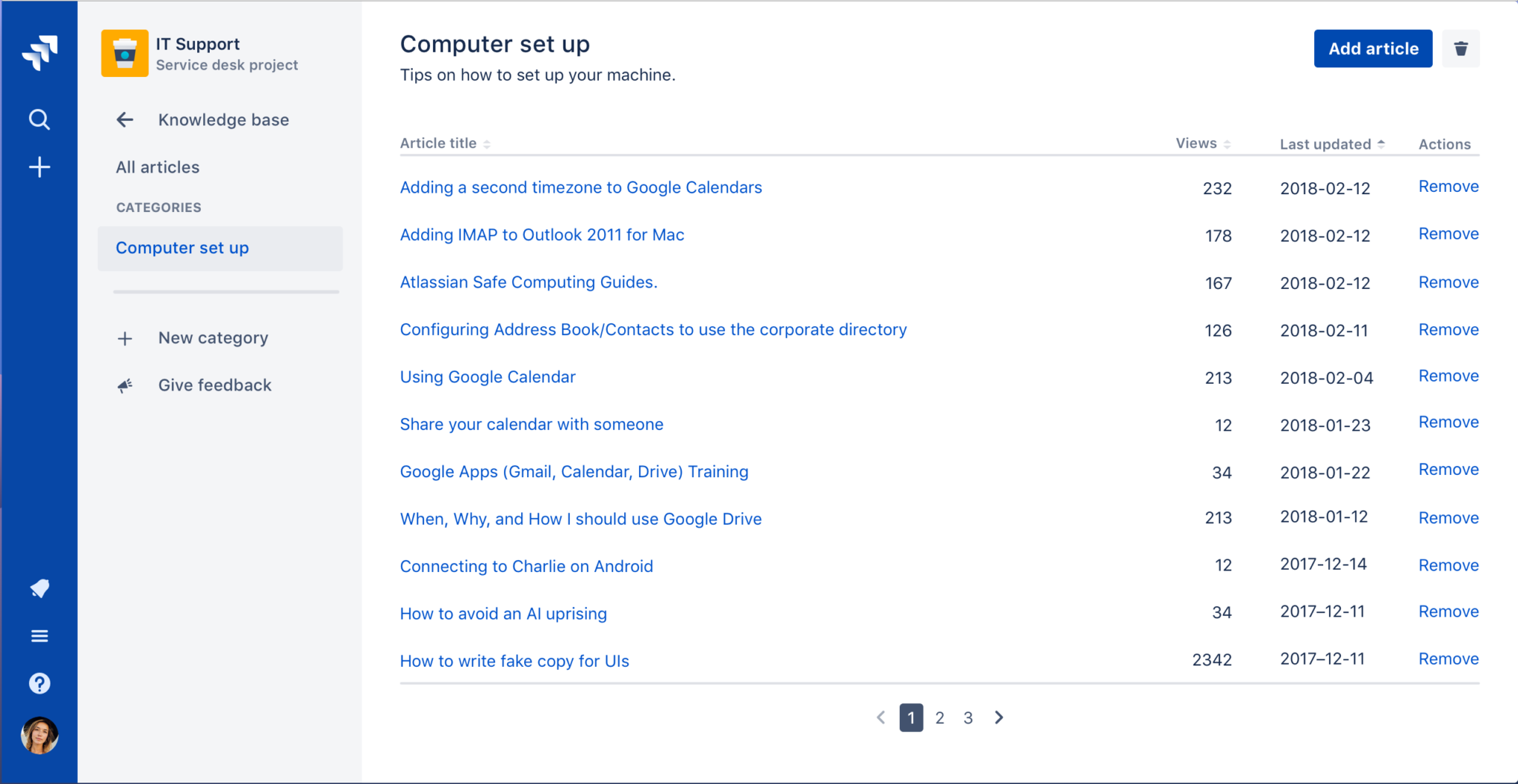 Jira Service Desk is a trusted IT service management tool capable of empowering high-velocity teams. 
Using Jira's open collaborative platform, various teams can deliver service experiences without the complexity of traditional ITSM, and coordinate efforts for more impact. Streamlined and integrated workflows accelerate both delivery and support at scale, with no silos between IT, Developers, and Operations.
The tool allows adapting your service management processes with ease to fit the way your teams work and resolve issues quickly as a collaborative team.
Jira Service Desk can be custom-fit for any use case and integrated with various solutions.
Pricing:
Free trial available

Start – form $20 per user/monthly
Take a look at how JIRA Help Desk works in this video tutorial:
Pros
Cons

Cozy dashboard functionality and the ability to customize the view, helpful widgets.

Looks perfect for tracking daily and weekly tasks.

Detailed documentation (but available only in English).

The lack of core functionality that is offered by rivals. No essential features that have thousands of votes have yet to enter development.

Rather painful installation/setup.

Poor and inconvenient notifications.
10. Deskero – Best for any business aimed to engage customers in a more personal way
If you are looking for simple and intuitive online help desk software for effective customer engagement, then Deskero is what you really need. This is a robust tool with useful features like multi-channel customer support, integrated live chat, social network integration, knowledge base, and advanced client management. 
It is aimed to establish reliable relationships with clients, engaging, and communicate with them in a personal way through simple and smart use of social networks.
Pricing:
Free trial available

Grow – $9 per user/monthly

Business – $25 per user/monthly

Premium – $90 per user/monthly
Take a look at how Deskero works in this video tutorial:
Pros
Cons

Provides easy setup, everything looks neat.

Suits any business or brand to adequately interact with customers.

Robust knowledge base.

The lack of a database interface with some BI tools. It has some embedded reporting tools but they have to be done manually.

Data-export doesn't work very well.

Reports look rather limited.

The refreshing of data on the app and on screen is not so good as it could be.
11. EngageBay – Best for small businesses and startups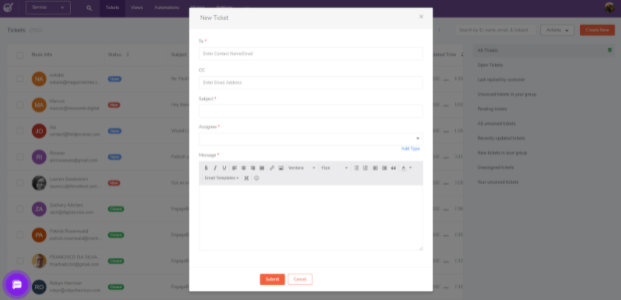 EngageBay is an affordable helpdesk software and ticketing management tool designed for small businesses and startups. That said, EngageBay is not just a helpdesk tool but a unified all-in-one marketing, sales, and customer support solution.
The platform lets you route your ticket to the right representative or department, and even reassign the tickets for cross-department support. Canned responses can save you a lot of time through pre-built answers to various frequently asked questions. Through smart service workflows, you can also automate ticket prioritization, assignment, and status updates.
Pricing:
Forever free plan available
Basic – $14.99 a month
Growth – $49.99 a month
Pro – $79.99 a month
Free trial available for paid plans
Take a look at how EngageBay works in this video tutorial:
Pros
Cons

Easy to set up and use.

Helpdesk software is entirely free to use.

Integration with CRM, offering a holistic view of each customer.

Multi-step service automation.

Highly affordable.

Other advanced service features require a subscription to a paid plan.

Not many service integrations.
To sum this up
What Are the Key Helpdesk Tools Comparison Criteria?
There are typical criteria we use to identify the best IT help desk software solution. Logically, everyone wants to have support desk software that stands a cut above the rest.
How to evaluate helpdesk ticketing tools in any comparison system? Consider the following questions:
Usability
Is it easy to learn and master this software? 

Does it provide training or tutorials? 

What tech support does the company offer?
UI (User Interface)
How do you like the design of support desk software? 

Does the helpdesk tool propose intuitive navigation and friendly display?

What kind of business may use it?

Does it succeed in addressing its target user?
Integrations
Are there opportunities to connect with other tools? 

Does it provide pre-built integrations? 

How many integrations are available?
Pricing
How much does the tool cost? 

Does it provide different tiers? 

What features does each stage access?
Functionality
How many helpdesk features are available?

How powerful are these features?
Concerning the essential features of help desk solutions, it worth paying attention to the following:
Ticketing system.

Helpdesk software should have reliable ticket management functionality. It should streamline tickets from different sources to let you easily communicate across various channels from one place. This will help you to categorize, automatically tag, prioritize, and assign incoming tickets from channels.

Automation.

Any help desk tool should custom workflows with automation that route tickets to the right user for the best response.

Collaboration.

IT ticketing systems should keep users informed about statuses, ticket owners, responses, and priorities to help sync the team efforts.

Knowledge base.

It can be a public customer self-service or an internal repository system for customer service reps and technicians. 

Self-service.

This is about various product documentation, forums, and user communities aimed to help clients solve their problems and challenges.

Reporting and analytics.

It is also crucial to get configurable dashboards that display key helpdesk data and live reporting to receive a detailed view of current operations.
Who are the Typical Users of Helpdesk Software?
Startups and small business
Requirements of startups, small and medium-sized businesses look similar. 
Small businesses and startups need an online helpdesk tool with good automation capabilities. Automation enables support teams to focus on answering tickets while it automatically takes care of routine helpdesk tasks. Mid-sized companies predominantly focus on growing rapidly. They require a scalable and fast system that will help their teams to be as efficient as possible.
With the help of helpdesk software, your support system will be able to automatically tag, categorize, and prioritize incoming requests and assign queries to agents. It is much more efficient than emails as you don't have to juggle the same inbox and logins between team members.
Enterprises
Large companies require different teams to work in collaboration without affecting efficiency to come up with responses for their clients. They need means for measuring their team's performance and implementing strategies for improvements. 
Here is where smart helpdesk software solutions come to help in the following ways:
Helpdesk software for enterprises can easily manage agent availability across time zones, geographies, shifts, languages, and direct tickets to the right agent to get the quickest response.

A versatile helpdesk tool can be integrated with other software the business uses. It can be payment systems, CRM, package trackers, and so on to get the right info for solving a particular ticket.

A well-chosen IT helpdesk tool brings marketing, sales, and support teams together with the aim to increase visibility into each other's workload and enables them to work better.

Helpdesk solutions need to be compliant with industry standards for data protection like ISO 27001:2013, TRUSTe, SOC I, II, III, etc.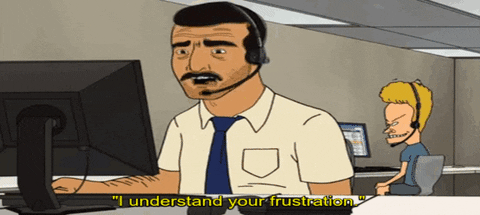 How Can a Helpdesk Tool Help our Business?
Provide immaculate support
Using powerful helpdesk software, agents can respond to emails, answer calls, and chat with clients without extra effort from one place.
Improve collaboration
Any team will support clients better together with the visibility of who is responding to a ticket, which clients already have answers, and which tickets still need to be answered.
Boost efficiency
Helpdesk management tools help automate most support tasks. Support specialists can dedicate all of their efforts towards tackling the client's challenges instead of figuring out paperwork and maintenance. 
Provide better responses
When you have more context, communication becomes easier. The unified customer database will help you to get past interactions with any customer on any channel any time you need it.
Analyze faster
Are you sure that the responses are fast and accurate enough? A good helpdesk ticketing solution will provide helpful metrics to measure your team's performance to let you know when to improve and when to appreciate them.
Accelerate clients' loyalty
Helpdesk tools streamline the customer support process making customers happier. Happy clients mean loyal clients. There are many chances that such clients will return to your business.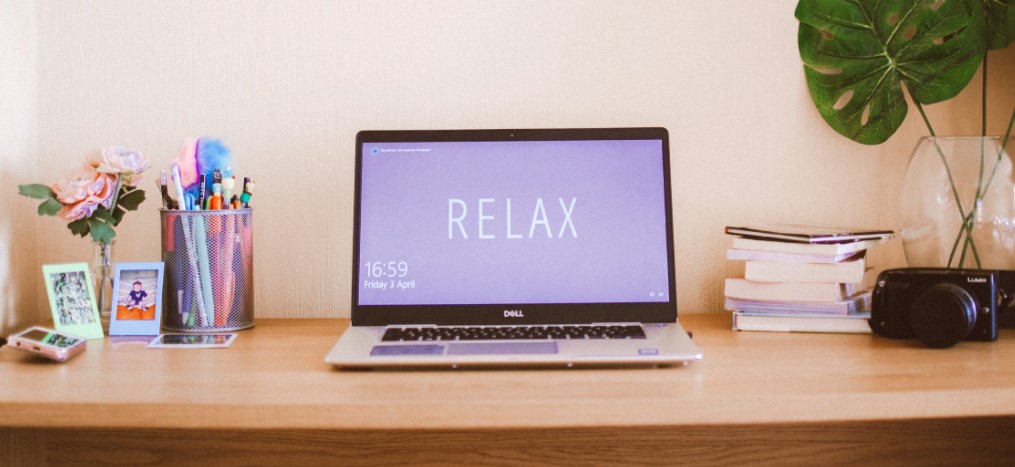 Conclusion
Hopefully, now you have more ideas about the term "Helpdesk Software" and what it means. By choosing the best help desk tool for your needs, you will be able to communicate better and improve relationships with your customers, increasing their loyalty.
No matter what software you decide to apply, you're making the right step in the direction of running more efficient communication. 
All of the tools mentioned above provide outstanding features that will help your team move more quickly and get more done.
Is there anything you think we missed? What is your personal experience with any of these online help desk tools that you would like to share? Please, do not hesitate to comment.
*pictures used are from pexels.com and unsplash.com