Knowing your audience better than rivals can make a real difference in the success of your business, no matter if you're a beginning blogger or an experienced publisher. When you know and understand your target audience, you have a real chance to serve them valuable content, products, and services.
Using analytics is the best way to learn how to maximize results. Today there are many powerful analytics tools both free and paid, and choosing the right solution can be a bit tricky. 
You can use the valuable insights provided by analytic tools to optimize your site for an improved user experience and greater conversions. Most of today's product teams cannot exist nowadays without such tools, just as without convenient helpdesk solutions or online group meeting apps.
In this post, we propose to learn more about the meaning of web analytics software and list the most reliable tools to choose from. Explore them all and try to find the one that will help you reach your specific business objectives.
What is Web Analytics?
Web analytics is simply the data behind websites. Web analytics tools are aimed to help you view this data as well as organize it into different reports with different breakdowns. 
What is the main purpose of web analytics?
With the help of these reports, you can easily understand who is viewing your site, how long visitors are staying on your pages, how many people are using your product, and more. 
These powerful metrics allow making data-driven decisions and understanding whether to adapt the website design, marketing strategy, products, and so on. These changes may assist you to suit your clients' needs, thereby growing your business.
What are the main web analytics business objectives?
to attract more visitors

to increase sales

to accelerate customer engagement

to improve customer retention
What can website analytics tell you?
The insights from web analytics tools can drive the following actions:
Adjusting website design

Refining website content

Reallocating marketing dollars
What are the key web analytics features and capabilities?
Real-time analytics

Individual-level tracking

Mobile analytics

A/B testing

Attribution modeling

Segmentation

Funnel analysis

Ecommerce tracking

Cross-device tracking

Events tracking

In-page analytics 

Goal conversion tracking

Privacy compliance

Benchmarking
How do web analytics tools work?
When you set clear site goals, you make the first and very important step on the way to ensure that you are understanding and properly utilizing your web analytics. 
Site goals will largely depend on the type of your site. For example, for online stores,  conversions or total collections are crucial, for a blog, the numbers of readers and time spent on a page is one of the most important data.
When you identify the proper KPIs (key performance indicators) for your site, the data provided by web analytics tools looks much more digestible. Once you clearly understand your data, analytics are useful for deciding what can be improved upon in your site or in your marketing strategy.
Why use web analytics tools?
Web analytics software solutions use website data to determine if you are reaching your business goals. These tools provide insights that can help you to optimize your business strategies, improve customer experience, and understand customer behavior in general. You may find out who your site visitors are, how they found your site, how they interact with it, and so on and so forth.
What are some popular data analysis tools? Now it is time to figure it out.
13 Best Web Analytics Tools for Various Businesses
Kissmetrics is powerful web analytics software that uses advanced insights to segment website visitors into groups that can be easily tracked. It sticks to the principle that data isn't just a set of numbers you place into a graph. Each number represents a user, a client, or a significant action that contributes to your core marketing metrics and your business growth.
The platform will help you to get up-to-date user behavior info and reports from your groups, without your extra efforts. Useful integrations with Facebook and other social media will allow you to target your audience more accurately. You will also be able to import your shopping history and track customer data use on your site.
Kissmetrics will not only help your business attract more customers but also retain your current customer base. More than 900 companies all over the world use its site analytic/s to improve conversion rates, boost user engagement and client retention.
Pricing:
Customized pricing plans only
Take a look at how Kissmetrics works in this video tutorial:
Pros
Cons

The amount of data it appends and tracks looks amazing. 

Provides a great ability to see which prospects are visiting which pages, as well as the conversion process.

The reports come out simple and really useful.

The funnel report looks too limited.

Offers a huge learning curve.

The CRM integration sometimes looks tough.

It can be difficult to manage several accounts under one username.
Our list of the best web analytics tools would not be complete without mentioning Amplitude. This platform helps businesses to track visitors with the help of collaborative analytics. 
Amplitude uses behavioral reports to understand users' interactions with products. It provides insights to accelerate work on a real-time basis and assists businesses mto grow by using conversion and retention metrics. Its features set include insights into customer experience, creating product portfolios, the growth engine for product iteration, and SQL access for custom queries. Using this tool, you will be allowed to create a 360-degree view across the customers' journey. 
Amplitude integrates with famous third-party tools such as Amazon, Adjust, Apptimize, Branch, Google Play, iTunes, Kochava, etc.
Pricing:
Free version available

Plans are not provided
Take a look at how Amplitude works in this video tutorial:
Pros
Cons

It offers a good set of features for analytics and easily integrates with other systems.

It is extremely easy to deploy and extremely powerful.

Proposes great visual effects.

Looks great for mobile app analytics.

Their features could be explained better in the documentation.

The charts that are shown are pretty basic and there is no chance to format them the way that you want.

Sometimes it is complicated to implement and requires tech knowledge to create and pass events.

Another famous and one of the most preferred web analytics tools in the market. Google Analytics is a feature-packed online platform that guides companies to do faster and smarter marketing for free.
It will assist you to understand your visitors, identify the reason for the visits, see what pages they viewed, how much time they spend, and track whether they converted or not. You will be able to see which website elements and content are performing well and which aren't. Getting this data, you will have a chance to use it to optimize your online marketing strategies for better results. 
Google Analytics is hosted off-site and is entirely free to use. You just need to be a Google user to apply it and gain access to detailed data about your website.
Some businesses require a more powerful version of the platform – Google Analytics 360. This version is paid and it includes advanced analysis, data-driven attribution, and many more robust features.
Pricing: 
No free trial

Free (with paid options for the Google Analytics 360)
Take a look at how Google Analytics works in this video tutorial:
Pros
Cons

Its team is always working on improving how the product works. 

Provides robust and effective tracking capabilities and a feature-rich dashboard. 

Comparing current data to other date ranges is incredibly simple to apply and visualize.

It may look very complicated and confusing when you're first starting out.

Misses some detailed tracking (that Adobe Analytics has).

It'd be great to have more learning and teaching videos.

It needs more integration with smaller social media platforms.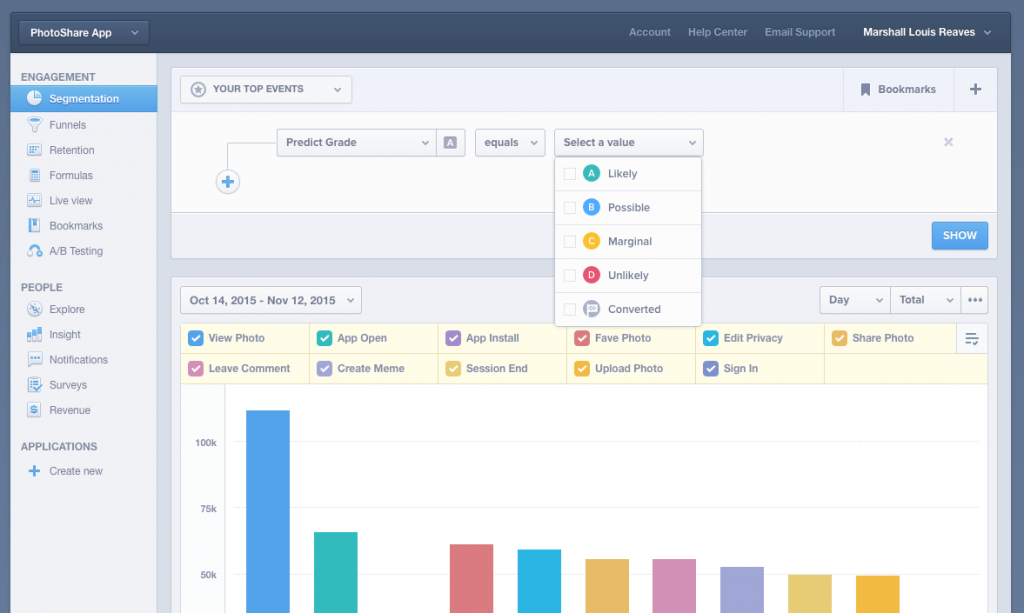 Mixpanel is a handy and user-friendly web analytics tool that helps to get actionable insights into your users' journey. The platform allows you to easily visualize your data for free.
Thanks to its tracking features, you will be able to get insights into your users and follow their journey on your website. You can also add users to groups; compare them, and much more.
The ability to create your own plan – is one more important and valuable aspect of Mixpanel. In order to upgrade, you can select a series of attributes that represent your business needs to create a custom plan and pricing. The tool looks good for businesses that want to get deep insights with a visually pleasing interface to look into their users and make them loyal customers. 
Pricing:
Free version and free trial available

Starts at $17 monthly
Take a look at how Mixpanel works in this video tutorial:
Pros
Cons

Offers a lot of reporting options to let users visualize the data in different ways.

Enables easy visualization of user event data without the need for IT intervention.

Provides easy integration with frontend and backend projects.

Offers flexible plans that work for smaller startups as well.

Reports can be hard to create and really depend on proper input.

Allows very limited date range for user flows (two weeks).

The Dashboard feature isn't able to accommodate all of the reports that users may have.

The interface looks hard to use at first. No option to easily create "Read only" dashboards.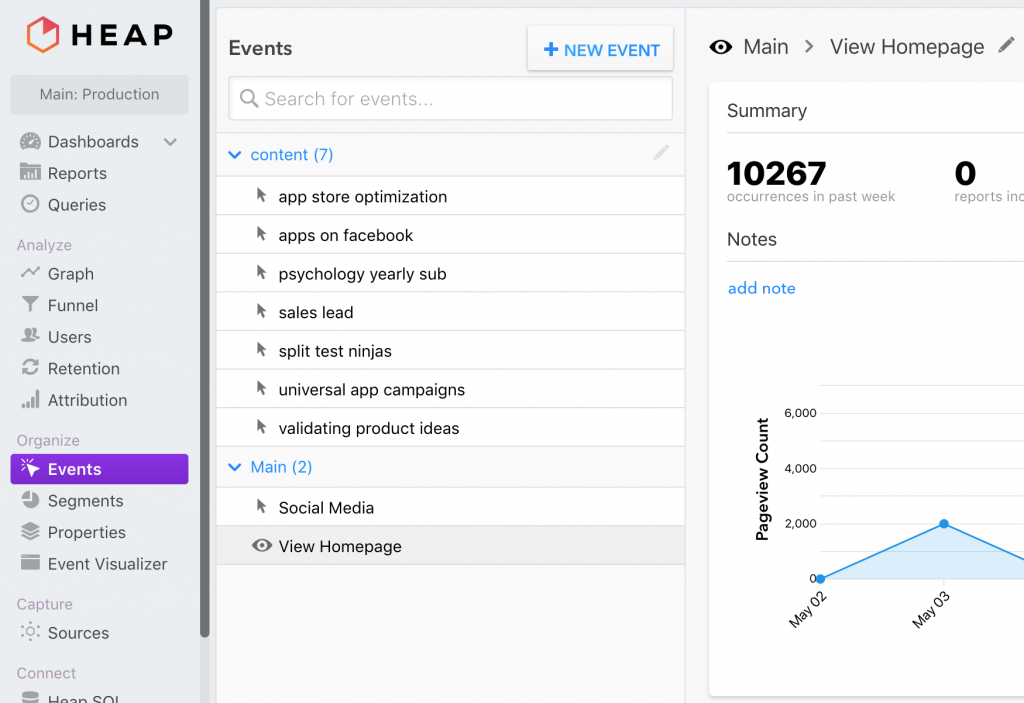 In general, Heap helps teams to make smarter decisions. This free analytics tool automatically captures every user action on a website or mobile application, letting you analyze the usage patterns that drive conversion and retention. 
Heap offers a unique approach to analytics by capturing all user interactions and analyzing them without the need to ship code or wait for data. It is quite easy to install and use. Once the code is installed into your website, you can automatically track all client-set events (including clicks, page views, form submissions, gestures, etc.)
Heap Analytics is designed for medium companies and enterprise businesses. No IT integration is required, it works out of the box. 
Pricing:
Free trial and free version available

Price varies depending on your needs.
Take a look at how Heap works in this video tutorial:
Pros
Cons

Offers the extremely simplistic use of setting up click tracking.

Allows setting up events at any time, without engineering involvement.

Collects email addresses of users visiting your websites.

If you have no dev background, using this software can be really confusing.

It only exports up to a set number of rows, so you need multiple exports. 

The amount of configurations and customizations in the dashboards and reports is limited.
Smartlook is a conversion rate optimization platform that specializes in qualitative analysis. Its features (such as event logging and session recording) can demonstrate how your site behaves. It will help you to understand your customers' online behavior on your website and mobile app. 
Smartlook will give you a way to understand user behavior at the micro-level. Always-on visitor recordings will show you what every last visitor does on your site/app, and automatic event tracking will let you know how your visitors do specific things. Heatmaps for websites will provide you with mass data about where most people click, scroll, hover, and otherwise interact with your pages.
Pricing:
Free version and free trial available

Starts at $31 monthly
Take a look at how Smartlook works in this video tutorial:
Pros
Cons

A reliable solution to record how users interact with your website. 

Provides an awesome funnel visualization tool that is much easier to set up compared to Facebook and Google Analytics.

Offers convenient event tracking and funnels to help you understand your user's journey.

Very limited use for the free version.

Privacy issues with other countries are unclear.

Assistant pop-ups often look annoying. 

Its visual design looks a little outdated.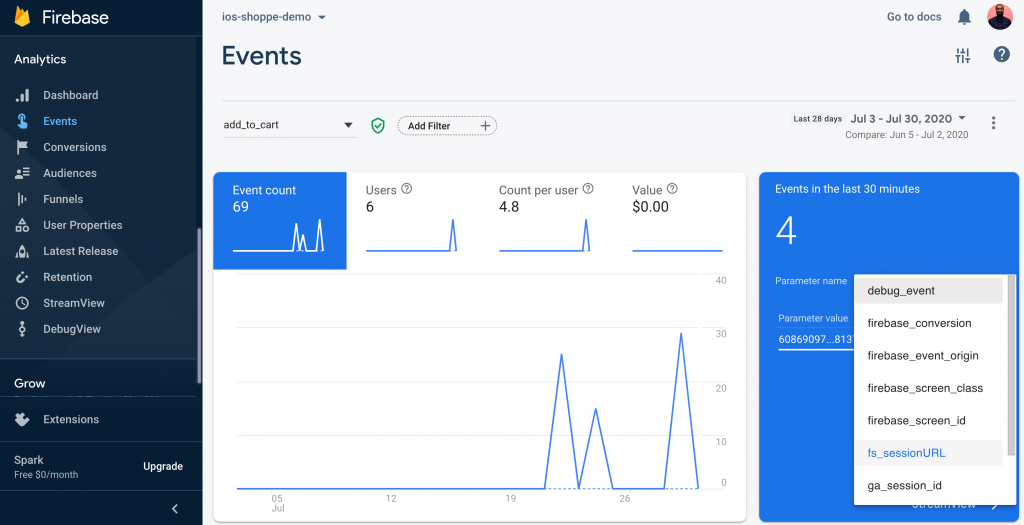 FullStory is a digital experience system that empowers businesses to improve the digital customer experience across sites and apps. FullStory offers a powerful analytics engine capable to connect digital interactions to the metrics that matter most to businesses. 
The tool proactively shares top opportunities to optimize the digital experience. It enables companies to understand issues, remediates bugs, prioritizes fixes, and measure the impact of those changes. 
FullStory helps different teams to align around their clients, break down internal information silos, and achieve company objectives together. Its target markets vary from product teams to engineering, customer experience, and more. 
Pricing:
Free trial available

No free version

Price varies depending on your needs.
Take a look at how Fullstory in this video tutorial:
Pros
Cons

Helpful to work with, from implementation to troubleshooting and determining plans.

Offers an amazing search, the video quality is great.

It has some good integrations with popular analytics tools.

It takes a bit to start capturing live sessions, and there is a considerable delay with go live.

Not all journeys or workflows are captured it seems.

It doesn't always pick up every session, making it very difficult to find the information you need.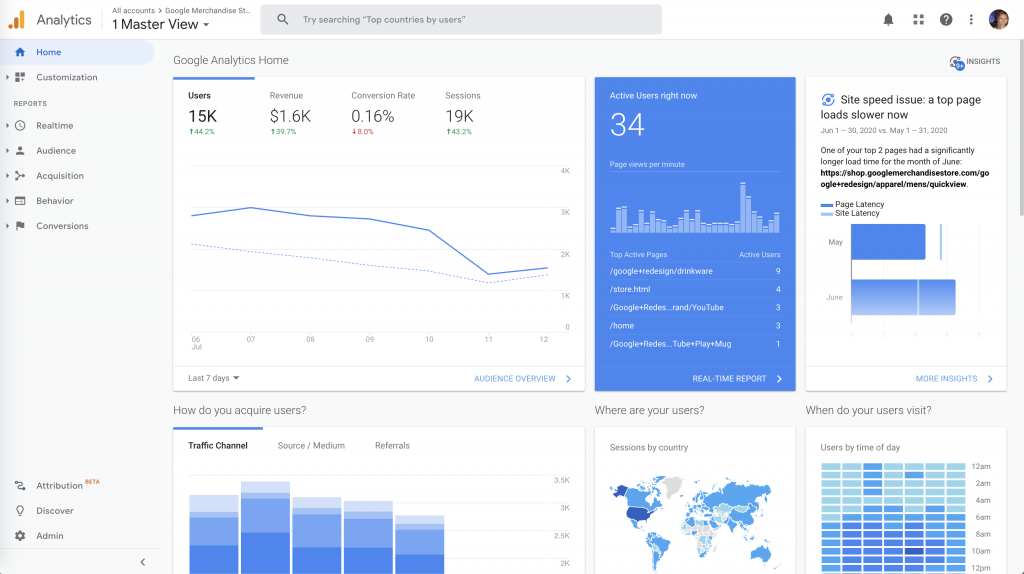 Indicative is a free web analytics tool designed to assist companies in optimizing their operations.
The tool links to customer data sources, combines them into a clear overview of customer manners, and offers actionable intelligence to enable companies to expand. Product managers, marketers, and business analysts all over the world use Indicative to optimize customer conversion, engagement, and retention. 
Indicative understands that clients do not take one straight path to conversion, so the app has features that let businesses follow the same routes as their customers take for a deeper knowledge of customer behavior.
Pricing:
Free version and free trial available

Starts at $950 monthly
Take a look at how Indicative in this video tutorial:
Pros
Cons

It is one of the most generous free plans out there.

Its features are constantly improving. 

The drag and drop feature with immediate visual updates makes running queries easier to figure out.

Onboarding needs some serious handholding from experts.

Its navigation is a bit confusing and not intuitive.

Sometimes the queries have too many results which either take up too much time to run or end up crashing the system entirely.
Clicktale is a SaaS cloud-based analytic tool that allows you to visualize your customer's experience from their perspective. With the help of this powerful platform, you will be able to analyze their interactions in aggregate in the form of heatmaps,  reports, and individual session replays. 
Clicktale provides visibility into customer behavior and decision-making by tracking their every action inside a webpage or app. It will help you to boost conversions and engagement, align internal teams with easily-consumable visualizations, identify opportunities, drill into errors and prioritize tasks based on business impact, elevate the testing culture by pinpointing areas for examination, and creating tests based on data, rather than guesswork.
Pricing:
No free version

Free trial available

Price varies depending on your needs.
Take a look at how Clicktale  in this video tutorial:
Pros
Cons

Great for enterprise use as they tailor the package and pricing to your needs.

Provides tons of reports and data that you can filter through to get a great understanding of your clients.

Its video recording functionality looks especially helpful.

May seem cost-prohibitive for most small businesses.

Sometimes can be slow or buggy in loading.

The usability needs some serious improvements.

Sometimes, tracking tags can slow down your site.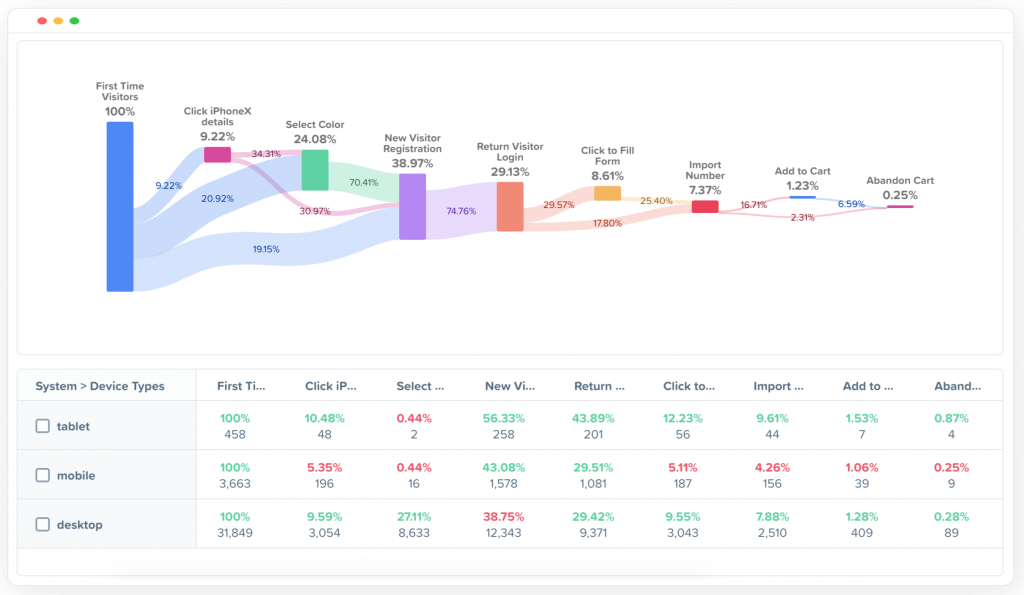 This handy customer journey analytics software redefines how companies understand, analyze, engage and retain their customers. It is designed to fuel growth and optimization throughout the entire customer lifecycle. 
The tracking technology in Woopra tracks usage across your website and mobile apps. The tool offers more than 50 one-click integrations with such famous partners as Intercom, Salesforce, Marketo, Segment, and others to seamlessly unify disparate data points across tools and teams.
The advanced analytics functionality includes non-linear Customer Journeys, Trends, and Retention reports powered by consolidated data. Woopra's Triggers let teams take real-time action on their data. 
Pricing:
Free trial and free version available.

Starts at $999 monthly.
Take a look at how Woopra in this video tutorial:
Pros
Cons

The configuration is easy and straightforward.

Its funnels look super customizable. 

The install and setup process is very easy and intuitive.

It has the most turnkey integrations of any web analytics solution on the market.

Looks quite good for marketers, but not for research teams.

It is rather difficult to do anything without developers and to download complex reports with raw data at the user level.

The new UI makes it hard to find the data required.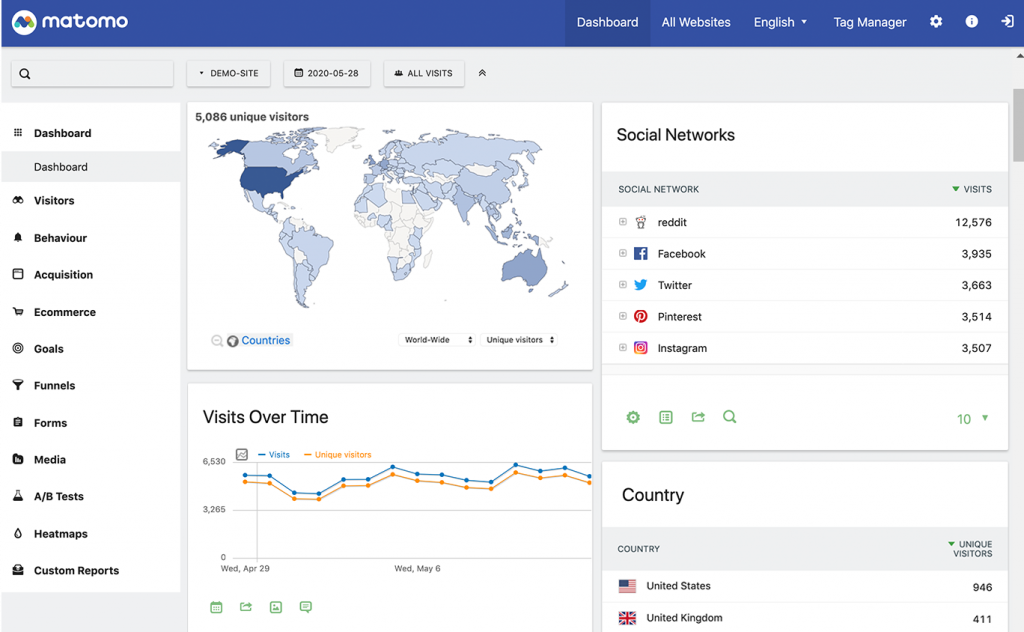 Another open-source analytics platform that offers just about anything you could want – real-time data, event, and content tracking, heatmaps, A/B tests, and more. That is why it has deserved to be mentioned in our list of the best web analytics free and paid tools.
Matomo (ex. Piwik) has two different hosting options – cloud and on-premise. The first one takes the hassle out of installation, whereas On-Premise is the free, open-source, and self-hosted PHP/MySQL solution that you can install on your own server.
The tool is designed to give you the most conclusive insights with a complete range of features such as heatmaps, session recordings, goals, form analytics, e-commerce, and funnels.
Pricing:
Free version and free trial available

Starts at $9 monthly
Take a look at how Matomo in this video tutorial:
Pros
Cons

Nice basic analytics and dashboard functions

This is one of the best alternatives to Google's analytics.

The data protection is very good as it is on the own server. 

The reports are very precise.

Charts and graphs look not very intuitive.

For advanced privacy, it is best to self-host the tool, but that's not a very tall order. 

Its mobile app is less powerful than the online dashboard and apps from other software suppliers.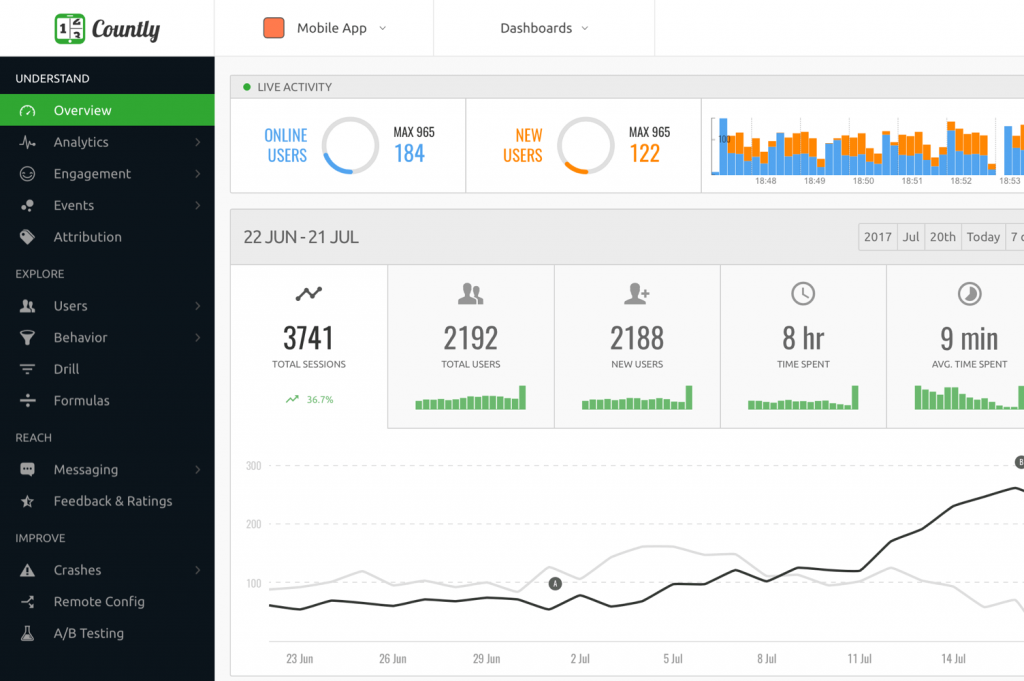 Countly is a product analytics solution tool that helps teams track product performance and customer journey across web, mobile, and desktop applications. 
The platform allows innovating and enhancing your products to provide personalized and customized customer experiences. It empowers various businesses to grow by helping them securely process billions of data points every day in the cloud and on-premise. 
You will get a set of customizable plugins and dozens of integrations, letting teams freely combine them and work with the data they actually need. With Countly, you will be able to understand your digital customer journey across devices. 
Pricing:
Free version and free trial available

Starts at $750 monthly
Take a look at how Countly in this video tutorial:
Pros
Cons

It is easy to use and provides meaningful feedback with the emailed reports and customizable dashboards.

Provides fairly comprehensive support for mobile applications and general tracking.

Video tutorials could be better.

Automated reports are not optimal.

The documentation can be hard to navigate through (especially from a business perspective).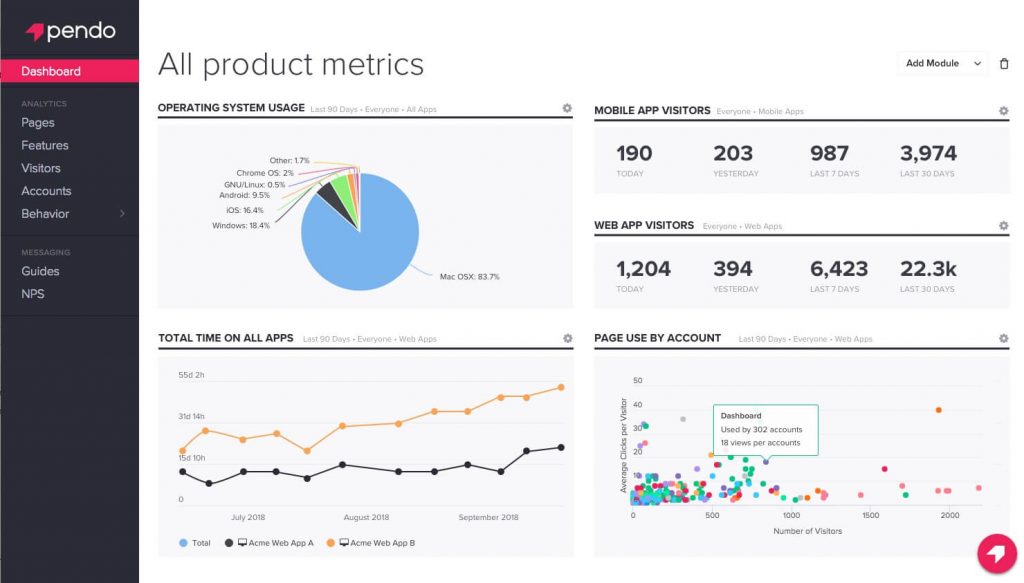 Our list of the best website analytics tools would be incomplete without this powerful solution. Pendo Pendo is a platform that helps software product teams deliver products users love. 
The platform helps product teams to answer such questions as Which features are clients using? Which features are they ignoring? Which ones are driving delight? Which are causing pain and confusion? etc.
Using these insights, you can set up in-app messages, guides, and walkthroughs without any coding to help users get the most value from your products. 
Pricing:
Free trial and free version available

Price varies depending on your needs
Take a look at how Pendo in this video tutorial:
Pros
Cons

In-app guides and walk thru's are very easy to set up and customize.

Default graphs and reports are good enough to gather the most important info.

Helpful in how to prioritize initiatives.

Its site loads very quickly with results.

No control over the data visibility can be frustrating to use any of the reporting they build for you.

The interface for customizing the guide center is hard to use and there is limited information on how to customize this.

It requires more areas for collaboration within and across teams.
What are the best analytics tools?
As you can see, each tool has its advantages and drawbacks, and many platforms can be adapted to suit your needs.
Everyone chooses the most suitable option depending on the type of business, the characteristics of the product or service, and other factors. In order to summarize the general impressions of the tools listed above, we offer a quick table of the best web tracking tools:
Summary of the Best Web Analytics Software
FAQ
What is meant by web analytics?
Web analytics is the process of analyzing the behavior of visitors to a web site.
What is the main purpose of web analytics?
Web analytics is aimed to help businesses to attract more visitors, retain or attract new customers for goods or services, or increase the dollar volume each customer spends.
What are the two main types of web analytics?
The two main types of web analytics are user analytics and traffic source analytics.
What is a web analytics tool?
A web analytics tool is a tool designed to track, measure, and report on website activity including site traffic, visitor source, and user clicks.
How do web analytics tools work?
A web analytics software works by tagging the web pages on a website using JavaScript code. It helps to track when a user visits the website, how long they stay, which pages they view, etc.
What are the categories of web analytics software?
Traditional analytics tools, behavior analytics tools, customer journey analytics tools, content analytics tools, and SEO analytics tools.
What is the best web analytics tool for beginners?
Google Analytics can be the safest bet for beginners. It provides a comprehensive set of data and is easy to use.
What insights can I gather using analytics tools?
It is possible to gather information on an increase or decrease in website traffic, user behavior, sources of traffic, conversion rate, etc.