Creating your own mobile app development team is no longer an obligatory task. Many businesses know how to outsource mobile app development to enjoy seamless processes and avoid hiring routine. 
How to make the proper choice, avoiding costly mistakes?
If you are interested in the topic of efficient outsource mobile development, you can use this article as a guide to understand the best practices and principles of this kind of work. 
Here we share some thoughts and practical ideas about how outsourcing can help you in mobile app development, in which cases you need to outsource, and how much it might cost. 
This topic is becoming as popular as the topics "how to hire offshore developers" or "how to attract the best programmer for a startup". So let's read on to get more.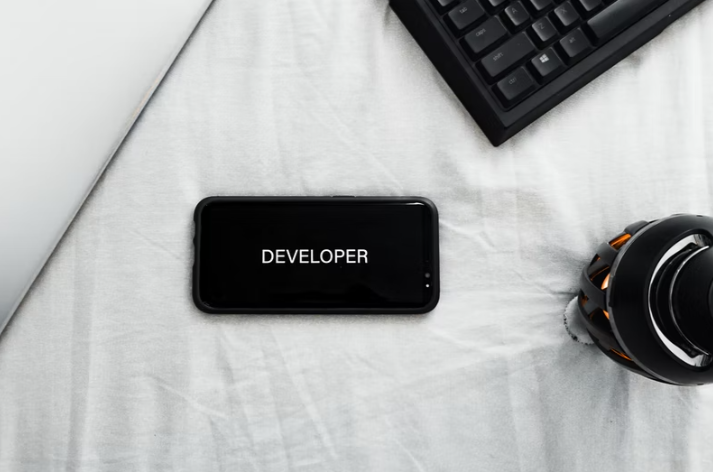 Image source: Unsplash.com (J. Leupe)
If you want to clearly understand how to outsource best professionals in mobile app development, you first need to remind some key characteristics of mobile apps and basic facts.
Why outsourcing app development
The truth is that outsourcing is extremely handy. However, sometimes using your organization's resources is simply more convenient. 
The need in outsourcing comes down to the internal capabilities and the particular needs of the company. 
Such projects as creating an app typically go well with outsourcing, but non-core features that require maintenance constantly may depend upon a designated department.
For one side, outsourcing means hiring specialists who know what they are doing. And despite the app's popularity, they are still somewhat of an unknown area for many companies due to the fast changes on the market.
Hiring rare professionals makes no sense for one-time projects when you can outsource mobile developers.
Thinking about outsourcing conditions, you can rest assured of a high-quality final product because mobile app development outsourcing companies usually employ developers, testers, and designers with enough experience in this field. 
Outsourcing provides two essential benefits – quality and speed. When you delegate tasks to an outsource mobile developer, you can spend more time concentrating on the core things related to your company.
After all, the contract-bound work means that outsource specialists will deliver the results on time. Therefore, you will decrease the backlog risks which are harder to avoid while working in the in-house conditions.
Key outsourcing mobile app development benefits
There are core advantages that you get in case you delegate the outsource mobile development to an offshore team. Here they are:
You save time
Mobile application development in outsourcing conditions helps to save your time. 
When you focus on the outstaffing model when outsourcing the mobile app development, you don't need to spend much time on hiring, training, and retaining employees. 
You get a ready-made professional team that has released many projects, built many complex appsolutions, and can contribute to your project with their skills and experience.
You reduce costs
The cost of living in outsourcing locations such as China, Eastern Europe or India is significantly lower than in the Western Europe or the US. 
You get the high quality of work
When you choose to outsource mobile development, you get access to hundreds of reviews about your potential software partner. It can help you make the right hiring decision. You can observe available websites or check references, testimonials, and case studies.
Typical outsourcing app development risks
What are the risks of outsourcing app development? Everything is not so simple as it may seem.
Initially, you need to keep three risks in mind when deciding the direction your organization is moving. They are mostly manageable. However, don't ignore them as they might ruin the overall experience. 
So, here're these risks.
Lack of control
Be ready that the majority of the processes will be beyond your control even though you set the certain frameworks and provide directions regarding what you want to get. This is a common case when companies use a contractor instead of their own employees. 
Make sure you reach an understanding before going into collaboration. Define the methods and frequency of communication with a project manager from a mobile app development outsourcing team and keep in touch as often as you need.
Communication problems
Communication between clients and contractors may result in mismatched expectations when the product is different from what the first one had hoped for.
These problems may occur any time. But usually, they occur when the requirements are poorly defined. To avoid them, both sides need to practice transparent communication.
Language barriers may also lead to communication problems. Most countries use English as the universal language and this eradicates this problem.
Attention to the sensitive info
Involving a 3rd party is always risky, especially if they work with sensitive information you might not want to share. However, outsourcing app development work with outsiders is inevitable. Therefore, your outsourcing partner might need to access confidential data.
To minimize such risks, work only with reputable outsourcing companies with a positive reputation. Composing a strong non-disclosure contract is also a good idea.
Key models of outsource mobile app development 
Now that you know the benefits and main drawbacks of offshore mobile development, it's time to list the differences between the core models of mobile application outsourcing. Here they are.
Fixed price model
Big companies from all over the world choose this type of model because they have a chance to know what result they want to get even before they outsource app development. 
The fixed price model is not suitable for startups that require a flexible approach to application development. It requires enough preparation and investigation. 
You can not make changes to the development process after it has begun. When such changes are obligatory, they will cost you additional money and time.
Time and material model
This outsource mobile app development type provides a lot of space for development sudden changes and pivots.
Businesses choose it because the entire development process is divided into multiple stages with a specified outcome. After the outcome is delivered, your team can plan tasks for the next development phase and make extra changes even in the middle of the  development process.
Dedicated development team
When you outsource app development to a dedicated team, you get several essential benefits. For example, flexibility in terms of changes, better control over your team, and higher dedication to the project. 
This model looks like a remote IT department with better communication and control over development processes.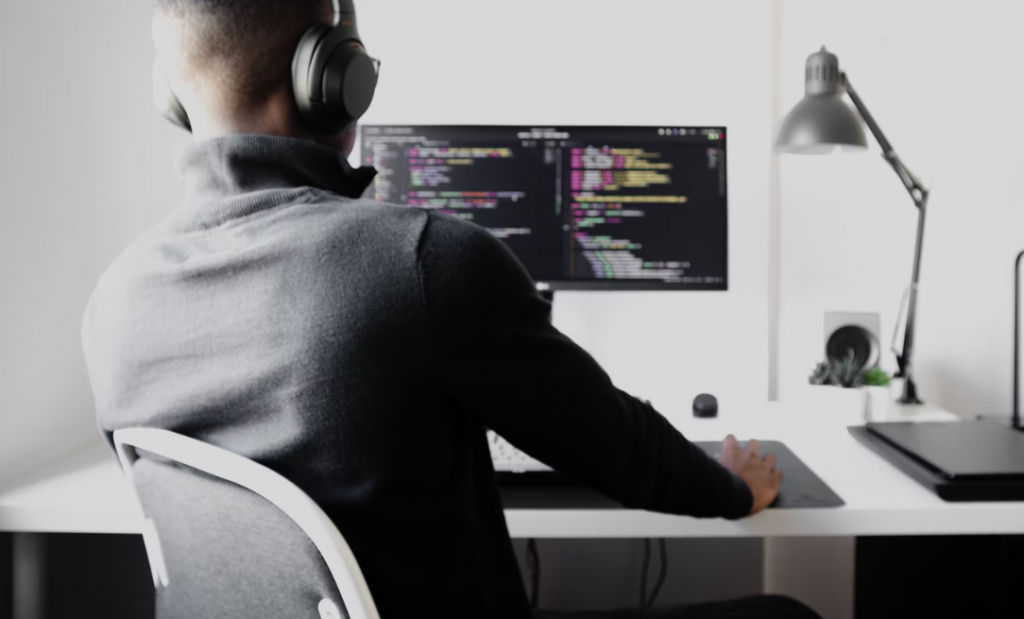 Image source: Unsplash.com (N. Fernandes)
6 steps to outsource mobile app development
Now you know the key advantages and possible risks of outsourcing mobile app development, so you can make a well-considered decision.
Here's the list of consistent steps that will help you to outsource mobile app development. 
1. Create an outline of your project
The first thing you need to do is to convey your ideas clearly, just to avoid communication mishaps.
To succeed, find the answers to the following questions:
What is the key goal of our app?

What features do we want it to have?

Who is the target audience?

What users' problems should the app solve?

Do we want to get an Android app or an iOS app?

What values of the company should the app incorporate?

What is the budget for the app development?
2. Make a choice between a mobile app development outsourcing company and freelance developers
Freelancers are cheaper than most development companies. In this case, your PM is your project contractor, so the communication process looks simplified. 
However, cooperating with the outsourcing companies, you get access to a whole team of seasoned mobile developers. Moreover, the process itself is rather formalized.
Many admit that companies seem less flexible, but freelancers can't provide guarantees and have narrow specializations. Anyway, it's up to you what to choose.
3. Choose the best location
There are three app development outsourcing models according to their location:
Onshore.

Nearshore

Offshore.
You may consider offshoring as the location priority just because remote work has already proved its effectiveness and popularity.
In Eastern Europe, you can outsource mobile app development professionals for lower rates without compromising the product quality.
It's not difficult to count the cost of developing a mobile application. You can estimate the number of hours required to build every single feature for your application and then multiply it by the hourly rate of your developers of choice.
4. Make the market research
Finding the perfect outsourcing partner can be a challenge. Therefore, if you are determined to outsource a professional and high-skilled mobile developer, you have to spend some time on the Internet.
There are many places that may assist. For example, WelldoneBy, Clutch, Upwork, or Golance (we'll talk about some of them in more detail below). They also may offer some insight on how to outsource application development and what tendencies are reigning in the market right now. 
Choosing the site, be sure that the companies' profiles include comprehensive information about their specialization, previous experience, client focus, and approximate hourly rates. 
5. Arrange an interview
Having a shortlist of all the potential candidates, you can interact with them. You'll need to ask the right questions and consider even minute details. 
Your interview will be not only about learning whether a candidate can code but also about interpersonal communication. 
If people send you a personalized message, demonstrating that they want to work with you, use this chance to request some additional info if needed.
6. Make it work
After finding a proper option, you just need to make it work. Remember that in order to succeed, you need to communicate with your partners regularly.
Ask for application mock-ups or updates. It will be easier to fix things in the beginning and you will feel more comfortable in case this is your first experience with app development outsourcing.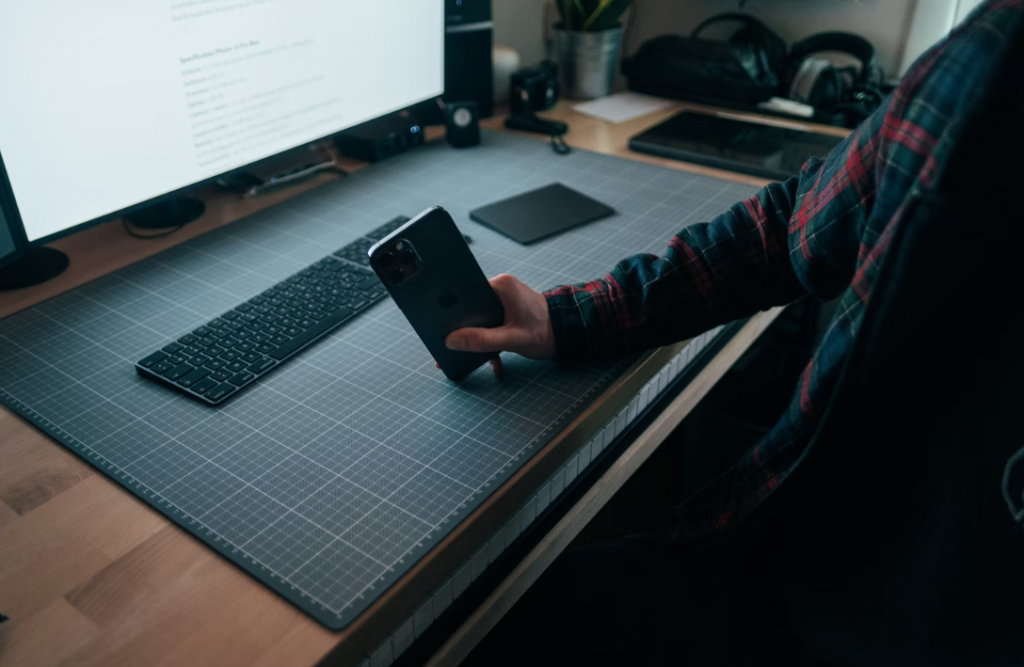 Image source: Unsplash.com (F. Hernandez)
Where to find mobile app development outsourcing
Here's the list of the most popular options: 
B2B directories
These sites provide lists of reliable app development outsourcing companies, grouped by their rating, location, and expertise. 
For example, WelldoneBy – a popular B2B platform for finding app developers. It allows for advanced search, using categories, classification, and getting customer reviews.  
Development blogs
They provide useful tips and case studies that demonstrate the experience in app development. You can easily  contact such a company if its expertise meets your project conception.
Freelance websites
Such sites will assist in case you need to outsource one specialist with a particular skill set.
Upwork is a good example. You can hire a freelancer or outsourcing team for a fixed-price there.
Design networks
Many companies create both code and design. For this reason, design communities also perform great for finding a team to outsource. One of the good examples is Behance. 
WelldoneBy company listing
When looking for the best outsource mobile application development site, you can easily get confused. Therefore it's better to follow a reliable and proven source that will provide you with all required data. WelldoneBy will assist and help you succeed.

WelldoneBy is designed for you to get easy access to the best outsourcing development teams and oversea professionals from various locations. 
The platform proposes a special WelldoneBy catalog that contains companies' portfolios, the size of budgets, the cost of an hour of work, reviews, and other helpful info. All companies are verified. 
Feel free to pick up appropriate outsourcing app development.
Outsource mobile application development: how much does it cost?
The cost of the mobile application outsourcing model depends on numerous factors, including the location of developers, the scope of features and tools used, the business niche, and more. 
The more complex your application is, the longer it will take to develop it. Therefore, the more expensive the development will be. 
Working with outsourcing professionals usually means paying by the hour. That is why the easiest way of calculating approximate cost of your idea is defining the main features of the future app and checking how much time (in hours) it would take to implement them.
Wrapping up  
Mobile application development is a process that goes far beyond launching the product. This process happens as long as your business exists. 
App development is the most frequently outsourced IT function in many countries. And outsourcing allows for more fast and cost-effective development with reduced risks.
Finding a reliable partner in this case is a crucial thing. Just keep in mind that mobile application development outsourcing can be a viable choice, that is simple, cost-effective, and affordable.