Launching an app, many developers orient to 2 markets — App Store and Google Play. But there is plenty of alternative app stores in the world. Surely, traffic capacity is less there but still, it exists. We'll tell you why you should pay attention to them.
Why entering alternative stores?
We don't force you to promote only in alternative stores. Nowadays they're justified only as an additional traffic source. Though, sometimes it's vice versa.
Here are the main reasons for a release in alternative stores:
possibility of additional user attraction.
less competition, easier and cheaper promotion.
more loyal product requirements.
more beneficial financial conditions.
possibility to place casino-games which is impossible on the App Store and Google Play.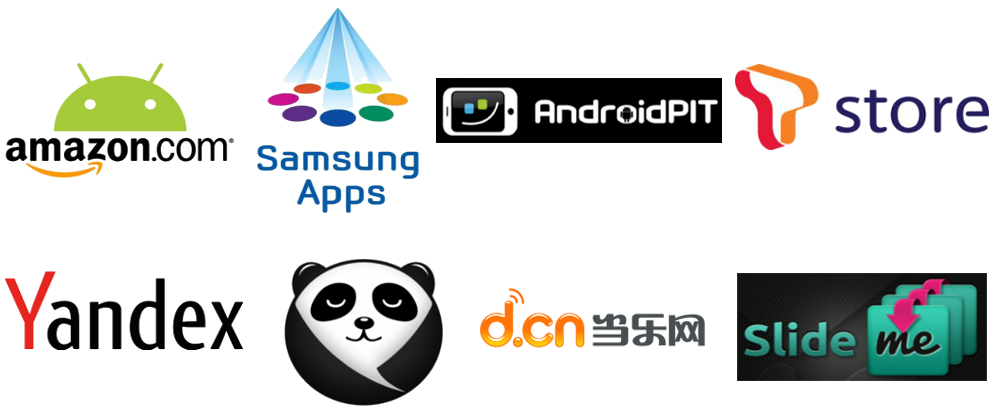 But there are some negative moments:
The necessity to adopt an app for other stores;
Changing of a marketing campaign in order to meet the requirements of this or that store;
Small audience.
But still, the advantages overweight the disadvantages in many cases, i.e. entering alternative stores is justified. You can get traffic there at a low price or even for free which will be a bit of help even on the background of both the main stores.
Amazon Appstore
That's the second-largest store of Android apps after Google Play. It was launched long ago — in 2011, but it showed good growth last year. There are more than 250 000 apps now.
The main advantage is a rather big audience so as the result there's a disadvantage as well — high competition. Its level is surely not as high as of Apple and Google stores, but still, you can't promote here without a budget.
There are some peculiarities:
An app and design adaptation is needed for Amazon Appstore.
There's a special service that allows testing your apps before launching it.
It has the possibility of paid featuring.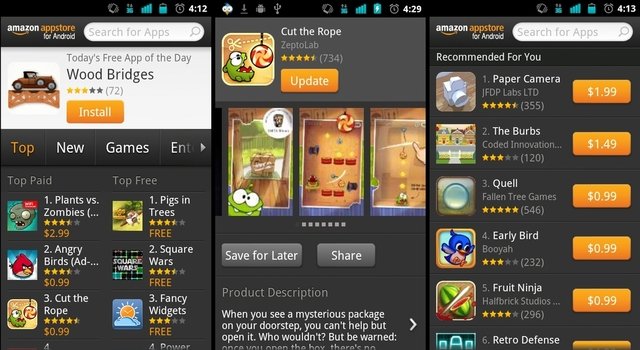 Amazon Appstore won't do for promoting without a budget but with some share of marketing efforts, it can give you many new users. It suits perfectly for the publishers who have promotion experience.
Opera Mobile Store
The app store is not as big as Amazon but it supports various platforms. You can find their apps for BlackBerry, J2ME, Symbian along with iOS, Android, and Windows Phone.
It acquired success due to the main company product. That's why it's popular in the countries where the Opera browser dominates.
Main peculiarities of the store:
Android traffic prevails in Opera Mobile Store, it makes up 60%; iOS is in second place — 20%.
The commission for paid apps is 30%.
Almost any mechanism is allowed for the realization of inner purchases.
App pre-moderation is provided before publishing an app, apps are published in a 3-day period.
The monthly audience is approximately 100 million people in 230 countries.
The most large-scale app category is games. The youth comprises the largest share of its audience.
The app can be installed in 2 ways: download it directly via the store or get a link to the main market (App Store or Google Play).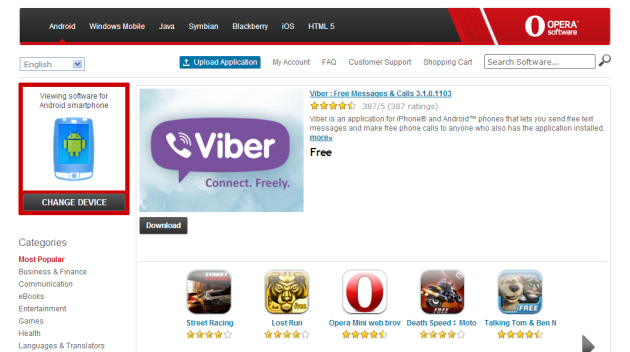 You should consider the market as it provides many possibilities for a paid promotion. For example, a developer can legally buy a place in a TOP. Besides you can promote an app by common CPC and CPI schemes. There's free featuring and new apps get to a corresponding category where they can be easily spotted by users. Store developers plan to embed some new social functions which leaders of the market don't have yet.
Opera Mobile Store will do for a wide range of developers and publishers but the number of attracted users will depend on many factors: for example, from budget, country, and app category.
"Yandex.Store"
It's a rather young store but it already has more than 100 000 Android apps. The main countries are Russia, Ukraine, Kazakhstan, and Turkey.
The main features of the market:
30% commission, monthly payments not less than $100.
Pre-moderation and control for malware.
No hindrance to app publication by individuals.
Tough app requirements, for example, casino-games aren't allowed.
Featuring. As there's low competition, it's easy to get there but you can't buy it.
Extended billing possibilities.
On the whole "Yandex. Store" will do for both beginners and big publishers. While placing an app there, you should thoroughly study market rules as they are pretty strict.
Chinese and other regional stores
If you plan to enter foreign markets, examine local stores thoroughly. Sometimes they offer great conditions for promotion and give you many users but sometimes, vice versa, it's not worth your efforts on app adaption just for a hundred users.
There's no sense in telling about markets of different countries as they are diverse. The practicability of placing your app there depends largely on the product and competition level in a definite niche.
One of the vivid examples is the Chinese mobile market. The country is considered to be a heaven for developers but is everything so easy there?
Chinese mobile arena is famous for the fact that giants of the sphere are poorly presented there. For example, Google's official store owns only a 6% share! Local app markets reign there and they are plentiful, hundreds of them. Android platform prevails in China (80% of the market).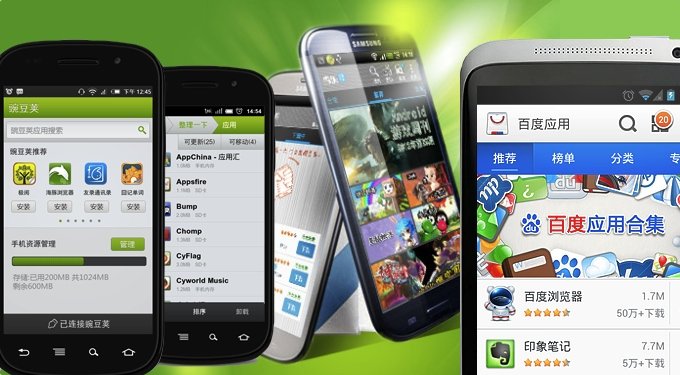 It's very difficult for a foreigner to get to the Chinese market not only because they don't know national peculiarities but also there's a high commission for foreign companies.
Europeans and Americans should pay attention to such stores as AppChina, nDuo, 360.cn, Wandoujia, and others similar to them. There's another important moment: choosing an agent. Without the agent's services, you won't be able to place your app there.
Marketing in the Chinese mobile sector is complicated manifold as platforms like Facebook, Twitter, and YouTube aren't presented there. You'll have to deal with local analogs. Usually, agents do all the services which concern the launching of an app: they choose platforms for advertising, perform testing, build-in SDK, etc. You should be ready you'll have to pay them a great commission.
Windows Phone Store
That's the third world platform on the market. But still, it's significantly behind the 2 giants. That's why we can study it along with other alternative stores.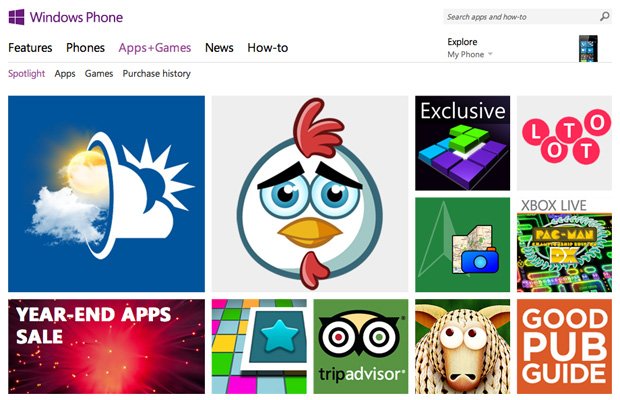 What differs it from other competitors?
more loyal conditions for publishers.
great featuring possibilities. The developers who make an exclusive launch on it get many benefits.
easy app porting process on popular engines, HTML5 support.
legal user award with inner currency for reviews and marks.
live-titles (a more advanced analog of ordinary push-notifications).
more solvent audience than on the Android platform.
Windows Phone Store provides beneficial conditions for promotion but it requires app development for its own platform exclusively. It's not justified for minor developers, but large companies with big plans should definitely pay attention to this market sector.
Using alternative stores is a great method of user attraction in some cases. In some situations, it's the one and only way out for developers. But it shouldn't be your major hope. Don't invest large sums of money into marketing as long as they can't provide you traffic compatible with that of App Store or Google Play.
Read more about mobile app promotion