2021 is around the corner and it is worth mentioning that the outgoing year has brought many significant changes in different areas and industries, including project management.
The Coronavirus pandemic has forced many companies and businesses to try remote work, and this is perhaps the most important event that has affected the PM sphere. 
Today, a remote project manager is the same professional as a regular office PM, he or she just learned how to cope with all the tasks, working from the home office. And of course, remote project management would be impossible without professional and multifunctional software. This post is about the best project management tools that will be helpful in 2021. Are you ready to check them out?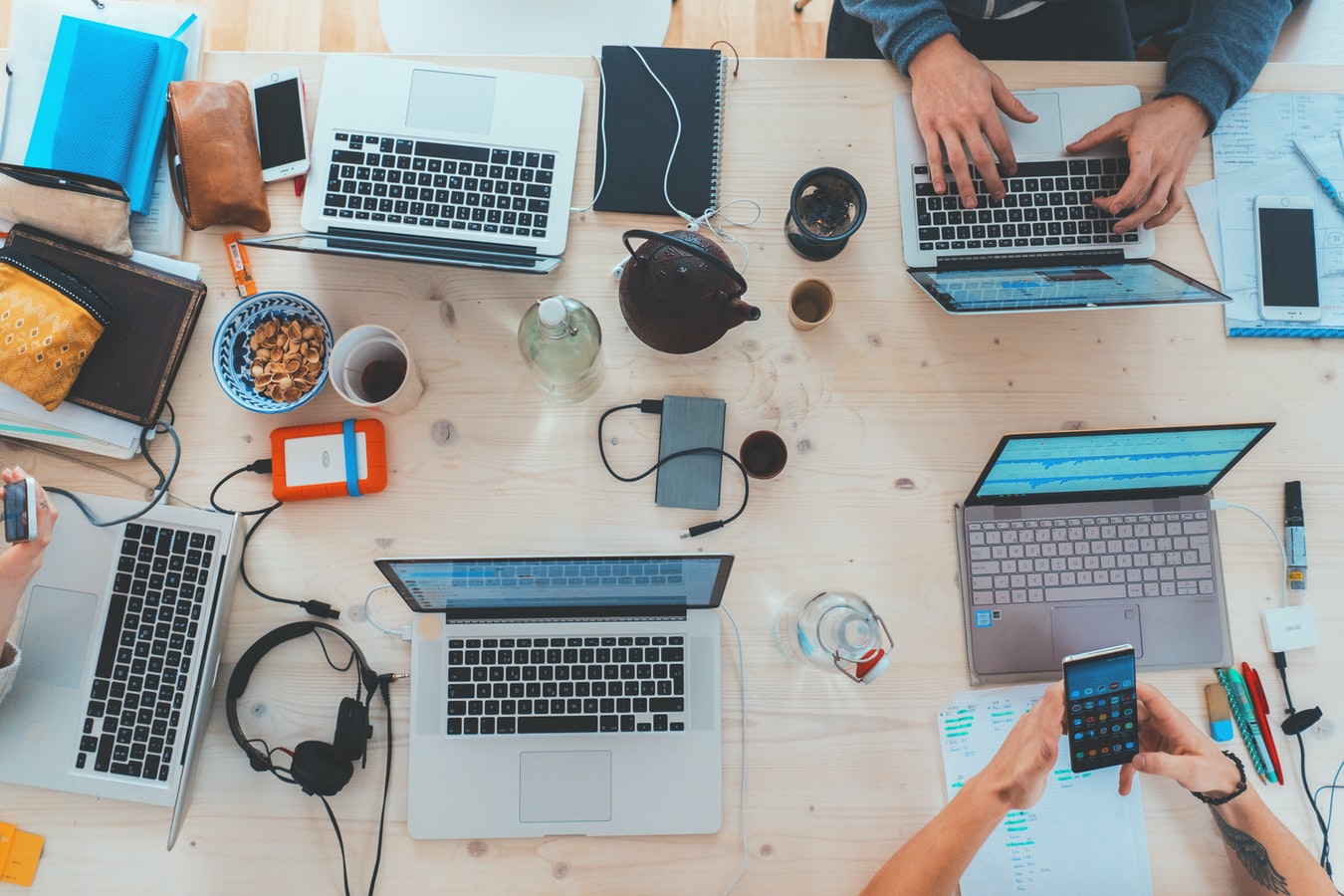 Project management includes the tools required to deliver your projects properly. To succeed, you will also need appropriate technology, methodology, and resources that will enable project completion. 
What is a Project Management Tool?
A project management tool enables teams, businesses, and individuals to keep track of projects in all their stages. You can use PM software to work collaboratively and remotely on a project, track progress, add notes and deadlines, and make updates. Some platforms include search functions and various integrations.
A well-chosen PM tool will help to control costs and hit deadlines. A typical project management software has many high-level features that may include:
task management

assignment and scheduling

user dashboard

team collaboration

Gantt Charts

file sharing

calendars

resource management

risk management

project plan templates

time tracking

budgeted projects

invoicing and payments

business intelligence

data export

analytics

custom reporting, etc.
Who will use project management software in 2021?
It is expected that project management tools will be popular among:
work teams

small business owners

individuals managing multiple projects

remote workers 

sales teams

IT sector

contractors and

construction workers

healthcare organizations

education

financial organizations

nonprofit companies
How to choose the best project management software tools?
We have researched the best project management solutions based on the features they offer, their device capabilities, how they can be used by multiple users, their prices, and general reputation. Here's what we have.
Best Project Management Tools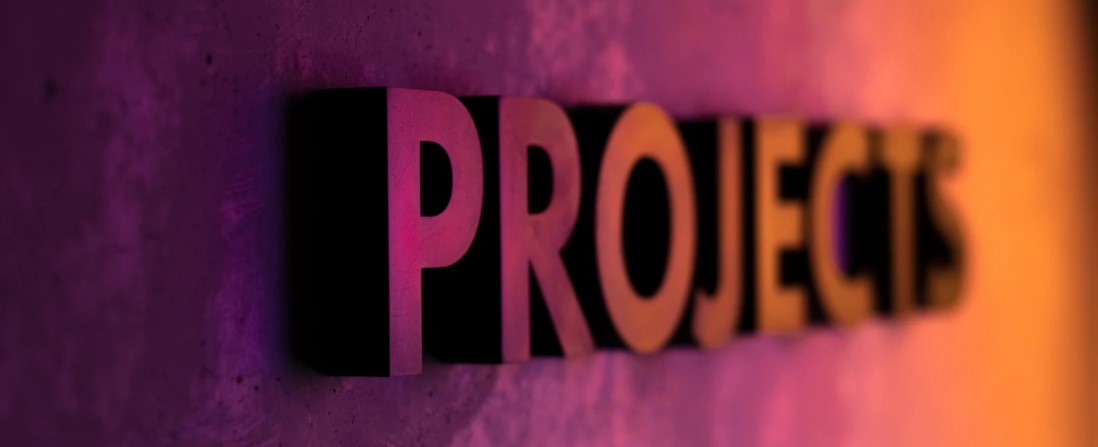 Hygger – Best for software development
If you've ever been scared by the unknown complexity of using a fully-fledged project management system, it's well worth taking a look at Hygger. The platform is an excellent spot between limited functionality (let's say as in Trello) and complex features focused predominantly on tech projects (as JIRA offers). That is why we place Hygger on the first position of our list.
The tool proposes colorful Kanban boards with Swimlanes, WIP limits (work in progress), and time tracking. You'll be allowed to manage multiple projects on a smart board and track everything in one place. Swimlanes will assist you to split the board horizontally for easy categorizing lots of tasks. WIP limits will be useful in defining all roadblocks and inefficiencies in the work process.
Choosing Hygger for project management, you will also get powerful roadmaps for planning and scheduling as well as robust prioritization matrices to prioritize backlogs (Value-Effort, Value-Risk, Eisenhower matrix, and others). Hygger is good for development teams, product companies, startups, and medium-sized enterprises.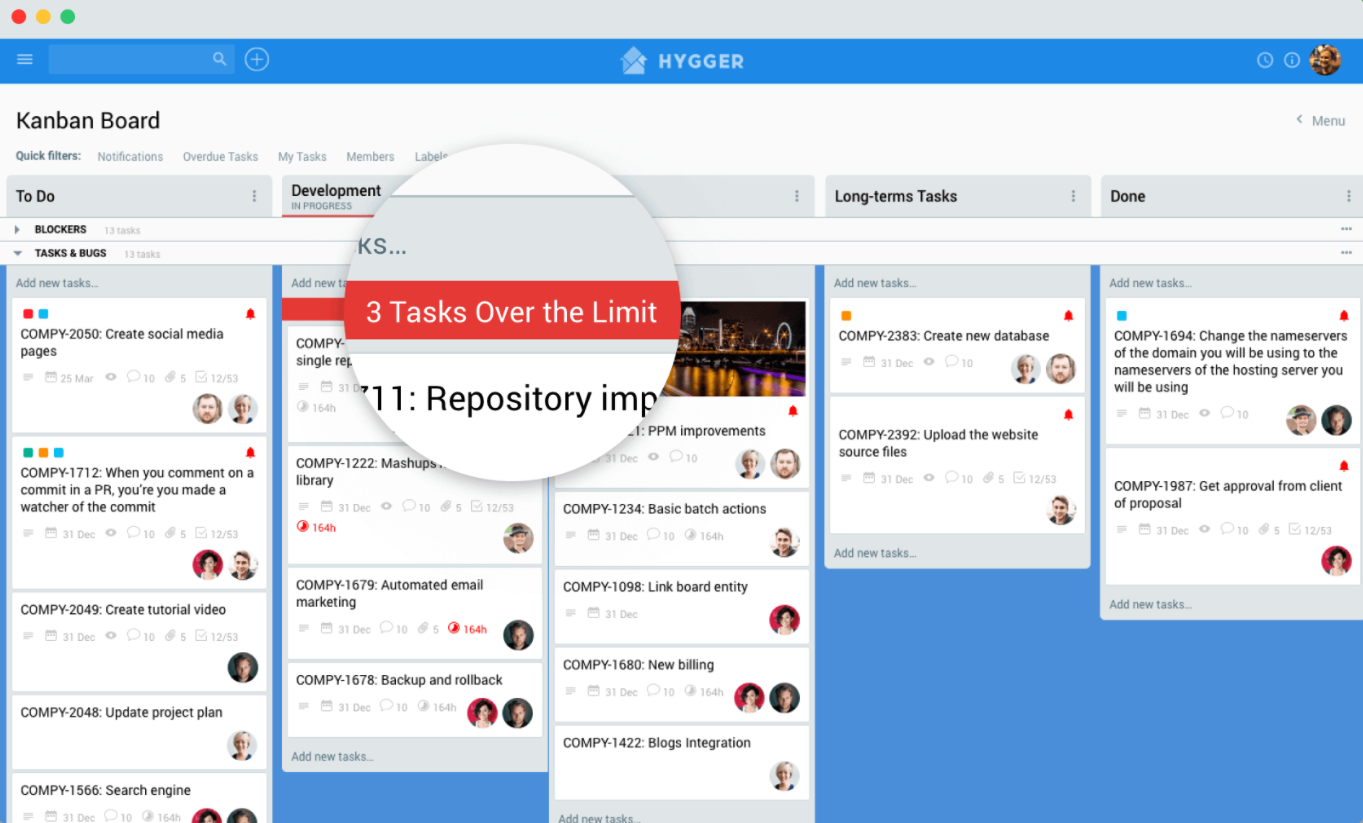 JIRA – Best for techies
This is a classic but not old school tool, for managing projects, products, and teams. Everyone knows about the power of JIRA and it does not lose popularity, staying in demand all over the world.
Product teams often deal with complex projects, including technical solutions. This is where JIRA comes to the rescue. However, even they sometimes exclude the tool because of its complexity and technicality. Marketers, designers, sales, or product managers will probably agree.
JIRA looks great for software developers, managers, and teams to help manage projects and products, set and move tasks, and communicate. It offers smart features that allow defining a product vision and tasks related to creating a roadmap, managing backlog items, defining priorities, and so on.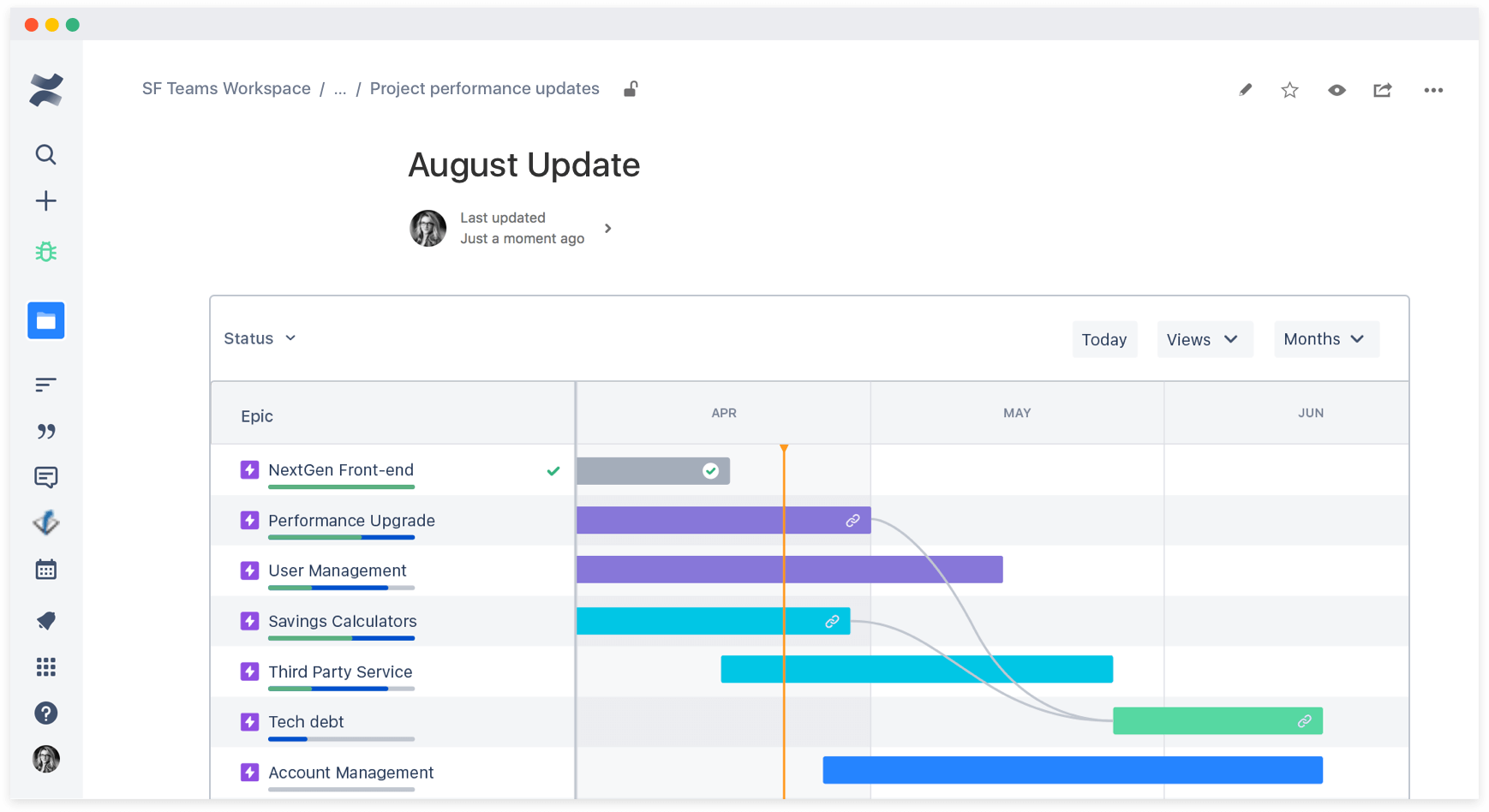 Trello – Best for multipurpose project professionals
One of the most popular tools in the project management world is obviously Trello. It is based around the Kanban management system. Its simple interface makes it the ideal place for small and medium-sized teams to get started with basic project management.
The solution allows managing both individual projects and ongoing workflows, and the board-card system is easy to understand for everyone. There's great functionality with cards able to include images and attached files, custom dropdowns, hyperlinks, due dates, and more.
Trello's basic free tier includes unlimited users and boards but has file size restrictions and just one integration with other services per board. You can enjoy Trello on the Web, mobile, and desktop.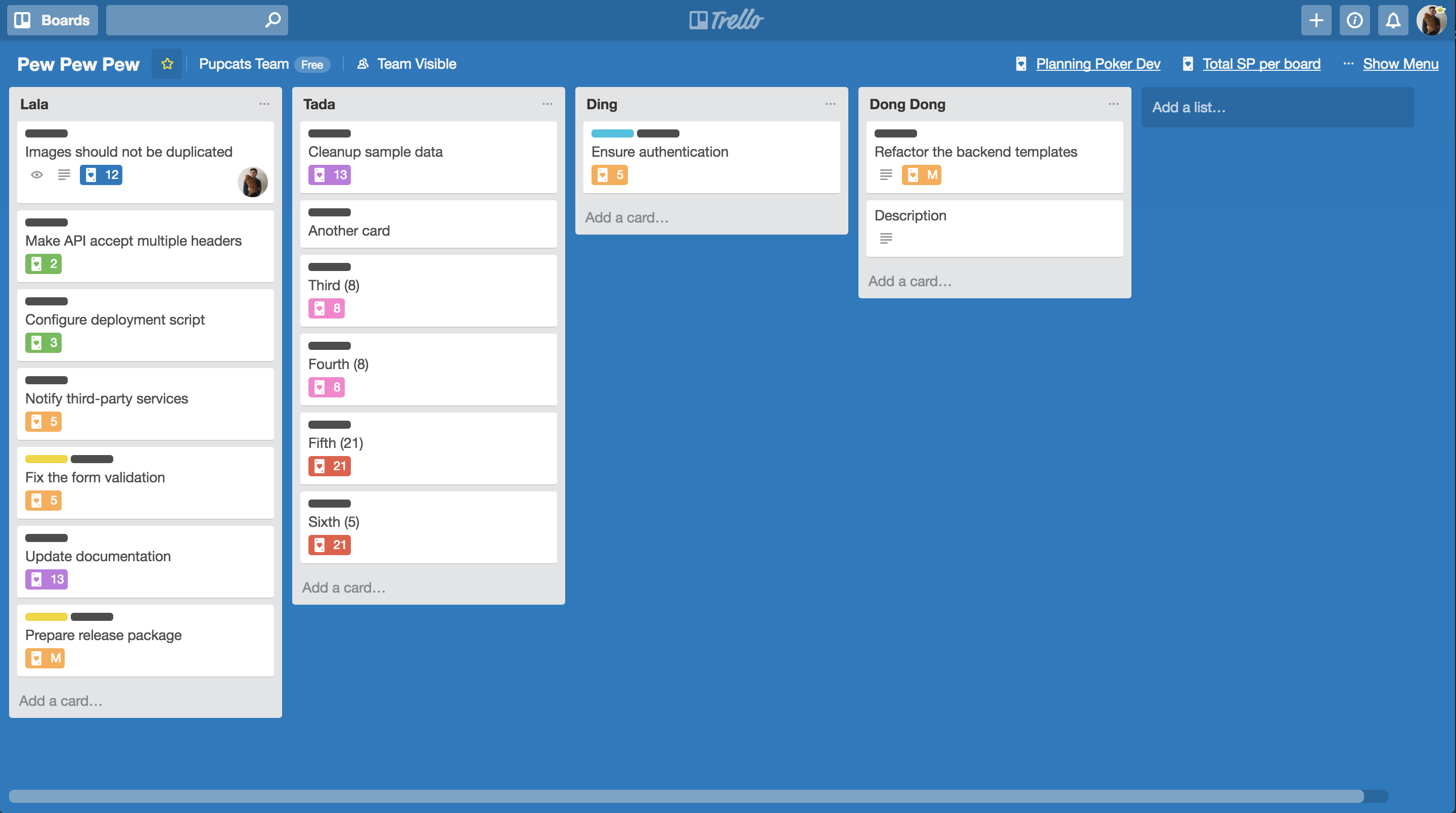 Wrike – Best For Scaling Organizations
Another popular software for project management needs that looks better for speedy setup is Wrike. Many admit that it is good to try Wrike after Trello with its limitations because Wrike provides its users with everything that you cannot find in Trello.
Here you will get standard project management features like cozy dashboards, Gantt charts, and a comprehensive reporting suite. Get up and run on small- to medium-sized projects that can be done quickly without learning all the in's and out's of a new system. Wrike also offers a built-in time tracking tool that is not a replacement for a dedicated time tracking system but easily handles most basic requirements.
Its interface is friendly and functional, and while it needs some visual refresh, is fine for the job.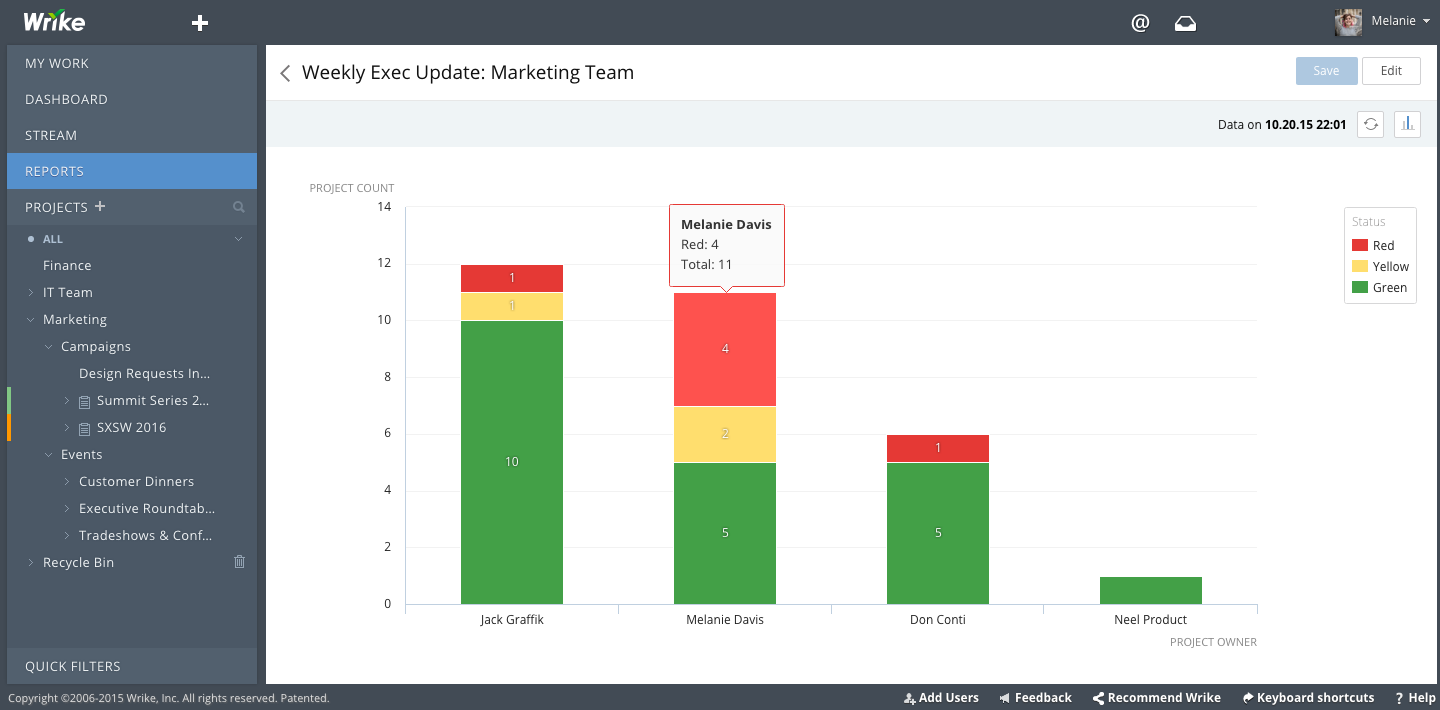 Asana – Best for small and mid-size teams
The platform combines project management elements with file storage and collaboration functionality that helps to manage projects without emailing.
Asana provides such powerful features as the possibility to break work down into tasks, assign tasks to team members, organizing them into projects for roadmaps and timelines, reviewing milestones, checking the team's progress, getting notifications, and more.
Beautiful project dashboards provide a quick overview of every single project. Asana is an easy-to-use solution with a simplistic layout. Check it out if you're a small team with not too complex projects.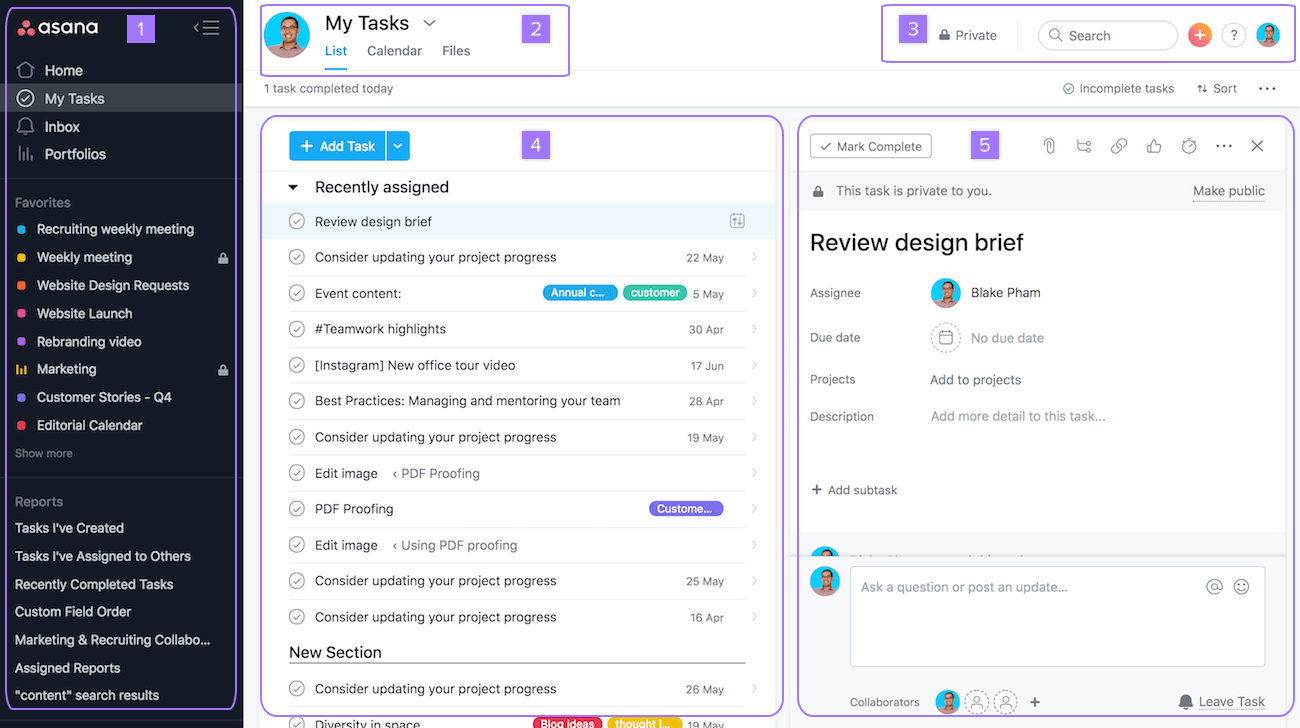 Basecamp – Best for small remote projects
Describing Basecamp, we can confidently use the word "veteran". This project management tool has been around for over a decade. It has built a large and loyal customer base during that time.
This tool can replace several other paid monthly services such as Slack or Dropbox. Basecamp offers scheduling, calendars, file storage, real-time chats, private messaging, and more excellent features. An uncluttered interface and friendly search tools make it straightforward to find tasks, images, or messages you need.
It is possible to share individual tasks and messages with colleagues or partners outside the organization. In Basecamp, you can customize notifications to your requirements, including shutting them off outside office hours.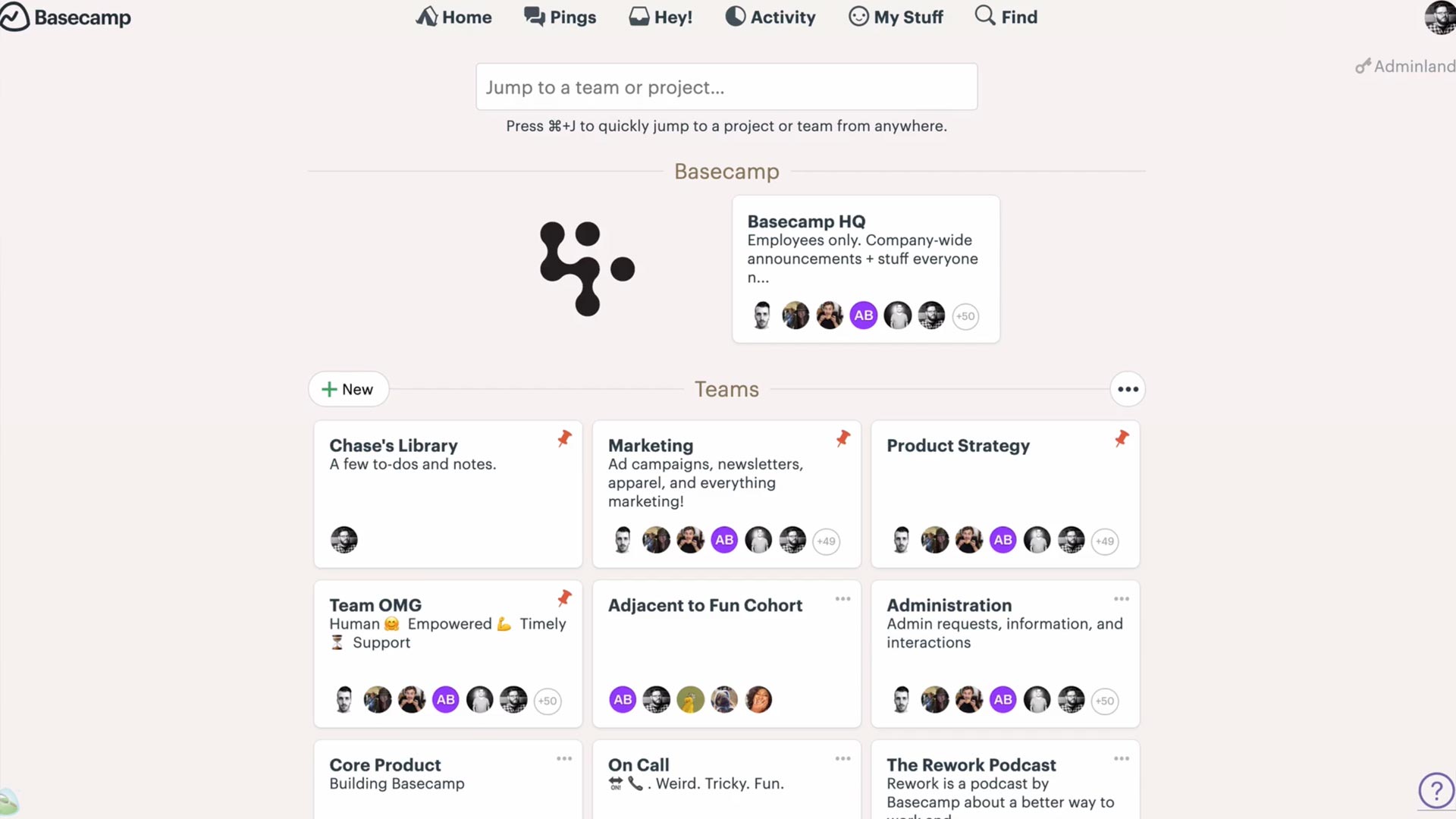 Workzone – Best for boosting project collaboration
Workzone gives teams a central place to manage and share their work to make everyone stay on the same page. The platform was designed by experienced ad execs who wanted to help creative teams and agencies get visibility into all of their work.
Among the top Workzone's features, the following are worth our attention: personalized to-do lists, ability to create subtasks and task dependencies, permissions for certain users to access projects and tasks, handy statuses with Gantt charts, assigning people to more than one task, etc. Additionally, Workzone makes way for faster communication.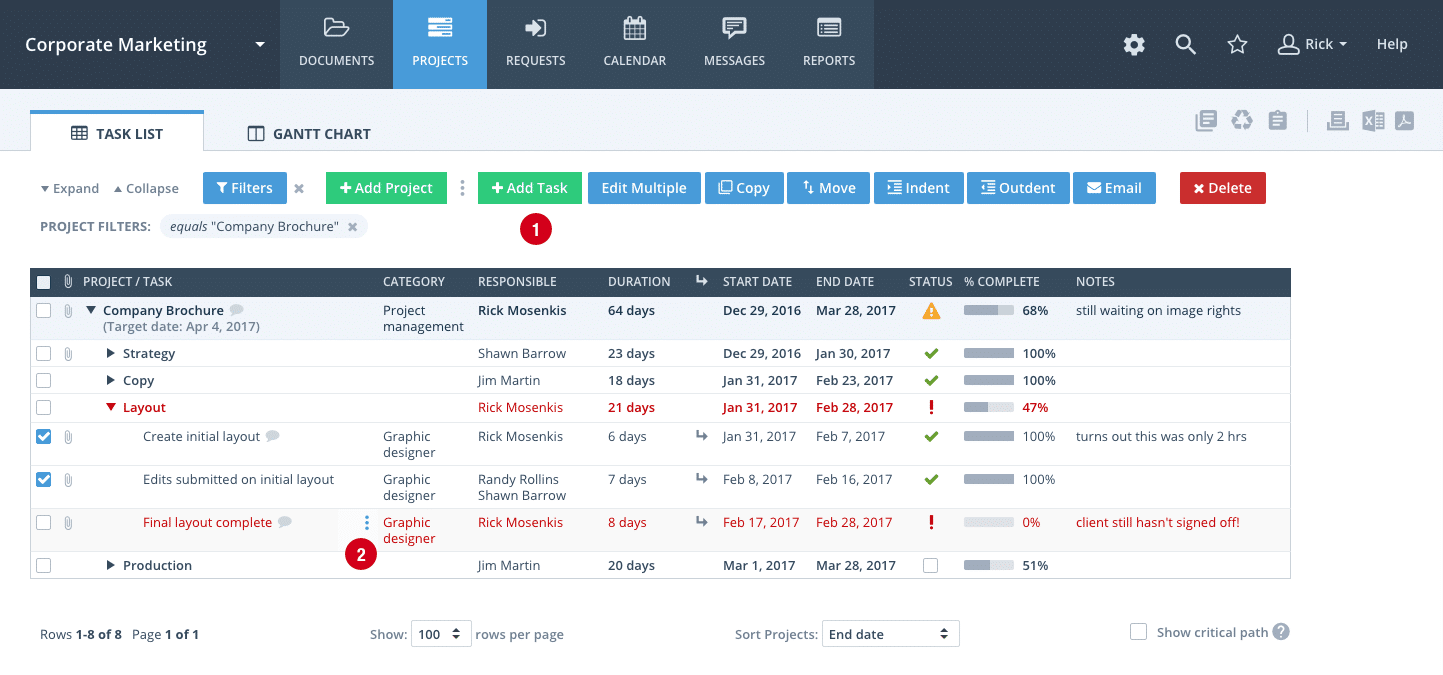 GanttPRO – Best for planning with Gantt Charts
This professional cloud-based project management tool is widely used by small and midsize companies, as well as individual users. You get handy and colorful Gantt charts, scheduling, progress tracking, and more outstanding features, needed in the IT sector, construction, finances, healthcare, education, and other areas.
As a user, you can automatically reschedule multiple project tasks simultaneously with GanttPro's drag-and-drop functionality. Create new tasks, assign them to team members, track progress, set task dependencies, and define critical paths. All in one place.
Additionally, GanttPRO allows importing charts from software like Microsoft Project and Excel.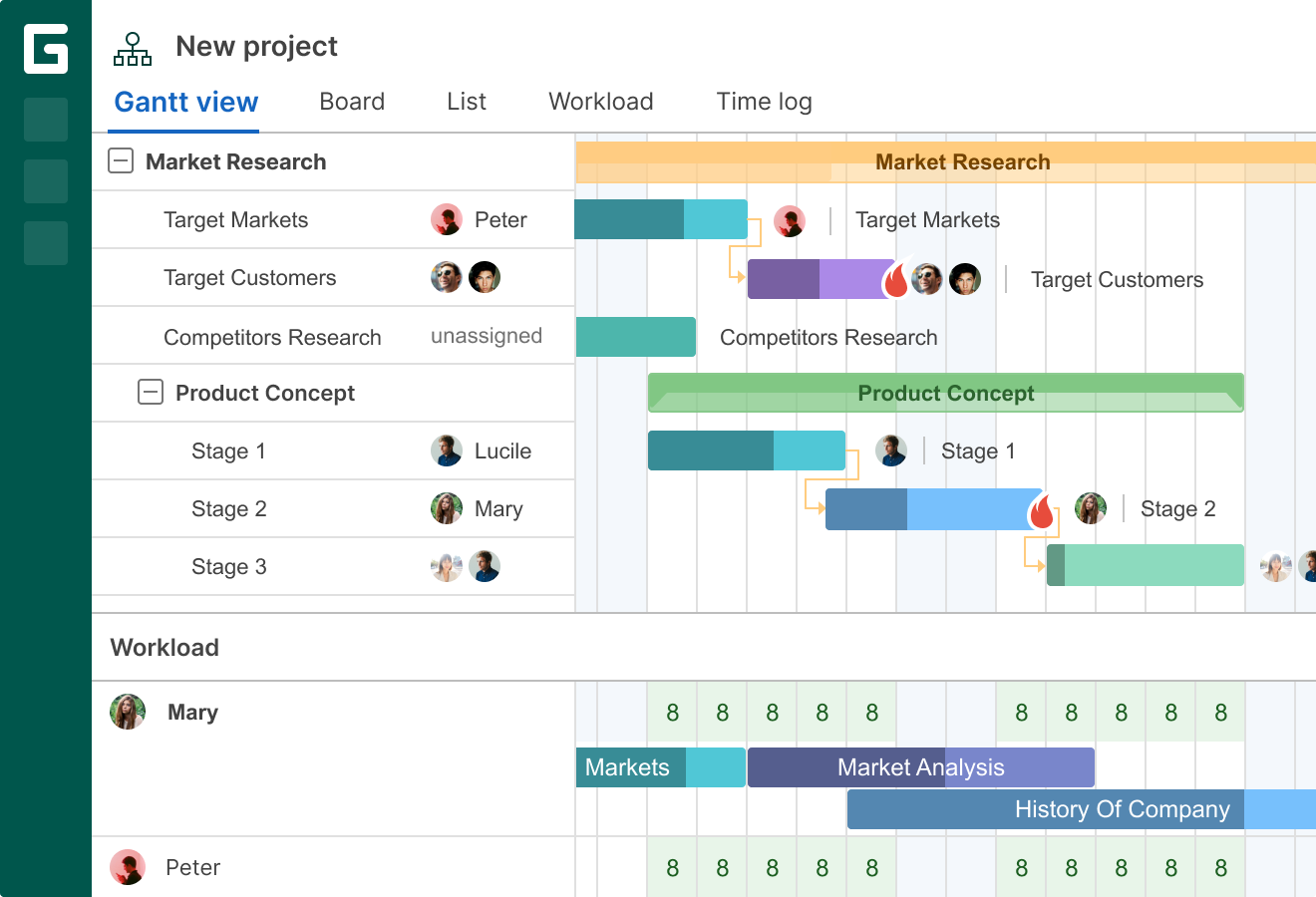 LiquidPlanner – Best for fast-moving teams
Multifeatured LiquidPlanner is one of the tools that have grand ambitions at the start. This solution will help you to run traditional projects, with all the features you'd expect. It performs equally well as a smart issue tracker and general resource management tool.
LiquidPlanner proposes built-in reporting and integration with key cloud storage providers. Tasks and issues can be assigned to single users or groups. The tool is better suited to larger teams and organizations than small groups and individuals.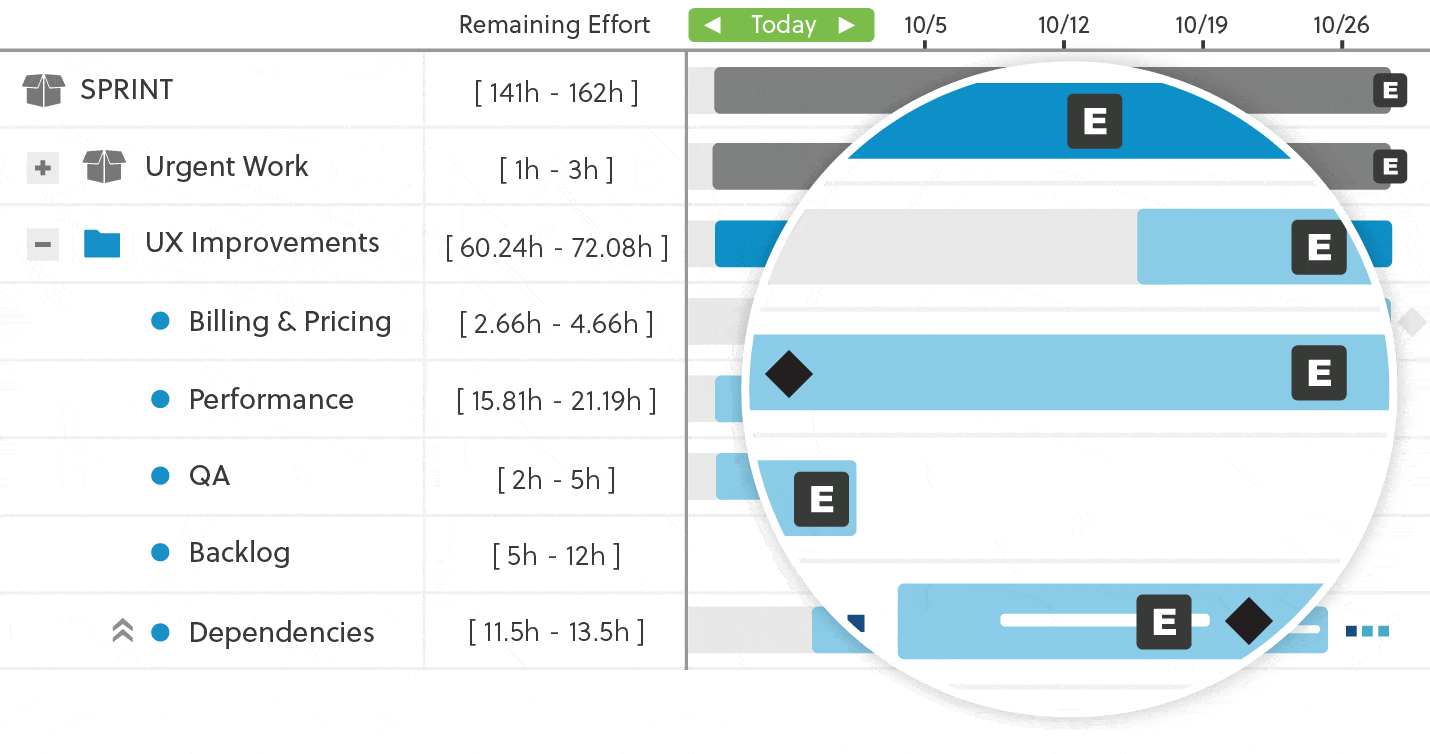 ProofHub – Best for project team's collaboration
This PM solution offers a replacement for conventional emailing and other traditional tools, integrating powerful project management features under one roof.
Choosing ProofHub, you will get online discussions and chats for your team, assigned user roles, task delegating, built-in reporting, tracking project history, secure file storage, and more useful features and tools. ProofHub is known for its simple and well-designed user interface that helps teams to collaborate more efficiently.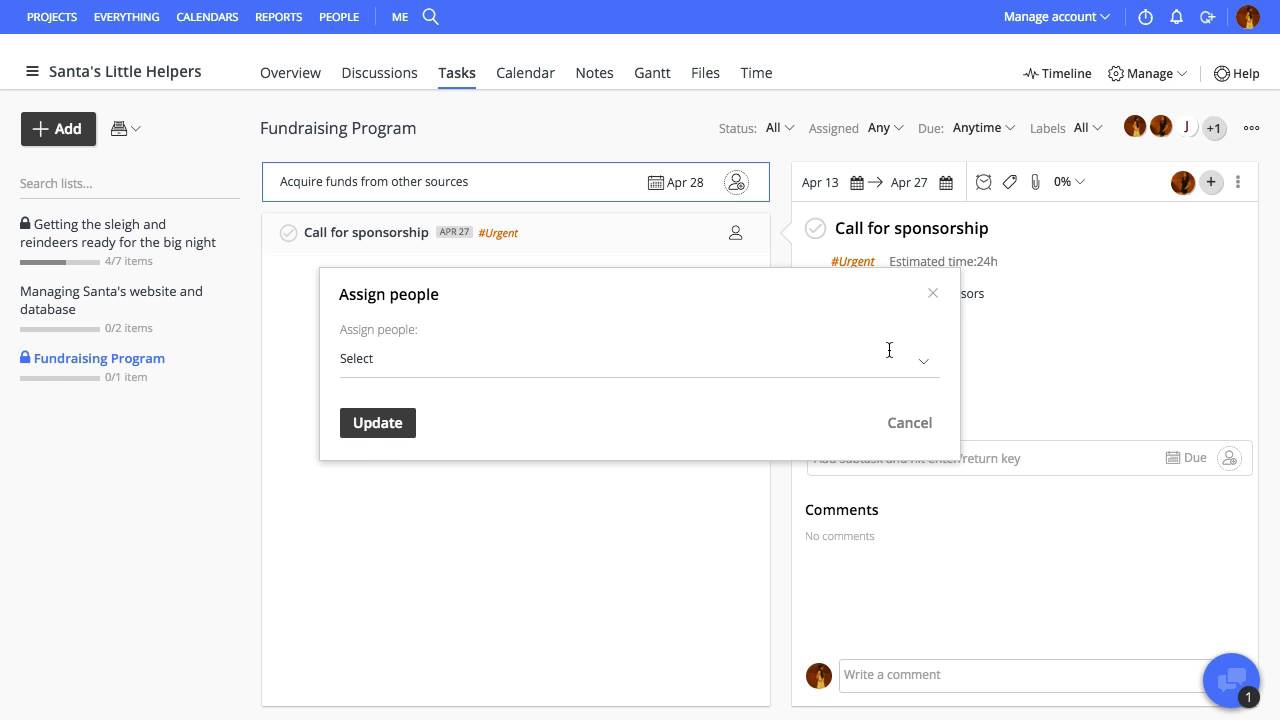 Teamwork – Best for business owners
Teamwork provides its users with a full feature set required to manage different kinds of projects. Its interface is straightforward and easy to use. The app does a good job of surfacing useful info without providing endless lists and complex charts to users. 
You may view your tasks as Kanban boards or traditional lists. The handy menu options help avoid the need to dig through multiple screens to find the detail you need. Teamwork app allows automating various actions within the app or using outside tools and services. This variety of integrations can be a real time-saver. However, you will need to devote some effort to the initial setup.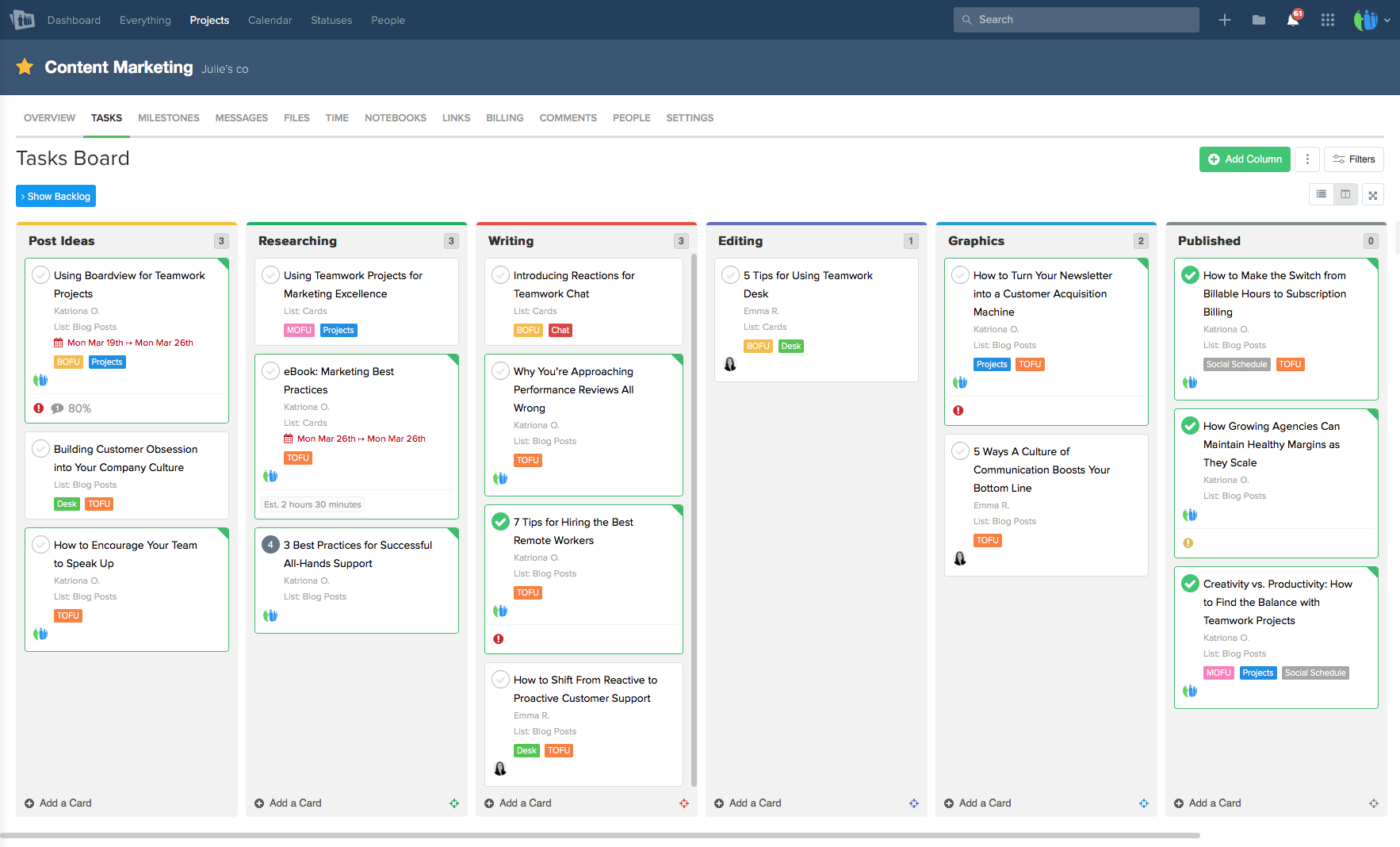 Zoho Projects – Best for multiple task views
Zoho Projects is also capable of providing you with the basic features you'd expect from a project management app, at an affordable price.
You can view tasks in Kanban or more traditional styles. Use workflow and issue management functionality, handy Gantt charts, and customized reporting. Time tracking is also built-in. It is possible to contact other project team members via the inbuilt chat app that saves jumping out to external tools like e-mail or Slack.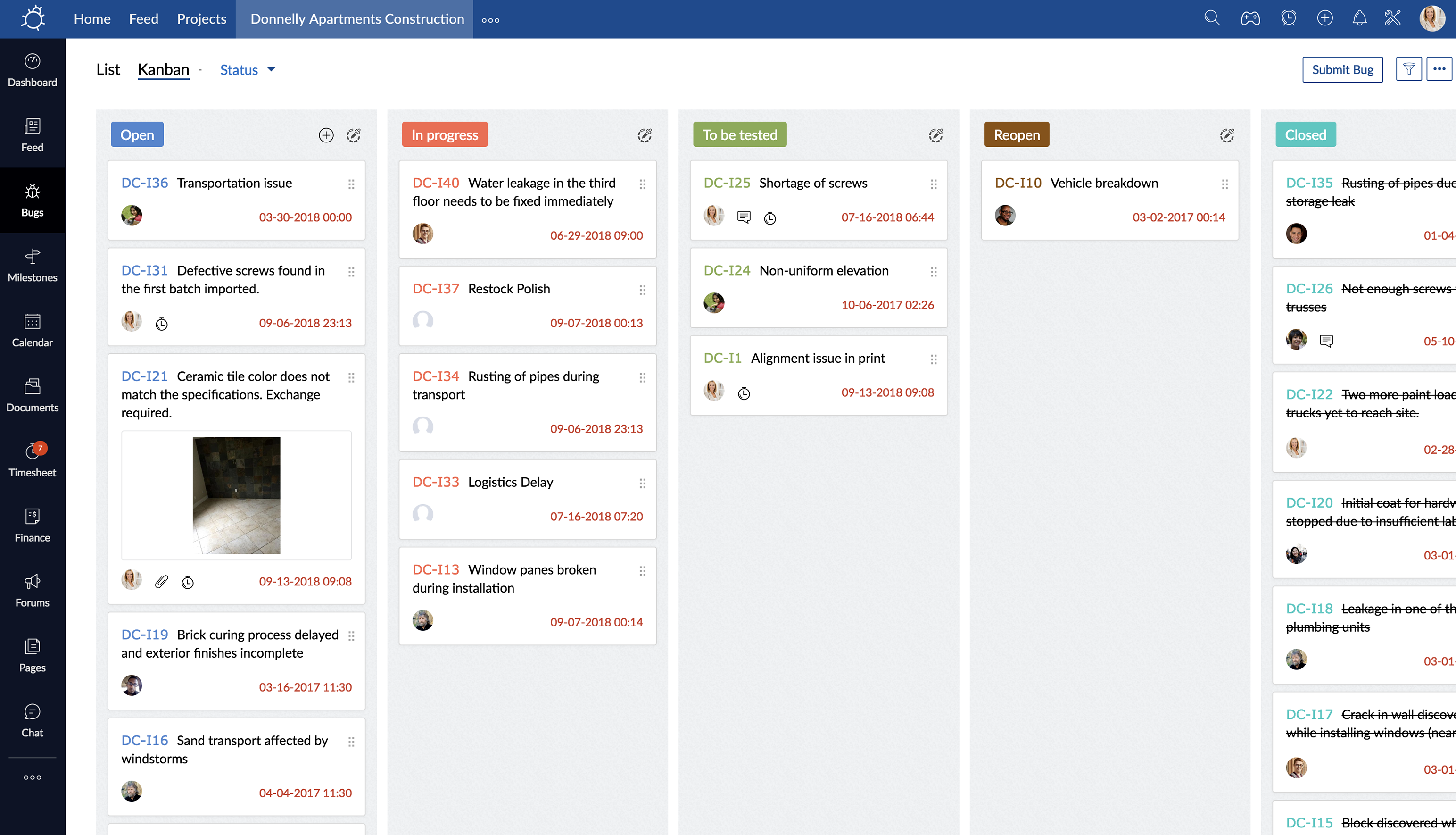 Teamdeck – Best for remote teams and resource scheduling
Another project management software with a complete feature-set for companies to deliver projects faster is Teamdesk. This is easy to use software for managing resources and tracking time spent on tasks and projects. 
Use Teamdeck to book employees on different projects and create accurate timesheets with one-click time tracking. Additionally, you will get resource scheduling, leave management, measuring billable time, etc.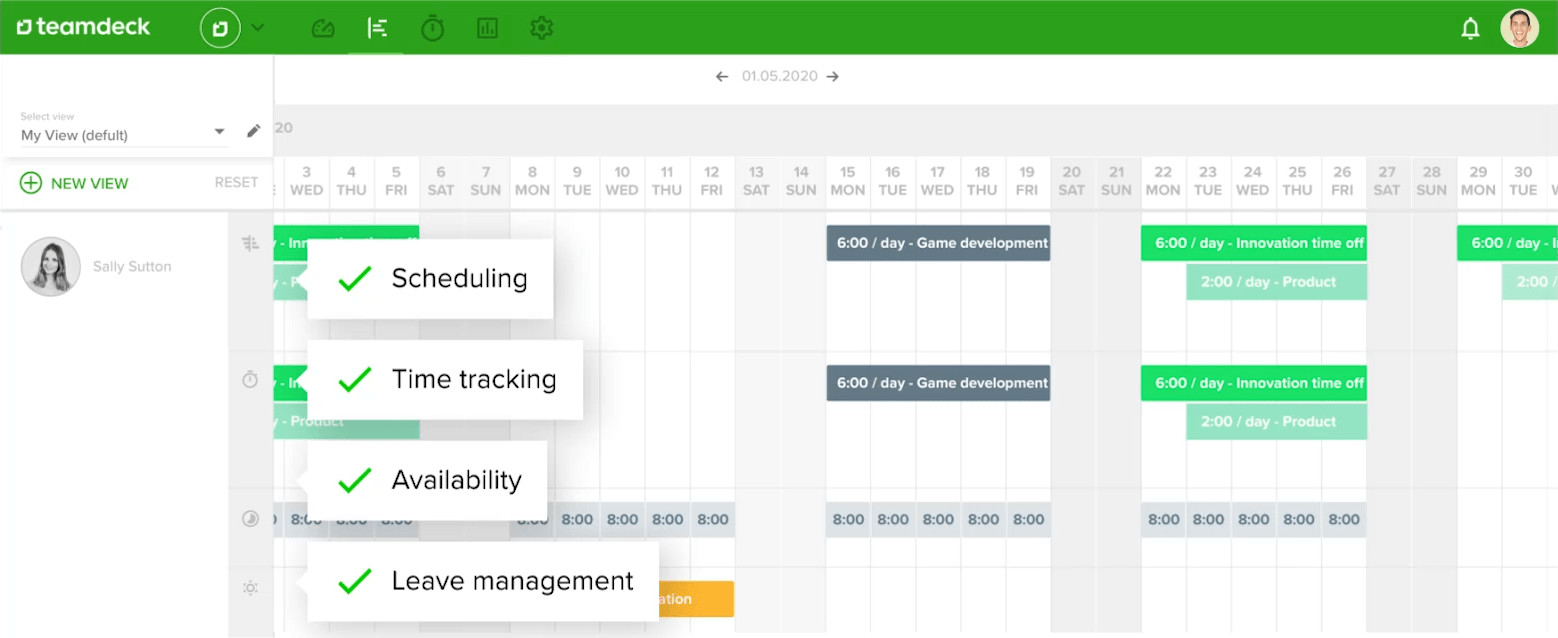 Todoist – Best for putting things in order
One more effective task organizer that enables project teams to keep track of their projects, tasks, and goals from a friendly and easy to use interface. 
It allows tracking tasks through a complete overview. Users can ensure that all their projects stay organized while also highlighting the essential tasks for the day. Todoist syncs across all the devices and easily integrates with the popular platforms used by users.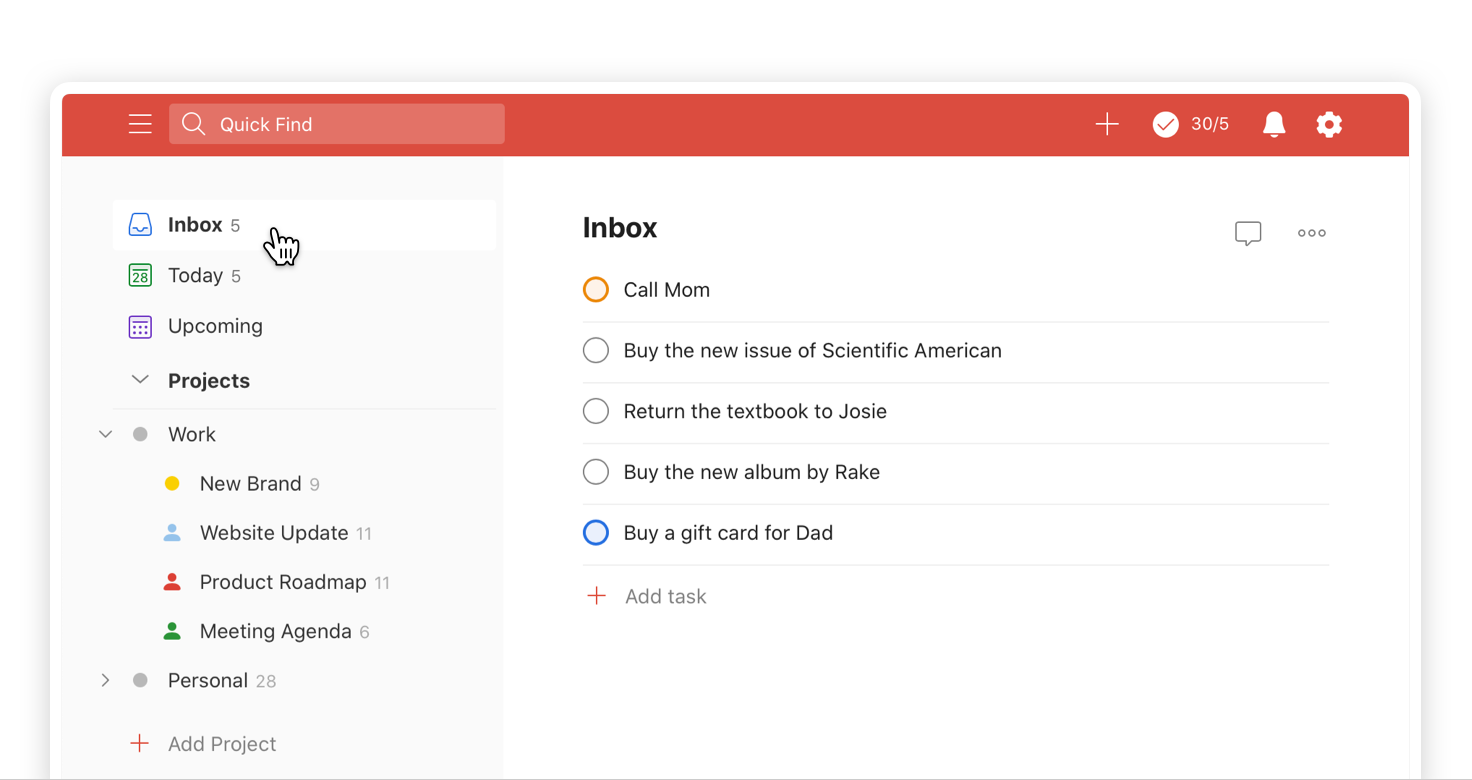 Scoro – Best for business management and productivity
One of the most comprehensive business management tools for professional and creative teams. The platform for those who strive to bring structure to work. This is all about Scoro.
It will suit you in case you need a single convenient place for projects, clients, and teams and want to be organized in every aspect of your business with a seamless workflow. Scoro integrates with many tools such as Outlook, Dropbox, Mailchimp, and more.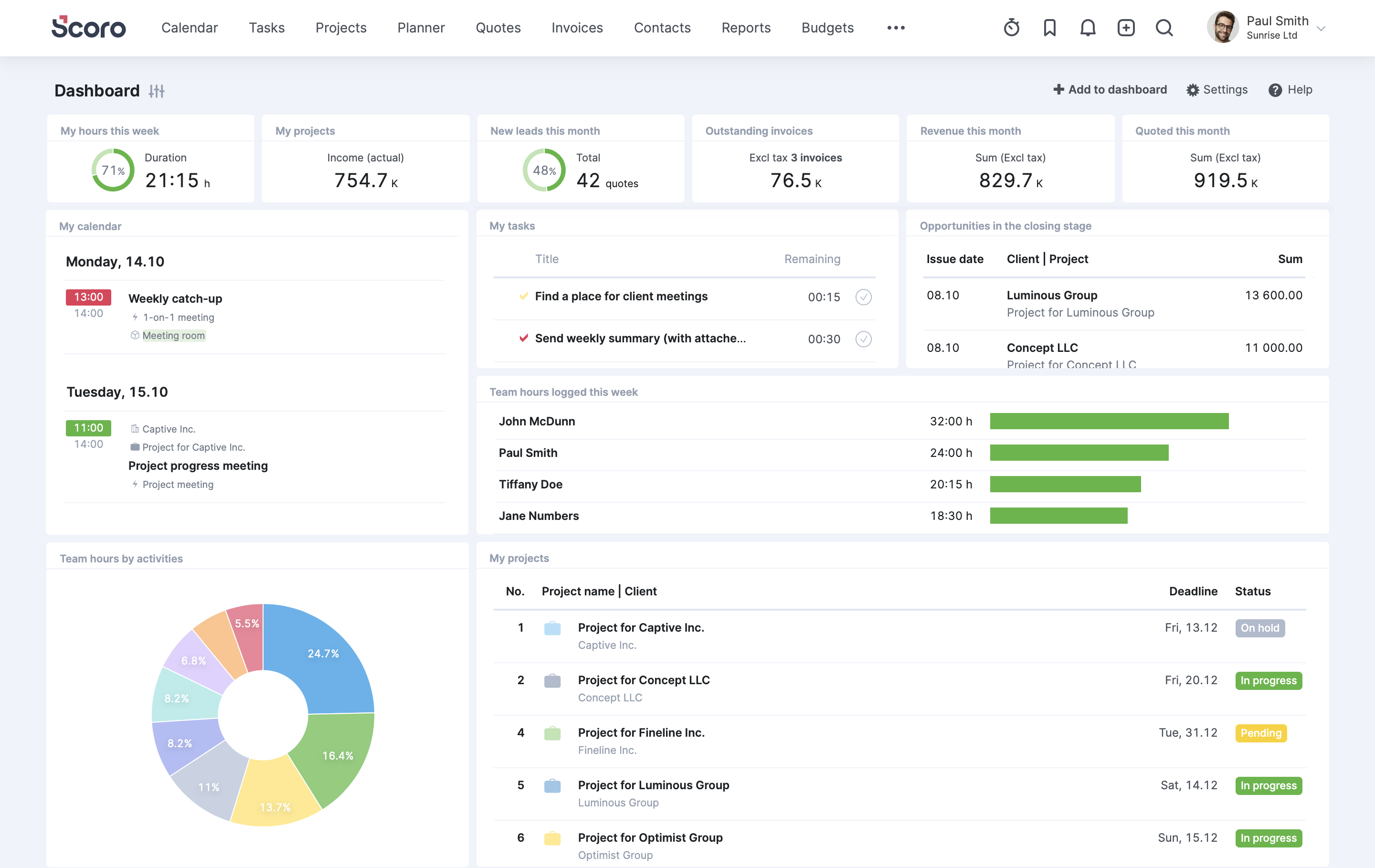 Mavenlink – Best for elevating the operational and financial performance
Mavenlink represents a new wave of project management tools designed for services organizations to connect with people and projects, making possible profits. 
Thanks to its available feature set, Mavenlink helps to deliver projects successfully in the world where transparency, connectedness, and performance matter more than ever. Use this software to manage multiple projects, handle project schedules in an intuitive interface, and gain visibility of all your projects.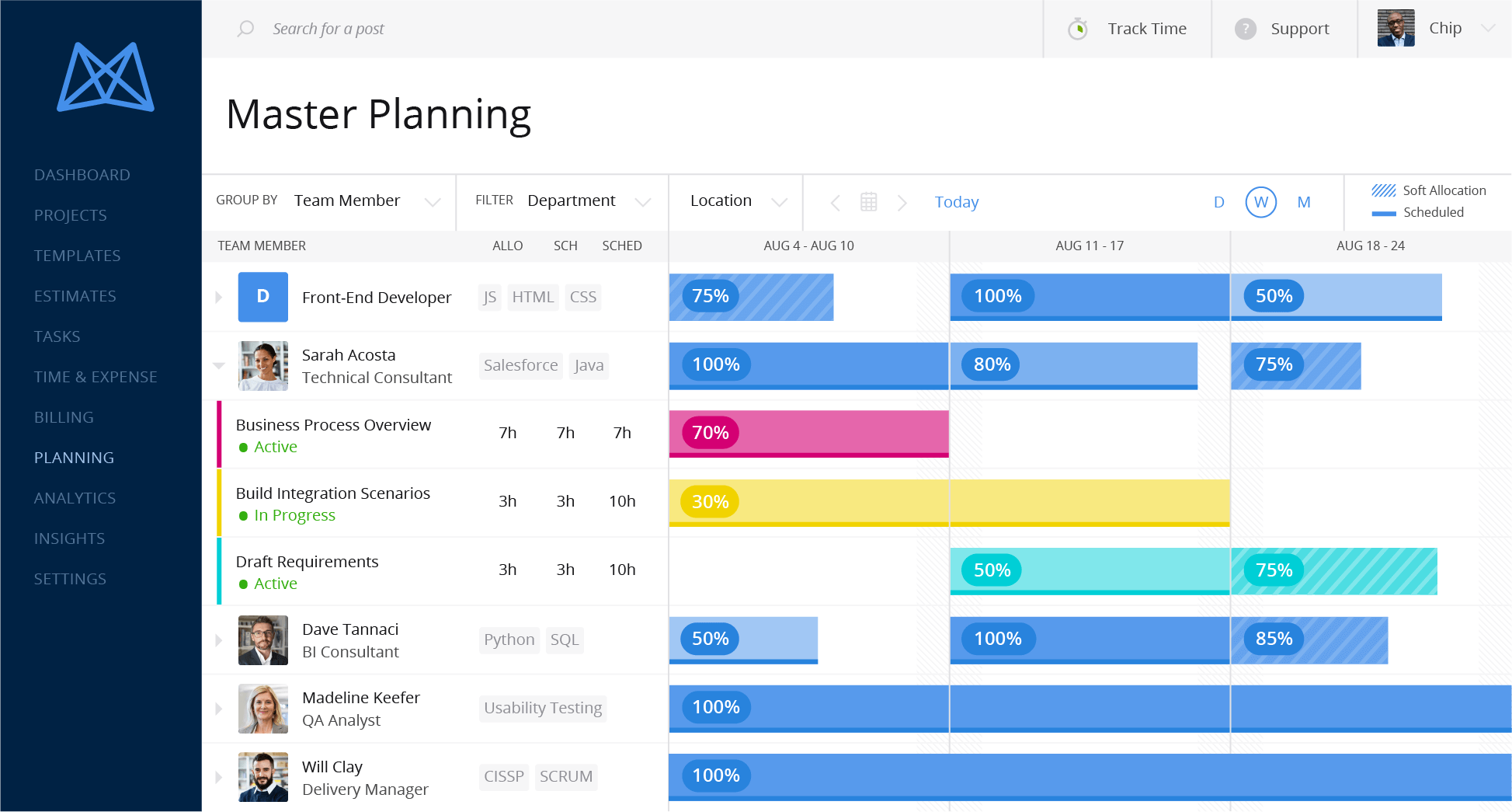 nTask – Best for smart teams collaboration
This is a relatively new tool in the project management market and it is still in its burgeoning state of development. However, its intuitive software design and a nice set of features make it a really good solution for various teams.
nTask can be used for task management, risk management, time management, and resource planning. You can also schedule multiple meetings at a time with a clear concise agenda, discussion points, and follow-up actions.

Celoxis – Bets for complex project management issues
The all-in-one project management tool that helps companies and individuals to plan and track their portfolios, projects, tasks, timesheets, resources, issues, and risks without extra efforts.
Celoxis has extensive collaboration features such as a customizable free client portal. You will get handy dashboards and reporting capabilities that are actually one of the best in the market. Choose this tool and easily allocate resources to tasks based on availability, demand, and skills.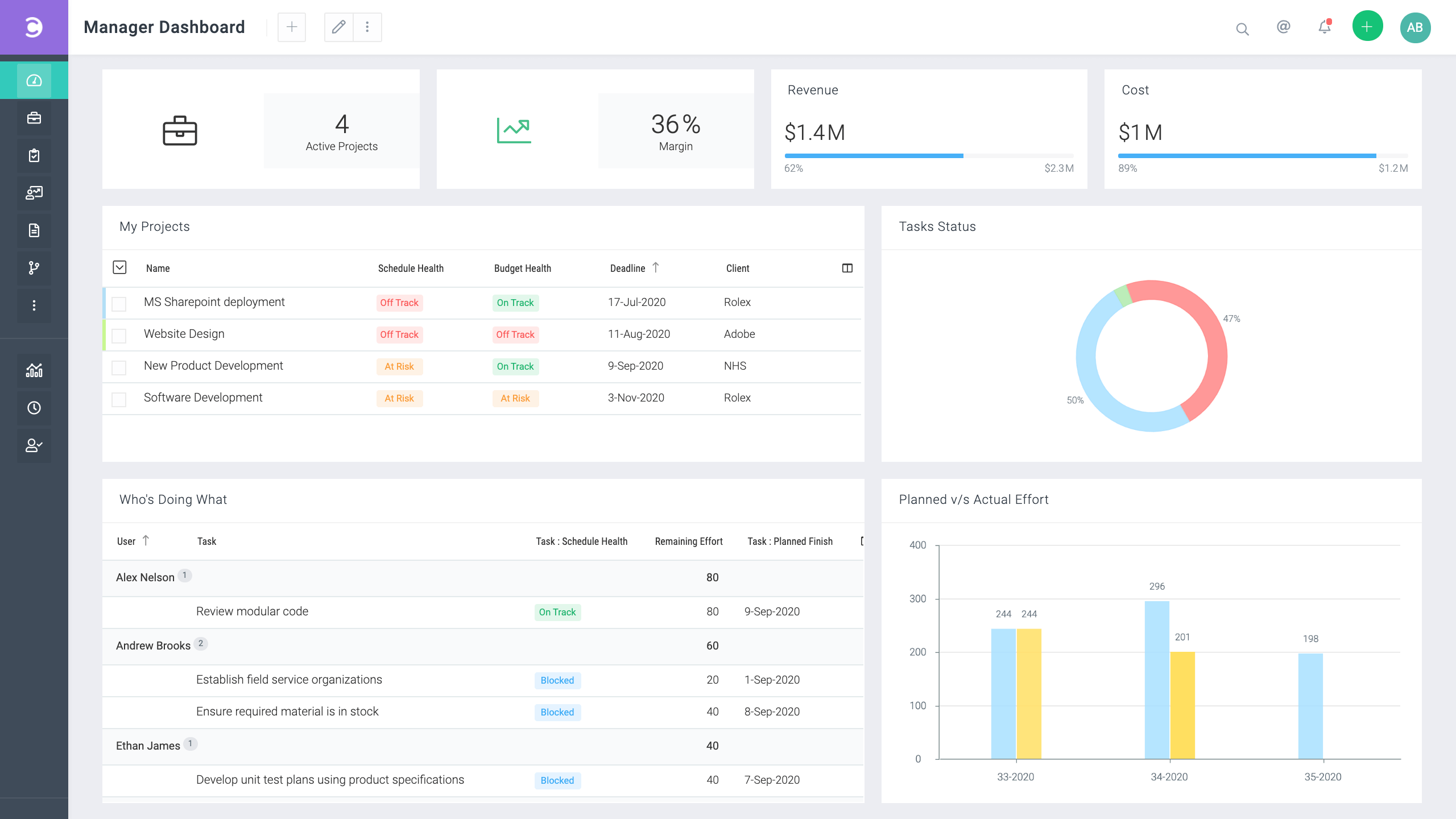 Conclusion
Any company should carefully plan how they roll out a new project management platform. It is important to get buy-in from key stakeholders and within each of the teams that will use the PM tool. 
Designate time for everyone in your team to learn the software and be ready with support documents and training materials to ensure that people spend little time learning about these project management software.
Implement the right project management tool for your business and enjoy 2021!
*the pictures used are illustrative (John Schnobrich, Marvin Meyer, Octavian Dan. Unsplash.com)