A mobile marketing specialist's work isn't finished after an installation. An install isn't a final goal as new users need to be kept in an app. Today we'll talk about one attribute of mobile platforms that allows to interact with your users.
What's a push-notification?
Push-notifications on mobile devices are special system messages generated by apps. They can be called a peculiar form of communication with users when an app isn't launched. Push-notifications play a huge role in getting users back to an app.
Main facts about them:
push-notifications are realized by means of OS.
they are free and easy to create.
notifications allow to interact with users even if an app isn't launched.
Push-notification statistics
Push-notifications are on by default on Android platform for all apps, i.e. we can say that 100% of people use them. But it's different for iOS: an app asks a user about the possibility to show notifications. That's why not all the users enable them. Statistics shows that only 46% of users activate them on Apple devices.
Notification activity distribution by app categories in iOS is also interesting:
lifestyle — 63%
travelling — 61%
social networks, photo and video — 49%
games — 45%
Process of interaction with a user
A push-notification appears in the upper part of a screen for several seconds. It may be accompanied by a sound. There's an instant transfer to an app if tapping a notification.
If a user ignores it, he/she may open a notification center (they are stored there) later on and go to an app from it.
Notifications have a short text and an app icon in iOS. Moreover, there are badges (numbers or special symbols that appear next to an app icon). It's a soft way to remind a user that there's something new in an app. These badges are often used along with banner notifications.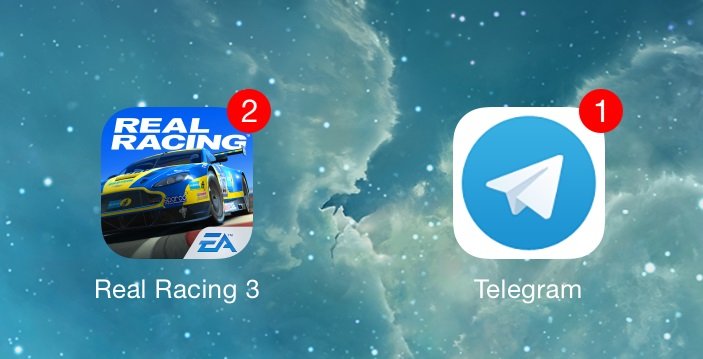 Setup of notification formats is more flexible on Android platform. They can be varios.
Basic types of notifications
What push-notifications are used for in marketing?:
informing users about launches of new apps or new updates.
notifying about special offers and promotions.
telling about new content in an app.
reminding users that they haven't used an app for a long time.
informing users about new messages or friends' actions.
Increasing push-notification efficiency
It's important to explain users the benefit of your notifications before a standard screen with an offer to turn push-notification on in iOS appears. It may be shown only once.
If a user is interested, ask for a permission for showing push-notifications. If no, keep the only chance for future. You may realize it with the help of a preliminary inquiry inside your app.
Push-notification optimization:
try to use non-standard sounds for notifications. For example, a hero from Simpsons Springfield asks users to continue playing. As for notifications during night hours, it's better to send them without any sound at all.
choose an optimal notification format. For example, you can use pop-up screens instead of standard banners on Android platform.
carry out A/B-testing in order to choose the most efficient ones.
it's necessary to observe an optimal frequency of notifications. Don't irritate users by torrents of them.
collect information about user behavior. Carry out targeting on its basis. For example, you can show notifications more often to more loyal users.
automatize notifications basing on a user life cycle.
Practical methods
offer a user discounts for a limited period of time in a push-notification. For example: "Hurry up! 50% discount on purchasing crystals during 2 hours!" It will help not only to bring a user back to an app but also to make a transaction.
push-notifications are great to stimulate users to complete a trial period faster. It will convert them into paying users. Promise them additional bonuses or discounts as a benefit.
messages are usually shown in push-notifications from social networks or messengers. Having read them, users often don't launch an app in order to answer. So if you want to stimulate users to open an app, show them the following text "You've got 2 messages".
Push-notification automatization services
There are some special services that make work with push-notifications simpler. They not only automatize notification sending but also allow to gather valuable analytic data.
Conclusion
Push-notification is a very important resource for a marketing specialist. It allows to easily interact with users and efficiently keep them in an app.
Read more about mobile app promotion