Working meetings are the traditional element in the workflow and it often happens when many employees work remotely, or the company has several offices in different cities and even countries.
Therefore, such daily or weekly meetings are organized with the help of special applications for group calls and videoconferences.
If you look at current team management and project management trends, you will definitely find there a point related to remote work. Today this topic is especially relevant, therefore, developers who work on online collaborative tools try to fill their products with the maximum number of useful features.
In our today's article, we suggest you meet with our ranking of the most widely used applications for group meetings and conference calls. Good communication requires a good connection, so it is critical to choose the most reliable tool for this purpose.
Group Meeting Apps: Main Goal & Basic Components
Let's imagine a typical work meeting: people come together and start talking about the main things done, trying to solve some issues, and discussing further plans. And when such a meeting is being held online, comfort and convenience should be maximized.
The main goal of the online group meeting application is to make the work team have the feeling of their full presence and to make the teamwork more effective.
That's why the best application for online group meeting should provide the following:
uninterrupted connection for high-qualified video and audio conferences
ability to send working files and documents to the meeting participants
ability to edit a particular document by many participants at the same time (whiteboarding)
screen sharing between the meeting participants
Modern technologies also offer many other helpful features, but sometimes more functions do not mean better quality. With a certain set of possibilities, the application can make group online meetings perfect and smooth.
10 Group Meeting Applications Worth You Attention in 2021
We have analyzed the latest trends in the group meeting applications industry and have collected a set of the most demand tools that are actively used for meeting calls and video conferences.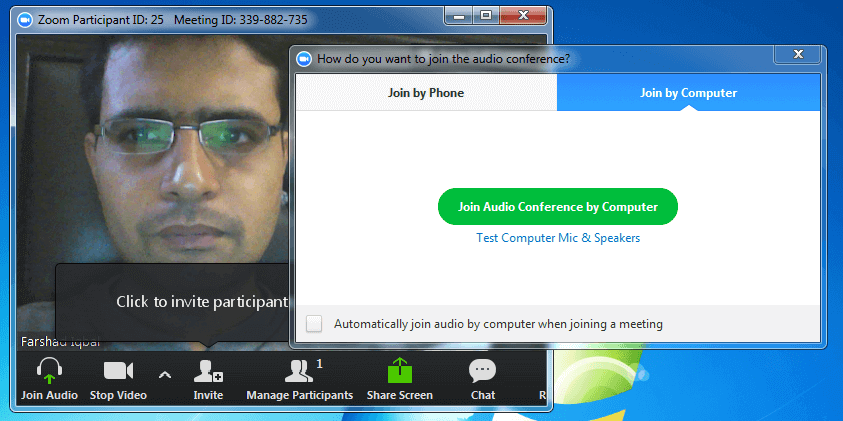 This group meeting application is considered to be one of the most demanding tools for online meetings in the world. In addition to the standard of the function for this type of application like HD video conferences and secure audio calls, this app offers its users to make their group meetings with mobile phones via a cellular connection or available Wi-Fi. According to the latest data from Google Play Market, Zoom has been installed more than 10 million times – is not it fame? It is! Price: the application offers very flexible plans for companies – it usually starts from $ 10 per month with the package of unlimited calls perfect suiting quite a large number of users (up to 200 persons).
Essential features:
Call management
Commission management
Customer database
Email marketing
Performance metrics
Referral tracking
Sales forecasting
Personal meeting room
Calendar integration
Hosting up to 100 participants
Unlimited one-on-one meetings, etc.
Pricing
A free version is available.
No free trial.
Starts at $14.99.
Take a look at how Zoom works in this video tutorial:
Pros

Cons

It can use it anywhere on any device.
Proposes the chat option where you can communicate with everyone or with a particular individual.
Offers advanced meeting analytics.
Provides easy screen-share during a call.

Poor security is the reason why many organizations have stopped using Zoom.
Unpredictable and poor video quality sometimes.
Video can often be blurry and pixelated.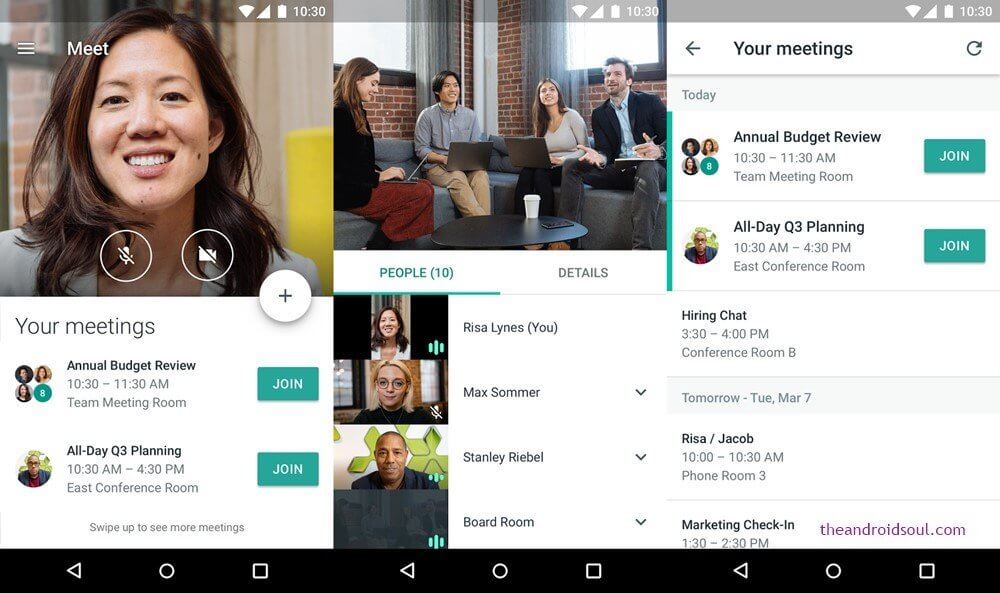 We decided to start with one traditional Google-based functional tool called Hangouts – it allows participants to perform group video calls and hold online meetings in the free base. Actually, this application is far from new, and the previous interface was not so convenient. Fortunately, an updated version of this app is quite workable and provides a good connection for calls. Price: it is free (Google account users).
Essential features:
Instant messaging
HD video calls
Group conferencing
Built-in screen sharing
Intelligent muting
Auto screen focus
Compatibility with multiple computing devices
Integration with many Google apps
Custom control for admins, etc.
Pricing
A free version is available.
No free trial.
Starts at $6.
Take a look at how Google Hangouts works in this video tutorial:
Pros

Cons

Offers seamless interdepartmental communication.
Allows for quietly being able to communicate when clients are in the office.
Integrates with all other Google products.

Does not provide Chromecast support for video streaming.
Requires a stable and relatively high bandwidth.
Video quality is not as high as some comparable tools.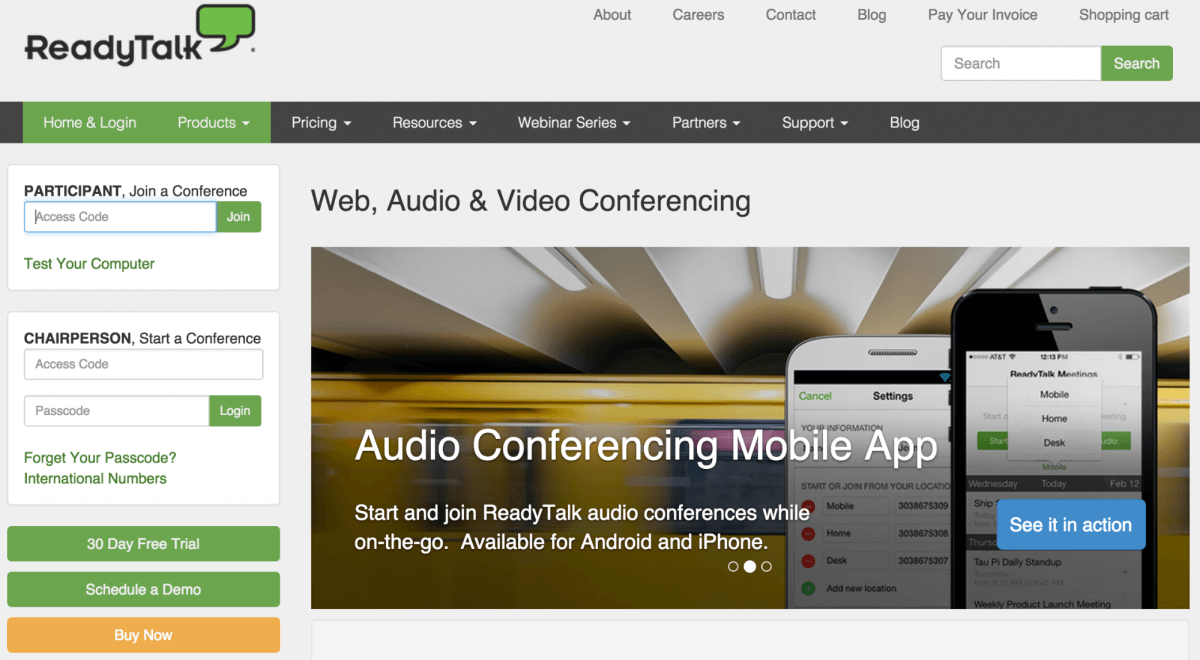 Ready-steady-go: this group meeting application is presented as a nimble tool with fine qualified audio and video calls with the ability to download up to four video screens simultaneously. What is more, the app has its powerful technical support and tends to be one of the most reliable tools for online meetings. Price: it seems to be a little bit pricey – the minimal business package on 10 participants costs $ 24, and at the same time the maximal price is not so big – $ 59 on the 100-person companies.
Essential features:
On-demand meetings
Handy meetings scheduling
Integration with Outlook, Salesforce, and many other tools
Live chat social sharing
Meeting archive
Advanced reporting
Recording editing, etc.
Pricing
A free trial is available.
Starts at $12.
Take a look at how Ready Talk works in this video tutorial:
Pros

Cons

Clear audio with great features to quickly connect.
Integrates with other products such as Outlook calendar.
Allows inserting polls and polling questions.
·Gives the ability to broadcast in various timezones.

Difficult to access a shared network of conference recordings.
The UI looks unfriendly sometimes.
No social media integration.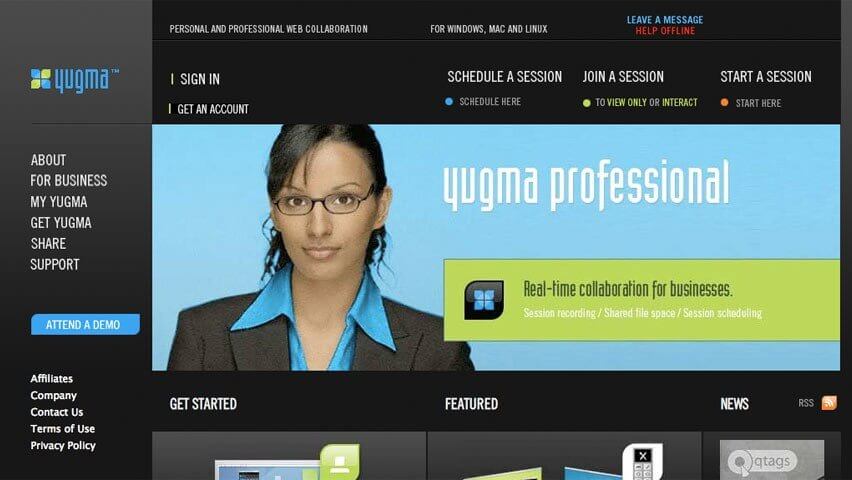 It is a quite new application but its wide and useful functionality helps users to make perfect online group meetings without any difficulties and specific program plugins. Their participants can see each other in HQ video, talk to each other with pure audio sound, and work together on the so-called whiteboard. Price: This group application has five different business packages, starting from $ 9.95 per month to companies with up to 20 persons.
Essential features:
Free teleconferencing
Skype integration
Meeting recording
Mobile access
On-demand webcasting
Presentation streaming
Presentation Tools
Calendar management
Inviting up to 10 people
Collaborate with community
Highly security, etc.
Pricing
A free trial is available.
Starts at $24.50.
Take a look at how Yugma works in this video tutorial:
Pros

Cons

Easiness of use and navigation.
Proposes free teleconferencing.
Offers integration with Skype.
Provides meeting recording, playback, and webcast features.

Webcam and video functionality seem limited.
Not the best level of easiness of joining and registration.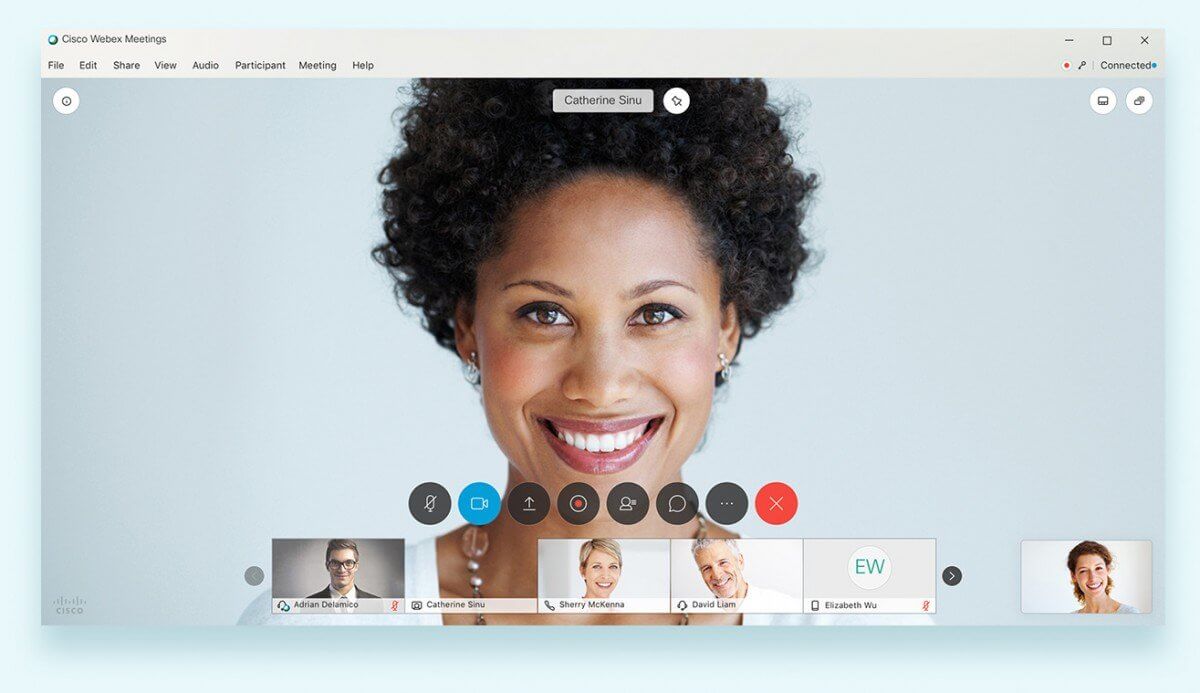 This application is a quite demanded tool that makes online group calls based on a high-qualified video or audio communication. One interesting schtick of this app is the possibility to have up to six operating videos during the call, which makes it very convenient for big online meetings. Also, the system allows users to keep in touch via different gadgets like Ipad or mobile devices. Price: WebEx is glad to offer users its free trial two-week version in order to be sure it suits them all. Other packages of this group meeting application cost just $ 19 per month, what is a real bargain!
Essential features:
Reliable video conferences
Free video calls and screen sharing
Easily presenting online
Password-protected meetings
Brainstorming availability
Video call recording
Meeting recording and playback
Admin controls
Mobile home screen widget, etc.
Pricing
A free version and a free trial are available.
Starts at $13.
Take a look at how WebEx works in this video tutorial:
Pros

Cons

Makes it easy to collaborate remotely.
The process of connecting a call is very intuitive.
Offers seamless integration with Microsoft Outlook.
Sessions can be easily recorded and saved.
Good reporting and analytics.

The modification of the email template could be more intuitive.
No private chat option.
Sometimes users do get a bit confused trying to do the screen sharing.
Services and quality vary from different resellers.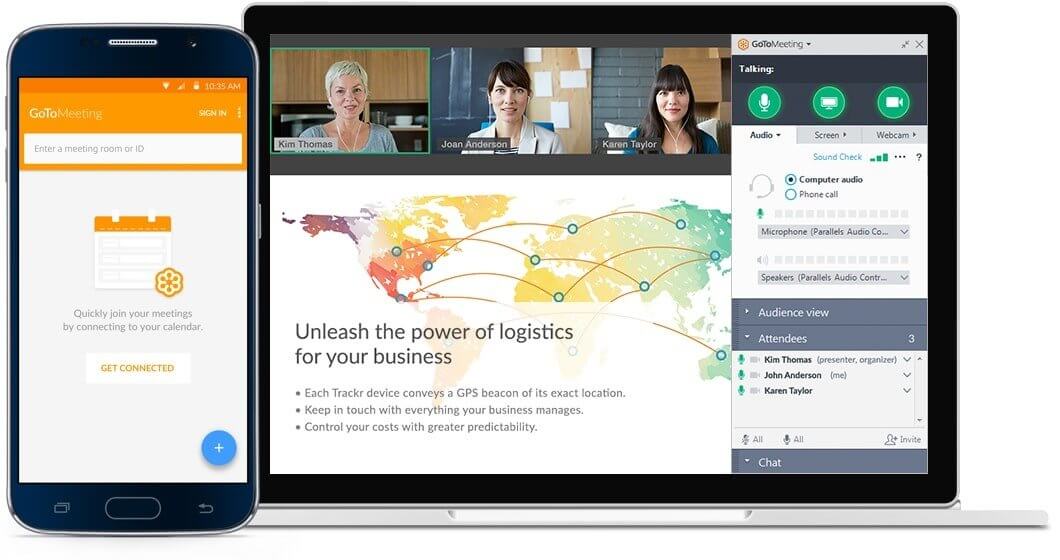 This application is a real favorite among thousands of companies and work teams, and such love and attention are really deserved. In order to make calls and video conferencing, there is everything the user needs: high-quality video, secure connection of online meetings, and screen sharing ability for conference call participants. Price: This app is absolutely free to companies with no more than 3 participants. In other cases, it may cost $ 39 per month (companies with up to 25 users) and $ 59 per month (companies with up to 100 users).
Essential features:
Virtual whiteboard
Personal meeting room
HD faces video conferencing
Group live chat
Password protection
Recording
Screen sharing
Meeting coordination
Scheduling
Hand over control
Drawing tools, etc.
Pricing
No free version.
A free trial is available.
Starts at $12.
Take a look at how GoToMeeting works in this video tutorial:
Pros

Cons

Offers high-quality video and audio conversations.
Provides the ability to see presentations on-screen.
The meeting interaction looks seamless.

The admin portal reports could be more intuitive.
There were cases when links were not working, so it was difficult to enter the meeting.
Sometimes audio has a delay.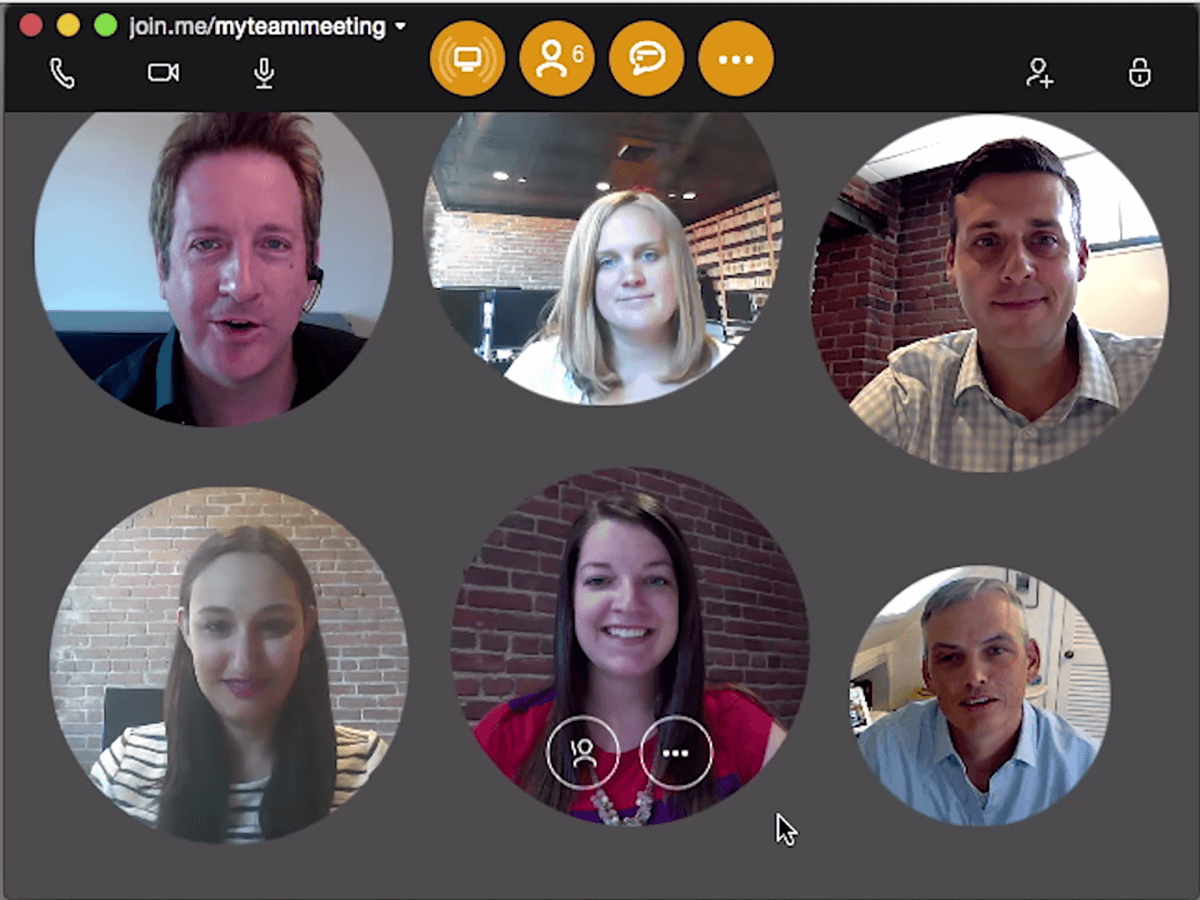 This online meeting platform is actively gaining its popularity among development teams and other persons who like to use simple and good-working tools for their business. The app allows its users to gather online video calls very quickly and sharing their screens or sending documents or media files in a comforting way during the meeting. There is no anything extra what can make the connection worse and lower – this group meeting app is as convenient as you are talking to each other in the same office together! Price: the app provides free versions on all its packages (for a trial period) and one constant free version with VoIP connection and screen sharing calls.
Essential features:
Video conferencing
One-click scheduling
Multiple channel access
Live text chatting
Sharing screens and screen control
Recording meetings
Scheduling
Sending files
Audio settings, muting users
Locking meetings
Adding multiple participants (up to 250)
Whiteboarding
Screen sharing, etc.
Pricing
A free version and a free trial are available.
Starts at $10.
Take a look at how JoinMe works in this video tutorial:
Pros

Cons

It loads quickly and has a lot of local numbers.
Allows sharing your screen with multiple people.
Smooth transition of sharing control among users.

The whiteboard functionality looks limited to tablets.
Some difficulties in connecting for people who do not have the app installed.
The sound quality is not the greatest.
More participants can cause some lagging.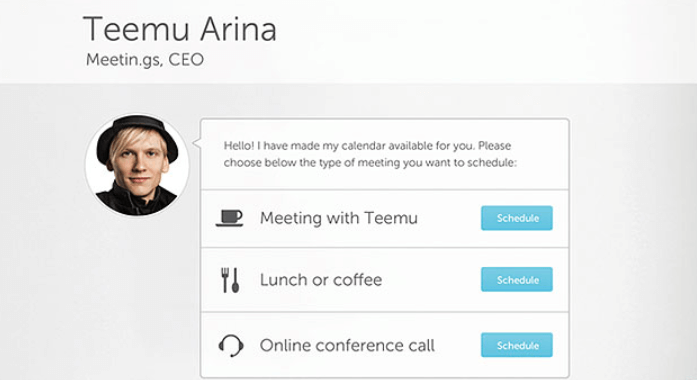 If the point is about the load speed, it is fair to say that this meeting is one of the fastest in its segment: it takes about one minute to start your group meeting, indeed! For this minute the app provides high quality in its online connection of video and audio calls. It also can boast of its very pleasant design and understandable interface what makes it more attractive to use. Price: it has two main business offers – free use with some limited possibilities and PRO package for $ 19 per month.
Essential features:
Setting up through Microsoft Outlook
Meeting collaboration space
Document uploads.
Shared document editing
Real-time interface.
Email integration.
Board meetings
Committee meetings
Internal meetings, etc.
Pricing
A free version is available.
No free trial.
Starts at $12.
Pros

Cons

Advanced meeting scheduling.
Handy and friendly user interface.
Support for Google Apps and Office365.

No voting management option.
No meeting room booking.
Poor documentation.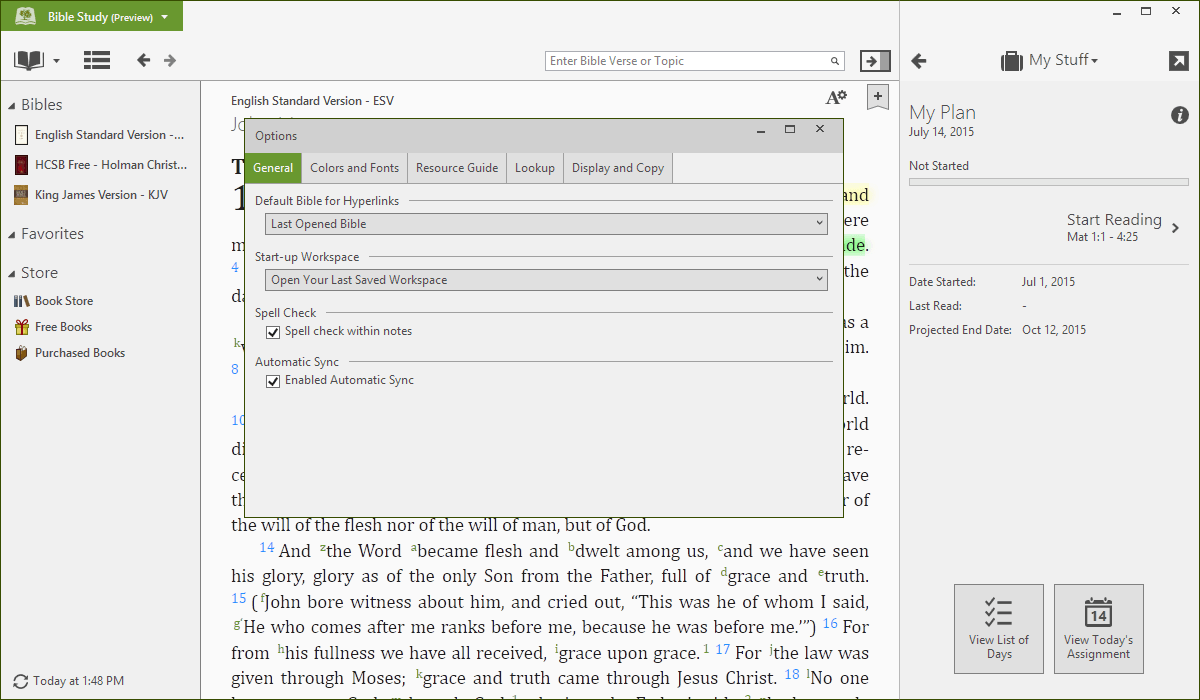 This online application is quite different from the others: it is a kind of real-time document exchange platform. And the group meeting on this application looks like the simultaneous work on the same document. It is like an improved version of the Google Docs application, but it provides more functions in a more appropriate way. Price: it is still on a free basis but there is also a PRO version of this group meeting app costing $ 2 per month.
Essential features:
Сollaborative text documents
Own URL for each note
Notes editing
"Share this note" functionality
Documents auto-saving
"Time slider" feature
Docs downloading in HTML, plain text, or a bookmark file.
Availability for Windows, Mac OS X, and Linux, etc.
Pricing
A free version and a free trial are available.
Starts at $2.
Pros

Cons

Provides convenient collaboration in real-time.
Useful for meeting notes, brainstorming, training, and project planning sessions.
Provides quick open notes by typing their IDs into the smartbar.

The user interface could be more friendly and convenient.
Limited of competitive features.
Many features are available only in PRO.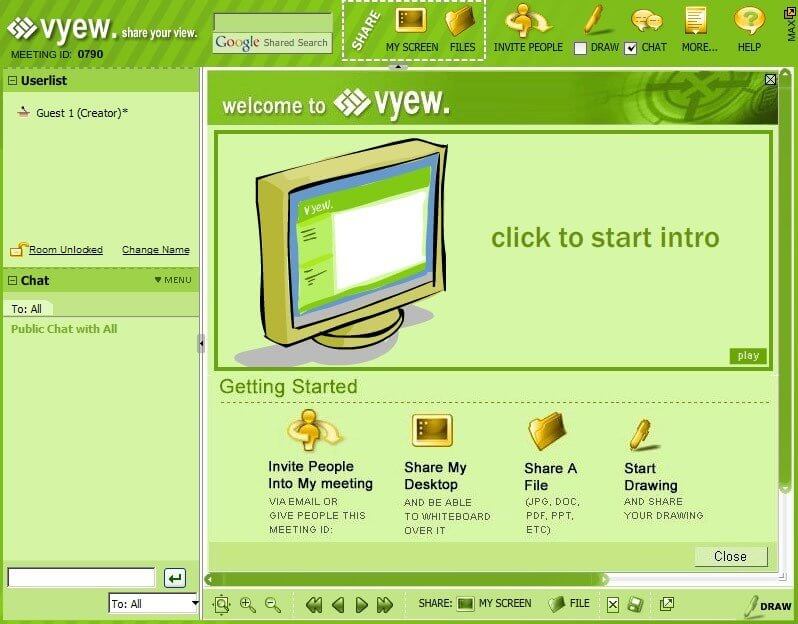 It is a quite unusual group meeting application, and here is why: the users can collaborate in a comforting way by means of video conferencing, sharing different working files, and typing text messages. But the most attractive feature is the possibility to add media content in the user's account such as Youtube, MP3 player, or other tools that can make the work more smooth and pleasant. Price: it is possible to use this app free but with ads, and also the minimal package costs $ 9.95 per month.
Essential features:
Live synchronous conferencing
Screen capturing
Desktop sharing
Synchronized and unsynchronized page navigation
Free telephone conferencing
Supporting up to 100 participants in a meeting
Public and private text chatting
Whiteboarding
Polls creation
Sticky notes
YouTube Player
Simple calendar, etc.
Pricing
No free version.
A free trial is available.
Starts at $10.
Pros

Cons

No need to install any client-side software beforehand, as it works straight from the web browser.
Allows screen capturing.
Offers custom colored themes.

Looks limited in basic functionality.
No session recording opportunity.
No application sharing.
Summary Of The Best Group Meeting Apps
| | | | |
| --- | --- | --- | --- |
| Software | Free trial | Price | Official website |
| Zoom | No | Starts at $14.99 | https://zoom.us/ |
| Google Hangouts | No | Starts at $6 | |
| ReadyTalk | Yes | Starts at $12 | |
| Yugma | Yes | Starts at $24.50 | |
| WebEx | Yes | Starts at $13 | |
| GoToMeeting | Yes | Starts at $12 | |
| Join.me | Yes | Starts at $10 | |
| Meetin.gs | No | Starts at $12 | |
| Sync.in | Yes | Starts at $2 | |
| Vyew | Yes | Starts at $10. | |
Conclusion
All these tools will definitely help you in planning a meeting and following up.
Choose the appropriate solution that's going to keep you and your team productive and motivated about setting up meetings, communicating with team members, and improving your business meeting structure with the proper feedback.
In case we missed any tool that may help in successful project management, please, write in the comments.