A Gantt chart is a common term in the project management environment. It is so popular that more and more reliable project management tools strive to include such an option to their functionality set.
The best PM software solutions make it easier to manage Gantt charts for projects. Gantt diagrams provide a macro view of a project's timeline and schedule. They visualize the progress and team member assignment of each task.
With a powerful Gantt chart, you can get a high-level view of a complex project, identify bottlenecks in a timeline, and see how adjustments affect the timeline and budget. And let's sincerely say, a robust Gantt chart tool can be a powerful weapon in a project manager's toolset.
In this article, we list the top Gantt chart makers for creating and editing Gantt diagrams for any project. But before you start reading, make sure you know the theory: what a Gantt chart is and what benefits it provides.
What is a Gantt Chart?
A Gantt chart is a widely used tool in time management that assists project teams in creating and updating project work schedules. Gantt charts are often created by using online software tools to plan and manage different types of projects. They are used to analyze complex projects with many tasks.
Gantt chart is a pictorial view of your project that can be quite simple or complex depending on the nature of the project. Its key goal is to make things simple and clear when managing your projects.
A typical software solution allows inserting tasks and grouping them under specific WBS (Work Breakdown Structure) levels. In more advanced versions, you can also define the critical path by establishing relationships between tasks or activities.
Henry Gantt, a mechanical engineer, and management consultant created these diagrams in 1910. At that time, Gantt charts were used for mega infrastructural projects like the construction of and highways and dams. Today you may apply it to almost every industry and in any department.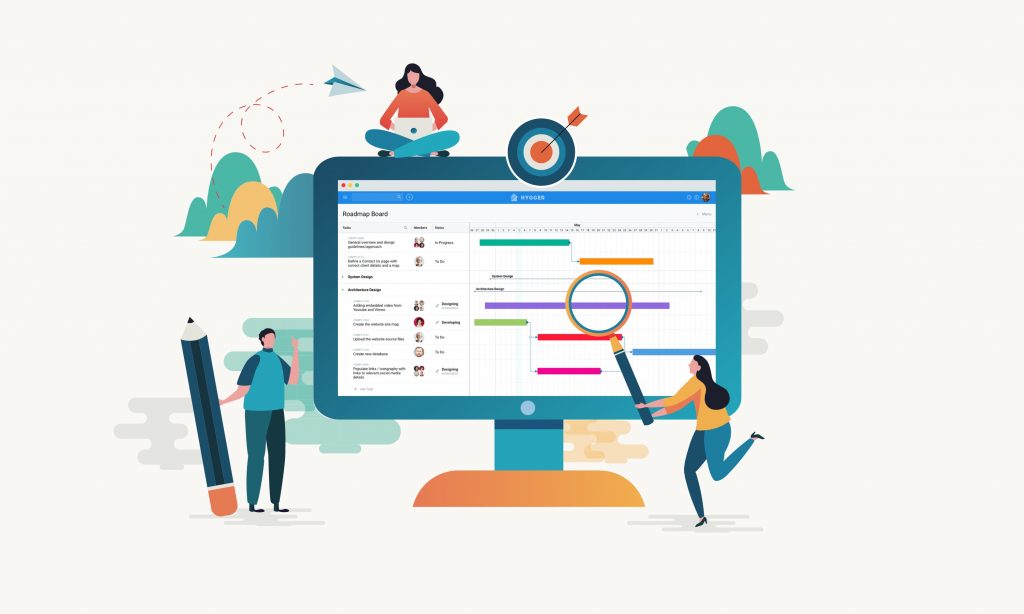 Why should you use Gantt charts?
A Gantt chart as a project management tool will help you to:
Compose the initial project schedule with the info about who is going to do what, when, and how long it will take.
Add project adjustments, as the initial plan often requires many adjustments.
Allocate resources to make sure that everyone knows their responsibilities.
Track progress for staying on schedule.
Communicate the schedule for stakeholders and all participants involved.
Visualize milestones.
Identify problems and report them.
Typical features and elements of Gantt chart software
Reading Gantt charts is literally understanding how the different elements come together to make a diagram work. Here are some key parts of a Gantt chart with a short explanation of how they function in a project plan:
Timelines. It runs horizontally across the top of the chart and shows days/weeks/months and years.
Tasklist. It is located vertically down the left of the diagram to describe work. It can be organized into groups and subgroups.
Dateline (vertical line) that reflects the current date on the Gantt chart.
Bars – horizontal markers on the chart that represent tasks with their progress, duration, and start/end dates.
Dependencies – the lines that connect tasks that need to happen in a certain order.
Milestones that represent major events, dates, and deliverables.
Progress visualization to shows how far along work is. It can be indicated by percent complete and bar shading.
An assigned resource indicates a person/team responsible for completing a certain task.
The benefits of Gantt Chart software
Visual representation of project tasks, easy to read, and understand. Managers and teams have an overview of when activities are occurring, and whether they are dependent upon the completion of other tasks.
A clear graphical representation that provides better visibility of the project timeline. With the help of Gantt charts, you are able to see what work will happen, when, and in what order.
Efficient time and resource management. Breaking down tasks into details and assigning a due date for each provides a better, forecast of when the entire project will be complete.
Clear project requirements. The calendar view that Gantt diagrams provide helps to clarify project and team requirements hghlighting milestones, dependencies, and potential risk areas.
Team communication. Get real-time updates on the tasks in your Gantt chart project with the help of comment boxes. Thus, there is no need to switch through the apps to communicate and with your team members.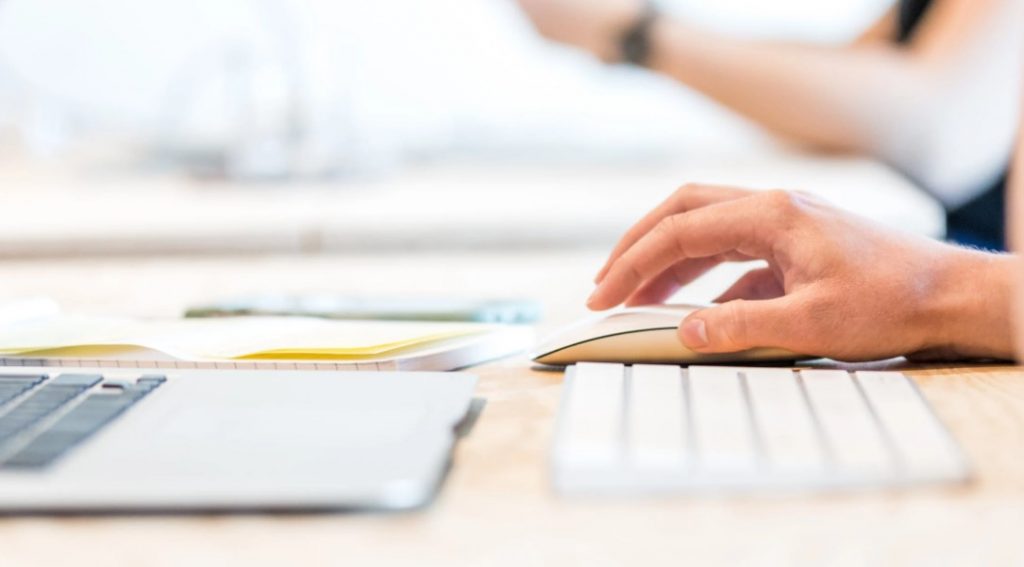 What are the pros of using Gantt charts?
They organize activities, listing tasks, and subtasks in logical groupings. They visualize who is responsible for each task and the dates for starting and completing tasks.
They assist to deal with complex projects. Like on a real map, you can see each step in advance and where your team needs to go next.
The visual format of Gantt charts is easy to read and understandable. They offer a visual overview of when activities will occur, and whether they are dependent.
They help to set reasonable time frames and forecast when the project will be complete.
They are good for presentations and illustrating groups of milestones.
You may use a Gantt chart maker in status reporting to show how much of your plan has been completed.
Gantt charts help to estimate timelines and workloads. They let you know how much time and person-power you need upfront.
They are easy to create. They enhance team productivity and improve communication and coordination among stakeholders.
Are there any cons?
Here're some common Gantt chart disadvantages:
Gantt charts may look too complex for larger projects. A powerful project management software will not have trouble handling a complex project. However, if the project is too large, consider breaking it into multiple Gantt charts.
For someone, Gantt charts may seem inflexible. One of the reasons for this conclusion is applying inflexible project management tools.
You must constantly update them. All projects have surprises, so changes must be made anyway.
Gantt charts do not always effectively address the dependencies between jobs.
It can be difficult to visualize slack and critical path without additional notation.
Several scheduling possibilities cannot be shown on the same chart.
It is not possible to assign resources to tasks without appropriate software.
Who uses Gantt diagrams?
Gantt charts can be successfully applied in many industries. Here are just some types of teams that use them all over the world to plan, schedule, and execute their projects:
IT sector (software development firms)
Construction
Manufacturing
Education
Healthcare
Consulting agencies
Marketing teams
Design and creative
Human resources
Event agencies, etc.
Gantt charts for everybody
Gantt diagrams can be utilized almost by everyone who wants to visualize their activities. The complex processes are done by computer algorithms, so you can just create a simple task list and add start and end dates.
These effective planning tools suits the following roles:
CEOs and CTOs
Product owners
Project managers
Product managers
Operations managers
Marketing managers
Scheduling managers
HR managers, etc.
Project Gantt charts assist project managers in visualizing:
Project timelines

Who is working on these tasks

The duration of each task 

What a project's tasks are

The order in which the tasks should be completed

How these project tasks overlap and link together
11 Best Gantt Chart Software List
1. Hygger – Best for software development projects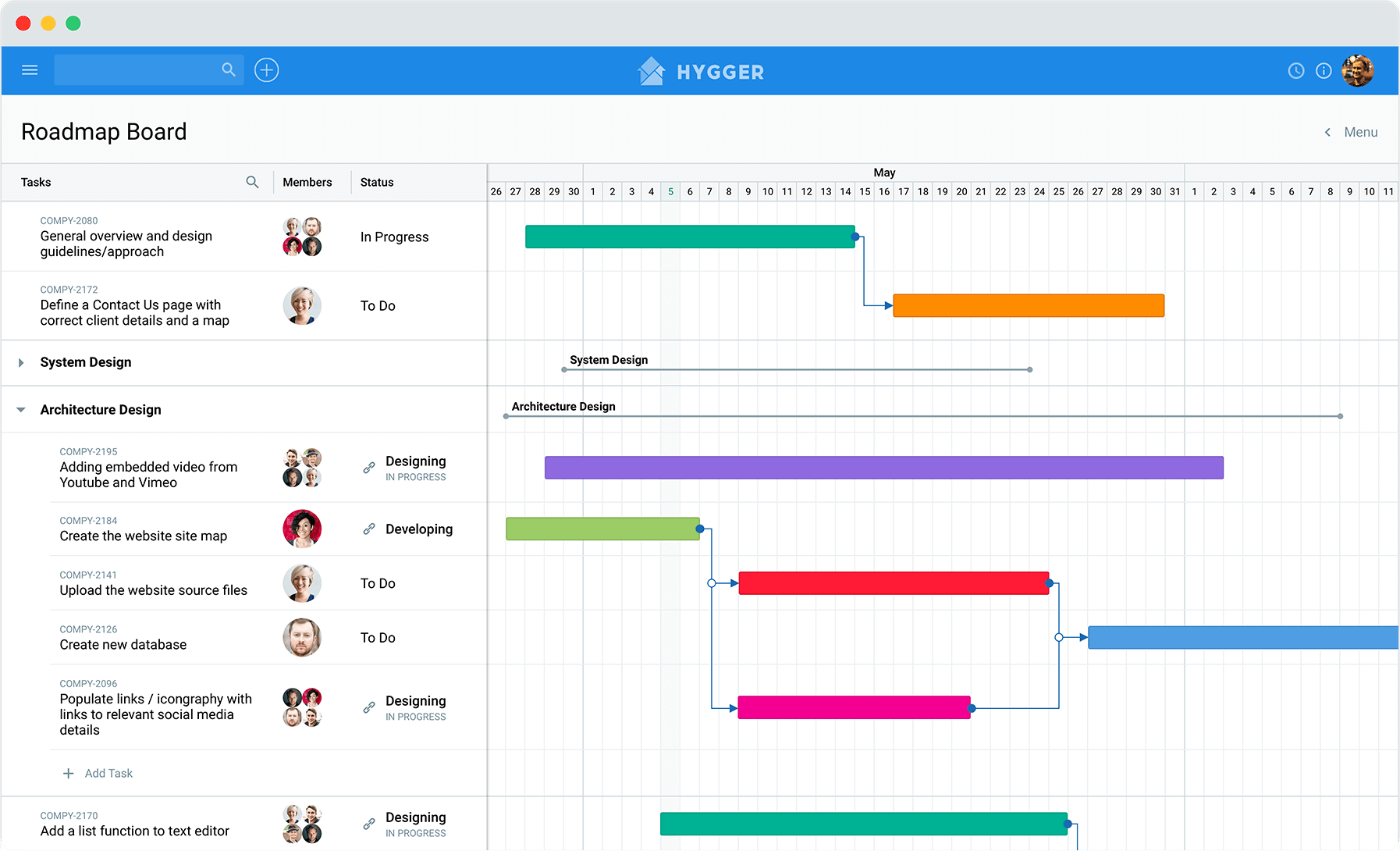 Hygger is a multifunctional Kanban project management tool that offers powerful timelines based on Gantt charts. It perfectly suits software development teams and small and mid-sized companies working in various spheres.
Handy roadmaps in Hygger will easily assist you in professional planning and scheduling. Plan your goals, strategy, releases, and features without extra effort and headache.
In Hygger you may find friendly templates that will save your time. You can import tasks from development boards on your roadmap to see the actual progress. The platform allows adding customers or stakeholders to the timeline and share global plans or the closest releases.
Besides the timelines, Hygger proposes the other kinds of project boards: a Kanban board, a list board (to-do lists), or a Sprint board.
Its digital Kanban boards with Swimlanes, WIP (work in progress) limits and time tracking are popular all over the world. In addition, the robust prioritization frameworks of various complexity (Eisenhower matrix, Value vs Effort prioritization matrix, Value vs Risk matrix, ICE scoring system, RICE scoring model, and the Weighted Scoring) will help you to become a master of prioritization.
Pricing:
Free trial available
Starts at $7 per user/monthly
Enterprise – $14 per user/monthly
Take a look at how Hygger works in this video tutorial:
Pros
Cons

Bright and colorful timelines with the intuitive scenario
Ability to share the roadmap with team members and stakeholders
One of the best Kanban board functionality
Powerful prioritization frameworks

No way to link multiple tasks from other boards on the timeline
Lack of milestones
No way to customize the column with the percentage of task completion
2. GanttPRO – Best for project/portfolio managers, startups, creative agencies, construction, and education sectors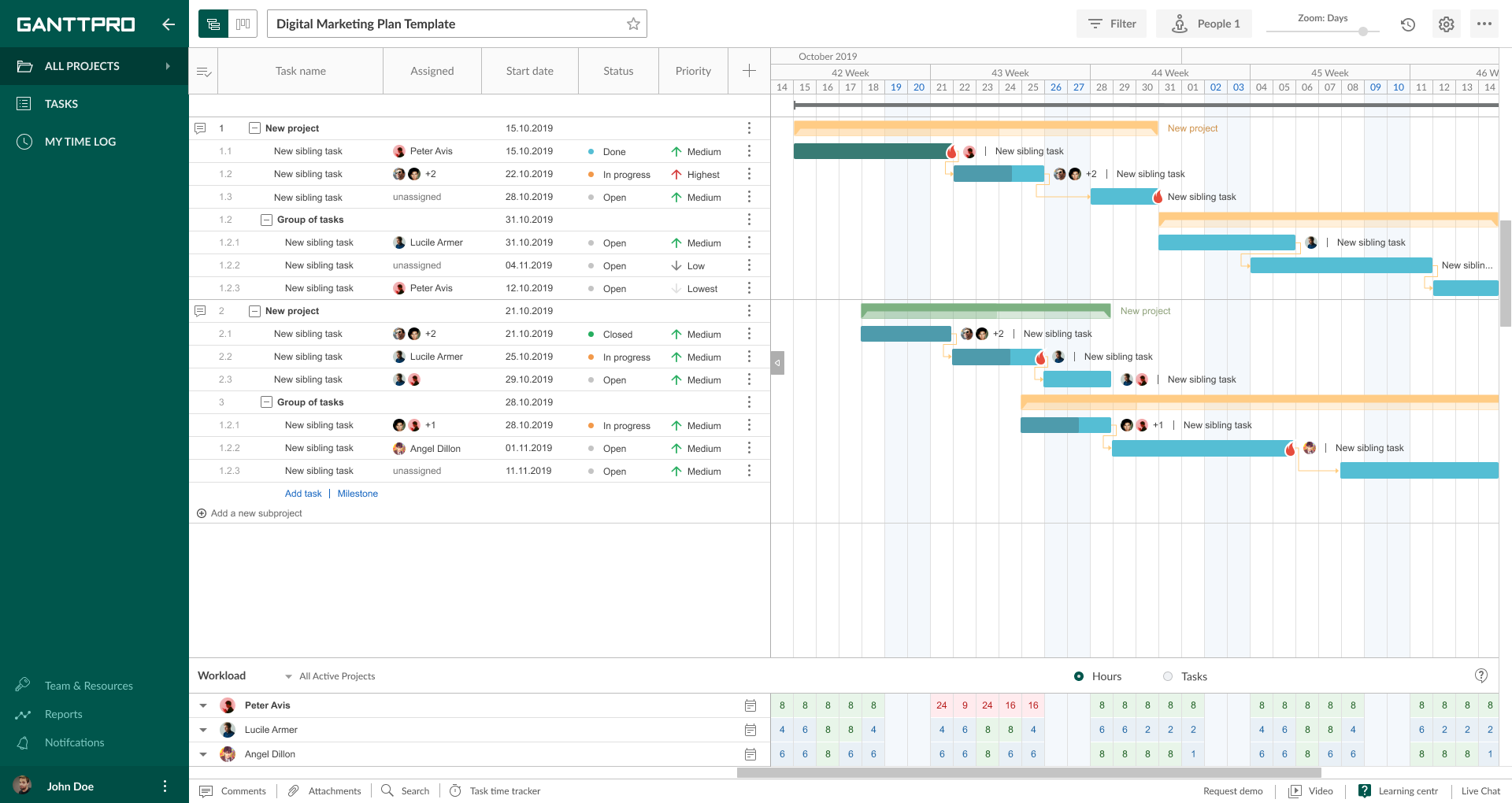 GanttPRO is a reliable project management tool that uses a Gantt Chart approach to make its users more productive and effective in managing their projects. The platform was launched in 2015. It suits small businesses that need core project management functionality but not a ton of extras. It works well and is easy to use.
GanttPro simplifies workflows, improves team collaboration, and deliver projects within accurate estimates. It optimizes the progress of your projects and enables you to share Gantt charts with your coworkers and customers during presentations, reports, or business plans.
Pricing:
Free trial available
Team – $6.50 per user/monthly
Individual – $15 per user/ monthly
Take a look at how GanttPro works in this video tutorial:
Pros
Cons

Strong focus on Gantt charts
Includes custom fields for tasks, Kanban board view, and critical path functionality
Offers permanent discounts and interesting marketing offers
Saves history for undo

No reporting tools and customizable dashboards
No billing option
Light on integrations
3. TeamGantt – Best for projects that involve multiple people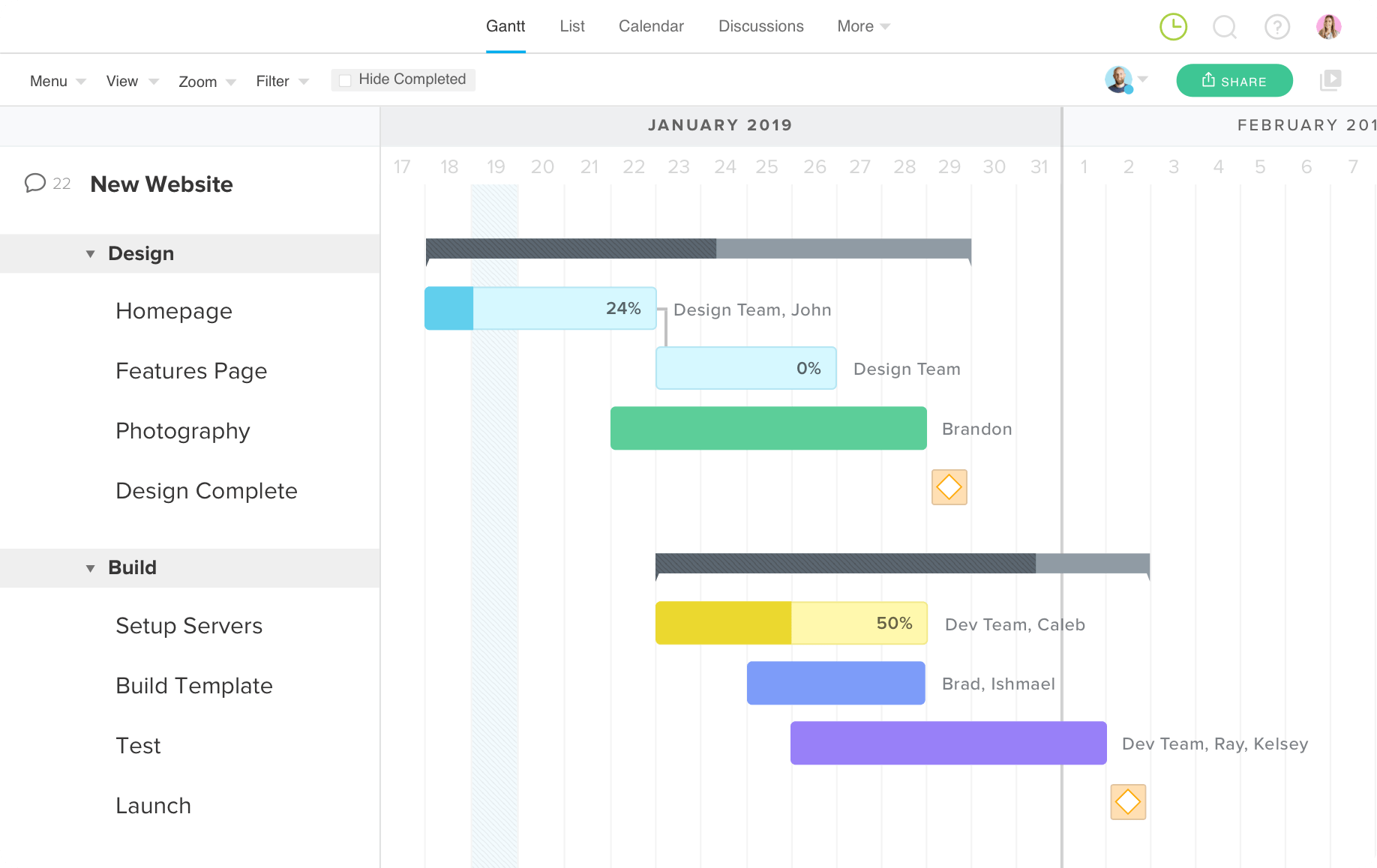 Another cloud-based Gantt chart and project planning software for small, midsize, and global enterprises is Teamgantt. The tool offers collaborative Gantt charts, file sharing, time tracking, and task-managing features.
The Gantt diagrams in Teamgantt provide a drag-and-drop option that allows creating tasks by dragging over dates in a calendar. You can see what any team member is working on and how many tasks are assigned to him/her daily.
Task comments are also available there. Documents can be attached to any task. As a user, you can filter your tasks by due dates and who they are assigned to. Gantt charts can be converted into PDFs.
Pricing:
Free trial and free version are available
Starts at $7.90 per user/monthly
Premium – $29.95 per user/monthly
Take a look at how TeamGantt works in this video tutorial:
Pros
Cons

Ability to add project tasks/milestones as well as task/milestone dependencies.
Provides great collaborative functionality for any dynamic team.
Easy to navigate and attractive UT
It is quite easy to train other users on how to use it and set their own projects.

The mobile app has no lane view, which is difficult to understand the choice.
Does not have a section of the project budget.
Looks costly, especially if you want to use it on a bigger team.
4. ProProfs Project – Best for everyone who wants to simplify their day-to-day business operations by saving time and efforts

ProProfs Project is a feature-rich online Gantt chart software that provides a clear graphical representation of how your projects are moving forward. Whether it's tracking timelines, setting dependencies, or assigning tasks, the tool's colorful Gantt charts are capable of so much.
You can effortlessly visualize tasks at every stage of the project's life cycle. The best part is, the tool offers features to track milestones and meet deadlines faster. Its drag and drop functionality lets you create tasks and stretch their duration. There are progress bars to track these tasks from start to finish and get a bird's-eye view of the pace at which projects are moving. Moreover, automating the entire project scheduling process is a breeze.
The tool is designed to handle multiple projects and teams simultaneously on its single dashboard. Also, you can generate actionable reports that aid decision-making for achieving superior business results.
Pricing:
No free plan
15-day free trial available
Starts at $2 per user/monthly
Premium – $4 per user/monthly
Take a look at how ProProfs Project works in this video tutorial:
Pros
Cons

Simple user interface.
Beautiful Gantt Charts.
Single dashboard to visualize and track projects.
Anytime, anywhere dashboard access.
Real-time alerts and reminders.

No free plan is available.
Integrations can be better.
5. Instagantt – Best for engineering, designers, architects, developers, marketers, sales, and other teams that need project plans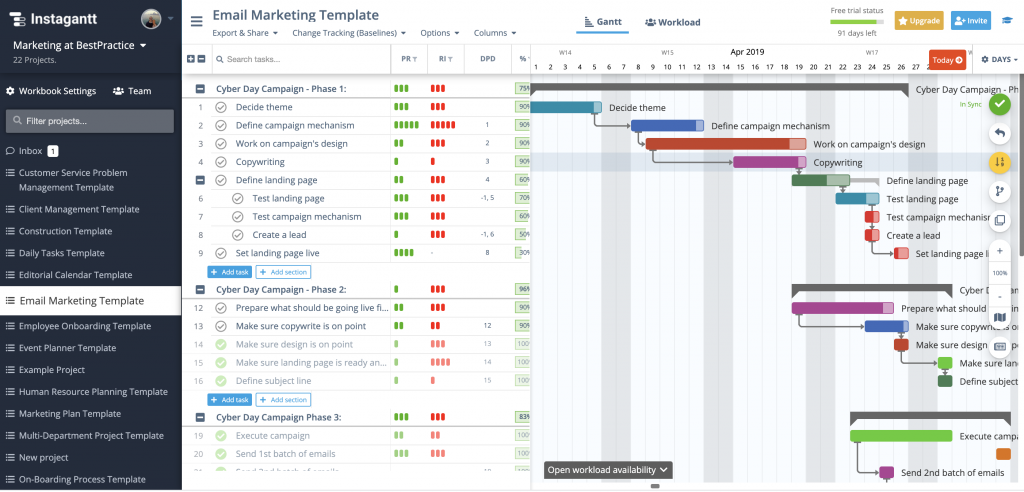 Instagantt is an online Gantt chart-focused app designed to help teams create and manage projects effectively. The tool was founded in May 2013. It is available for existing Asana users or as a standalone platform.
Using this project management solution, you can collaborate and share charts with internal and external stakeholders to ensure consistency throughout the project lifecycle.
Instagantt offers workload management, a drag and drop interface, dependency management, commenting, tasks/sub-tasks, milestone tracking, and detailed progress tracking. It also offers the ability to export charts as Excel Spreadsheets, Google Sheets, or images in case they needed to be added to a presentation.
Pricing:
Free trial and free version are available
Starts at $5 per user/monthly
Single subscription – $7 per user/monthly
Take a look at how Instagantt works in this video tutorial:
Pros
Cons

Integration with Asana
Provides export PDF and JPEG functions
Provides the option to combine multiple projects and have a better idea of bandwidth

No ability to add custom fields
You can add hyperlinks into descriptions but they are not active. The descriptions cannot be formatted
6. Tom's Planner – Best for individuals, governments, universities, and all-sized companies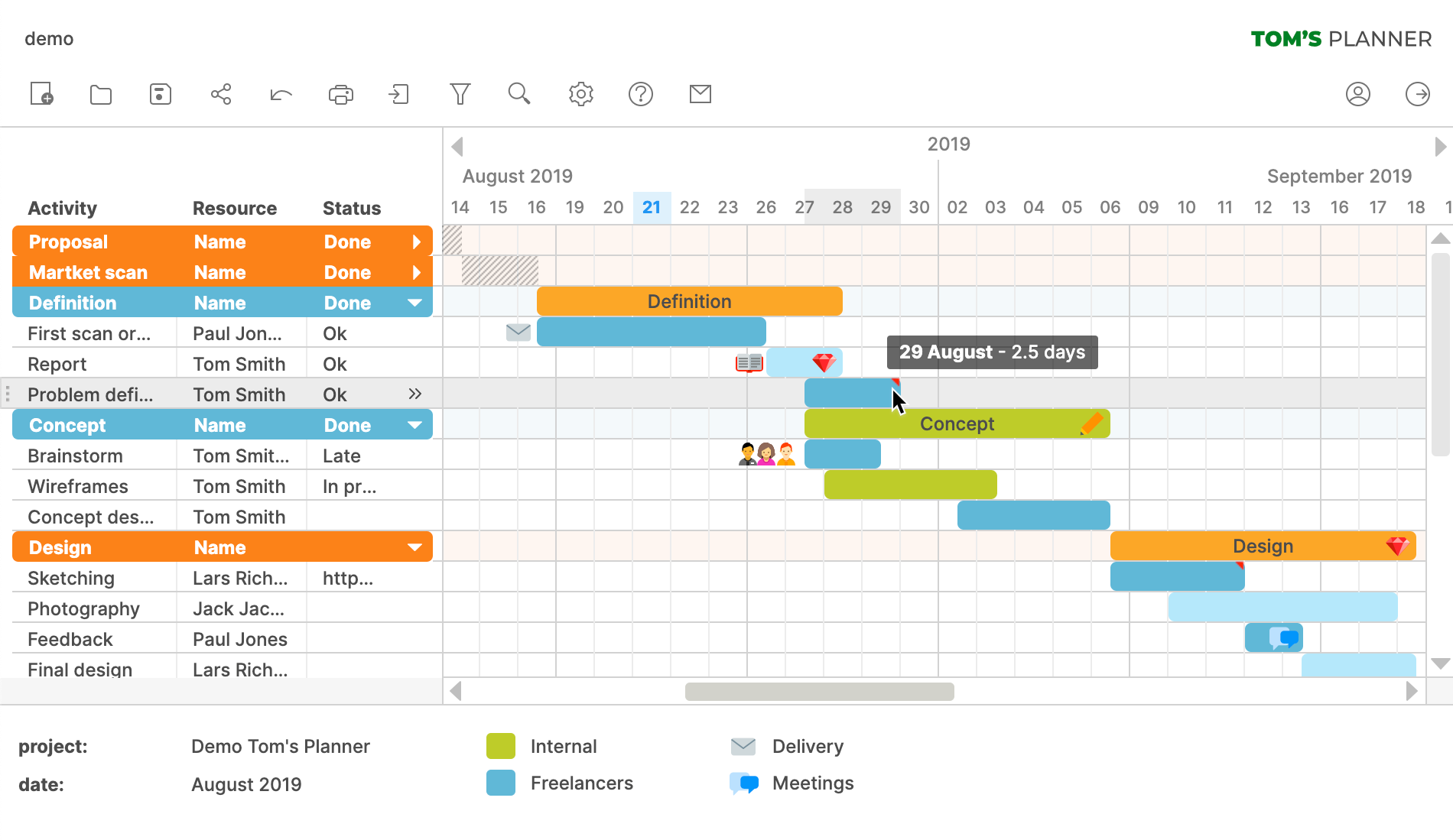 Tom's Planner is a software company based in the Netherlands that offers a robust software product for various purposes.
The tool includes such features as resource management, project planning, Agile and traditional methodologies, Gantt diagrams, Kanban bards, idea management, customizable templates, client portal, and collaboration functionality. However, many admit that its look is quite outdated, although it has a more or less classical Gantt chart view. The app will help you to plan your work in just a few minutes, as the learning curve is rather short.
Pricing:
Free version and free trial available
Starts at $9.95 per user/monthly
Unlimited plan – $19.95 per user/monthly
Take a look at how Tom's Planner works in this video tutorial:
Pros
Cons

Easy to use and user-friendly
Looks good for both small and large projects
Functional and visually pleasing Gantt diagrams

Looks out of date in comparison with other modern apps
No way to copy a project plan with future dates so it lined up perfectly
Poor customization in terms of colors and designs
7. GanttProject – Best for media, construction, and other industries dealing with mid-sized projects and tasks measuring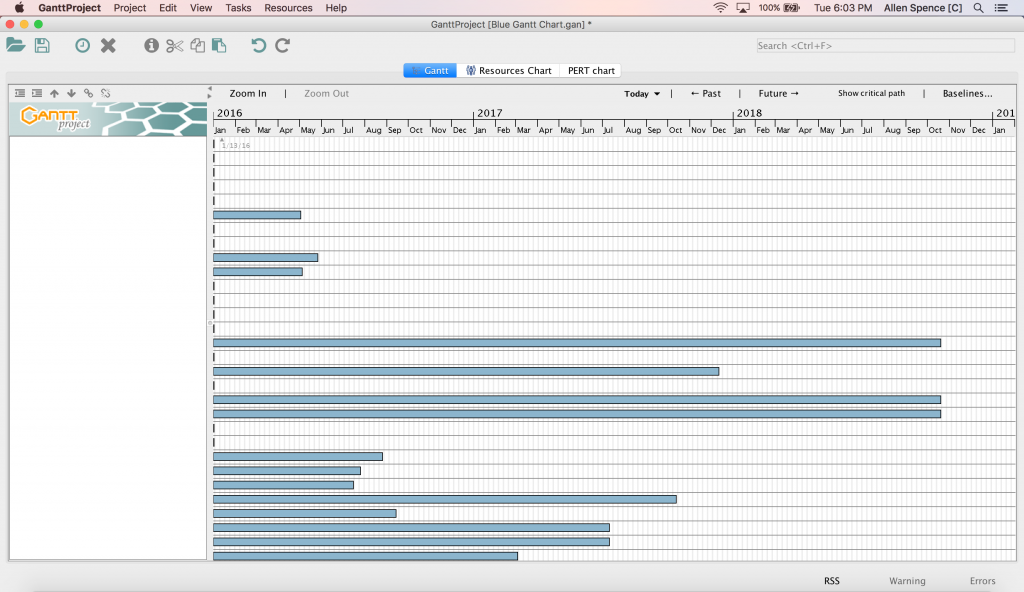 This is a free open-source project management solution featuring handy Gantt charts, calendars, resource management, import/export, and other essential features. It runs on Windows, Linux, and OS X.
The feature set of GanttProject is rather limited but reasonable for basic management needs. After creating a Gantt diagram, you can set priorities, duration, a web link, resources, and so on.
It is easy to import and export projects in Microsoft Project and CSV formats. Gantt charts by GanttProject will help you to keep an eye on how your tasks are organized, define milestones, and create a PERT chart as well.
Pricing:
Free version and free trial available
Starts at $5 as a one-time payment.
Take a look at how GanttProject works in this video tutorial:
Pros
Cons

A simple and good GANTT planner that works fine with Windows, Linux, and OS X
Provides free features for creating and organizing basic projects and tracking/planning your progress along the way

Lacks reporting, budgeting, and collaboration features
Looks not relevant for big projects
Does not allow for a significant amount of detail in charting
8. Microsoft Project – Best for managing work from quick projects to more complex initiatives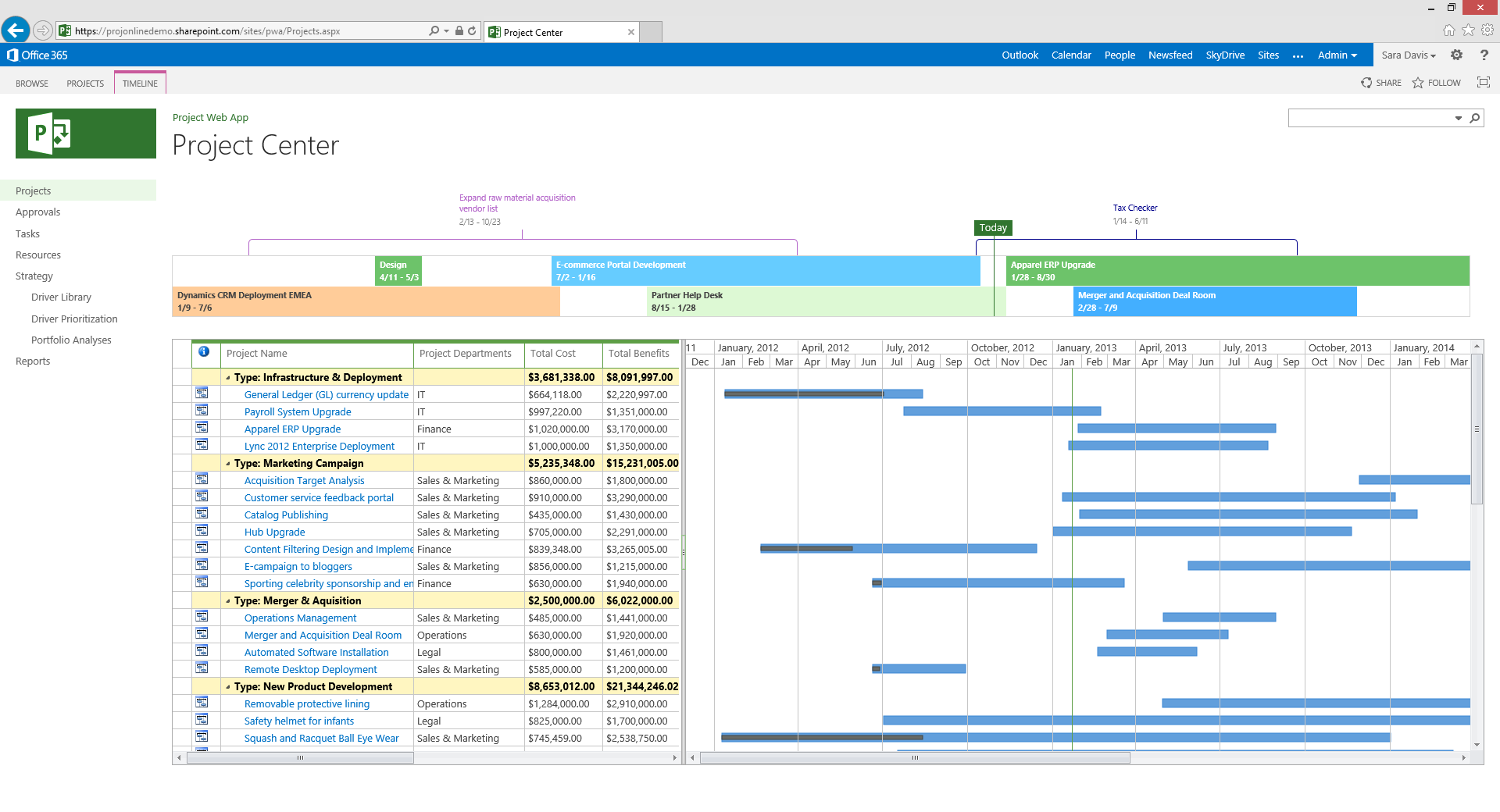 Microsoft Project is another popular PM software designed for companies of all sizes. It includes advanced project scheduling features for planning, defining and assigning each project task, managing employee scheduling, and tracking project statuses. You get customizable templates and visual roadmaps for project planning.
Microsoft Project can be also used for project budgeting that can help to estimate costs for a complex project to define resource allocation.
Its dashboards and reporting functionalities for managing projects are interactive and handy. You can deploy it on-premise with a user license or may use a monthly subscription.
Pricing:
No free version
Free trial available
Starts at $10 per user/monthly
Take a look at how Microsoft Project works in this video tutorial:
Pros
Cons

Offer detailed options for managing resources
Proposes intuitive Gantt charts for organizing the plans, schedules, and multiple projects at once
Templates come with little descriptions that help you understand what to do and how to do It

Looks pricier than competitors
Does not integrate with many apps outside the Microsoft family
There are some limitations in using it to track project progress
Working with multiple teams, it has a hard time allocating resources
9. Hello Focus – Best for companies striving to find product management tools to increase productivity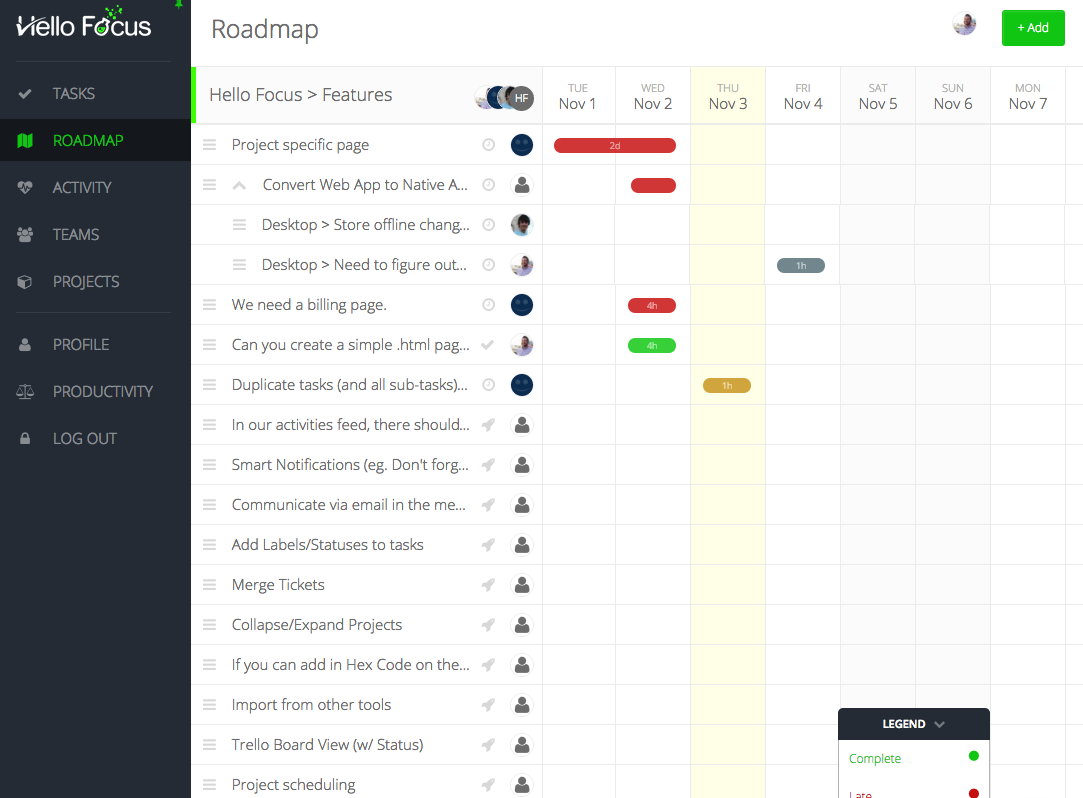 Another powerful solution in our list of the best Gantt chart software is Hello Focus. This cloud-based software for managing tasks, projects, and teams proposes many essential features from handy to-do lists to road mapping and advanced task delegation. It is designed to help employees focus their tasks, prioritize them, and integrate scheduling to help users plan their workload.
Hello Focus offers simple Gantt Charts to aid with scheduling and organizing tasks, projects, and team members in a visual way. You may try it on desktop, Mac, and mobile devices using the web app or the native mobile apps for Android and iOS.
Pricing:
No free version
Free trial available
Starts at $10 per user/monthly
Pros
Cons

Seems appropriate for both small businesses and midsize companies
Helps to increase the efficient usage of time at work
Clear and easy to apply deadline management

The lack of a good knowledge base.
The price looks high and it needs to be more user-friendly.
No customizable reporting
Customer support could be better.
10. ProjectInsight – Best for teams in all shapes and sizes, spanning across a variety of industries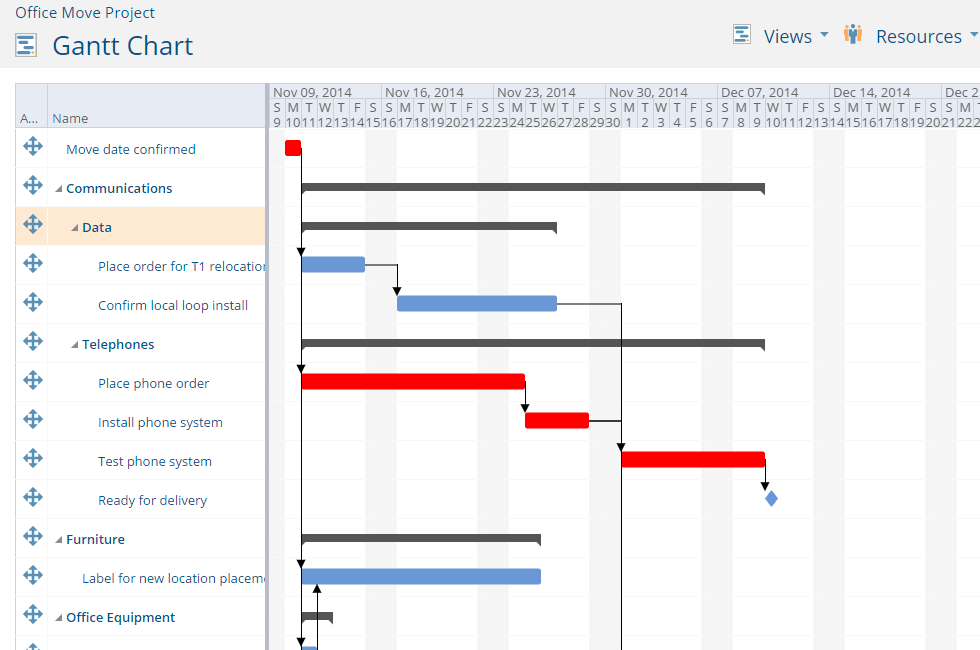 Project Insight is a web-based PM software for teams of all sizes. It is famous for its easy-to-use interface and comprehensive features. The tool can serve as a centralized hub where you can manage tasks, monitor productivity, and collaborate with your team. It helps to streamline operations and accelerate processes without compromising quality.
Project Insight is widely used by IT, professional services, product developers, and many more industry leaders. This is a completely customizable solution that offers out-of-the-box integration with such apps as JIRA, Outlook, QuickBooks, Salesforce, etc.
Pricing:
No free version
Free trial available
Starts at $3 per user/monthly
Enterprise – $45 per user/monthly
Take a look at how Project Insight works in this video tutorial:
Pros
Cons

Has a user-friendly interface that is easy to implement and easy to learn
Can be integrated with many popular apps
It lets everyone be on the same page and know what's going on with particular projects

No way to set the complete percentage of multiple tasks at once
The website is not incredibly efficient (can be slow and time-consuming to use)
Looks too expensive for many users
11. Celoxis – Best for businesses looking for a robust project management solution

This affordable all-in-one tool for project portfolio and work management is used globally by many popular brands, for example, Tesla, Adobe, and LG. It allows its users to create plans with powerful interactive Gantt charts,  manage teams working different times and shifts, collaborate and share files, track timesheets, get 360-degree real-time insights with custom analytics, and more.
Celoxis excels at planning, delegation, collaboration, tracking, and reporting with great agility and user-friendliness. With its help, you will be able to plan and manage real-world, diverse project portfolios. It is highly customizable to suit a variety of business needs.
Pricing:
Free trial is available
No free version
Starts at $25 per user/monthly
Take a look at how Celoxis works in this video tutorial:
Pros
Cons

Offers beautiful project Gantt chart and timelines.
Give a new scope to projects and business tasks, improving the performance of the team.
Includes billable hours, income projection, and resource management tools

The interface is a bit heavy for small teams
Cannot view or mark up attachments in-app
There are some restrictions on the level of access and the number of administrators
Its visual layout is not very modern
Summary of the Best Gantt Chart Software
Considerations when purchasing Gantt chart software
How to select the best Gantt chart software for your project?
Every business has different needs and requirements. Perhaps your company may not have the answer concerning the best solution, so it is worth to consider the following questions:
Do you want to schedule resources or manage projects?
Are you dealing with several projects at once? If yes, are these projects similar?
How detailed do you need your planning info?
How many tasks are recurrent?
Do you have collaborative and sharing needs?
Do you need a web-based or installed version of a Gantt Chart creator?
Conclusion
Gantt charts make the work of project managers simpler, more structured, and more effective. If you're looking for the best Gantt Chart software, there are a lot of questions you need to consider and decisions you need to make in the process.
Hopefully, our article has helped you to make the right choice. Most Gantt chart planning tools offer free trials, so even if you don't know the answer to your questions yet, you can see for yourself what exactly you need.