High technologies have become obligatory for various businesses. That's why the executive-level role of a CTO looks popular and highly-demanded nowadays.
Many developers are aspiring to become a CTO. What does it take to get this authoritative position? Is there a magic formula for being a great leader in technology? This will definitely depend on the size of your company, team structure, industry, and other factors. In this post, we share common characteristics of CTOs and define what their jobs consist of.
CTO definition
CTO is the acronym for Chief Technology Officer. It is an executive-level role related to technological software and relevant issues within an organization. The key responsibility for a CTO is to work with the IT staff, solve tech challenges, and keep the company running. The day-to-day duties of CTOs may vary from company to company. They are typically focused on external clients, who purchase the company's products, even if these products themselves are not technology-based.
The CTO should know everything about innovations and be on the cutting edge of technology to let the company offer the best products. That's why, in many cases, Chief Technology Officers are responsible for the engineer and developer team performance who focus on development and research to constantly update and innovate the company's offerings.
What does a CTO do in a startup?
The title of this high position means that this person constantly cares about technology aspects within the company.
At first sight, the role definition may seem quite general and may not reflect all the responsibilities of the chief executive officer. There is no unique standard about what CTOs should actually do. The things that one particular company expects of the CTO may be totally different from what the other company expects. In some companies, you may find some alternative roles, for example, the role of the Head of engineering.
All tech startups are focused on growing as much as possible, so the CTO must also be aimed at this purpose.
What are the key responsibilities of CTO? 
Owning all tech offerings of the company and external products.

Managing the engineering and developer teams.

Developing the company's strategy for using technological resources.

Leading the strategy for technology platforms, external relationships, and partnership networks. 

Creating overall technology standards and practices within the company.

Assisting departments in using technologies profitably.

Implementing new infrastructure and systems.

Supervising system infrastructure to make sure its functionality is good.

Protect all tech data.

Managing

product roadmaps

, tasks, and deadlines. Advanced CTOs have product and

project management skills

.

Delegating: the CTO should perform on the frontlines and be able to delegate work.

Communicating the technological agenda during staff meetings. 

Monitoring IT budgets and KPIs.

Working with stakeholders' feedback to inform about adjustments to technology.

Communicating tech strategy aspects to partners.

Keeping abreast of all the trends and best practices of technology startups.

Collaborating closely with Business Development, Marketing, and Operations.
We guess there is no need to note that this role is a high-paid role.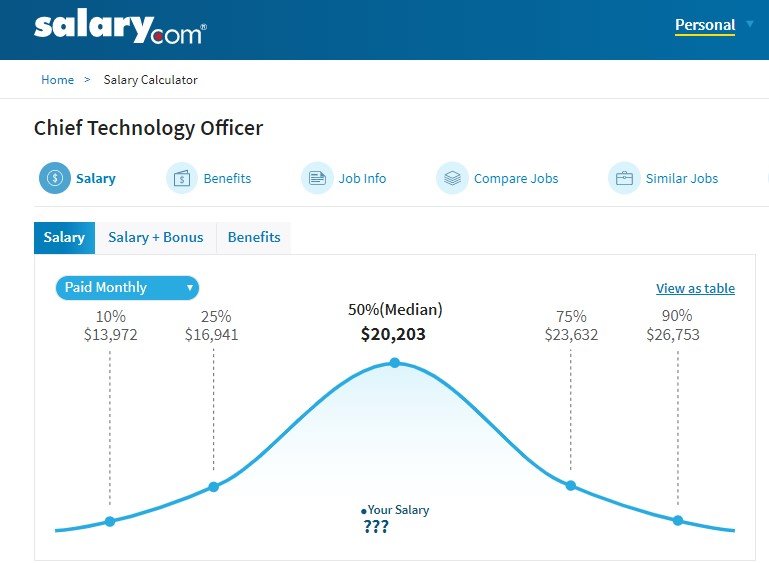 What are the types of CTOs?
The role of a CTO can be classified in different ways. For example, one source identifies four types of a CTO:
The digital business leader

who often performs as a CIO. He/she is focused on utilizing innovative technologies to transform the company's business model and products. His/her approach is to "push" technology toward the key business functions. 

The business enabler

who typically performs in industries where technology is the company's product, so this CTO is in charge of that technology. These CTOs ensure that technology operates in the right way and evolves in lockstep with the business. 

The IT innovator

who is a technology visionary for IT. He/she usually leads innovation managers, enterprise architects, and other technology specialists in shared IT services. Typically, this CTO reports to the CIO.

The chief operating officer of IT

who manages the daily running of IT, usually in global corporations with significant IT headcount. His/her main goal is to meet the agreed-upon delivery of IT services, supporting the existing business model.
However, this classification may still look vague. Perhaps the simpler way is the best way, therefore, only two main types of CTOs can be defined, according to their key focus:
The technical leader

is a skilled professional with deep expertise in programming, cloud-based configuration, design, and other related disciplines. They write code themselves and check the code written by other developers.

The operational manager is

 responsible for overseeing the engineering team. They are also high-level developers with strong programming skills and enough experience. However, in their cases, purely development-related tasks take the back seat. Operational CTOs are more focused on shaping the technology strategy and managing engineering efforts than on coding.
How to become a Chief Technology Officer?
Logically, any Chief Technology Officer must have deep expertise in both operational management and software development. 
What other skills does a CTO need? The list of skills required to become a CTO is rather long. Here, we define the main requirements:
Experience as a CTO or another leadership role.

The knowledge base related to technological trends.

Leadership and organizational abilities.

In-depth knowledge related to computer science and engineering; additionally – web systems architecture, design, and development.

Experience in project management.

Ability to run research and technological analyses.

Understanding of business planning and budgeting.

Advanced communication skills.

Problem-solving ability.

Strategic thinking.

Excellent time-management skills.

Effective negotiation skills.
Summing it up
For the success of both technology startups and global stable software companies, the role of a Chief Technology Officer is rather essential. The CTO leads all tech-related issues and controls all related processes aimed to solve the company's software product challenges. 
Looking for an appropriate person able to manage the tech side of your business may take weeks and months. Sometimes it relevant to consider delegating the responsibilities of a CTO to a reliable technical partner.