Program management is quite a new term in the management world. Many people think that the role of program manager sounds like another name for a project manager, however, these roles are distinct. So, what is a program manager?
In the IT environment, a program manager oversees a team of information systems professionals who are working on different projects. In general, program managers differ from project managers in their roles that are broader in scope.
Project managers focus on a specific initiative, while program managers work with a range of initiatives to achieve a particular company's goal.
The role of the program manager requires technical knowledge but emphasizes business management skills. Let's define what program managers do and why their roles are important for the business's success.
Program manager's job description
What does a program manager do? A program manager is an administrative position in companies with an IT department.
This role involves the elements of managerial work, technical responsibilities, and communication with IT specialists.
The technical program manager must have a deep understanding of information technologies and computer science. A typical working day of program managers consists of general oversight of the IT workspace, meetings with team members, and collaboration with other depts.
Just look at the screen from a professional social network, LinkedIn, that demonstrates the popularity of the program manager position:
This person must also be aware of management techniques. He/she should be charismatic, communicative and have enough leadership abilities.
Typically, the candidate for the program manager position should have at least a bachelor's degree in information technology.
Besides, most managers in this field, require 3-4 years of IT experience in a professional environment.
Actually, there is a constant confusion in the matter program manager vs product manager vs project manager. Can they collaborate? This definitely depends on companies and internal hierarchy.
Typical tasks and responsibilities of IT program managers
to manage the life cycle of the program on a daily basis.
to create and maintain plans, procedures, and policies for all project phases.
to participate in design, development and implementation issues.
to work closely with developers and testers. All together, they ensure functional designs.
to assign duties and responsibilities to the project personnel.
to track progress, making sure that milestones are being met across the various projects and programs.
to manage the program budget.
to manage risks and issues that might arise over the course of the program life cycle.
to define and use resources across the projects and programs.
to manage stakeholders who are involved in the projects and programs.
What are the skills required to manage programs?
Any program manager needs to have the following skills and abilities to be ideal for this position:
software management skills
strong leadership and managerial skills
strong experience in project management, dealing with large and complex projects
broad knowledge of project and program management methodologies and techniques
the clear understanding of business and strategic goals
budgeting skills and resource allocation procedures
the ability to cooperate with a wide range of individuals
What salary do program managers receive?
Statistics reflect everything. Here's the example of the average program managers' salary in IT sector, the U.S.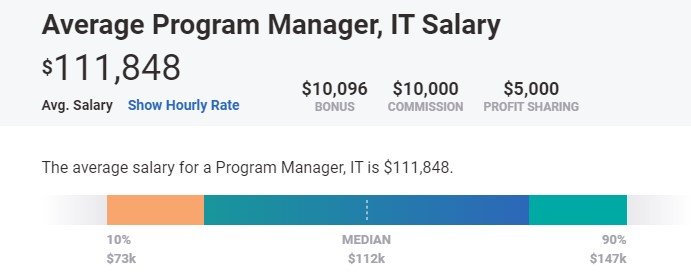 Using software to manage programs efficiently
Managing a program is not an easy job. Program managers should not only have advanced skills and experience but also should be able to apply modern online program management software.
Monitoring all moving program tasks and processes can be a challenge. Luckily, management tools are able to help. Some of the most relevant examples for this purpose are Hygger, Lucidchart, Smartsheet, Planview, etc.
Powerful features that assist in managing programs:
A dashboard – the place where you can see a quick glimpse at how things are going. Thanks to this feature, you do not need to jump from one screen to another to track the progress of your program.
Gantt Charts that help to organize schedules and create a visual timeline of the tasks that make it up.
A task management system that allows knowing where the team stands in terms of their tasks. It can also be used by program managers to keep track of their own task list.
Timesheets to track of enterprise-level benefits and how your company's accounts for time developing all assets.
A reporting system that can generate a status report with one click.
Program management is a rewarding and well-paid career
So, to sum it up, why do we need program management? The complexity and scale of programs require a dedicated and high-educated manager to oversee its moving parts and strategically coordinate individual initiatives.
Without careful resources management and a strategic plan, the project will fall apart and the objectives will remain out of reach.