Managing remote teams is no more a challenge. According to Forbes, 74% of professionals expect remote work to become standard
But do we all have an opportunity to work from different continents across different time zones?
Some decades ago, any workplace was quite a consistent environment with formally designed cubicles, conference rooms, and closed offices for top-level executives. People had to come into their offices to work, and the idea of a flexible work environment was just a dream.
Fortunately, times have changed. Office workspaces have become more convenient, creative, and collaborative. And what is more important – companies have started to encourage working remotely. 
Now working remotely is an efficient and productive reality. Practicing it and evangelizing to your clients, you can reach surprising outcomes in a short period. But is it always easy to implement?
In this post, we are going to define the key factors that make it possible to build the best-dispersed team.
What is Remote Work?
Remote work is about the growing tendency when employees do not walk into a traditional office daily. Instead, they work remotely part- or full-time from home, abroad, or from a coworking space improving their flexibility and productivity. In other words, the term "remote work" means any work you do that does not require commuting into an office.
Thanks to the digital work environment, individuals can perform various projects, communicate with their colleagues and even manage a team without being in the same room, the same city, or even country.
Internet connectivity is key in this case. It allows you to work remotely from anywhere as long as you have a laptop or another device. 
More and more people are becoming fully remote nowadays, meaning they work from home or any coworking space 40 hours a week. There are also companies that allow their employees to work remotely, for example, 1-2 days a week. So, if you want to hire remote developers or a virtual marketing team, for example, – remember, that there are different options.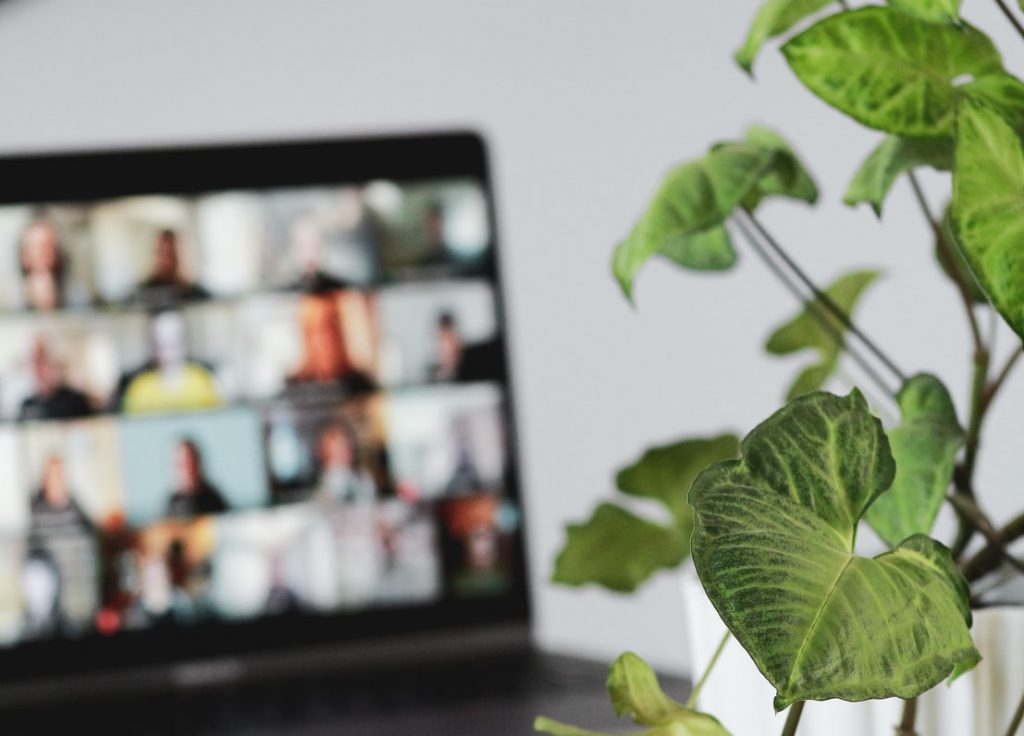 Image source: Unsplash.com (Sigmund)
Most popular types of virtual workers
Regular full-time or part-time employees who perform remotely because their companies allow and encourage it.

Contractors who work for a particular company for a specified period of time. 

Freelancers who take individual projects or tasks.
Time to recognize the remote-work revolution
Nowadays dispersed work is one of the most popular terms for this particular kind of flexible work cooperation.
However, there is a book "The Telecommunications-Transportation Tradeoff" written by Jack Nilles in 1976 where the author noted "telecommuting" as the preferred term. Nilles proposed a system that was closer to workers.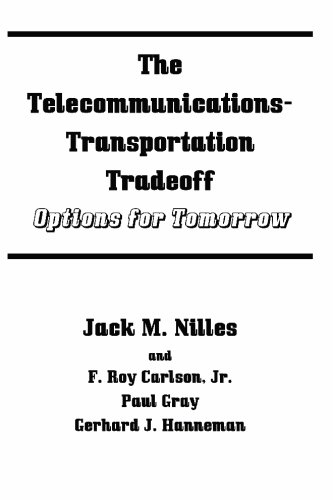 Key Advantages of Remote Work
1. Staying long-term
One of the vivid advantages of remote work is the fact that you can handle most of the challenges even that might have previously put your job at risk. If your main tool is your laptop, then you are able to work from home, on the road, in a cafe, or even from a vacation house. 
No need to sacrifice the job you love for the person you love when it comes to the opportunity to have a career success abroad or have a maternity leave.
2. More time for deep work 
Everyone knows that work interruptions may cost up to a couple of hours a day. Some companies practice morning collaborative meetings that are free afternoon for deep work. And this is quite a good idea.
Working from home or a coworking space incites more focusing. Moreover, for some people, remote work means that they'll get their work done instead of the need to have their butts in seats for exactly 40 hours a week.
3. Improving communication skills
There is a stereotypical opinion that it's much harder to communicate when you work remotely. However, often remote collaboration leads to forcing to fix communication issues much more quickly. 
4. Advancing health rates
Virtual collaboration accelerates flexibility that lowers stress and the risk of burnout. It means that you'll have a chance to get better mental health if work outside the office. Additionally, you will have more time to exercise and eat well
5. Aligning gender issues
Many companies that foster virtual work allow women to get flexible schedules for their personal priorities and building careers. The gender wage gap affects how many women become leaders within their companies. In countries, where there are no strong parental leave standards, it can lead to falling behind.
Key Disadvantages of Remote Work
1. Risk of being isolated
This specialty of distant collaboration is rather natural. If you are used to working in a busy and crowded office environment, turning to work from an isolated location might seem inconvenient.
There are companies that offer special stipends or other programs for individuals who feel the monotony of the home office.
2. Excessive responsibility
Of course, distant work requires a self-starter attitude. Dispersed performers just need to get their work done on time and no one will check to see how hard they are working or whether they are working at all.
This kind of work might not be the best option for you in case you have trouble with self-motivation.
3. Not (not always) immediate access to the team
There can be a simple example: you realize that you need something urgent from your remote designer, but he/she is sleeping because of his/her time zone and you will have to wait until the next morning. 
By the way, the key to this possible problem is proper planning that can be actually done through Scrum methodology.
Best Collaboration Tools for Virtual Teams
1. Tools for Communication With Your Team
Collaborative platforms that provide private or group messaging or chat functions are often considered as one of the best business communication tools to keep teams working together. It's quite an effective form of communication for managers and remote employees. Instant messaging makes updates on projects and discussions more productive.
Here're some examples of such tools:
Slack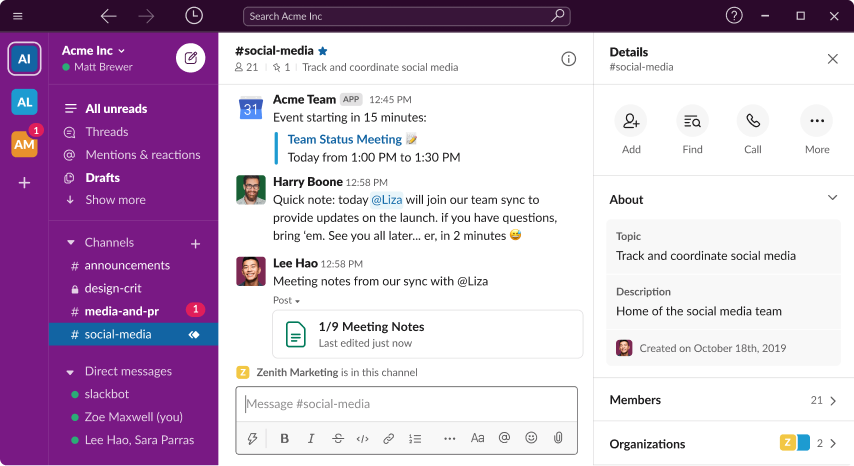 This well-known multifunctional platform offers instant messaging, file transfers, and helpful message searches. Slack provides many outstanding features and dozens of integrations with other tools like Intercom or Trello.
GoToMeeting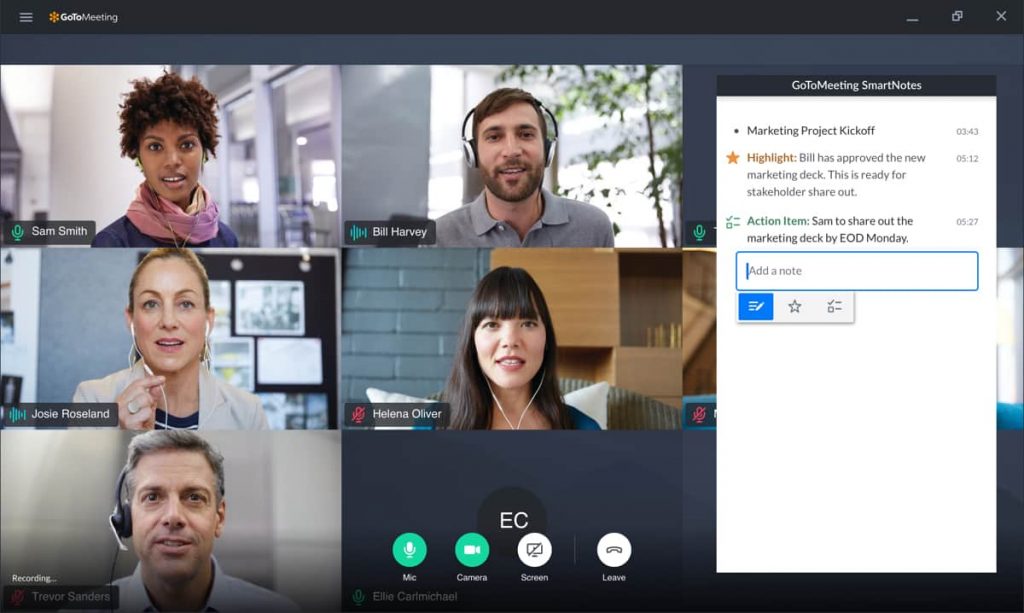 Another great communication tool that will be helpful while arranging online video conferences. The software allows users to schedule meetings, communicate and share screens. This is one of the most popular video services with millions of users.
2. Tools for Managing Projects and Tasks Collaboratively
Task management tools are used by individuals, teams, and companies from various business environments and help them to complete projects more efficiently by organizing and prioritizing related tasks.
Project management software may come in many forms, for example, basic spreadsheets or online project management apps. In general, such tools help people to work efficiently and reduce waste, stay organized, ensure teams are being used in the proper ways, meet deadlines, and many more. 
Here're some relevant examples:
ProofHub

A powerful work management platform that offers a comprehensive suite of collaboration and project management features. With the help of this tool, you can organize files, plan and track even the most complex projects and discuss their details with your colleagues and stakeholders. The platform also lets you review and approve files through an online proofing tool. ProofHub is widely used among various teams, especially dedicated developers. 
Hygger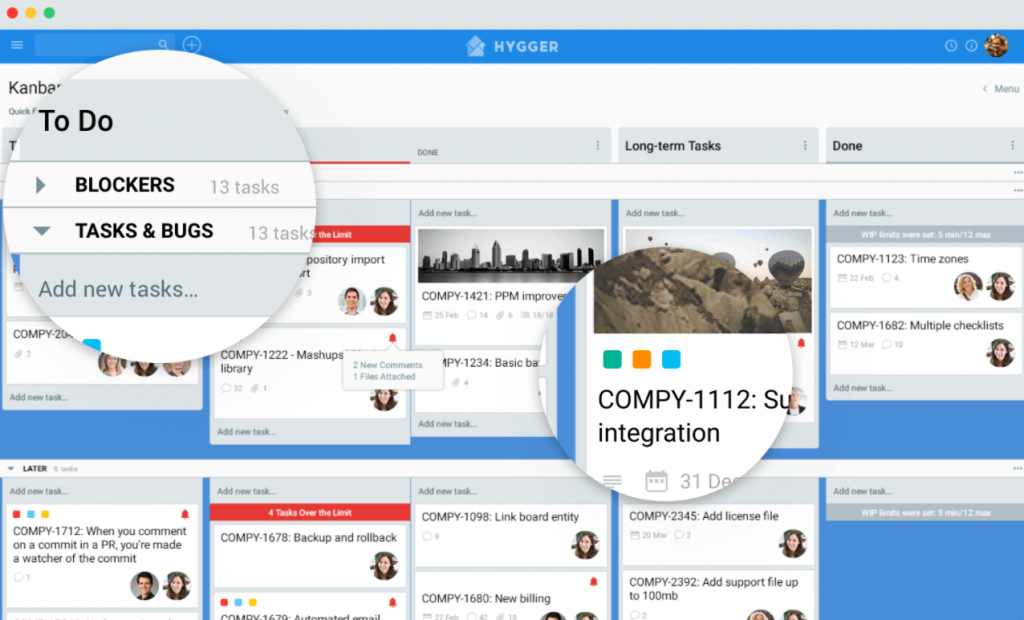 Hygger is a project management and collaboration tool with built-in prioritization that proposes several views of tasks (To-Do Lists, Kanban, Timeline, Calendar, etc.) and allows users to manage multiple teams and numerous projects at once.
Thanks to the convenient online Kanban boards with outstanding features, you can take your virtual team collaboration to the highest level. Hygger provides accurate time tracking options and generating summary reports about all project activities to see the teamwork effectiveness and velocity. You may also use powerful prioritization frameworks if you need to define the most urgent and important project tasks.
3. Tools for Creating Together
Working remotely means that people often have files they want to share with teammates or that need a collaborative creative approach. 
Having robust online collaboration and document sharing tools will enable your virtual team members to work together and eliminate wasted time. 
Here're some bright examples:
Igloo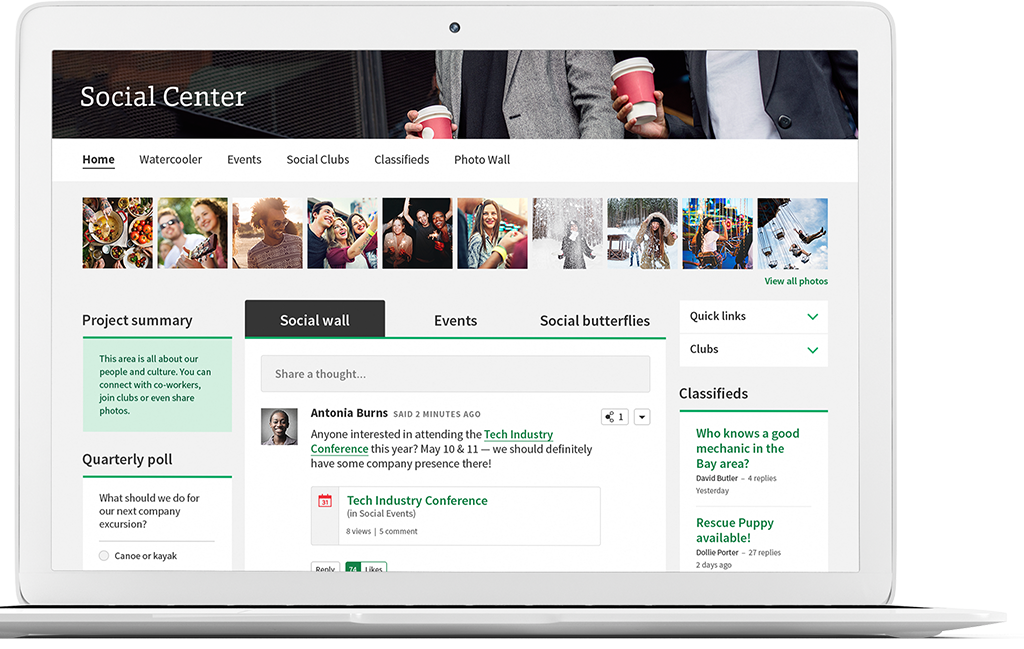 Igloo is a company intranet that allows individuals to communicate and get work done. 
This collaboration tool will help you to connect your workforce across geographically dispersed teams, departments, or business units. Igloo solutions are cloud-based and mobile-enabled. They integrate with the leading enterprise systems and cloud apps.
Google Docs
There is no need to introduce Google. The collaboration tools of Google include Docs and Sheets services. They are designed to allow remote teams to edit files at the same time and save changes automatically.
Conclusion
Now you know the pros and cons of virtual collaboration as well as how to organize a strong team of remote specialists that will share your values and goals effectively.
Make sure you have the proper collaboration tools before diving into a remote working initiative.