It's a widespread situation when businesses that have blogs getting traffic don't generate a ton of revenue. People are fully concentrated on creating of such a content which will get plenty of traffic. But, unfortunately, the majority of them don't map their content strategy to buyers' search intents at various stages in the sales funnel.
Benji Hyam asks you a question: "You want $10k monthly deal sizes for your agency and you're currently getting leads from companies who can barely afford $1k a month? Or even worse, the prospects you're getting don't have revenue. Or you run marketing for a SaaS company and you're driving a lot of great traffic to your blog, but your traffic doesn't convert to free trials, or your other funnel goals?"
He suggests creating such a content that will strategically bring leads in at various stages of your sales funnel. Benji Hyam will tell you how they managed to grow their search traffic to more than 12k visitors per month during 6 months at ThinkApps and share the strategy they used to match various stages of the sales funnel (top level awareness, mid-funnel, and low funnel opportunities).
Where to Focus Content Efforts
At the moment when Benji Hyam joined ThinkApps, he was new to software development and they were pre-product-market fit then. They tried to find out what audience to target. Benji investigated various software development firms and came to a conclusion that:
people distrusted this industry as they had had a previous negative experience with various freelancers and companies.

the firm-client communication was quite poor most of the times and clients weren't usually aware of project progress.

non-technical people wanting to build a product didn't know what they didn't know.

there wasn't enough quality content to help people with getting their products built (and this point was the most important for Benji).
So, the goal was to create the best resource on building products for iOS, Android, Web and Apple Watch, later on. The most important thing here, is that the content should hit all the 4 above-mentioned points.
How to Figure Out What Content Would Bring in the Right Customers for Each Stage of the Sales Funnel
Benji Hyam wrote down all prospects' questions from the phone calls. This step allowed to figure out the difficulties that buyers encounter.
Then in private conversation, he found out more details on clients' problems concerning dealing with freelancers and agencies. This way it was possible to come up with some common challenges that the majority of potential clients have with other businesses.
Benji Hyam also wrote down all questions and objections that clients usually had before making a purchase.
When the list of common difficulties was ready, Benji started to work on a content fully matching people's search intents and solving those difficulties.
The Google Suggested Search Hack
In short, in content marketing "regular" keyword research generally means sorting through keywords in your niche by search volume and going after the highest volume keywords you think you can rank for.
If your company has lots of resources, time to build links and a high domain authority, it will work perfectly well. But Benji Hyam confessed that they hadn't had any of those.
It was necessary to bring in people who wanted to create apps. They couldn't rank for head terms (for example, "mobile app development") so they decided to use long-tail keywords matching various stages of the sales funnel.
Here's how it works:
It's likely that someone researching on a product is interested in learning something or needs help in a difficult situation. So, they won't search for something like "iPhone apps" head term. They would Google this instead:
how-tos — How do I build an app? (Top of Funnel – an initial research without a definite idea)
comparisons — iOS vs. Android Development (Mid-Funnel – an idea and doubts about  a platform. It's likely that they haven't chosen a developer company)
questions — What is the best app development studio in San Francisco? (Low Funnel – a detailed idea of an app and a need to find someone to build it)
Head terms are OK when people know what they want to buy. As for content marketing, it's not that easy to find out buyers' intentions.
Long-tail keywords embrace all the difficulties that people encounter on their way to answers. What's more, they are very indicative of various stages in the sales funnel for complex and large purchases.
The strategy works well both for expensive services and products and cheaper products and e-commerce business. Benji Hyam gives an example: "Let's say you were an online store that sells tennis equipment or you were a tennis coach that sells lessons. A post example might be "How can I improve my tennis forehand" or "What is the best tennis racket for high school players." Then you could include a product listing in that post to try to convert that traffic."
How to write articles ranking for long tail terms (The Google Suggested Search Hack)?
Take the list of questions you've got from your clients and start typing them in Google search.
There should be questions addressing the top of the funnel, the middle of the funnel, and the bottom of the funnel.


It will be much easier to rank for a term if there are no articles on that topic (but people want to get an answer to it).
Mapping Content to the Top of The Funnel, Middle, and Bottom of the Sales Funnel
Benji Hyam to imagine that our "hypothetical, high-ranking article, "How to Build an App Like Uber" would map to the top of the funnel for a sales lead."
This person's research of building an app is likely to be on early stages. Such people do have approximate ideas in their heads but don't know where to start from. Such articles are the best ones in bringing in people at the top of the funnel and presenting your brand. It would be even better "to put calls to action to join your email list so you can solidify your position as a domain expert in their mind," – Benji suggests. Additionally, it builds trust in your readers.
How
ThinkApps
Used This Strategy and Went from 0-12k/monthly SEO Visitors at ThinkApps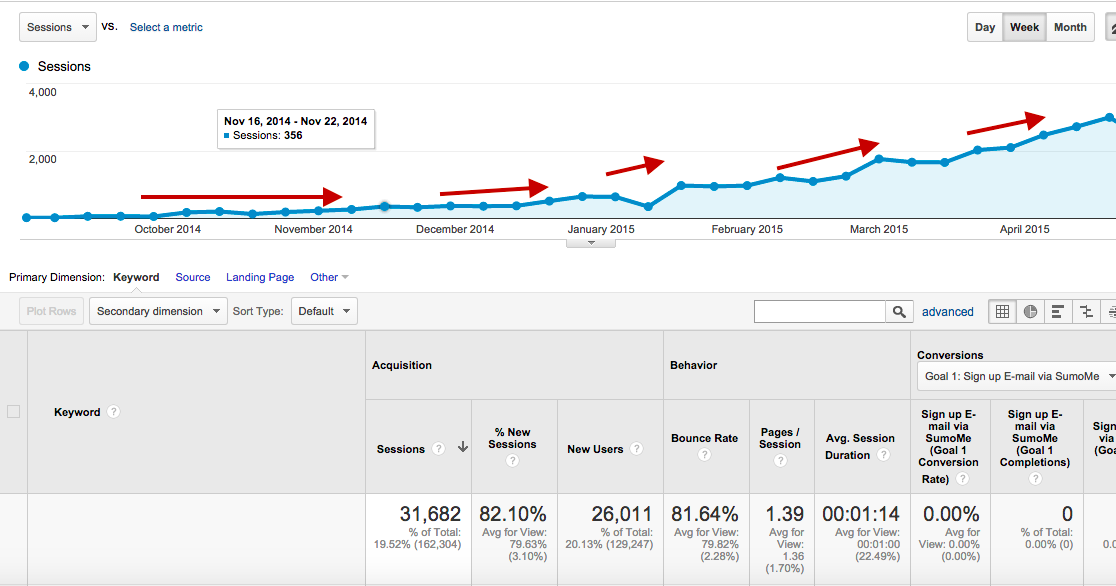 Most of the ThinkApps blog content follows the above-mentioned strategy.
Take a look at several examples:
Examples of top of funnel content:
Examples of mid-funnel content:
It's the content (mainly comparison posts) for the people who have already intended to build an app.
Cross-Platform Mobile Development


It covers the advantages and disadvantages of various cross-platform tools and steers the conversation.

Responsive Web Apps vs. Native Apps


A popular question with many companies when they decide on how to build their apps. The article helps potential clients to make a decision by comparing pros and cons.
Examples of low-funnel content:
Low-funnel content is content comparing your business and some other business. It helps to control the conversation about your brand and competition.
The Definitive Guide To Adding Payments to Your Web or Mobile App


It's a treasure for people building a specific app. It's not a whitepaper, eBook. Just a blog post. 

If somebody is looking for such content, they are very likely to find a developer who would build it for them.
Conclusion
Firstly, base your research on questions that people may have on various stages in the sales/marketing funnel. Secondly, use the Google Suggested Search Hack in order to find topics to write content about. Thirdly, create content going after long-tail search traffic that solves customers' difficulties at the top, middle, and bottom of the funnel.
It's very important spread your content as the more is the reach of your posts, the more natural links you'll get.