Ecommerce mainly depends on the relationships between the company and its customers. A business has to attract new customers and retain already existing ones in conditions of tough competition. 
A customer relationship management system is a special tool used to help companies understand customers, their preferences, and requirements. Let's consider what the most popular ecommerce CRM software is and how to choose the best solution for your business.
CRM: definition, advantages, and requirements
In simple words, any tool that helps a company with customer interactions can be used as a CRM system. Companies with different specialties use CRM for their needs, no matter if it is a healthcare institution or a logistics company. The company's specialty is the key factor in choosing CRM features.
Ecommerce CRM software should be adopted for sales and provide its users with information about customers' interests, shopping habits, shipping preferences, everything needed for creating clear marketing strategies and boosting sales.   
Let's take a deeper look at what CRM systems can offer to online retailers.
What tasks does CRM solve?
CRM system simplifies various complicated ecommerce processes, and, if the company makes a proper choice, it becomes a powerful weapon. CRM lets companies:
Generate leads from different channels;

Support and communicate with customers on time;

Launch marketing campaigns through email;

Use social media channels to the max;

Manage customer data;

Improve reporting and analytics.
So, if you want to enhance your ecommerce business with modern software, the first thing you need to do is to define what CRM features you require. You should list the most important features so as to avoid complicating your CRM solution. If you require some additional functions in the future, you can always upgrade your subscription.
What are the most important CRM features?
CRM solution can offer several crucial features to its owners.
#1. Gathering relevant customer data
Customers' information (email, phone number, etc.) can be used by ecommerce websites for effective targeting. If your customers create an account to sign up with your service or website, you get all the important information most easily. 
#2. Re-engaging customers
With the help of CRM, companies can nurture their customers using personal coupon codes, loyalty points, notifications about discounts, or emails with news. These tools can attract customers and increase sales. 
#3. Email marketing
Econsultancy & Adestra email marketing research shows that email marketing is one of the most efficient tools in ecommerce and has great investment returns. A CRM allows retailers to automate email marketing campaigns and make emails more personal, adapted for every customer. For example, the system can send notifications to customers when a product that they like goes on sale.   
#4. Providing analytics
Analytical data is crucial for planning and creating a marketing strategy, so CRM provides enough relevant information about the most in-demand products or services, the most successful actions, sales history, etc. In this case, the basic indicators are insufficient. Several advanced CRM solutions can also offer analytics for forecasting and sales planning. 
#5. Customer support
It is an important but underrated factor, as Forbes research shows. If the company doesn't provide enough customer support, it loses clients. So, doing this way, the business loses more than $60 billion per year.
CRM allows ecommerce companies to use several powerful tools for communication with customers, for example, chatbots. With these tools, customers don't feel abandoned or forgotten, and the work of the customer support departments gets more convenient.
When you figure out a customer's problem, you can prioritize and fix it. The faster you deal with customers' issues, the more clients return to your store. Besides, a proper resolution of a problem actually leads to a higher loyalty than facing no problem at all. 
So, use your CRM to go the extra mile in customer service. Customers will see that the company takes care of them, the brand's reputation will improve, and the profit will increase.
#6.Social media integration
As the Statista report shows, there were 2.95 billion people registered in social media and this number will increase to almost 3.43 billion by 2023. So, social media is a large channel that can give ecommerce thousands of new customers and, as a result, great profit.
A social network is a place where customers share shopping and brand experience. Positive feedback enhances your chances of selling your goods online.
Top 8 of ecommerce CRM software
There are a lot of CRM providers all over the world, and their number constantly increases. We collected the most well-known solutions that are successfully used by various famous ecommerce companies.
#1. Salesforce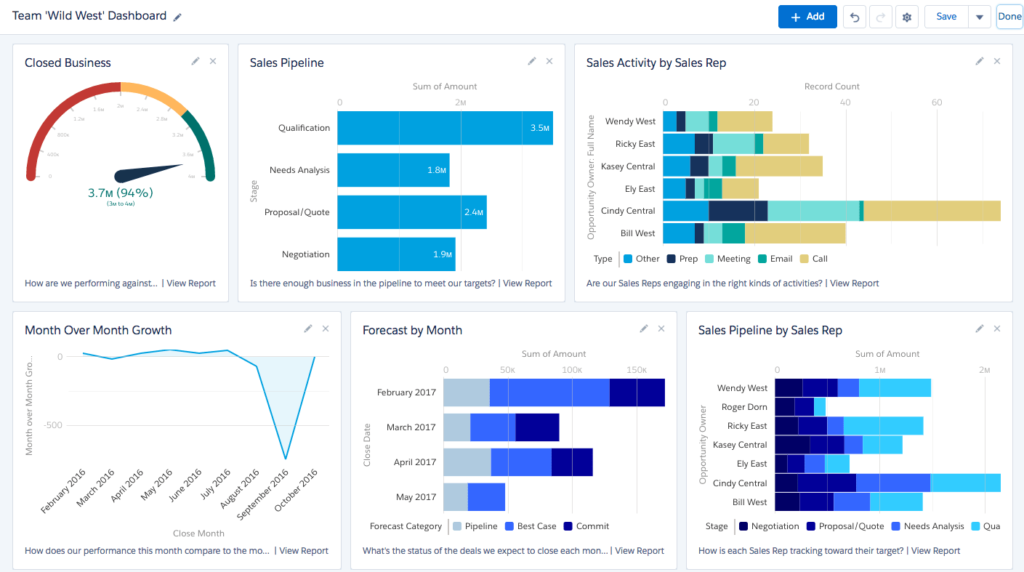 Source: salesforce.com
Salesforce is the recognized leader in the CRM market, with the biggest market share of almost 20%. Salesforce offers small and midsize businesses an effective out-of-the-box CRM solution for ecommerce, SalesforceIQ. Its pricing starts with $25 per user per month and suggests several options with different functionality. You can deploy your SalesforceIQ in the cloud, as a web version, and also on mobile devices with iOS and Android applications.
It is important to know 
If SalesforceIQ no longer meets your business goals, your business grows and requires more features, you can upgrade your Salesforce solution to Salesforce Cloud CRM enhanced by artificial intelligence. Einstein AI can analyze all data from your CRM and let your sales reps work with predictive intelligence and other extra features.
#2. Zoho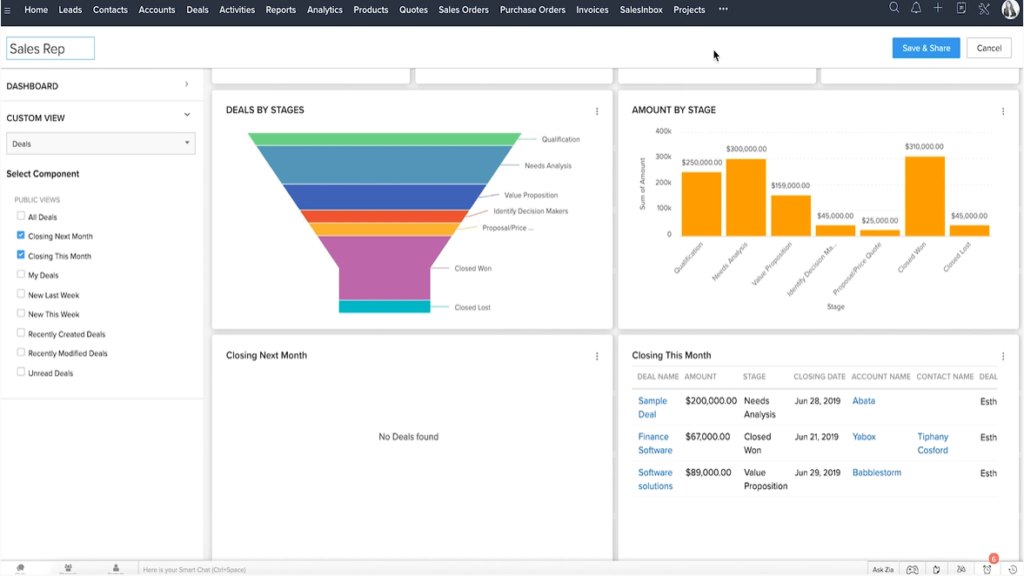 Source: zoho.com
Zoho provides an affordable solution for ecommerce businesses that pay great attention to relations with customers. Zoho also has several pricing plans with wide functionality: 
Standard: $12 per user per month;

Professional: $20 per user per month;

Enterprise: $35 per user per month;

Ultimate: $100 per user per month.
Even its Standard option allows employees to forecast sales, plan mass emailing, and generate reports. Zoho supports the most popular deployment types, such as cloud and mobile for iOS and Android.   
It is important to know 
Zoho Enterprise and Ultimate plans provide Zia, progressive artificial intelligence. Zia allows ecommerce businesses to use innovative machine learning algorithms to increase their efficiency.
#3. Act!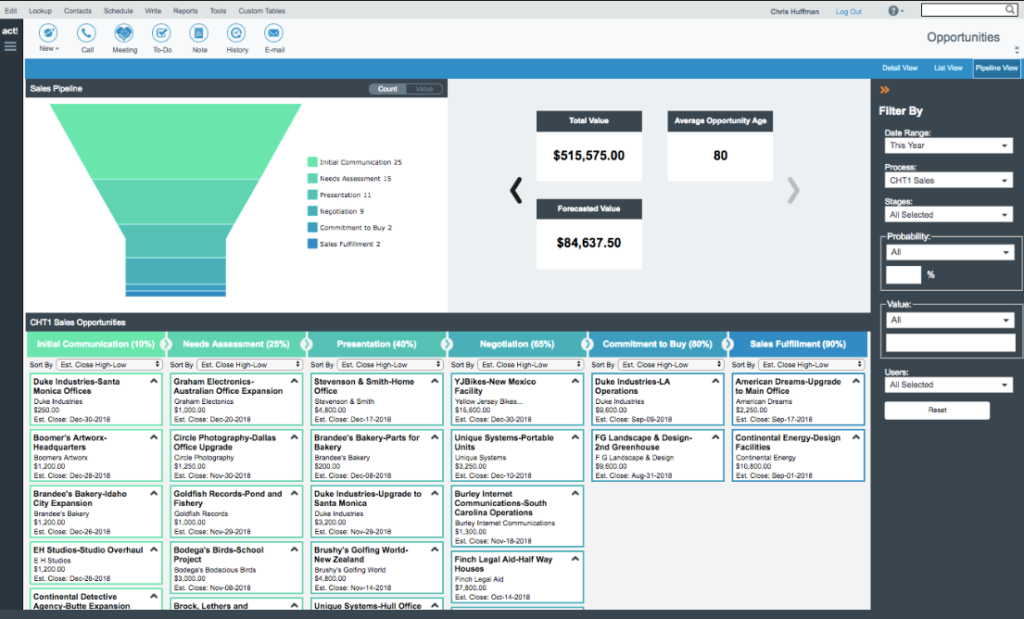 Source: act.com
Act! is a helpful ecommerce CRM solution for small businesses and individuals. Act! stores all crucial customer-related data, allows companies to group their customers, launch targeted email campaigns and more. Act! offers several ways of installation: Windows, web, and mobile devices. You can choose a self-hosted CRM or one of the Act! plans:
Starter:

€20

(approx. $21.60)

per user per month;

Professional: €31

(approx. $33.48)

per user per month;

Premier: €60

(approx. $64.80)

per user per month;

Ultimate: €99

(approx. $106.92)

per user per month.
Besides, Act! often provides discounts.  
It is important to know 
Act! CRM can synchronize your latest changes, even if your company's tools go offline. Once you regain the internet connection, all your data will be safe. So, you can use Act! CRM anywhere. 
#4. Microsoft Dynamics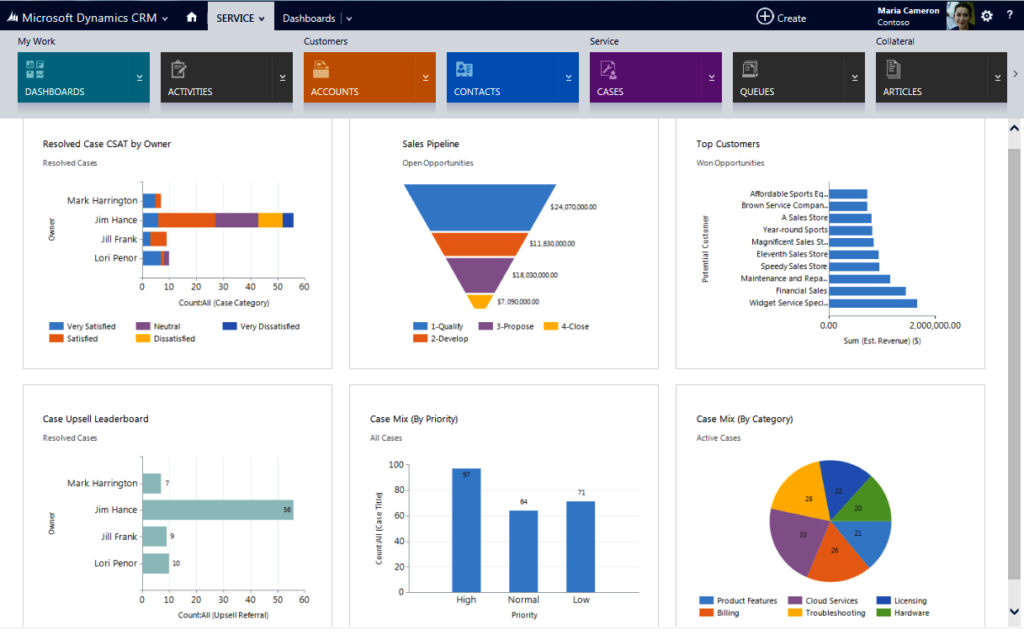 Source: dynamics.com
Microsoft Dynamics provides several solutions for different departments: sales, customer service, marketing, financials, etc. The ecommerce CRM solution by Microsoft costs from $95 per user per month and can be deployed on computers with Windows, in the cloud, on the web, and as SaaS. Microsoft Dynamics CRM provides its customers with predictive intelligence that can enhance marketing campaigns and sales.  
It is important to know  
With the Microsoft Dynamics suite, you can improve your business solution using additional tools for collaboration, marketing, and human resources.  
#5. HubSpot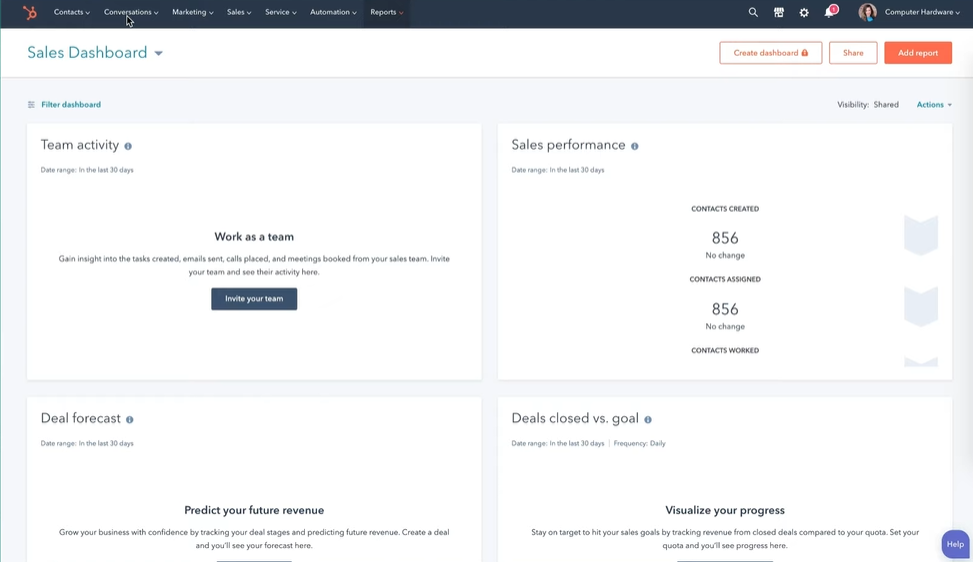 Source: hubspot.com
HubSpot CRM is free for ecommerce individuals. This tool stores all your customers' information in a simple database and automatically registers all your interactions with them. You can use additional features with a paid HubSpot Sales Pro, the price for which starts from $50 per month, or subscribe to Sales Hub for $500 per month if your company has a large sales team. HubSpot can be deployed in the cloud, as SaaS, web, or mobile version.
It is important to know  
Using HubSpot, you can turn your repetitive emails into customized templates and track the ones that are the most efficient. It makes your marketing strategy very customer-oriented and brings the needed results. Paid plans, such as HubSpot Sales Pro, include phone calls (2,000 minutes per month). You can record your calls to know the essence of your conversation.
#6. SAP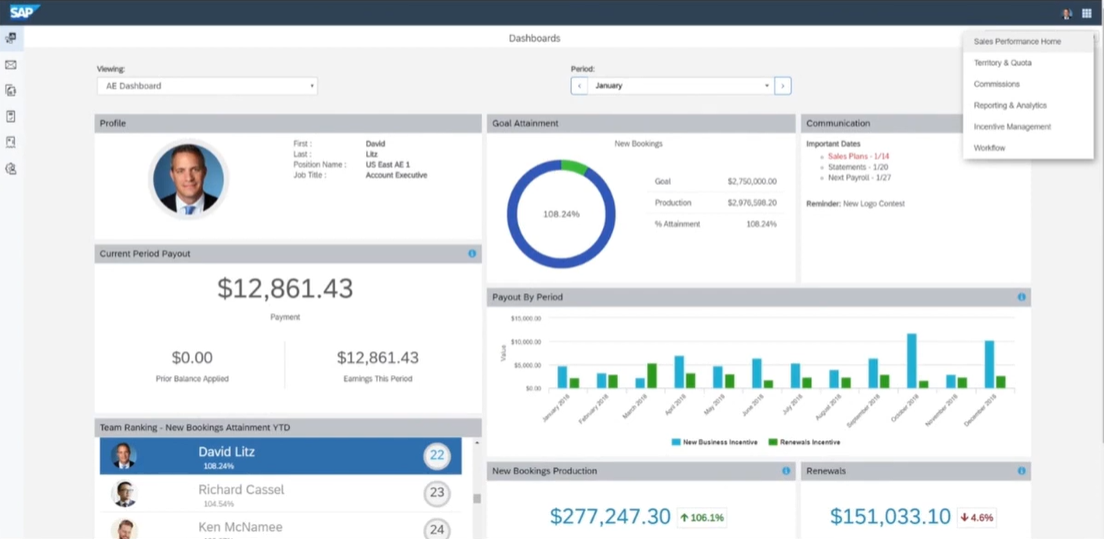 Source: sap.com
SAP is the second after Salesforce worldwide CRM provider with a lot of solutions for every kind and size of ecommerce business. SAP Hybris Cloud for Sales costs $23 per user per month. It allows companies to use dashboards, reporting tools, predictive analytics, and more instruments for improving the buying process. You can install SAP CRM anywhere, including Android devices, iPad, iPhone, or even Apple Watch. 
It is important to know  
SAP Hybris Cloud for Sales CRM suggests complicated and complex customer analytics. For example, you can scan business cards via a mobile device, and the CRM will create a new lead in your customer database.
#7. Maximizer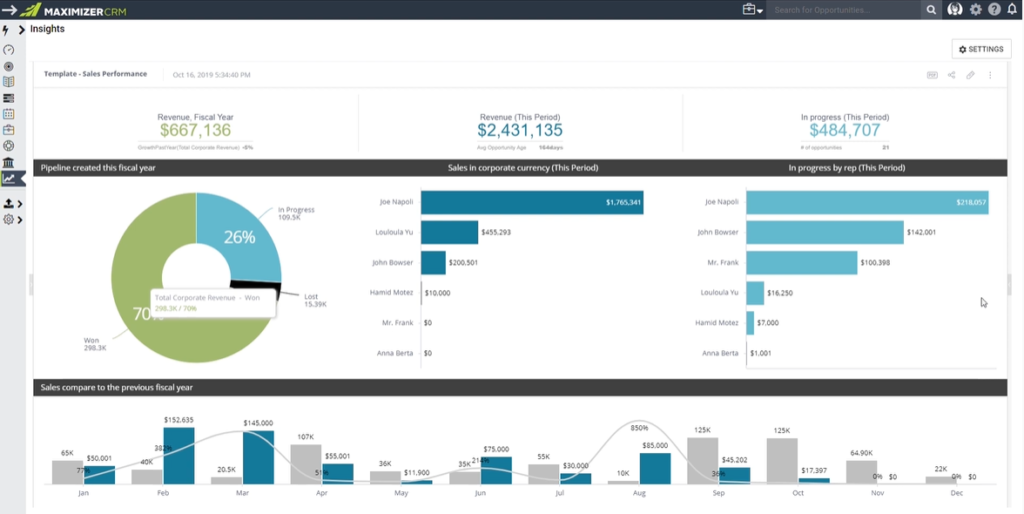 Source: maximizer.com
Maximizer CRM is a good working solution for small and mid-sized ecommerce companies that want to enhance the interaction level with their customers. Maximizer CRM costs from $60 per month and includes universal tools for sales, marketing, and customer support. You can use a cloud CRM version or install it on your server and mobile devices.
It is important to know  
The most efficient for growing ecommerce companies is the Maximizer Wealth Manager CRM plan. It includes all needed for CRM features and financial and investment advisor capabilities.
#8. ReadyCloud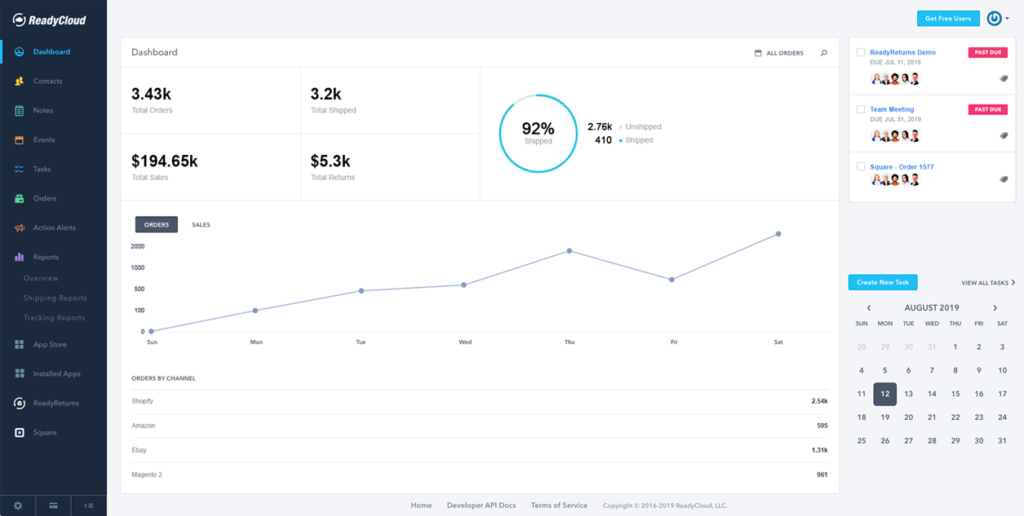 Source: readycloud.com
CRM by ReadyCloud is an incredible solution for small ecommerce companies that want to turn their customers into loyal ones. Its pricing starts from $19 per user per month, and it includes a lot of important features for online stores: contact and order management, detailed reporting, convenient calendar, and more. You can integrate ReadyCloud CRM with popular ecommerce platforms and shopping carts, such as Shopify, Magento, and BigCommerce.
It is important to know  
Also, you can improve your ReadyCloud CRM solution and automate such important actions as shipping and product returns. To do this, you should integrate your CRM with ReadyShipper and ReadyReturns, respectively.
What if ready-made CRM solutions do not meet your goals?
CRM systems come at different prices and with different functionality. However, none will serve your specific needs OOTB. So, to indeed get the best CRM and improve your internal processes, it is better to pick the most suitable platform and find dedicated software engineers to tailor it to your requirements.
What CRM solution is used in your company? What are the most important CRM features from your point of view? Feel free to share below!