Customer retention is a crucial strategy for ecommerce, a more effective, and cheaper solution than searching for new clients. It seems reasonable that you build your long-term communication with regular customers as opposed to the pursuit of new clients.
Let's see how you can increase the number of your regular customers and get the maximal profit from each of them. Also, it's a question about how to get a high-quality service for their positive user experience.
When should you start planning customer retention?
Customer retention is important but not the essential thing for the online store: when you just started your business and created the store, you haven't yet any sales and should think about customer acquisition. So, we need to come from your store lifecycle and combine your work on customer acquisition and retention.   
Store just after opening: At the beginning of your ecommerce way your main goal is to get customers. Since, all your business strategies are focused on increasing the customer base, nothing more. 
Your store gets sporadic sales: when you get several sales per week, you can start using elements of customer retention. For example, you can encourage your clients to buy more with the help of email campaigns. 
Your sales are gradually growing: you should combine your customer acquisition and retention. It's time to develop your loyalty or referral program and increase the profitability of each customer. 
You get permanent sales: at this moment you should seriously think about customer retention strategy, plan your actions in this area, and choose new ways of growth of your business. Customer acquisition can give you a great number of one time purchases, at the same time customer retention works to increase the lifetime value of the purchase and allows clients to buy more.
Successfully working store with a good reputation: you established and automatized all needed processes, get permanent sales per day, and can work with customer retention without high costs on store promotion. 
How to understand that customer retention strategy is profitable for your store?
You should take into account the kind of your store and your assortment when you are creating your marketing strategy. For example, if you are selling furniture or appliances it's complicated to work with customer retention. It's much easier to do by selling smaller things that are not so extensive: clothes, bags, coffee, etc. 
The cost of your products also influences the marketing strategy: the tea shop business plan differs from the strategy of the store that sells expensive carpets. The store that offers high-cost items has the biggest customer lifetime value, and this type of store most of all requires a good customer retention strategy. Notice that it doesn't mean that you should forget about the attraction of the new customers, it's important for any kind of business.

What customer retention metrics should you take into account?
The customer retention strategy includes analysis and works with several metrics. Let's consider what it is and how to calculate it.
Repeat customer rate
Repeat customer rate measures what is the percentage of customers who are ready to make a second purchase in your store. With the help of this metric, you can see the results of your retention strategy.
To calculate repeat customer rate you need to find two values: the number of customers with more than one purchase (A), the number of unique customers (B).
The first number means customers that made more than one purchase for a certain period of time. The second number is the number of unique customers who bought something at your store in the same period. To find the meaning of repeat customer rate you should use the formula: A/B, or turn to the Shopify reports. If you get a high number, it means that there are a lot of customers who want to turn to your online store for a second purchase.
Purchase frequency
This metric shows how often customers return to your store. To find out, you need to divide the total number of your store's orders into the number of your store's unique customers. 
It's a vital metric, and it would be interesting to say that repeat customers make 40% of the annual store's revenge.
Average order value
This metric shows how much money the customer spends in your store per each transaction and what is the cost of each purchase. To calculate it, you also need to use a certain time period like with previous metrics, year, or month. So, divide your annual (or month) revenue by the number of your store's orders.
Customer value
This metric helps you to find out how much each customer costs and then to increase this meaning. To calculate it you need to multiply purchase frequency and average order value. It is a crucial metric that shows you results and the power of the customer retention strategy. 
Also, if you don't want to figure out all these metrics manually, you can turn to the Shopify reports and see the ready data of your store.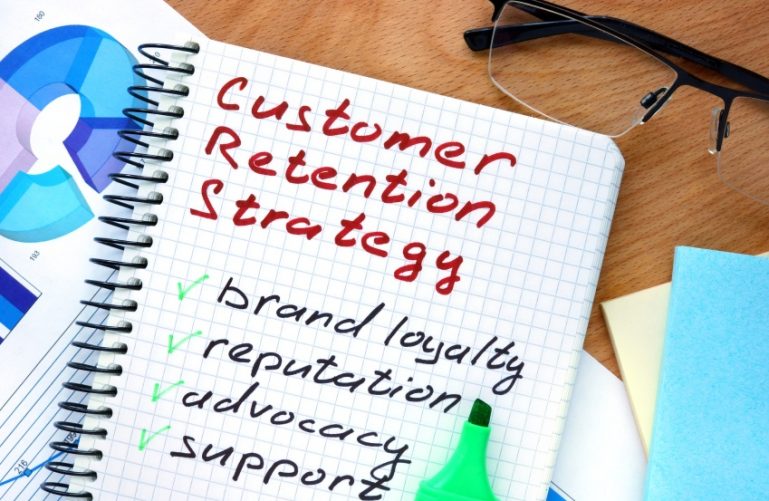 How to upgrade your customer retention?
So, let's consider how you can improve the results of your customer retention, and what points do you need to include in your marketing strategy?
Let your customers create accounts when they want
A customer account allows users to see information about their previous purchases, track the status of the current order, and more. But, on the other side, a lot of customers think that creating an account in the store seems too big a commitment. So, if you aren't sure that you will return to the store, why do you need to create the profile here? As a result, a lot of people prefer to make guest orders, if the store has such a feature. 
A small hint: offer your customers the opportunity to create accounts when they finish their first purchase.
With the help of Shopify, you can send your customers personal invitations to create their accounts if they didn't create it.
Enhance your customer support
Customer support is an important instrument that allows you to communicate with your customers and help them with the purchase. So, let your customers send you emails, text you on social networks, or via live chat.
If you answer the customers' questions and solve their problems in time, you can turn a simple visitor into a loyal client. The customers' feedback is also crucial and can help you increase your range of products and make needed changes in your store. 
Another moment is to impress your customers with small presents. According to the niche of your store, add to the products from the order several samples, candy, postcard, or a thank-you note, written by your hand with the name of the customer, etc. Doing this, you will get a smile on their faces and surprise them. As a rule, people appreciate good attitudes and tend to respond to friendly actions.
So, it's your chance to stand out from your competitors and get loyal customers.
Set a customer loyalty program
Customer loyalty programs are an effective way to motivate your customers to make purchases more often and as a result, increase the purchase frequency. By doing so, customers can buy products at a better price, get a sale, bonuses, and you will get repeat customers.
You can choose the loyalty program that would be the most suitable for your Shopify store and automatically activate it. For example, you can get to your clients' welcome points when they create an account or make the first purchase. It works as a motivation to return and buy something to get more points. 
Use email marketing
Send your customers engaging emails with valuable information for them. If your email doesn't contain any useful information, it may end up in the spam folder and you lose your customer.
For example, a good strategy is to send your clients follow-up emails. Sometime after the first purchase, send them a thank-you letter and ask them to write feedback to help other customers make their choice. Also, you can recommend several products that are connected with their purchase or even offer a sale on these items.
You need to send personalized emails regularly to make your strategy work. Emails can include information about new products, invitations to the sales, or notifications about the lifetime of the products and their replacement if this is the specifics of your product range.
Doing so, you remind the customers about your store and why they find it, and, as a result, can bring them back.
Think about the discount
Use discounts carefully: it can lead to the situation when your customers are waiting for a decline in prices, don't make purchases and your store loses revenue. But you can offer a discount to the first/tenth/hundredth customer, people on their birthday, customers after their first purchase or clients who haven't made a purchase in a long time, and more. Think about your target market: who are your potential customers and what they like? It can be a discount or a certain amount of money for a purchase, or a second product for free. Don't focus on your financial losses, but think about your investments for customer retention.
Remember that your customers are the most valuable asset that requires your efforts and attention. Be creative, try different strategies and your ecommerce business will grow. Feel free and tell us your success story in the comments below!