Most businesses need a quick and immaculate way to appoint internal meetings or activities. This way must be automated and must contain such obvious features as calendars, reminders, and notifications.
It doesn't matter if you are a part of a global corporation or just a personal trainer in a gym – your need is to schedule meetings.
A smart appointment scheduling software available is the solution that effectively assists to get things done. This post covers the best solutions.
What is an appointment scheduling application?
An appointment scheduling app is a business service that allows users to manage appointments: to book, schedule, reschedule or cancel them.
If a user wants to make an appointment, he/she go to a business website, Facebook page, or anywhere else the technology is supported, and choose available dates and time. It's so easy as reserving a restaurant online. The key difference is that restaurant booking services work specifically for restaurants.
Most of the online scheduling software allows you to enter parameters about when people can book certain services, based on business hours and dates you set. They prevent double booking and overbooking.
You are also able to block off times when certain services may be unavailable.
Key appointment scheduling app's features
An online scheduling app does more than simply provide customers with a list of available times when they can come in for a meeting or get service. This kind of app may let users cancel and reschedule appointments without having to contact you.
In common words, an online appointment scheduling tool just makes it easy for business owners and managers to do their jobs.
The list of the typical characteristics of free scheduling websites and apps includes:
Different companies have different needs. Your business is one of a kind. The best appointment scheduling app allows you to deeply customize how your bookings work.
Calendar syncing. This useful feature is presented in almost all of the appointment scheduling app. Thanks to it, you can see your business's scheduled appointments alongside other important info.
Multiple points of access. Many users want to embed a code into their websites to display the appointment scheduler. It's possible to integrate the booking tools on a site or a social media (for example, Facebook).
Payment issues. Most of the tools let you collect payments at the time of booking. You may have clients who pay for their services upfront or you can take a deposit before for an appointment.
Best online appointment scheduling applications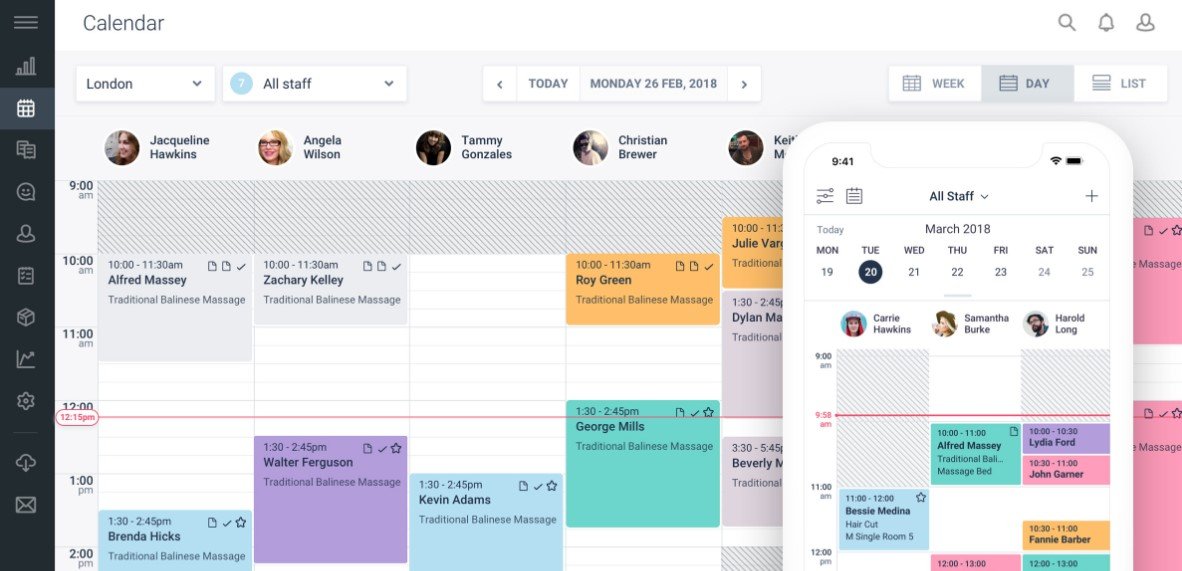 Shedul represents a young generation of online scheduling services that are best suited for multi-staff businesses.
The solution is currently free to use but the paid plans are going to be rolled out as features are added. Using this free appointment scheduler, you'll get a nice set of scheduling features and will be able to track multiple staff schedules.
Setmore seems to be one of the best free appointment scheduling software services for class booking. The tool set up easily and its best features are very intuitive staff calendar and client booking screens.
You may create class bookings and allow clients to reserve spots online. The free version of the service supports up to 20 staff logins.
EngageBay is a free and easy-to-use appointment scheduling software that allows you to easily set up appointments in minutes.
You can integrate your Google Calendar with the EngageBay app and schedule all your online appointments from the CRM system. This will help you save time, reduce the risk of double bookings, and improve customer satisfaction.
The software sends out automatic appointment reminders to your team and the clients both so nobody misses an appointment again. This CRM system integrates with your website or blog. It also enables you to manage all your customer data in one place, coordinate appointments with multiple team members, in different time zones, without any confusion, and customize your appointment slots to fit your specific needs. The software is free forever, for up to 15 users.
Square Appointments is a great solution for small businesses as it delivers the most scheduling, sales and overall business management features free.
This free appointment scheduling software runs on PCs, smartphones, and tablets. You may also add a low-cost register to manage in-store checkout needs.
Using the service, you can book unlimited appointments (unlike some other free versions of appointment scheduling software).
10to8 looks interesting not only because of its name but also because of the set of features it provides, especially suited for marketing-focused teams.
10to8 will give you an excellent set of appointment scheduling and built-in marketing management tools for free. However, you'll be limited to just two users and only 100 appointments per month.
This smart online appointment-scheduling tool proposes integrations with many calendar systems, survey, and social media promotion tools, and built-in email. The most its standout feature is a live chat that allows customers to reach you if they have questions about booking.
From the first sight, Acuity Scheduling provides the common set of features for basic online booking. However, many companies admit that the tool is really convenient and easy to use.
This free appointment-scheduling app doesn't deliver all of the features that other services may provide in their free versions. But if you need to schedule appointments on your calendar at their convenience, Acuity is one of the best options.
To sum it up
Of course, choosing the best free appointment scheduling software for you depends on your specific needs. A solo business trainer has different appointment scheduling demands than an insurance agency.
If you need a common set of online scheduling features, try Square Appointments.
If you need multi-user logins, automated sync with different calendar platforms, class registration, or connections to online meeting platforms, feel free to start working with Shedul or Setmore.
In case when no one from this short list is appropriate, you may also try Checkfront, ScheduleOnce, Gigabook, or SuperSaas.
Do you use free appointment scheduling software or any paid tool? Feel free to share your input on these or other solutions.