The achievement of top results in any business requires combined efforts of talented individuals with strong professional and personal skills.
It is all about effective teamwork that today is considered an indispensable element of a successful business.
We are what we repeatedly do. Excellence then is not an act, but a habit. 

Aristotle
What does it mean to be a good team player?
Effective teamwork depends on the skills and competencies of each individual, as well as on how they work together. Companies strive to hire the most talented employees that can quickly acquire the skills required for an ideal team member. 
In this post, we outline the essential characteristics of an ideal team player and explain why they are crucial. Whether you are a project manager without experience or a worldly-wise PM guru, — these points will be useful for you anyway in case you want to employ the best specialists.
Looking for a new talent to hire, you need to figure out what helps a successful employee work effectively. Who are the ideal team players? They want it all, they want it now. But a sparkle in their eyes is not enough.
Besides the experience and narrow professional and tech skills, a perfect team player should have a certain set of traits that make him or her a perfect addition to any team. 
One of the main purposes of a manager is to turn ideal individuals into ideal team players. So, what are the special traits and skills every effective team player should have? Let's figure it out.
9 Characteristics of an Ideal Team Player
1. Flexibility
Someone definitely will not put this trait in the first place, but in today's working conditions, when the vectors of business development are constantly changing, and innovations keep entering the market, this quality is a necessity for professional growth.
An ideal team player will not just watch how the rest of the crew performs; he or she is pretty flexible to navigate obstacles as they appear. This employee participates and tackles challenges without showing many signs of pressure and stress.
2. Reliability
Any business environment requires reliable team members who perform impeccably and do their fair share to work hard and meet commitments. 
Consistency is a key factor here, as you should count on these team members to deliver efficient performance all the time, not just periodically.
3. Genuine commitment
Ideal team players should constantly demonstrate genuine committed to their cause. They will be in the office when needed and will contribute as much as possible when it is required. The real commitment is about striving for excellence.
4. Proactive participation
Managers will definitely appreciate it if employees are active participants. These team members come prepared for daily meetings and speak up in discussions. They are always engaged in the work process, do not sit passively aside but take initiatives to help make things happen.
5. Constructive communication
Productive teams need people who are able to speak up and express their ideas directly, honestly, clearly, and with respect for other team members. 
Communicate constructively means to highlight key points correctly and make it in the best way possible — in a confident and positive manner.
6. Active listening
Good listeners help professional groups to evolve and function effectively. Advanced team players should be able to absorb and consider ideas from other people without questioning every single point. 
It's also important to receive criticism correctly with no defensive reaction. Effective communication needs great skills for problem-solving, meaning that team members should listen first and speak second to get meaningful communication results.
7. Sharing willingly
Ideal team players are open to sharing their insights, experience, useful information, and knowledge. They are interested in keeping other team members informed.
Team members should feel comfortable not only during organized meetings but also while passing along informal news and day-to-day information.
8. Readiness to help
If you are aimed to hire an ideal team player, you should also pay attention to his/her ability and desire to cooperate. Working with others means acting together to accomplish a specific job. This trait is quite natural for effective team players.
Diligent team players should be able to offer possible ways to help and solve problems and get work done.
9. Ability to recognize and admit your mistakes 
This point is rather important for any person involved in the company's processes. The ideal team player should back off an idea when it becomes clear that it's not the right way. 
If they suspect that their team is making a mistake, they can find a way to come back to the issue when the time is right. Being stubborn is not a quality of a good team player.
Bonus The Best Book for Recognizing an Ideal Team Player
These were the main and most important points regarding the qualities and skills of a successful team player. If you want to know more about the subject, then it is time to read the fundamental book "The Ideal Team Player: How to Recognize and Cultivate The Three Essential Virtues" by Patrick Lencioni.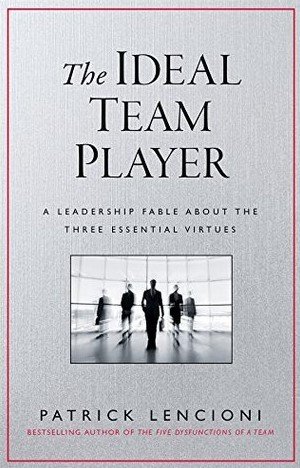 Patrick Lencioni is famous for his outstanding writing-style: he offers an engaging leadership fable with a detailed explanation of the model presented. 
Readers are proposed to follow the story of Jeff Shanley, who surprisingly starts to be the CEO of his uncle's construction company.
Construction management can be challenging not only because of complex projects but also because of the challenges of finding the right people to meet the company's needs. The author tries to find characteristics that make someone a great team player.
Reading this book, you will get practical frameworks and actionable tools for identifying and hiring ideal team players.  
Business people all over the world think that this excellent book is both useful and compelling.
Bonus-2 Best Movies About Perfect Team Players and Teamwork
The Pursuit of Happyness 
The Wolf of Wall Street
Invictus
The Devil Wears Prada
Take the Lead