Whatever you are trying to build, be it a website, an application, or a kind of a physical product, you will need a map to get you to the victory at the end (i.e. launch). 
Gone are the days where you have to put all your schedules, goals, and tasks in spreadsheets. Today any product manager needs the skills and knowledge of how to work with a roadmap. Mastering an effective and multifunctional product roadmap is a kind of modern product management trend.
Creating a product roadmap can help you gaze into the future, set proper goals, fill your timeline with tasks and milestones, and highlight a launch date for better product management. 
This article is meant to help product managers and all the team members involved to quickly compare and evaluate the best roadmapping tools and choose the best option for a certain business. Here we share some paid and free product roadmap software and highlight what each of them does best. Consider these tools for product planning and pick up the best one!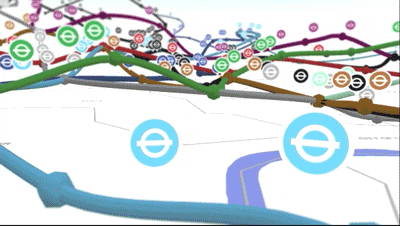 What is a Product Roadmap?
A product roadmap is a guide that describes the steps your team and you need to take to move from your current location to the desired destination. 
A product roadmap is both a high-level summary and a strategic document. It communicates what you are building and why, proposing a clear strategic plan for execution. Roadmaps can span various timeframes just because different teams or companies may have different timelines. 
What Is Product Roadmap Software?
Product roadmap software is a tool that enables businesses to manage their product life cycles and communicate the product's goals and progress to management, team members, and other stakeholders.
Product roadmap tools provide a clear overview of the different stages of a product in development. Additionally, they let PMs track multiple products at once. Software for roadmapping provides such essential details as product features, goals, timelines, budget, and task status indicators. Product managers may also apply these tools to assign resources to different stages of product development and track progress.
Who will maintain your roadmap?
Product teams usually own roadmaps. More specifically, a product owner is a person who will oversee the roadmap's construction. 
In a small team, a product manager will be tasked to build and update the roadmap. In large teams, there may be several people responsible for this task (for example, a product manager and a customer success manager).
If only one person manages the roadmap, there is no need to worry about collaborative tools. But when several people need editing access, it's better to choose more collaborative software that enables that.
Who can use product roadmap software?
There are different-purposed product roadmaps in different forms. Depending on the audience, roadmap tools are similarly varied and pretty adaptable. 
For example, product planning software can be used by development teams that want to set out a consistent vision for a project or by sales teams that are focused on selling new features or product benefits. The roadmap framework can be actually used by any team that's got something to create and launch.
Roadmapping tools are aimed to make the process of designing your roadmaps easier and quicker, facilitating simple sharing of the roadmap and allowing for it flexibility.
What will your roadmap show?
Roadmaps can serve different purposes for different businesses. Some of them are extremely detailed, they provide a granular view of what is planned for the product. Other roadmaps look simple, they provide a high-level glimpse of what will be in the future.
It is rather important to timely decide which type of roadmap is right for your company. Ultimately, it boils down to the key goal for your roadmap. Once you know why you're generating your roadmap, you need to find an appropriate tool.
Who should get access to the roadmap?
Many teams can find a use for a product roadmap. A customer success team can check on the status of a customer's feature request. A sales department can use a roadmap to inform potential clients about future releases. After all, every team may require a different view of the roadmap altogether.
You may also want to give roadmap access to your customers. It is often a beneficial approach to be transparent and provide a roadmap for clients and prospects to look at. 
However, not every roadmapping tool lets customers view the roadmap. If you really want this option, make sure you choose software that lets you do this.
What are the features of a typical product roadmap tool?
Typical roadmap software will probably contain the following features;
Visualization

– to view plans and processes in a timeline format.

Milestone tracking

– to set and manage goals as well as key milestones. 

Collaboration

– to share info with your team in real-time.

Requirement management

– to create and manage business requirements throughout the product's lifecycle.

Prioritization

– to assign a priority level to every single task.

Reporting

– to track the progress of tasks and essential metrics for different processes. 

Guest access

– to use access control to manage what guests can view.
What are the benefits of product roadmap software?
With the help of a well-chosen roadmap software, developers and product managers may set proper goals and requirements for the team, and get an accurate view of the product's lifecycle. Here's the list of the key benefits product roadmapping tools provide:
Communicating product strategy and progress.

Such tools provide a centralized spot for information sharing and get all teams on the same page. Using timelines and updates, you may monitor the progress of each project element.

Seeking cross-functional inputs.

Roadmapping systems let teams collaborate in shared spaces using commenting, tagging, and other features. This boosts communication and allows colleagues to seek feedback from each other.

Streamlining product development

. Roadmapping tools help to streamline product development and improvements. It allows documenting ideas and suggestions, and it ensures that you don't forget anything. 

Defining resource investments and total efforts.

A roadmap tool provides complete visibility of the planned developments for a product. So you can better estimate the investment and efforts required to reach the product vision.
List of The Best Product Roadmap Tools
1. Hygger – Best for software development projects and all kinds of product roadmaps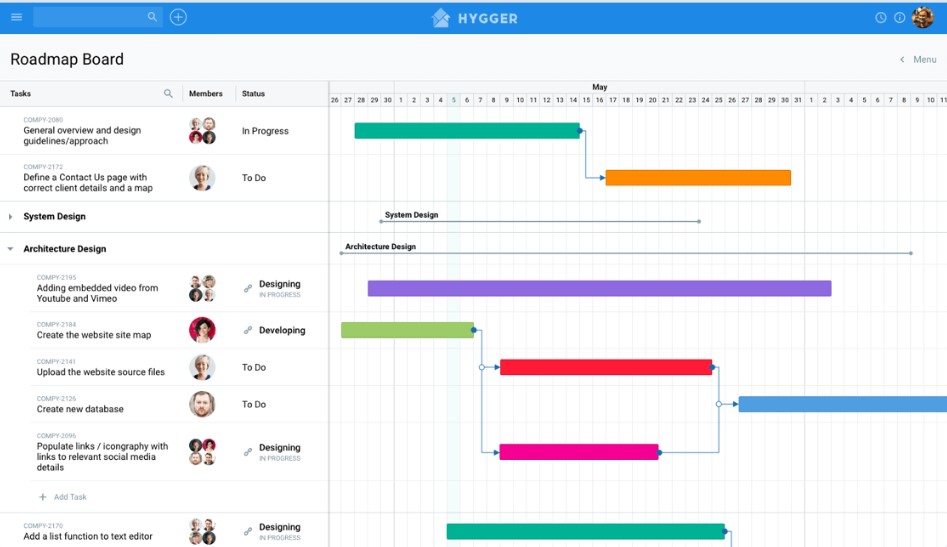 Hygger is a popular Kanban project management platform for development, design, marketing, and other teams. It suits small and mid-sized companies working in different spheres.
Hygger allows product and project managers to create and share high-level roadmaps, prioritize ideas and features, execute tasks on Scrum or Kanban boards or Tasks lists.
A Hygger roadmap is a reliable helper in professional planning and scheduling. You may plan product goals, strategy, releases, and features without extra effort and headache. The platform allows sharing roadmaps and providing a high-level perspective of what will happen over time, by specifying major releases, projects, and initiatives. 
Friendly templates that will save your time are available. You can import tasks from development boards on your roadmap to see the actual progress. Hygger also assists to choose the most important and profitable features even when each feature looks exciting. To prioritize features, you may spread them out on Value/Effort or Eisenhower prioritization matrix, and send the winners to work or apply more complex prioritization frameworks (ICE and RICE models, Weighted scoring).
Pricing:
No free version

Free trial available

Starts at $7 monthly, per user

Enterprise – $14 monthly, per user
Take a look at how Hygger works in this video tutorial:
Pros
Cons

Offers colorful and user-friendly roadmaps based on Gantt charts. 

Allows sharing roadmaps with team members and stakeholders

Offers robust prioritization frameworks

One of the best Kanban board functionality

You can not customize the column with the percentage of task completion

No way to link multiple tasks from other boards on the timeline

Lack of milestones
2. Roadmunk – Best for product teams from startups to enterprises aiming to build and share smart roadmaps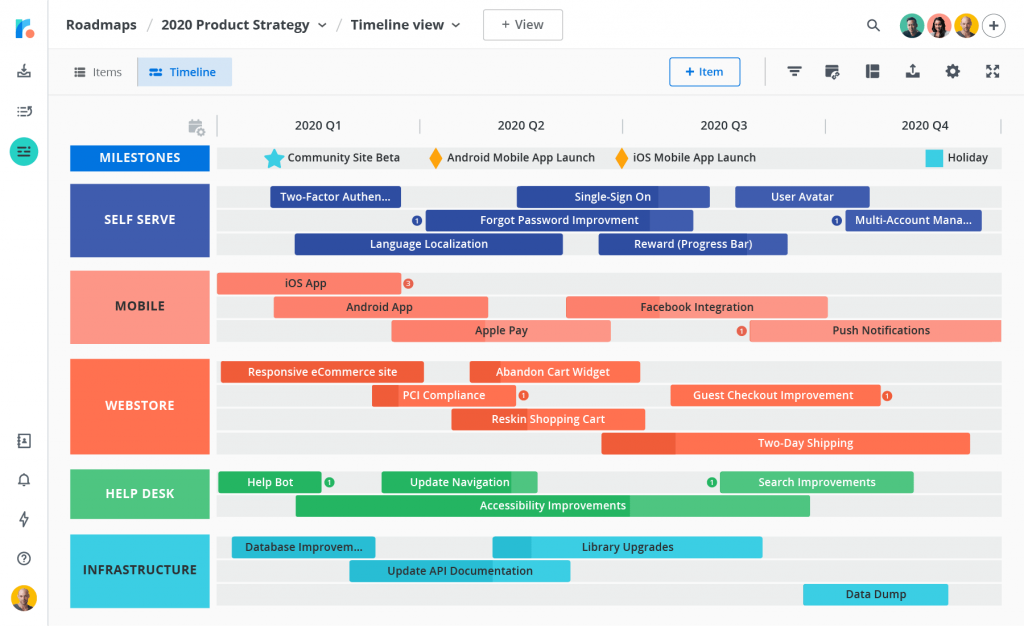 This popular web-based product management platform professionally assists product managers across all companies and industries in planning and generating customer-driven roadmaps. 
Roadmunk helps product leaders to execute the roadmapping process from the very beginning to end: from collecting customer feedback and managing ideas to building collaborative schedules.
The tool lets product leaders outline milestones, roadmap data using flexible formats, and create unlimited types of views for multiple audiences. Roadmunk makes roadmapping easy with attractive design, intuitive controls, and useful integrations with reliable tools.
Pricing:
No free version

Free trial available 

Starter – $19 monthly, per user

Business – $49 monthly, per user

Professional – $99 monthly per user
Take a look at how Roadmunk works in this video tutorial:
Pros
Cons

Allows quick creating several visuals of a roadmap based on a single data set.

Offers great collaboration opportunities, making it easy to work and edit within a team structure.

Simple, yet effective UI.

Multiple views and filters catering to different needs.

No ability to filter labels between projects on enterprise accounts.

Integrations to other common corporate tools could be better.

Multiple milestones and projects can visually overlap. It makes roadmaps challenging to read.

Sometimes navigation between the different panes can be confusing.
3. Aha! – Best for the various purposes of both product management and product marketing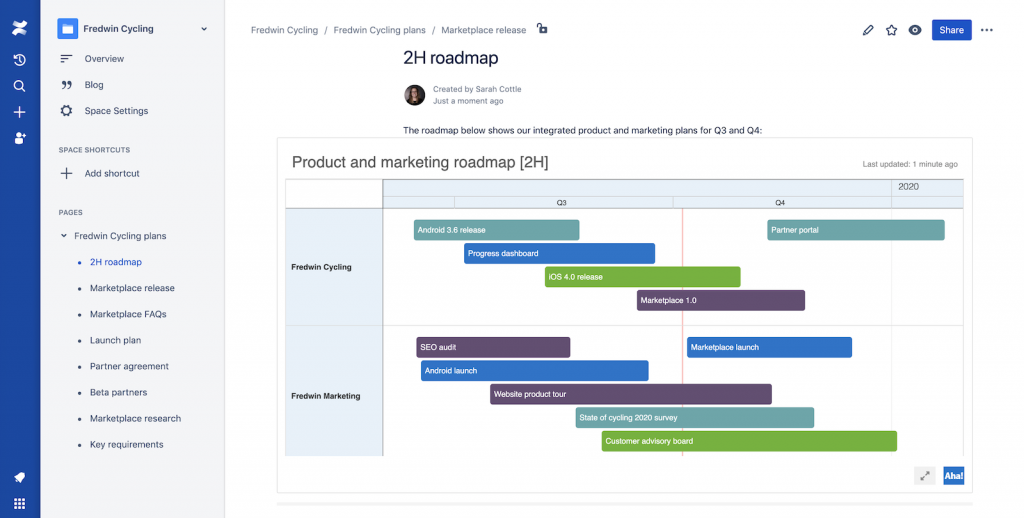 Aha.io is a powerful cloud-based software that helps various teams all over the world to build lovable products.
Roadmaps designed by Aha is a product management suite that assists to set strategy, prioritize features, and share visual plans. They are also good for essential idea management. 
The tool proposes its users to create a beautiful roadmap applying one of six different templates. Choose the one that suits your needs. It is possible to share roadmaps with whoever and however you like, as well as send it as a pdf or an image. It makes sharing roadmaps with stakeholders and customers extremely easy.
Aha.io is more than just a roadmap building tool as it also encourages users to set goals and initiatives, which are then threaded into the final roadmap.
Pricing:
No free version

Free trial available

Premium – $74 monthly, per user

Enterprise – $ 124 monthly, per user
Take a look at how Aha! works in this video tutorial:
Pros
Cons

The ease of configuration and flexibility for implementation.

Good prioritization based on requirements and urgency.

Provides the ability to report on just about anything you do in multiple formats. 

Allows different levels of work breakdowns to be available on different projects.

Updates can be unexpected and break current behaviors internal processes with no warning. 

Can be overwhelming if you don't use it frequently.

Complex learning curve. There's a bit of a learning curve to become proficient.
4. Productplan – Best for product Agile teams in the IT sector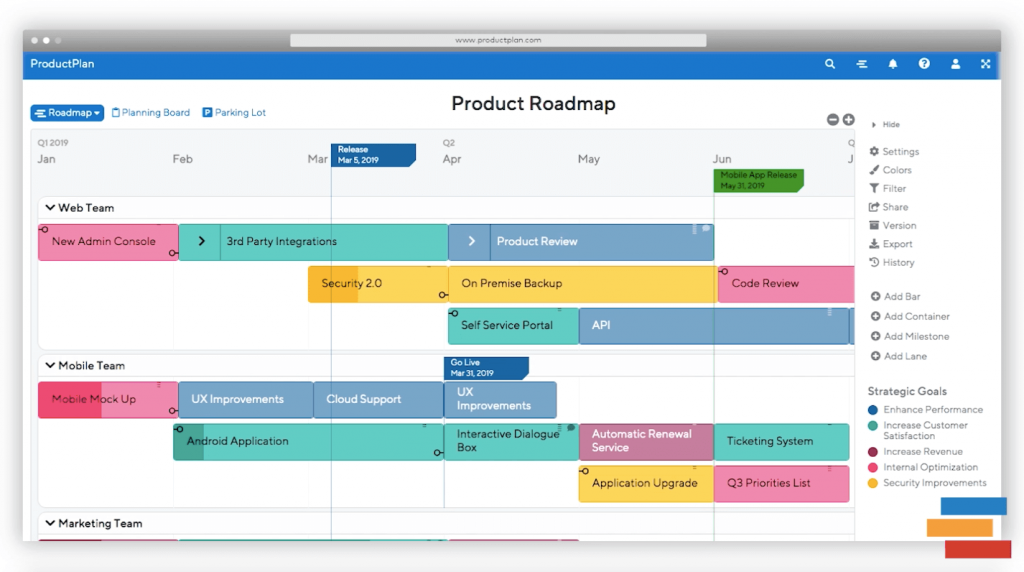 If you're going to share your roadmaps, they have to look good. ProductPlan knows about it everything and proposes great functionality to build roadmaps, using a drag-and-drop interface. 
You can completely control your roadmaps, choose how granular your timeline is, or even remove it. It is also possible to color-code items, connect related items together, and add milestones. Then when the roadmap is ready to share, you can create versions, each with different levels of detail. 
ProductPlan allows unlimited roadmap viewers, so you don't have to pay for the privilege of sharing it with stakeholders. You may also create master plans that group different roadmaps together for a bigger picture view.
This product roadmapping tool is also completely web-based. Perhaps, this is not the biggest issue, but it means you can't update your roadmap offline.
Pricing:
No free version

Free trial is available

Business – $39 monthly
Take a look at how ProductPlan works in this video tutorial:
Pros
Cons

It's really easy to export the roadmap and distribute it to stakeholders.

Allows aggregating multiple roadmaps into one master plan in a nice and compact manner that's easy to read and understand.

Provides a visually appealing, dynamic, interactive, and versatile UI.

No offline mode or client software to plan when not online. 

Sometimes it is difficult to adjust text and word placement. 

It would be nice if it was more accessible to add graphics.
5. Airfocus – Best for decision-makers who regularly make costly prioritization decisions and create roadmaps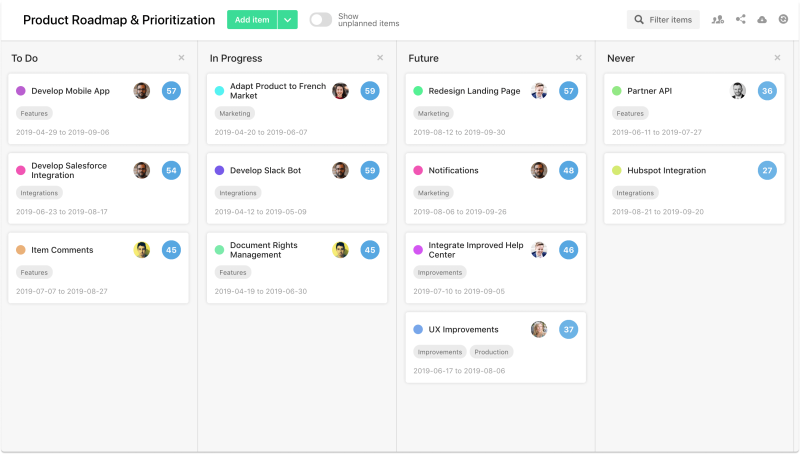 Airfocus is a roadmapping and prioritization tool aimed to help decision-makers to build effective roadmaps and define their priorities. This SaaS platform for managers and their teams help to make strategic decisions, delegate initiatives, track progress and timelines, communicate priorities, and provide more accountability. The tool connects with Jira, Trello, Asana, and other famous solutions  to facilitate synchronous workflows.
Airfocus templates help product managers to visually map their priorities on multidimensional charts, decide what to work next, and easily drag-n-drop their decisions into handy roadmaps in minutes. This is about a collaborative workspace where all team members can communicate effectively.
Pricing:
No free version

Free trial available

Starter – $24 monthly, per user

Team – $39 monthly, per user

Pro – $79 monthly, per user
Take a look at how Airfocus works in this video tutorial:
Pros
Cons

Allow you to quickly create a roadmap without too many clicks.

Provides a great UI and has good integration with Trello and other robust PM tools. 

The ability to hold priority poker sessions looks perfect.

The timeline feature has some annoying limitations.

Improvements can be made on rendering labels on charts.

The lack of the option to upvote and downvote features.

The color scheme could be better and more diversified.
6. Productboard – Best for universal product teams of all sizes: from startups to enterprises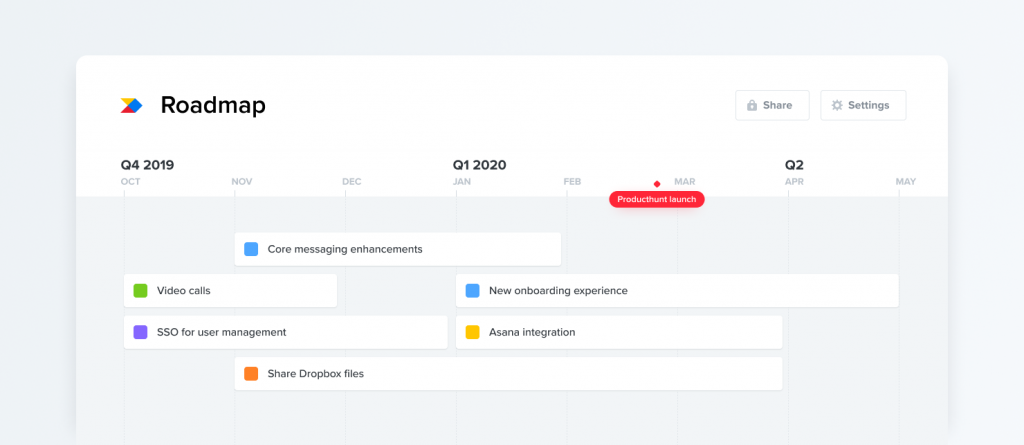 Productboard offers reliable features for complete overviewing the product management cycle.
If you have certain features and ideas in mind, you can start building your roadmap with the help of this tool. Your roadmap will end up looking a little like a Kanban board, with a mainly high-level view. Using the other Productboard's features, you will see the strategy behind the roadmap, and even the feedback that generated the ideas. You may share the roadmaps with customers and stakeholders.
From the first sight, Productboard can be difficult to use, and so requires time before you start seeing value from it.
Pricing:
No free version

Free trial available

Essentials – $20 monthly, per user

Pro – $50 monthly, per user
Take a look at how ProductBoard works in this video tutorial:
Pros
Cons

Provides great functionality for those who want to track product development and share it within departments.

Allows consuming many sources of user feedback and the portal.

The ability to strategically view all features.

The ways that features are grouped and classified can be tricky at times. 

It is not possible to create a seamless 360-degree feedback loop with users. 

Some parts of the UI feel a little sluggish when lots of items are displayed and clicks get delayed.
7. Canny – Best for collecting, analyzing, prioritizing user feedback to make informed product decisions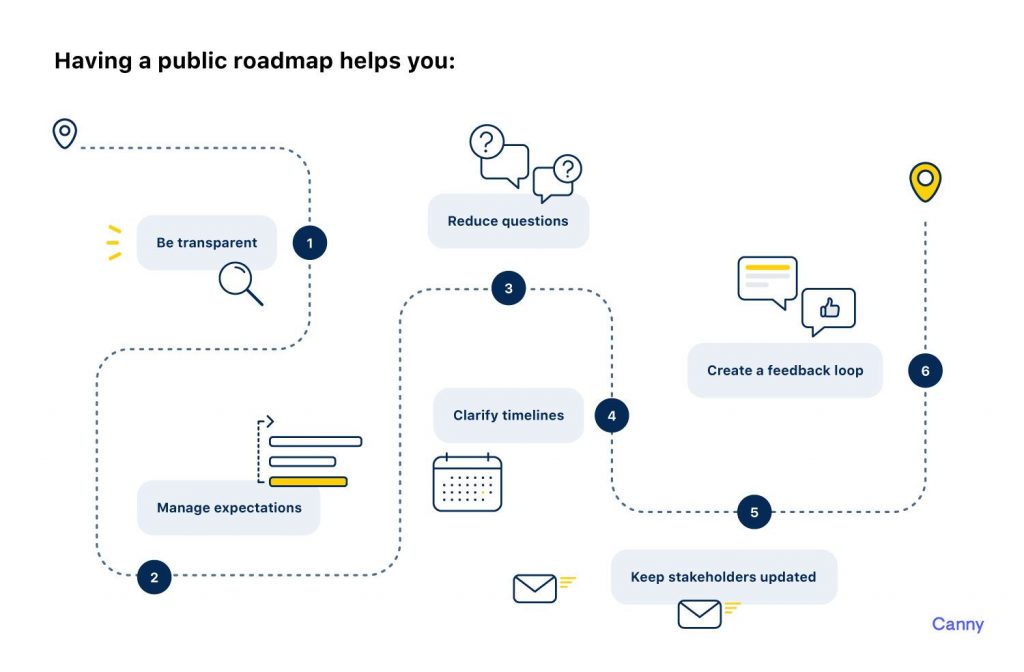 This cloud-based solution helps small and large businesses to capture, organize, and analyze user feedback in one place. It also allows building handy roadmaps, and close the communication loop with a built-in changelog.
Canny offers simple public roadmaps designed to engage your clients with upcoming features. Be transparent about being customer‑driven with the help of online roadmaps, collect feedback and let everyone know what you'll be working on. All this will help you to show what your team is working on to improve the final product.
Pricing:
No free version

Free trial available

Starts at $50 monthly
Take a look at how Canny works in this video tutorial:
Pros
Cons

Helps to understand how companies care about what their users want. That helps build customer loyalty.

Integrates with Intercom and other useful tools.

Provides constant updates and improvements.

Would expect more customizable user roles.

The help center is missing some essentail information that could be helpful for new users.

The user-based pricing model is not as straightforward as standard pricing.
8. Craft.io – Best for various product teams, from product managers to the CPO and VP Product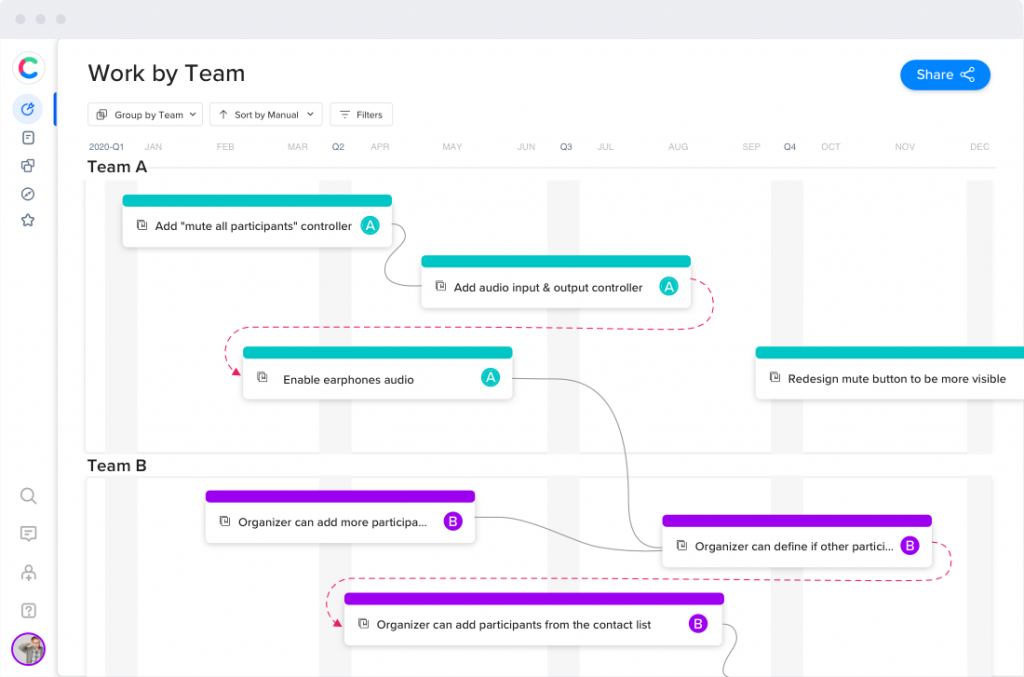 Craft is a good choice for small and big teams, starting with start-ups and scale up to product teams of global enterprises. This product management and roadmap tool empowers PMs to perform their work more efficiently, from feedback capturing, planning, decision making to roadmapping and more.
Due to the integration functionality and collection of all fragmented product data, Craft is the system of record. The authoritative data source backing up those important product decisions allowing product managers to be more confident, influence stakeholders, and lead with authority. 
Craft.io creates a transparent environment, inspiring companies to build better products customers want.
Pricing: 
No free version

Free trial available

Essential – $39 monthly, per user

Pro – $ 89 monthly, per user
Take a look at how Craft works in this video tutorial:
Pros
Cons

Offers a comprehensive feature set and constantly adds new features that actually add value. 

Provides flexible planning views and capacity planning.

Keeps everyone in a team on the same page with a clear sprint backlog and clear milestones.

Onboarding can take a bit of time. 

No capability to post links with ampersands in the URL in comments. 

Permalinks stop randomly working and bring to a different view.

No way to filter items on the roadmap, or to show additional info per item on the roadmap.
9. ProdPad – Best for mid-sized companies and enterprise customers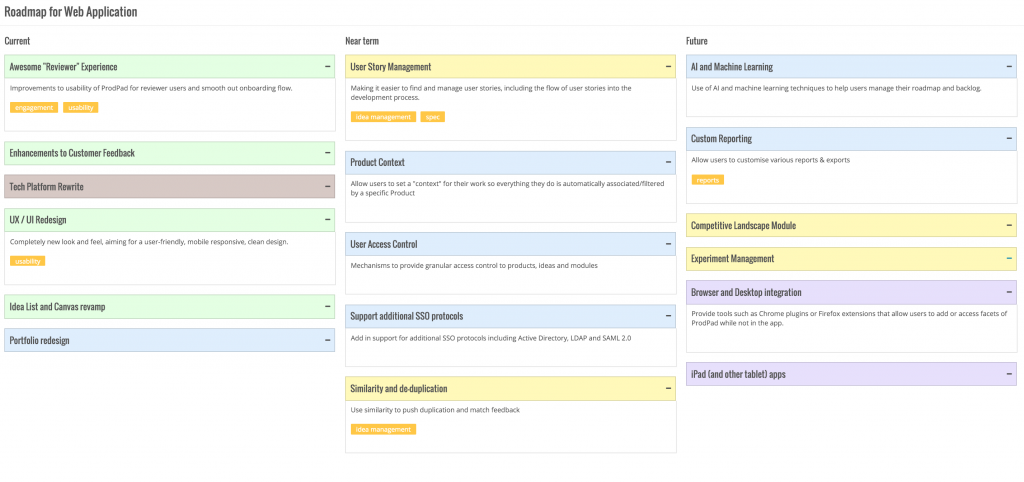 Another powerful product roadmapping software for business users that is designed to cater to different problems related to branding, road mapping, and launching new products on the market.
Using Prodpad, you will get some highly efficient management tools for your service. The solution was launched in 2012 to serve most parts of the world. Today Prodpad allows product managers to effectively design and execute their product campaigns to turn their ideas into profitable products. 
The tool supports the complete product journey and the dynamic toolkit integrates with product development processes at every stage. It empowers product managers to turn great ideas into great products that clients appreciate and love.
Pricing:
No free version

Free trial available

Essential -$149 monthly

Advanced – $449 monthly
Take a look at how ProdPad works in this video tutorial:
Pros
Cons

Looks good for simple goal setting.

Allows creating commentary and notes on a product roadmap.

Helps to group and weight feedback to inform prioritization.

Easy entry, constant improvements, great support, and hand-holding.

Default email settings look somewhat overwhelming.

The use of real estate on the Release view could be improved.

Long stories or roadmaps can be hard to navigate through.
10. Roadmap Planner – Best for top management, strategists, and all enthusiasts involved in planning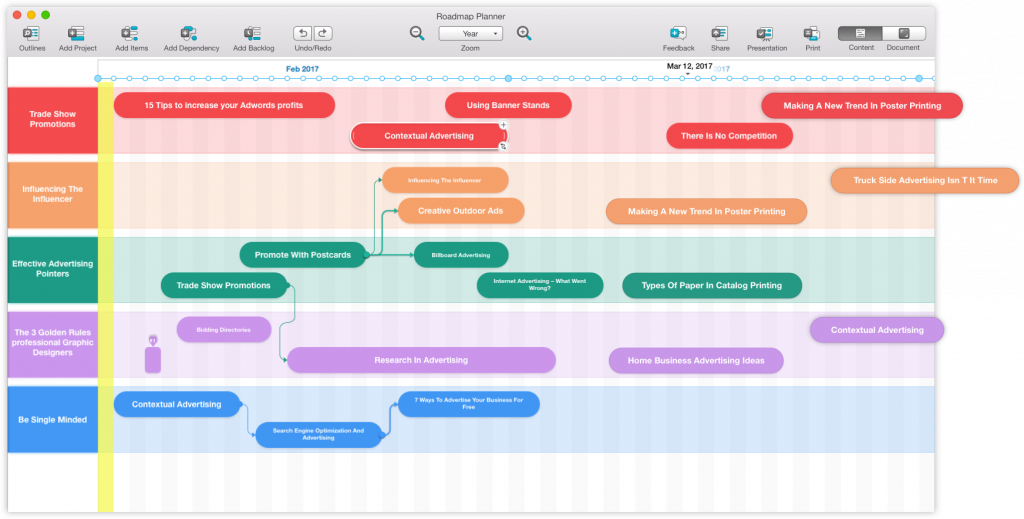 Roadmap Planner provides product managers and their team members with an efficient way to conceptualize, manage, and deliver their projects. Using this product roadmapping software, you start with a vision, share that vision with your colleagues, and work together within an environment that empowers real-time collaboration.
Roadmap Planner allows creating structured or hierarchical displays of plans and tasks. You can also customize roadmaps for different audiences, and provide live data visualizations to convey your thoughts more effectively.
The tool is widely used in various industries and environments. 
Pricing:
Free version and free trial available

Starts at $4,99 monthly, per user
Take a look at how Roadmap Planner works in this video tutorial:
Pros
Cons

Provides reliable synchronization between apps and accounts.

Simple and easy to use UI.

Offers a built-in "swimlane approach" to strategic planning, complete with handy built-in templates.

A learning curve for this planning tool is steep and sometimes inconvenient. 

No posibility to keep and manage the whole backlog in the same tool where long-term plans are kept.

Sometimes synchronization works unstable.
11. Productflare – best for SaaS companies, startups, and mid-sized businesses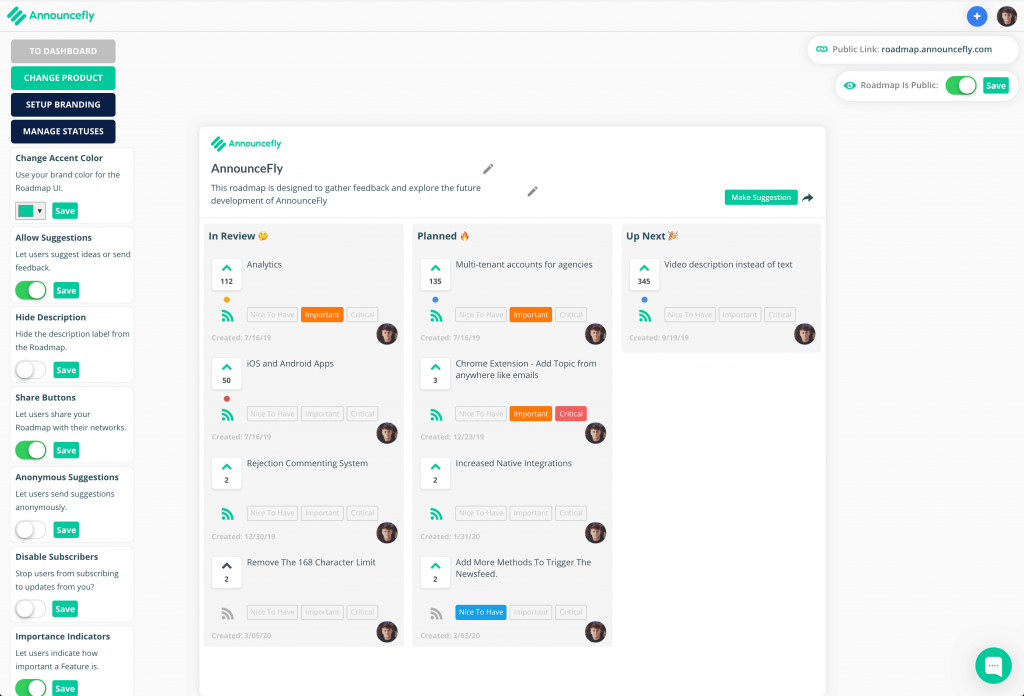 ProductFlare is a young tool used to collect feedback across various channels.
You are allowed to create customer roadmaps to help your team to build a better product. The tool offers a built-in Forum that lets your clients discuss your roadmap features and engage them with Changelog in a product. It is widely used by progressive product managers, small and medium companies all over the world.
Productflare allows reducing feedback friction with Single Sign-On – your clients don't need to create any external accounts to leave feedback. Everything will be tracked to their user account on your software. 
Pricing:
No free version

Free trial available

Starts at $29 monthly, per user
Pros
Cons

A great new-generation tool to layout your product roadmap as well as communicate with users on your website. 

Looks really efficient and saves time. 

Offers a friendly concept for Kanban boards. 

No ability to hide the video option so there is an unplayable video. 

Too many email notifications.

Needs to have more integrations with more project management software.
12. Pendo.io – Best for product management, customer success, customer support, marketing, sales, and UX teams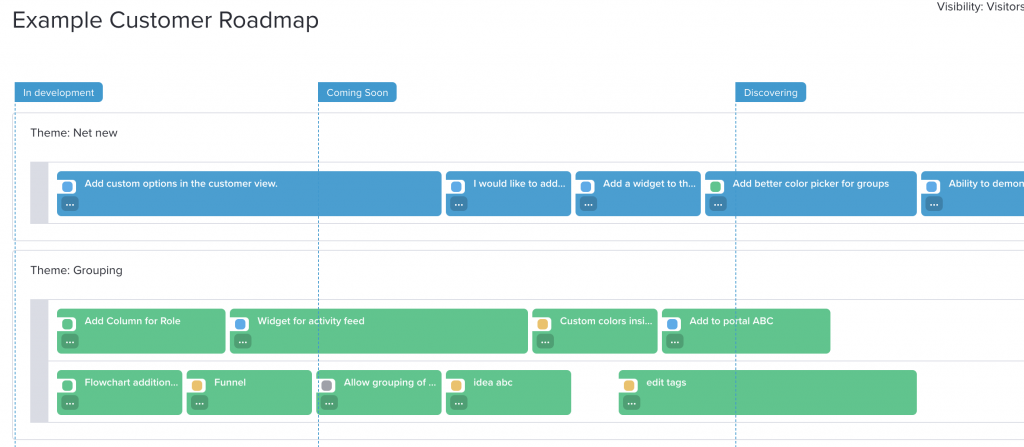 Pendo is a product experience system that professionally assists software product teams to deliver products in a proper way. It will help you to determine which features customers use and which features they ignore.
The platform helps you to easily set up in-app messages, guides, and walkthroughs without any coding to help users get the most value from your products. You can apply Pendo to guide users through the rough spots and drive them to adopt the features that create raving fans.
Pricing:
Take a look at how Pendo works in this video tutorial:
Pros
Cons

The interface is easily understandable and laid out clearly.

Offers high-quality analytics.

Its in-app guides and walk thru's are very easy to set up and customize.

The targeting of elements is very simple. The recent update has made it even more streamlined.

Does not track text/content entered into cells by users.

Customization of Guides might be hard to understand as it requires CSS/HTML knowledge.

It'd be cool to expand their integrations with other programs that support product managers.
13. Ppmroadmap – Best for forecast PM resources, visualizing business goals, and keeping all participants aligned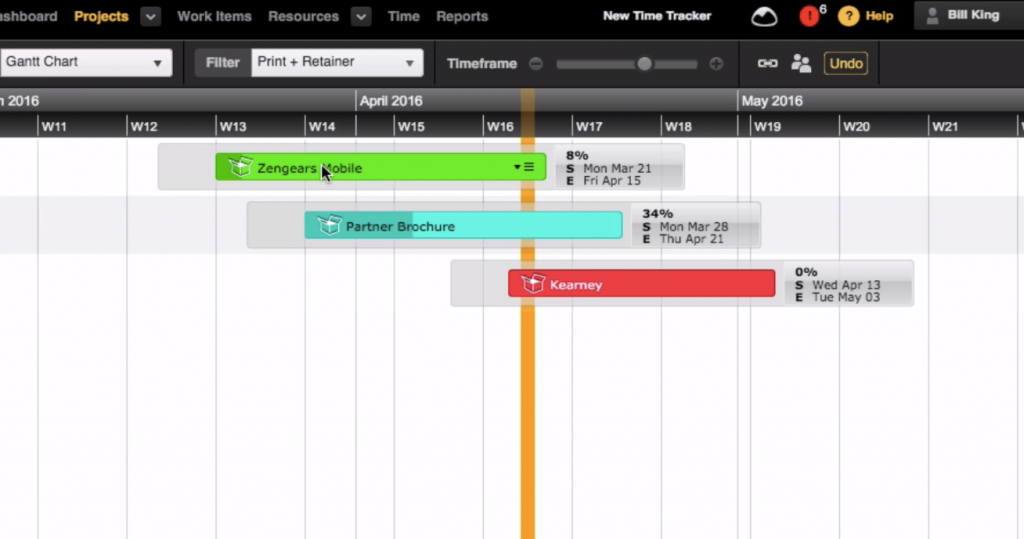 Roadmap unifies project, resource,s and task data across your favorite tools – JIRA, Basecamp, JIRA, GitHub, and some more. It makes it easy to forecast, track, and report. 
Ppmroadmap will help you to connect strategic goals with capacity realities, load balance staff when projects are at risks, manage and resolve resource collisions, track work across multiple projects from different apps, get an executive-level view of project and portfolio health, integrate with Basecamp, JIRA, and GitHub, and more. The platform looks appropriate for different types of customers: small businesses, large enterprises, public administrations, non-profit organizations, freelancers, and mid-size businesses.
Pricing:
No free version

Free trial available

Starts at $10 monthly, per user

Basic – $99 monthly, per user
Take a look at how Ppmroadmap works in this video tutorial:
Pros 
Cons

Suits all typical customers from freelancers to large enterprises.

Good for activity tracking and assignment management.

Offers reliable time tracking functionality.

Requires too many steps to disconnect and connect with Basecamp that can be very cumbersome.

No iOS/Android platforms supported.
Summary of the Best Product Roadmap Software
Takeaways
Most famous roadmap tools offer similar features, including handy workflows, customizable templates, visualization, and task lists.
Besides the typical features and benefits, purchasing roadmap software for your company, consider the following criteria:
Third-party integrations.

Make sure your roadmapping tool integrates with all of your existing CRM, collaboration, project management, social media, and other apps. Additionally, try to if the solution that offers APIs to connect to third-party apps.

Mobile apps availability.

Remote work and distant collaboration

force product managers to find ways to connect with many stakeholders, often located in different geographies. The tools with native mobile apps allow checking statuses, tracking progress, and making changes on the go. Pick up solutions with mobile apps that work on iOS, Android, and Windows.
Have you already decided which product roadmap tool is best for your business? Perhaps we missed some decent software. Then do not hesitate to let us know in the comments!