Are you thinking about becoming a dropshipper? The popularity of this ecommerce business model is growing. Yet, is dropshipping indeed as easy and profitable as it seems at a glance? In this article, we explore the ins and outs of dropshipping and show how to kick-start and beat the competition.
Before we go any further, let's understand the pillars of the dropshipping business.
Dropshipping: What it is and how you can make use of it
Dropshipping is the ecommerce business model which implies the following:
The store owner doesn't keep the product inventory.
The store owner communicates with customers (attracts them, features products, and handles support issues).
The store processes customers' payments.
The store owner partners with warehouses and suppliers that ship the needed products to customers.
Customers get products with the store's label and info, so they never know about buying from a dropshipper.
Simply put, dropshippers do all the marketing and sales activity, while all the inventory management and logistics hassle is left for suppliers. This business model for selling online has both pros and cons.
For Dropshipping
Little initial investment
No need to purchase and store items
No inventory management costs
No shipping issues
No need for many employees
Easy changes in the product catalog
Quick business expansion
No geographical constraints
Against Dropshipping
Little difference between the product price and the selling price (margin)
Issues with keeping the inventory up-to-date
High shipping costs for the orders involving several suppliers
Responsibility for wholesalers' mistakes
You can actually overcome most of the dropshipping cons with a smart business strategy and robust tools. If the advantages outweigh the disadvantages for you, keep reading, and you will know how to mitigate the negative aspect of dropshipping.
Starting a dropshipping business step by step
Step #1. Start it legally
The first question any supplier will ask you concerns legal incorporation, so pay attention to the legal aspect in advance.
You will have to choose the business structure depending on your growth plans and register your store in line with the local regulations. Don't forget to check your local licenses for the dropshipping business.
Also, for the sakes of transparent accounting, create a separate business checking account and PayPal account and use a specific credit card. Avoid messing up your business and private finances as this can lead to inaccurate calculation of taxes or even more severe financial troubles.
Don't forget to develop a sound return and refund policy that will protect your interests if suppliers ship defective goods or if these goods fail to meet customers' expectations.
Step #2. Find products that sell well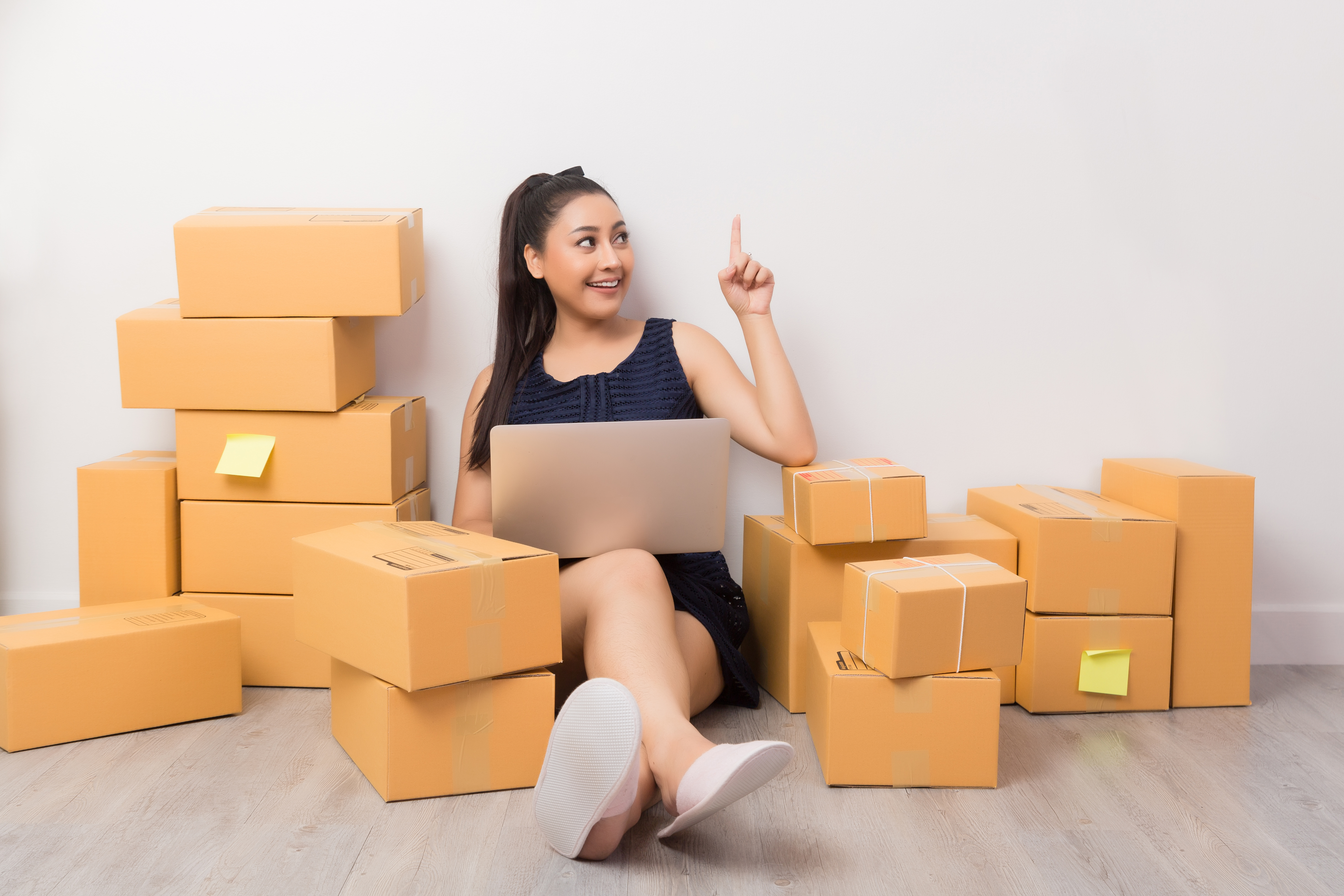 The main thing to remember is that you can't pick your catalog products and brands based on personal preferences. You will have to research current market trends to spot the items and brands with the highest selling potential. These six tips will help you to address this challenge.
Envision your ideal customer
Is it a company or an individual repeat buyer? Knowing your target audience, you can make your marketing and sales activities more efficient.
Calculate demand
Use Google Keyword Tool and Google Trends to understand what for people are searching and what they need. Long-tail keywords will tell you more about particular product characteristics that make people purchase. Exploring the search volume, you will know what terms (equals products) are gaining momentum and which ones are losing popularity. Pay attention to local and seasonal shifts if you are planning to dropship internationally.
Evaluate competition
Dropshipping with Shopify or another platform takes SEO and marketing efforts to reach the top 10 in SERP. Try the tools, like Open Site Explorer, to check the backlinking profiles of your top competitors. Use Google PageRank to learn their domain authority. These actions will hint you at the amount of effort it will take you to succeed in the sales of a particular product. As an extra measure, you can also look at your competitors' websites as a shopper. Perhaps, their gaps in customer services, marketing, or design can become your competitive strengths.
Prefer small and inaccessible items
Portable products are easier to ship and cost less. Locally unavailable products let you quickly win the market share.
Detect opportunities to cross-sell complementary items
You can choose a product that brings little margin but needs a lot of accessories that sell well (for example, smartphones). Alternatively, opt for products that are always in demand, like stuff for pets.
Choose products within a reasonable price range
Expensive offerings imply more luxurious support services as no customer will tolerate bad experience after paying extra. So, be ready to offer services relevant to your product prices.
Pick products that most of your suppliers sell
To prevent fulfillment problems and high shipping costs, try to choose products that all or at least several of your partners offer. If one partner fails, you will always have a plan B.
Step #3. Partner with the right wholesalers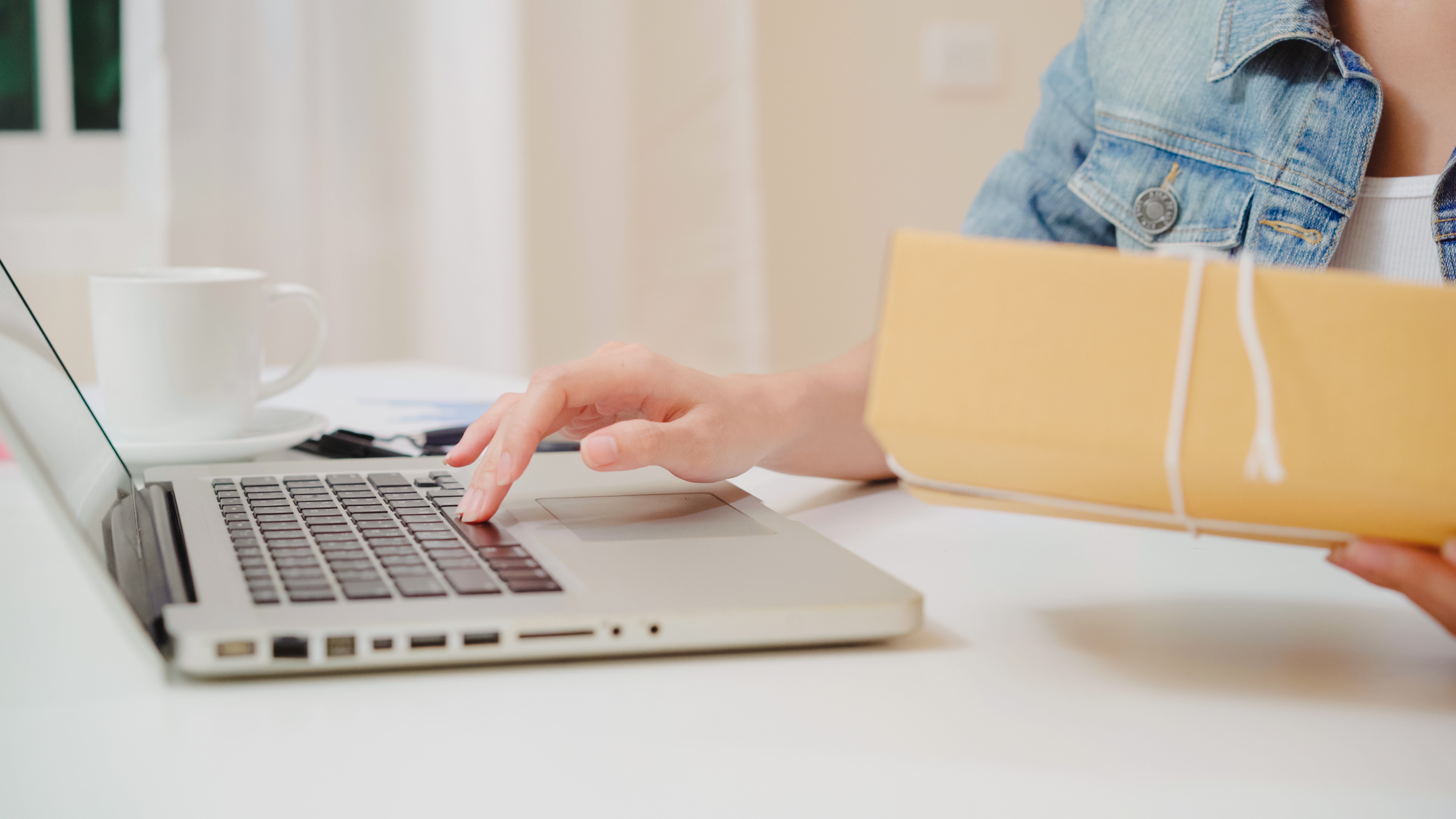 The more seriously you take the choice of suppliers, the more likely you are to succeed in dropshipping on Shopify. Unfortunately, everything is not as easy as just to google suppliers. A too straightforward approach can lead you to a fraud wholesaler and higher costs as a result.
Don't be fooled by fake wholesalers
To detect counterfeit wholesalers that are in reality other dropshippers or retailers trying to deceive you, stay alert to the following indicators.
Genuine wholesalers
don't' charge ongoing partnership fees;
don't sell products to the public at the wholesale prices;
don't charge pre-order payments;
don't invest in marketing and promotion and thus are hard to find;
don't have a good online presence (normally);
don't rank high in SERP for standard queries (e.g., wholesale supplier for).
Fraud wholesalers do all the above to protect their business while the real ones don't need such things. This means you have to go the extra mile to find your ideal partners.
Don't give up too soon
Start with thorough web research, use nontrivial words like bulk, distributor, or warehouse for browsing, and scan as many results pages as possible. Wholesalers are usually bad at SEO and content marketing, so be patient. As an alternative, you can also try some offline methods, like:
gaining partnerships on trade shows;
using a supplier database, aka directory, like Worldwide Brands or SaleHoo;
ordering from a competitor and tracking down their supplier with the help of the return address.
Once you come up with a wholesaler shortlist, explore their industry expertise and support and place some test orders to understand how they will treat your customers. A decent supplier study will let you avoid or at least solve your customers' issues faster.
Don't lock yourself in
These things happen. Suppliers can be short of the items ordered in your Shopify store. They can fail to ship them, raise prices, or even terminate your partnership. To be on the safe side, consider working with several suppliers.
Step #4. Build your sales channel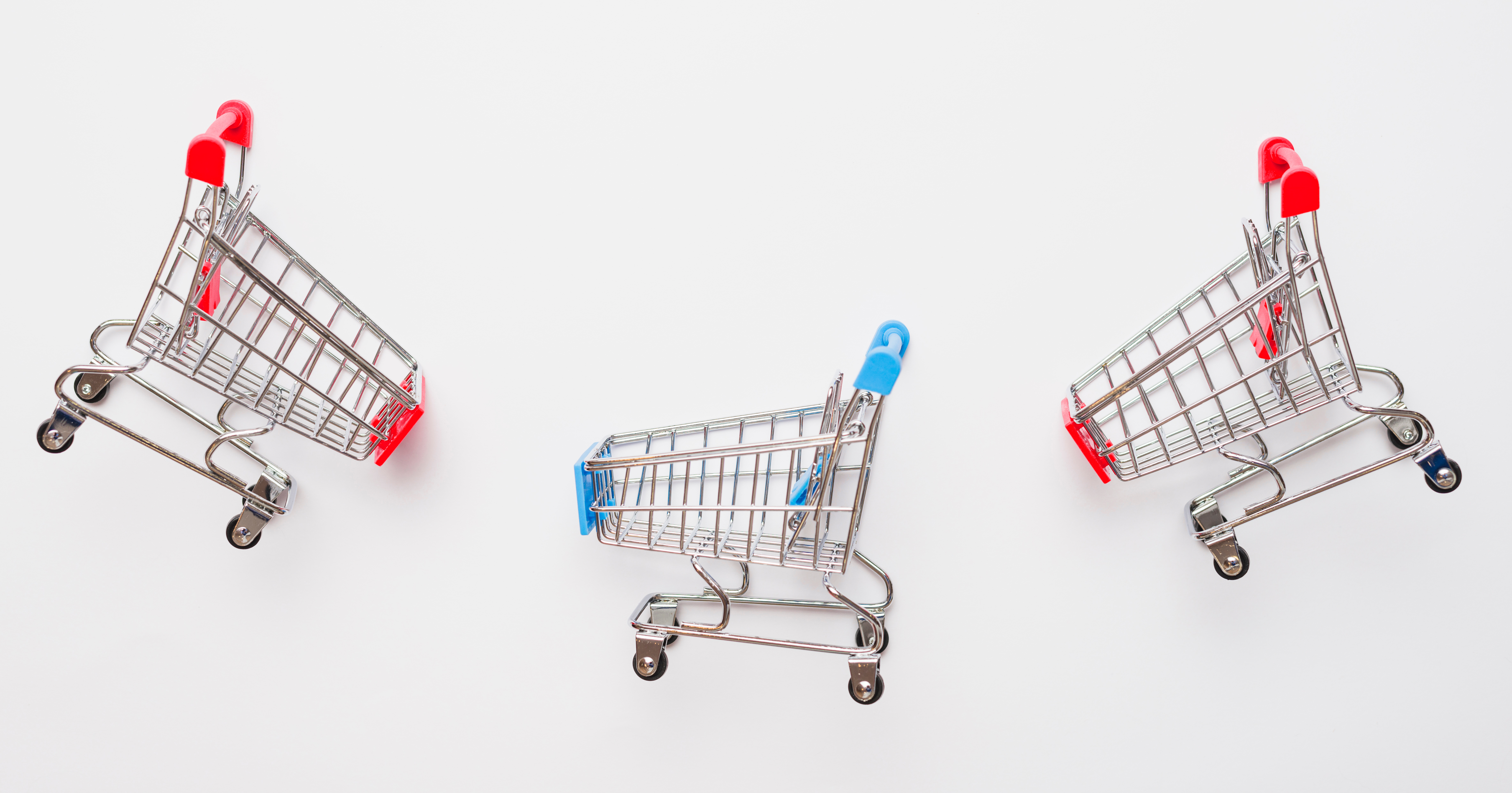 Marketplaces vs. proprietary online shops
Though you can resell items with established marketplaces, like eBay or Amazon, it is much more efficient to start dropshipping with Shopify or another ecommerce solution. In this case, you don't have to pay license fees or abide by the changing rules of the marketplace.
Even though you have to customize your store, build your reputation and online presence from scratch, you have more opportunities to outdo competitors if you invest time and effort in the design and marketing strategy. In the long run, dropshippers on Shopify can gain customer loyalty for their stores, while resellers on marketplaces have to win shoppers every single time.
Shopify for dropshipping
Shopify has become very popular with dropshippers for the ease of use and flexible plans. It has some crucial integration options by default, such as the connection with several payment gateways and Google Analytics. Experienced ecommerce developers can set up a powerful and visually appealing Shopify store in a short space of time, which allows you to start your ecommerce business fast.
You can also consider Shopify dropshipping apps, such as Oberlo, Spocket, Modalyst, to access the needed functionality quicker though not for free. Such apps enable dropshipping merchants to search for products from different suppliers, sync the catalog and stock data between the supplier and the Shopify store, automate order fulfillment, track orders, and more.
Best Shopify apps to increase conversion
Sooner or later, every dropshipper starts looking for a magic wand that could increase the conversion rate and profit. Unfortunately, there is no such thing to date; but there are plugins that make shopping more convenient and encourage customers to purchase. To name a few examples,
Fast One-Click Checkout is a Shopify app that lets customers skip cart loading. It allows merchants to show an editable cart popup for a quick preview and changing of the chosen items. Shoppers save their time and actually tend to hesitate less, which leads to fewer abandoned carts and more successful transactions. As we will see it a bit later, service differentiation is a key to successful dropshipping, so an instant checkout option is a must-have. Take a look at how such functionality works for a dropshipper bluecrate.com.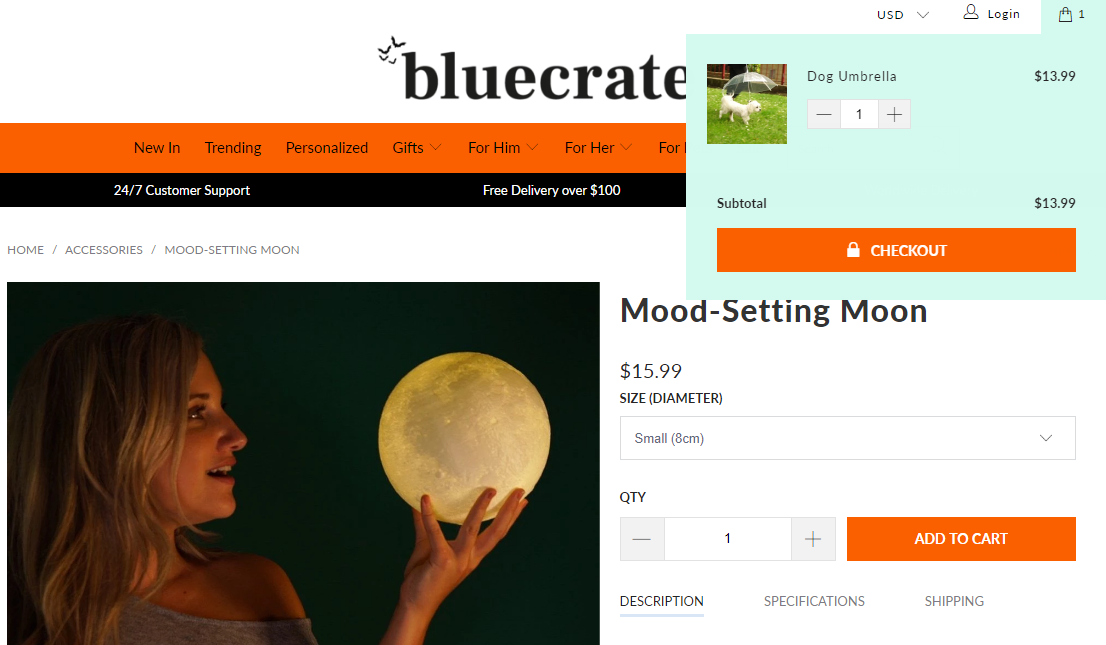 Upsell and Sales Popup is a nice add-on to increase order value and improve conversion. In particular, it allows you to return the customers leaving the store by showing a relevant sales popup or offering a discount. To understand how it works, check the dropshipping store inspireuplift.com.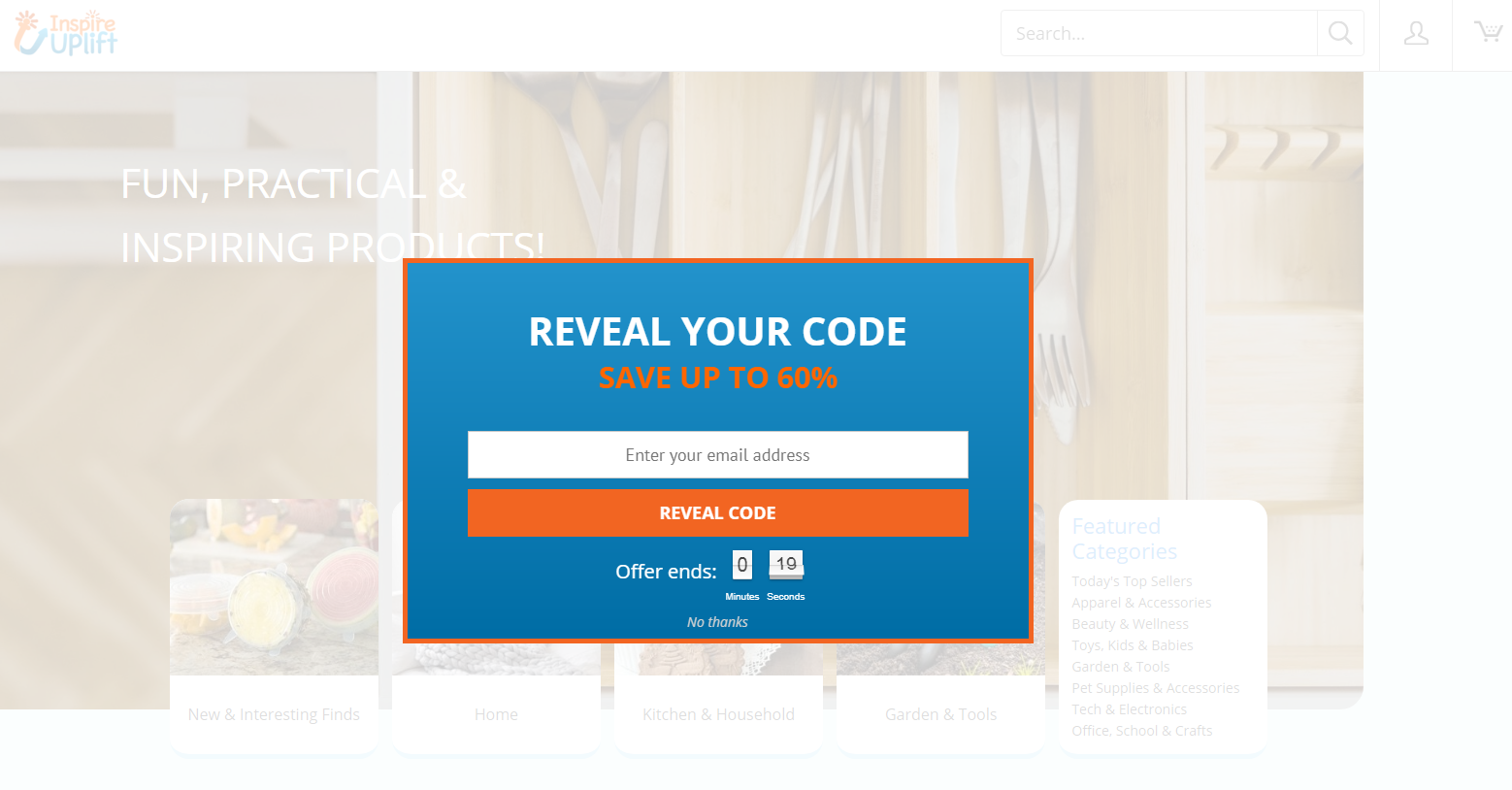 Bulk Price Editor helps dropshippers manage their margin. It allows changing prices of products in bulk, which is very convenient if suppliers update their catalog or if you want to offer discounts to boost sales. 
Step #5. Remember about security and fraud
Payment processing always poses some risk if you store customer data. Dropshipping with Shopify allows the owners to sleep well as the platform is hosted, and online shops powered by it do not keep card information. If you use another platform, it is better to switch off card data storage just in case.
Fraud protection and chargebacks are also essential concerns. To avoid being forced to pay for the goods you actually delivered, ensure you use address verification and keep all order data safe, including the tracking details. Only this way, you can prove that the transaction is successful and any claims are unfounded.
Step #6. Do something better than competitors
Once you identify your successful product catalog, you will have to find your way to compete in the crowded market. Don't try to offer the lowest prices as this is definitely a losing strategy. Instead, add extra or even unique value to your products with marketing techniques or an expert service team. Offer the best customer support, sell your tips and information rather than just products, and explain to customers how your products solve their problems.
Get ready for heavy investment in SEO and marketing in the beginning. This is natural, as you are to convince the world that buying in your new store is better than purchasing from your competitors. After 6 to 12 months, you will be able to slow down your marketing activity, but at the start, these things take time.
Dropshipping success stories for inspiration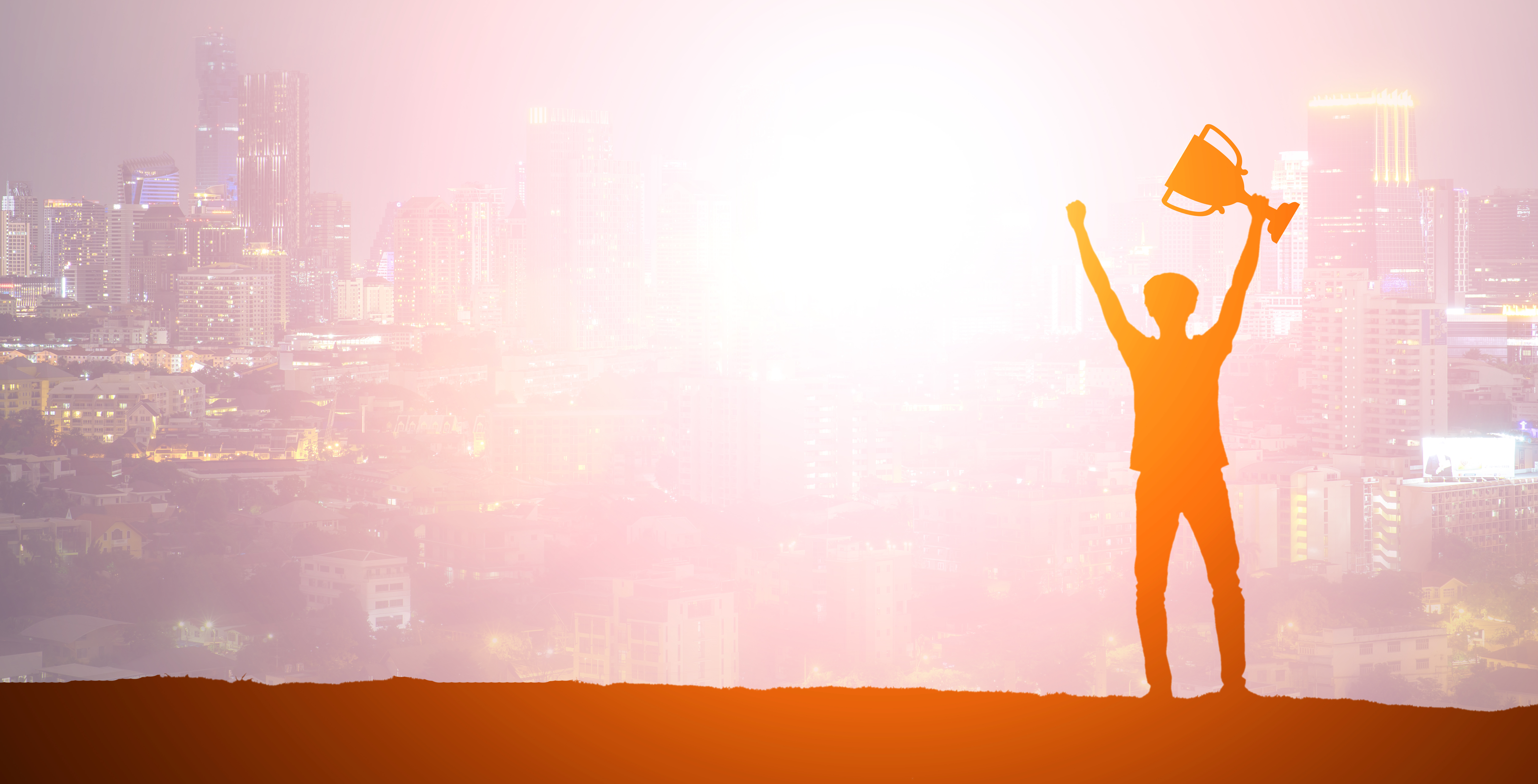 Though managing a dropshipping store is easier than establishing an ecommerce business from scratch, this is not a story about becoming a millionaire in a day. Usually, dropshipping returns reach the general full-time income only a year after the rollout.
You are likely to doubt a lot in the first months. You will face technical trouble and overcome them with honor. So, to cheer you up, we gathered some cool stories of success.
BlueCrate is a dropshipper offering viral products that make people purchase without feeling a real need. It is in top 10 Shopify stores, gets over 21,000 visitors per day, and is estimated to have over $1 million in monthly sales. Their success factors include selling weird and popular products, using Facebook SHOW pages, creating in-house videos to promote their items, and a 45-day warranty.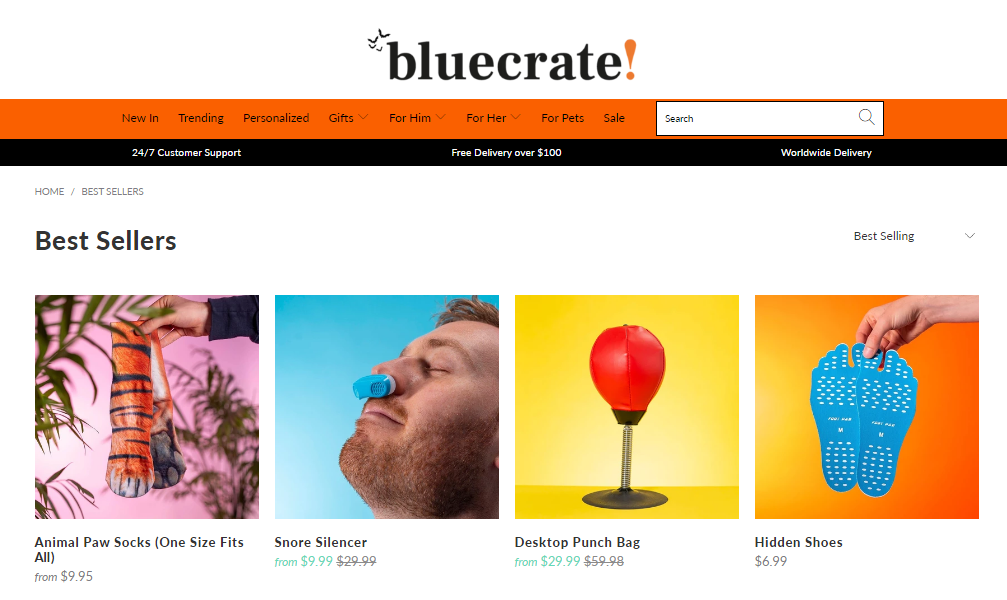 Dark Horse Marine is a niche dropshipping store selling solutions for customers who need anchors. As an example of customer focus, the store offers a "total boating solution." This bundle includes tools for watersport, cartography, and on-boat leisure. In addition, they sell via an online shop and marketplaces, including Amazon, eBay, Walmart, and Jet. 
Gadgetox is more successful dropshipper reselling gadgets. They store is equipped with all possible sales-boosters, such as popups, instant checkout, and discount preview.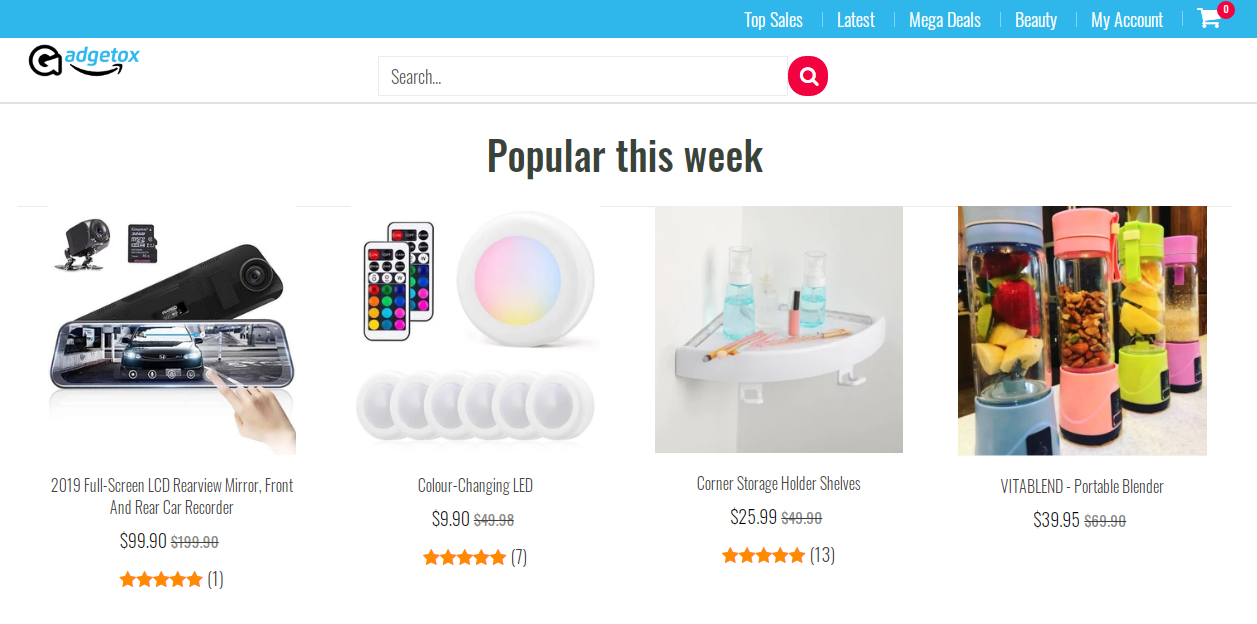 PuppyLove is a dropshipping store specialized in selling goods for dogs. In his interview for Spocket, the merchant, Marc Chapon claims that he owes success to
choosing a niche that is doing well over time,
being knowledgeable about this niche, and
selling quality products from suppliers rather than cheap picks from AliExpress.
The initial investment was about $5000. In 6 months, the store's sales surpassed $178,000, and the profit exceeded $85,000.
Dropshipping in 2019: Is it going to die?
The number of dropshippers is increasing and it is getting harder to compete in this part of the ecommerce market. However, this business model remains viable. Outsourcing shipping and inventory management allows dropshippers to cut costs and hence generate a considerable profit. Still, entrants to the dropshipping business can no longer just launch a store and wait for revenue. To succeed, they have to master differentiation and learn how to optimize their business with suppliers and how to excel at customer services and marketing.
Dropshipping returns depend on the traffic that the store generates. It is logical that it is getting harder to compete for shoppers as more and more dropshippers appear—not to mention the abundance of traditional retailers and such giants as eBay and Amazon. For this reason, SEO is also getting an important success factor. Trying to beat incumbents with simple ads is pointless.
Conclusion
To sum up, dropshipping is not dead in 2019 and is likely to survive the upcoming years as well. The players who can find a good niche and make customers happy will be able to flourish despite tough competition. Though dropshipping is not as easy as many people portray it, don't be afraid of giving it a try. In the end, failure can teach you how to succeed next time.
To get more info about starting a dropshipping business,