The dating industry has shown strong consistent growth over the past five years as more consumers use the Internet in search of love. According to Statista, it can be assumed that the number of users will gradually grow further.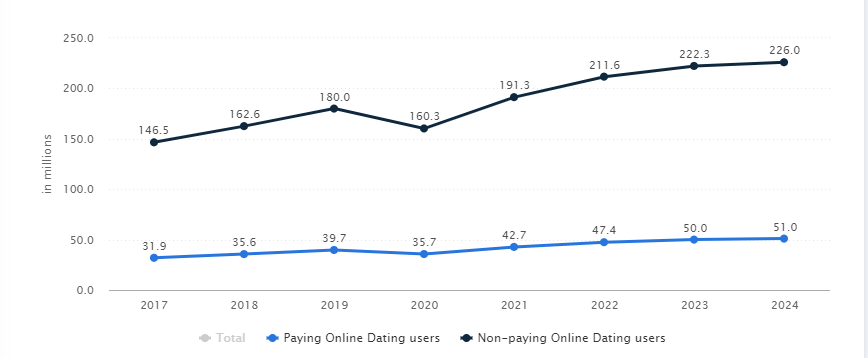 It might be hard to imagine or remember, but a decade ago, dating a stranger from the Internet was a weird idea. Perhaps some of your acquaintances would even say that you are crazy.
Consumer demand for online dating and matchmaking services is growing due to the disappearance of social prejudices associated with online dating and busy work schedules. All these limits alternative ways of meeting potential partners.
Today thousands of dating sites and apps can be customized based on your goals: starting a family, networking or just having a pleasant evening.
Market size
At the moment, the data of different research companies differ. However, there is no good reason to believe that the "golden age" of online dating is over. For example, according to Statista, revenue will continue to grow, but more slowly.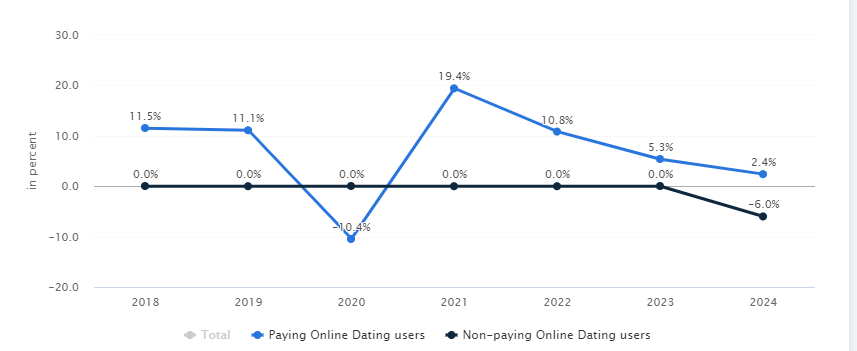 Besides, online dating is a fast growing industry. IBISWorld predicts the dating industry's revenue to expand year over year. Better economic conditions and higher per capita income are likely to result in consumers having more available resources to spend on discretionary services such as dating and matchmaking, which will fuel the industry's growth.
Dating app user break-down
Almost 45% of users are people aged 25-34 years. This fact can hardly surprise anyone.
The gender distribution of users is rather uneven: almost 70% are men.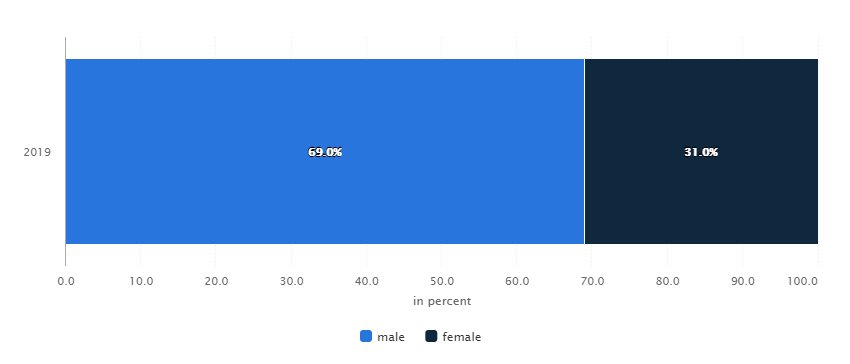 What are all these users looking for? Almost 50% of people use dating platforms "for entertainment". Users

state

that online dating is a good way to meet people.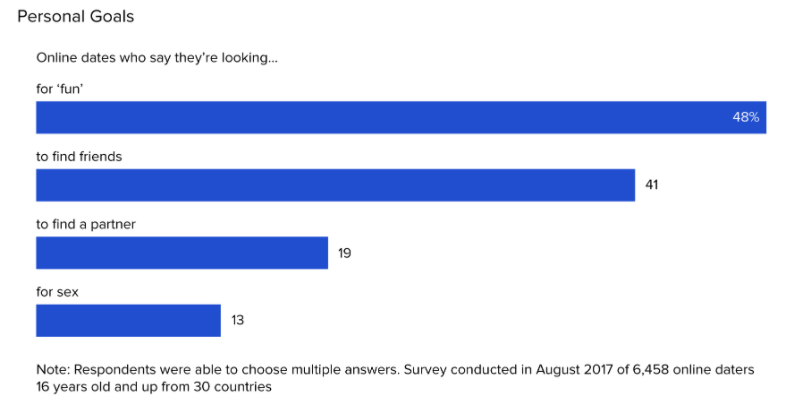 Overview of the biggest players
All dating services can be divided into 2 large groups. 
Sites and applications that ask the user to fill out a personal questionnaire, based on which matches are made. For example Match.com and eHarmony. 

The other group includes all services like Tinder, which only ask to link your profile to your social network account.
Each group has its competitive edge and its approach to dating. Match.com users are ready to invest in effective dating with compatible partners. On the other hand, there is Tinder, where the choice is tied exclusively to the swipe of photos.
The online dating market is not very beginner-friendly. This is a product whose success depends solely on how often and for how long many people use it. It is difficult for new sites to generate traffic comparable to the audience of already established applications. There are certainly stories of successful niche app launches like Gluten-Free Singles, Clown Dating, and Bristler (for beard lovers). However, they also have difficulties with scaling later. Consequently, it again does not withstand the competition with the major players.
Another advantage of large players is that large companies with multidirectional businesses can organically grow their traffic by switching users between their different platforms. IPO Match Group is the most germane example.
Thus, in the market, one can observe a tendency towards consolidation and dominance of large players. What about niche services?
Niche players break-down
Today, on the market oversaturated with major players, niche dating sites and apps are at their peak. How are they segmented?
For example, Hater app, where you can find someone who hates the same things. Equestrian Cupid is for horse riding enthusiasts. In Tastebuds users find partners who share their musical tastes.
The dating site Trump Singles is for those who share the views of Donald Trump.
Gluten-Free Singles promises to help you find a gluten-free partner.
ChristianMingle is focused on Christian dating. There is an online dating club for Jews – Sara & Rashel, for Muslims – Nikah.su.
Farmers Only is an American dating site for farmers.
The Tall Friends dating site is designed exclusively for tall people. Feabie is a service for overweight men and women. BeautifulPeople.com matches people confident in their attractiveness.
Magnet invites singles to indicate their location and communicate with those who are interested in the profile.
How online dating services make money
Monetization opportunities in this area fall into four main categories: 
subscription

freemium

advertisement

premium accounts
Subscription
The payment can be regular, for example, monthly. For example, access to Match.com for a month costs $ 40. 
Some companies offer subscription discounts for a one-time fee for a longer period. eHarmony costs $ 59.95 per month when billed for six months at a time, $ 19.95 per month with an annual subscription.
Freemium
The main goal of using the freemium model is to spread information about the product and increase user loyalty. Many dating startups work according to this scheme: Mamba, Topface, Badoo. You can use the main functions for free but additional options for a fee. On Badoo, users can pay more for their profile to be shown to other users more often.
Advertising
Application or site accepts advertisements from third parties and earns on clicks, views or transactions. Banners or contextual advertising of souvenir and gift shops, flower delivery services, plush toys or underwear, as a rule, is of interest to visitors of dating sites, but advertising opportunities are not limited only to these areas.
Premium model
Sometimes the basic functions of the service are available only after joining the users' club. This is how Tinder works. For example, a user accidentally swiped to the left of someone he/she likes (they scroll to the right of their favorite profiles). Only Tinder Plus or Tinder Gold members can fix the bug.
Conclusion
It is difficult to predict the future development of the online dating industry. However, this trend has already changed the structure of society and may lead to stronger and more diverse marriages. It will be interesting to know what happens in the future. Development or stagnation? Or maybe a complete digitalization of the dating sphere? Stay tuned for our new posts.