In the era of content marketing, it is very important for companies to communicate with customers and gather feedback. People want to be on top of the latest news in their areas of interest, that's why blogging is a good strategy in ecommerce.
The right post can generate interest in your business and attract new customers. For this reason, Shopify is equipped with blog functionality. 
Let's take a closer look at it!
What are Shopify advantages?
Using Shopify for blogging gives the store owner a bunch of advantages:
Ready audience: your store visitors become your first readers, and vice versa, your readers are likely to become your customers. You shouldn't worry that no one will see your posts.
Your shop and your blog are in the same style; they are just different pages of one website, which is a good-looking solution.
You have only one admin tool for managing your shop and blog, which makes confusion impossible.
Shopify Blog is free to use and has clear tools. It provides several basic abilities for users:
to work with a visual editor
to insert images or videos in the post,
to plan publications,
to use automatic SEO settings for the title and description,
to leave comments,
to add hashtags.
How to start Shopify Blogging?
First, open your Shopify admin panel, find "Online Store" in the left menu bar and click it. After that, choose "Blog Posts" and "Manage Blogs". In the upper right corner, push the "Add Blog" button. 
Finally, it is time to create your blog's name and add the blog to the navigation menu. As your blog is a page of your site, it will inherit the store design, but you can make some changes using Liquid, Shopify's template language.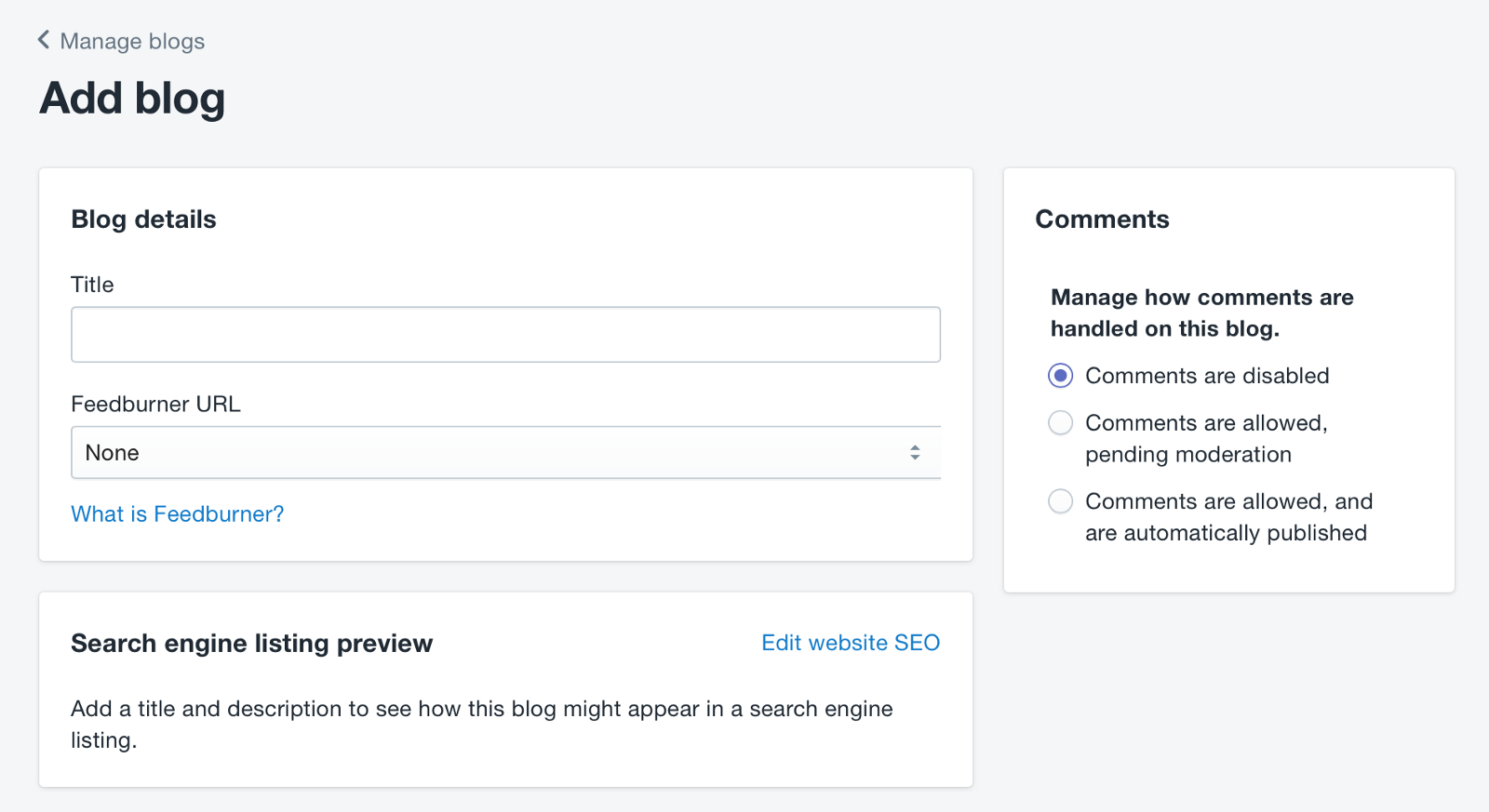 You can create several blogs on your store if you want to target different readers. This way, you use a particular blog for certain topics, say, information about promotions and sales, company news, entertaining and inspiring posts, or something else.
What features does Shopify allow you to use in your blog?
Like other blogging platforms, Shopify offers readers an opportunity to leave comments or share favorite information. Let's consider in detail how you can use standard Shopify blog tools.
Work with comments
Pay attention that you can interact with comments only after publishing your first post. There are 3 kinds of comments statuses in your administrator's menu.

In this case, you save your time on moderation, but can't get feedback from your audience. This is a not very popular way to increase readers.  
Comments are allowed, pending moderation.
In this way, you should moderate comments, read, and publish them. This can take some time but brings good results for communication and prevents undesirable content.
Comments are allowed, and are automatically published.
This solution saves your time, but the quality of comments can be different, including insults or links to the competitors' shops. So, it is still necessary to read and delete some comments.
Planning publications
You can change the time of posting, for example, add several articles in advance and set a publication date once or twice a week. You also can change the release date after the publication of a post.  
Showing the preview of the post
On the main page of your blog, you can show previews of posts with colorful images, links, and different text formats. To customize previews, you should click "Add excerpt" under the "Content" field.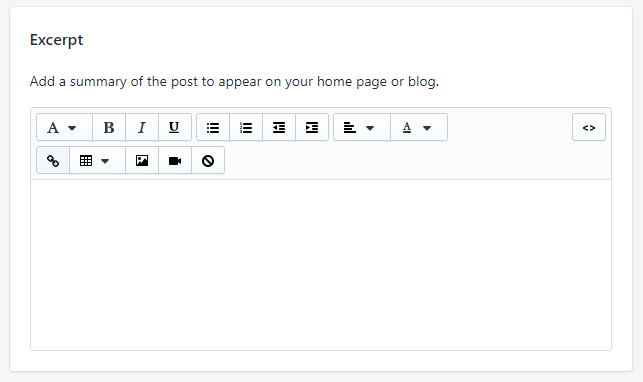 Using tags
Use popular tags in your blog. It makes the search more comfortable for your customers.  
Setting Social Network buttons
With the help of social network buttons, users can share your posts on their Facebook, Twitter, Instagram, and other accounts. A lot of Shopify themes include such buttons, but if your theme doesn't allow buttons, you can add it with the help of special applications or using HTTP, JavaScript, CSS, or Liquid. 
Reminder of subscription
Shopify uses RSS feed that gives the ability to your clients to subscribe to your blog and receive notifications about new posts. They also can do this with the  "FeedBurner" button. 
Posts promotion
You can show the most popular or important posts of your blog on the homepage. It will simplify navigation for your clients and lift the number of displays.
Setting SEO for your site
Shopify offers its clients to use minimum required settings of search engine optimization, such as a page title, a meta description, and a URL for every post. 
You can find its fields in a special section, "Search Engine Listing Preview," which is located below the text box. Information in this field is generated automatically, but you can edit it or write yourself.  
The page title and meta description have restrictions on the number of characters. If the title is longer than 70 items, and the description is longer than 320 characters, they will be reduced in search engine results. The search engine preview will show you how it will look like.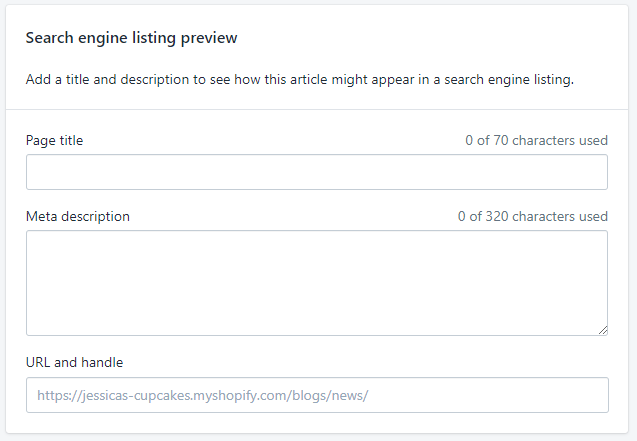 When you are writing the title and the description, use keywords to attract the necessary audience.
Adding useful applications 
In your blog and your shop, you can also use various applications and customize the store for further convenience. For example, there are three most popular Shopify blog applications.
Disqus
This discussion application has a clear interface and is beloved by the world's famous blogs and sites. Disqus can help you drive traffic to your blog by empowering your customers to share opinions. Disqus has a free week trial and then costs $4 per month.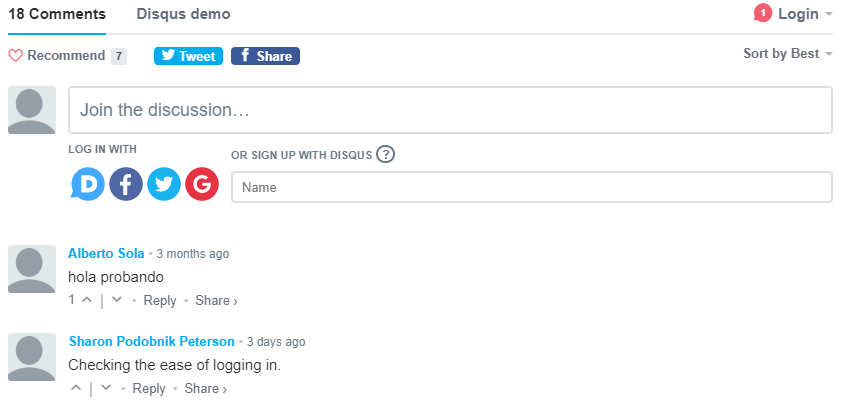 AddThis
This free-to-use application lets your clients share their favorite posts from your blog on more than 300 social networks. You can choose the necessary icons and adapt their appearance on your pages. The in-app analytics will help you understand clients' behavior: what they like, how they share posts, and other data.
Related Blog Posts
With this free app, you can suggest your readers the posts that can be interesting for them. Under your post, they will find related articles for further reading. You can customize the looks of the preview by choosing the number of items to display or the rules for selecting related posts.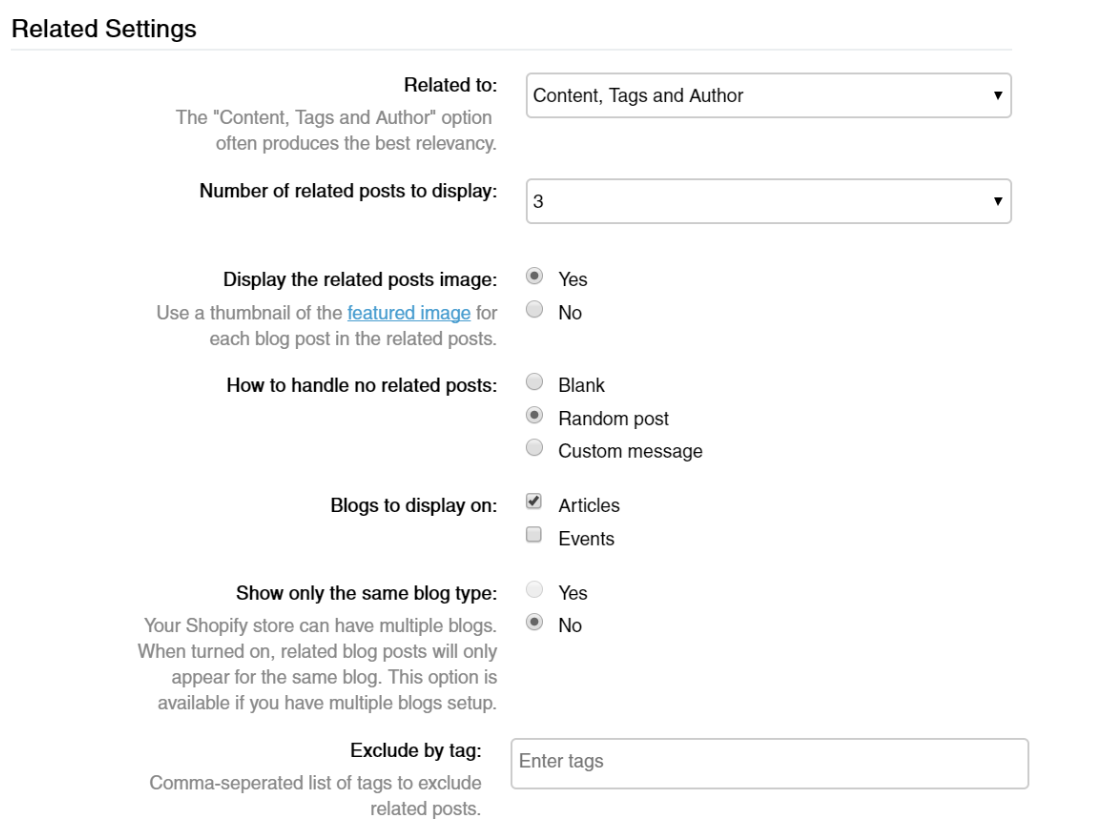 There are more than 1,800 apps in the Shopify store. You can always find exactly what you need to make your blog maximum useful (but if you want something special, we can make the necessary changes for you).
What to do if you already have a blog on another platform?
If you already have a blog on Medium, WordPress, or another platform, you can integrate it with your Shopify store. During this process, you can face several difficulties.
You should implement your external blog to Shopify as a subdomain, not as a subdirectory. It is important for SEO, as your blog URL will look like blog.mywebsite.com.
You need to select similar design themes for your Shopify store and blog. If they are in different styles, this can cause misunderstanding among customers. However, this can be a real problem as not always you can find a similar theme, and even a slight distinction in colors can confuse customers. That is why it is better to create a necessary theme yourself or hire experts for this.
To track the interactions of your customers with both your Shopify store and your external blog, you should additionally configure your analytics account. 
Working with two platforms can entail problems with preserving information in the mini-cart and transporting it to the Shopify cart. So you might need some coding to tackle possible issues.
If you have an internal blog but want to duplicate it on Shopify, there is a solution: you can migrate publications with the help of ready-made blog importers available on the Shopify App Store. Such apps take content from your blog platform to Shopify and let you have an up-to-date blog with the same domain as your Shopify store.
Blogging is an efficient way to increase store visits and sales, as well as warm-up your potential customers. Should you need some help with Shopify app development, modification, migration, or SEO, you can always contact us and get the necessary support.