In 2018 Black Friday brought $3.7 billion to merchants, which was 28% more than a year before (Adobe). Every year Black Friday and Cyber Monday sales keep increasing, which is both great news and a headache for store owners. 
You can't just offer discounts and wait for huge deals. To grab a bigger piece of the BFCM pie, you need to prepare your Shopify store to sell well. 
That is why we've come up with this BFCM toolkit comprised of seven must-have apps for skyrocketing sales. 
What do these seven apps have in common?
First, all apps below are developed to simplify installation to the maximum. You need no coding skills and very little time to add functionality to your store. 
Second, they are completely optimized for mobile. Last Cyber Monday, over 50% of store visits and 34% of revenue was generated via mobile devices. So, we focused on responsive design to help you provide a seamless mobile experience. 
Third, though the BFCM toolkit is crafted to foster sales on these special days, it includes the apps that you need to optimize sales throughout the entire year. 
Ready to equip your Shopify store for Black Friday and Cyber Monday? 
Check the roundup of essential plugins below!
#1. Fast One‑Click Checkout: Speed up checkout to boost ordering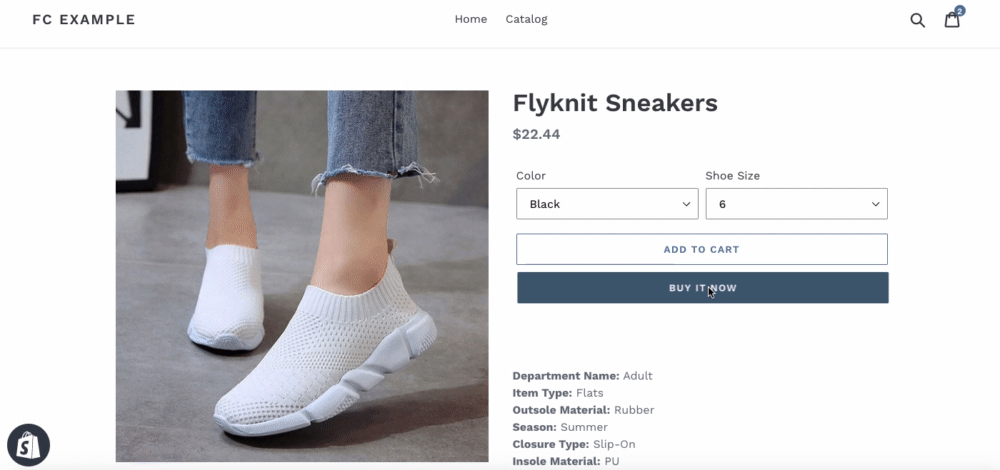 According to Baymard, about 23% of shoppers abandon the cart due to a long and complicated checkout process. On Black Friday and Cyber Monday, customers become very picky in terms of service. They know that they are just a few clicks away from finding a similar offering in another e-shop. For this reason,
The less time you give customers to hesitate, the more likely they are to complete their orders. 
The Fast One‑Click Checkout app is designed to make your checkout process lightning fast and convenient. For this, the app allows your shoppers to check out using an editable popup cart. This way, shoppers don't have to load a separate checkout page even to add or remove products. 
As the BFCM sales depend a lot on how you catch shoppers' attention, the app also includes motion effects for checkout buttons. These visual elements will gently encourage your shoppers to place orders. 
Three reasons to try the Fast One‑Click Checkout app:
Make shopping convenient with an instant checkout option
Get more orders with the help of wiggling buttons and a cart popup
Decrease cart abandonment through a fast and straightforward checkout
Price: $12.95/month. 10-day free trial.

Try FC (Fast One‑Click Checkout)

#2. Bulk Price Editor: Ged rid of routine. Save your time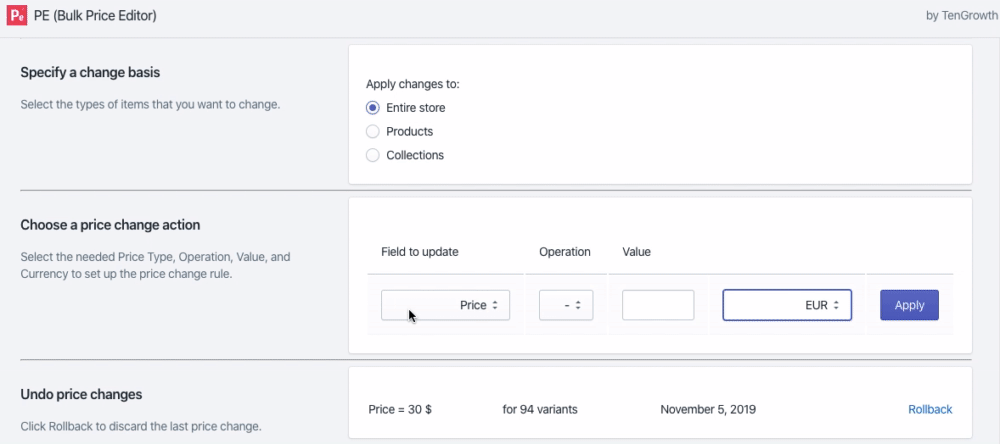 BFCM makes the pricing strategy crucial as never throughout the year. 
As many retailers do, you can offer critical discounts for the bestsellers and hope to cross-sell other products. Alternatively, try to promote your less popular products by offering discounts or including them in discounted bundles. 
In both cases, you will have to update many product prices at once — a sad scenario, especially if you have more important tasks to do to attract shoppers. 
With the Bulk Price Editor app, you can tweak the Price and the Compare At Price the way you want: divide, multiply, add, subtract, or change by a certain percentage. All you need to do is to browse a convenient search bar, select items, and apply changes to all of them in one click. 
Three reasons to try the Bulk Price Editor app:
Update prices of multiple products in a few clicks
Quickly roll back changes if needed
Configure and setup the app with no coding skills
Price: Free plan available. $4.95/month.
#3. Free Shipping Bar: Show that they pay less buying more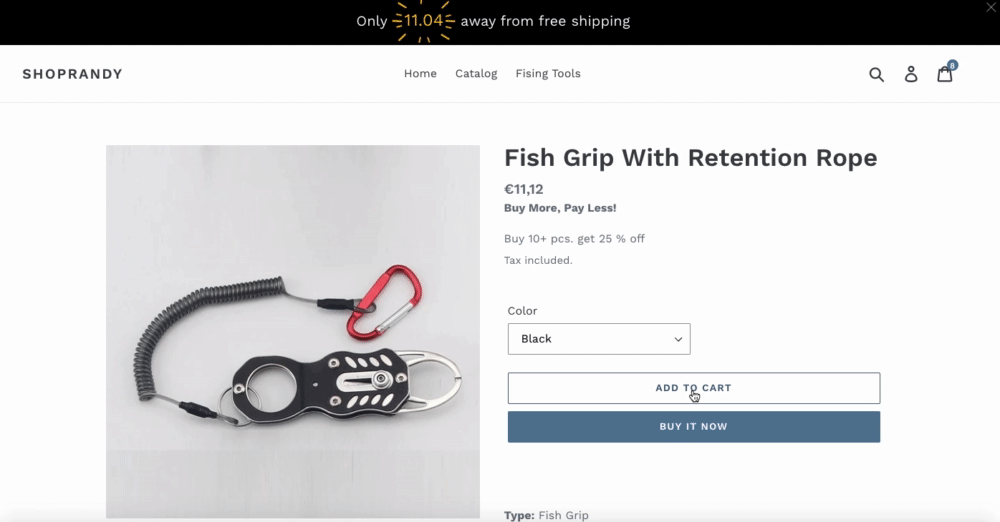 Over 90% of shoppers purchase more when they know about a free shipping option, and about 60% of customers even add items to reach the order value required for free shipping (Invesp). These stats prove that a free shipping bar is a must-have element of your BFCM toolkit. 
The Free Shipping Bar app allows you to upgrade Shopify store pages with a catchy banner telling about your shipping offering. As customers keep adding items, the bar automatically calculates how much is left to unlock the promo delivery terms. 
When the order value is just right, shoppers see a nice congratulation message. With the included geotargeting, your free shipping offering will always be relevant to the shopper's location. 
Three reasons to try the Free Shipping Bar app:
Unlock super-quick configuration with BFCM templates
Show only relevant offerings through built-in geotargeting
Use a handy calendar to plan the free shipping promo
Price: Free plan available. $6.95/month.
#4. Countdown Timer Bar: Add urgency to drive conversion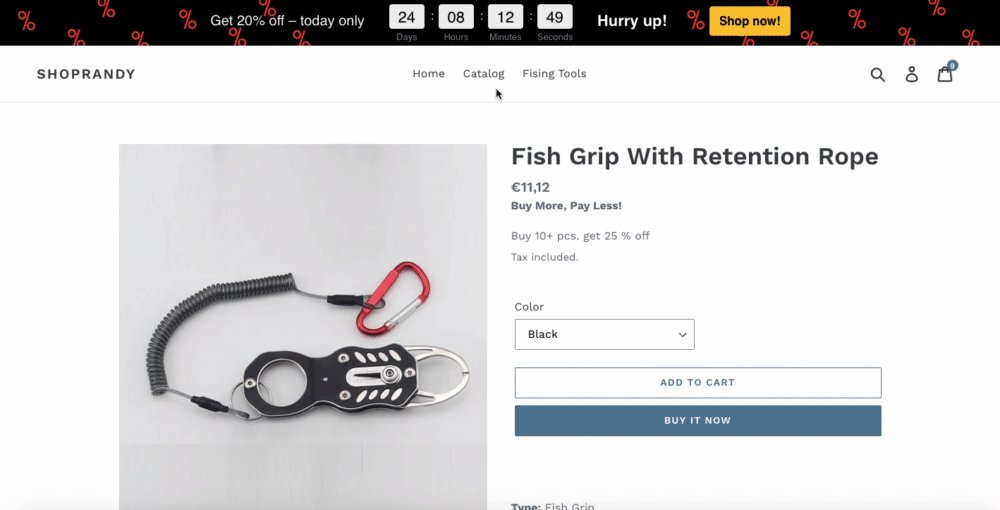 Countdown Timers create urgency and make shoppers feel that they lose something meaningful if they don't place an order shortly. Though countdown bars work well during sales periods throughout the year, they are especially effective on BFCM. The SaleCycle study shows that messages about time-limited offerings before Black Friday or Cyber Monday can raise CTR by 30% and increase conversion by up to 200%.  
This Countdown Timer Bar app lets you leverage urgency in one click. With templates for the Black Friday and Cyber Monday, you need no coding or design skills to add a colorful timer banner to your Shopify store pages. Choose the place for your timer bar or widget that will help you get maximum views and clicks. You can also try different CTA and button texts to find your own success recipe.
Built-in geotargeting will help you set up different promotions depending on your shoppers' locations. 
Do you feel that you need to take care of too many things before BFCM? Use the app's calendar to schedule your time-sensitive promo in advance. 
No more hassle. Just sales.
Three reasons to try the Countdown Timer Bar app:
Add a stylish banner designed for BFCM in one click
Get more orders by showing a targeted countdown timer
Plan the display of your BFCM timer with a calendar
Price: Free plan available. $6.95/month.
Install CT (Countdown Timer Bar) right in your store
.myshopify.com
#5. Sales Popup: Don't let them go, let them buy more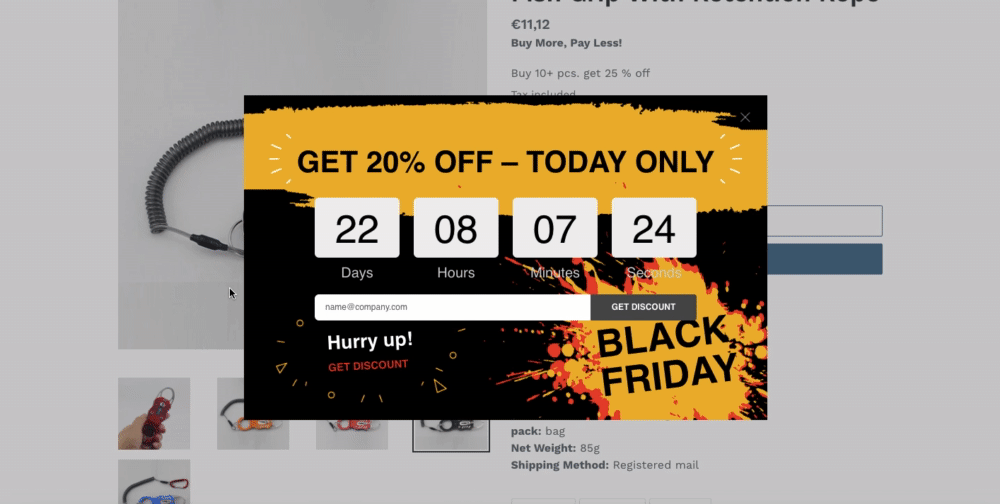 On average, 70% of customers abandoned carts in 2018-2019. When a shopper is trying to leave your Shopify store, this is your last chance to make them come back and buy. 
How? 
Use an exit popup with a discount, a coupon code, a gift, or a time-sensitive offering to make them reconsider your products. If they are not yet ready to purchase, at least encourage them to give an email in exchange for the perks. 
The Upsell popup app is a powerful tool for BFCM as customers are already inclined to buy more; they are tuned for sales.
You can use an upsell popup to motivate them to increase their order value to get a higher discount. Add urgency and scarcity to your offering, try and test several CTA buttons — and customers will most likely place an order. 
Alternatively, compliment your shoppers with a gift or coupon on a checkout popup. This way, you will turn one-time BFCM visitors into repeat customers.  
Three reasons to try the Upsell and Sales Popup app:
Decrease cart abandonment with a custom exit popup
Increase order value through a crafted upselling popup
Make shoppers return and buy after BFCM with a checkout popup
Price: Free plan available. $9.95/month.
Install SP (Sales Popup) right in your store
.myshopify.com
#6. Quantity Breaks and Discounts: Cut prices wisely to raise sales and revenue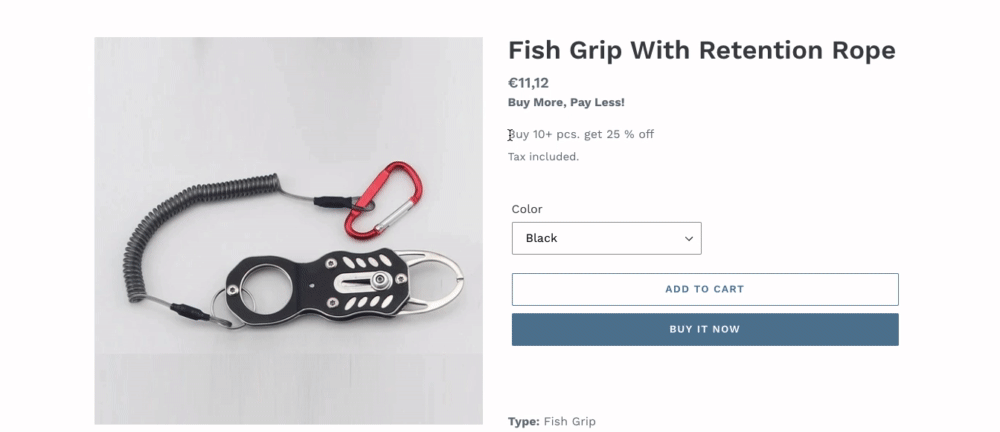 Black Friday and Cyber Monday offerings should be diverse to catch shoppers' attention. The Quantity Breaks and Discounts app allows you to complement standard fixed and percentage discounts with BOGO (Buy One Get One Free) and Buy X Get Y free deals. 
The BFCM is coming, so save your time by using the handy search bar to find the needed products and collections lightning fast. The app allows you to apply a template for a quick configuration or create a custom selling message to find your successful text. 
Play with different discount types. Dynamically update the total discount for the cart and show customers how much is left to unlock a new discount level.
Three reasons to try the Quantity Breaks and Discounts app:
Increase AOV with various discounts tied to the order total and quantity
Encourage shoppers to buy with personal discount estimations 
Quickly get ready for BFCM with easy configuration
Price: Free plan available. $18.95/month.
Install QD (Quantity Breaks and Discounts) right in your store
.myshopify.com
#7. Sticky Cart: Make the checkout always at hand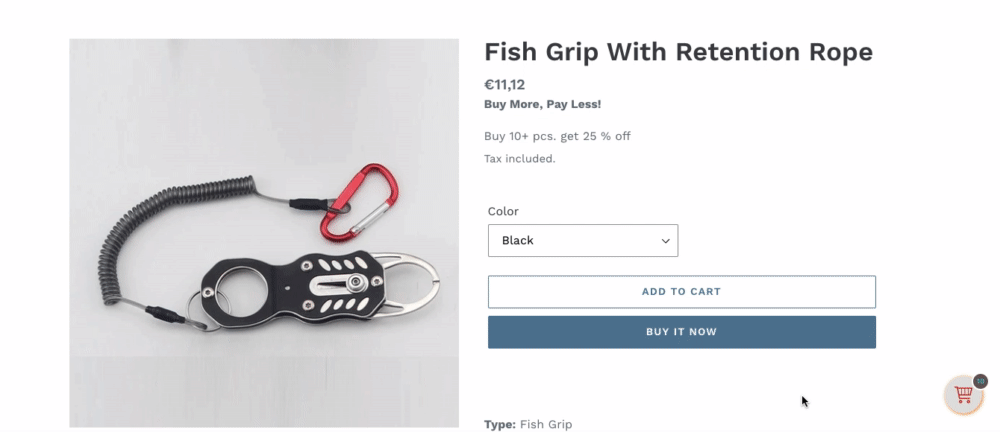 This is another app to make the checkout seamless. During BFCM, shoppers are browsing multiple stores looking for better offerings. You can encourage visitors to stop searching and place an order if you let them have the checkout option always at their fingertips.
This app allows you to add a floating cart icon to any page. However customers scroll, they will always be able to go directly to the cart or checkout. You can use a convenient editor to quickly locate the sticky cart icon and tailor its design to your Shopify theme. 
Three reasons to try the Sticky Cart app:
Make shopping more convenient 
Make the checkout easily accessible
Decrease the number of unfinished orders
Price: $3.95/month. 5-day free trial.
Install SC (Sticky Cart) right in your store
.myshopify.com
Get ready to drive your BFCM sales!
Black Friday and Cyber Monday sales are bringing more and more profit to merchants every year. With so many competitors fighting for online shoppers, these days are a real challenge for your Shopify store. 
To maximize your BFCM sales, prepare in advance: 
Plan your discounts and unique offerings.
Choose the products that you want to push and the items that you can cross-sell.
Pick the right channels to announce your BFCM sales (social media, emails, ads, your store).
And for sure, don't forget to check your store performance and add all the needed sales boosters!