If you go to any brick-and-mortar store, you won't see cumbersome cash registers, just small and compact devices, even tablets or smartphones with special applications. We all try to simplify all spheres of life, and it also applies to commerce.
Convenient and user-friendly POS software is essential for online store owners who occasionally participate in farmers' markets, trade shows, or craft fairs. So, if you are a beginner in ecommerce and want to know how you can use POS, our guide will be helpful for you. 
POS software in detail
Retail traders use POS software for sales conducting: they scan products, calculate their costs, and perform transactions. Almost all POS software also can see the inventory and the balance of products. Some large stores use the POS, developed especially for their needs, but small traders prefer cloud-based POS solutions.
Cloud-based POS software
Cloud-based POS is the state of the art of the software, and its popularity is growing. It is inexpensive, works with the help of the Internet, compatible with printers, cash drawers, and other POS hardware. You can connect cloud-based POS with the Shopify store to see the inventory of products and use it everywhere you need. Such a feature is crucial for small businesses, who sell offline from time to time.
Top 5 POS apps for your online store
We collected the best POS applications for the work with your online store when you need to participate in different fairs or other occasions. Their interfaces are clear and simple; they work via the Internet connection and are available in every part of the world.
#1. Shopify POS 
Source: Shopify.com
Shopify POS Lite is included in all Shopify plans and is designed for on-the-go sales. It offers all needed hardware accessories to build the complete point of sale station (barcode scanners, cash drawers, receipt printers, etc.). Also, you can use it for product management, reporting, and analytics. Shopify POS Lite is useful for your marketing strategy and work with customers. 
If you need a professional cloud-based POS software for offline sales, you should pay attention to Shopify POS Pro. As opposed to Shopify POS Lite, it offers advanced inventory management, unlimited store staff with different roles and permissions, omnichannel selling features, and other useful for retail things. If you want to use Shopify POS Pro, you should pay $89 per month per location.
#2. Square 

Source: Square.com
Square is a complex solution for small businesses and includes all needed software and hardware for retail. Its POS mobile application is available for Android and Apple devices. You can create, split, print, or send email receipts, manage inventory and several locations in real time, get analytics and reporting, work with customers, and more. Square POS is free for beginners, but you need pay for processing: 2.6% +$0.1 in-person, and 2.9%+$0.3 online.  
#3. Vend

Source: Vendhq.com
Vend is an app that integrates with Shopify store and manages points of sales and inventory. Vend works from a web browser of any device as well as usual POS in retail stores. One of Vend's most useful features is that it can work offline when an Internet connection is interrupted. Vend's plans start at $99 per month and assume a set of features for the product, inventory, and account management.
#4. Revel Systems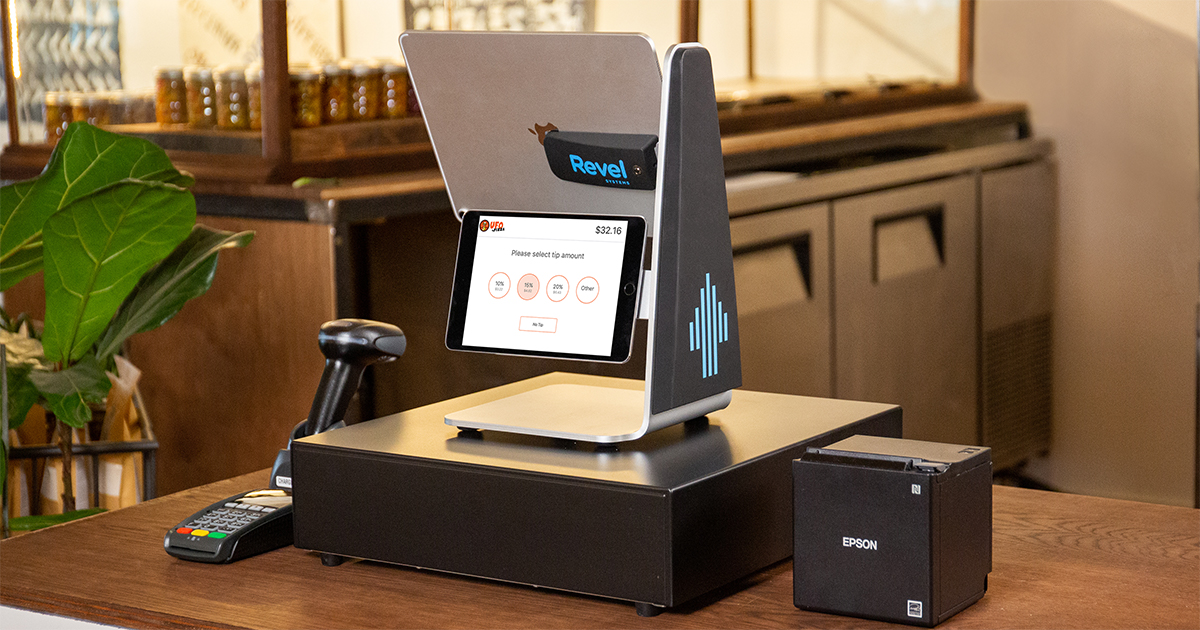 Source: Revelsystems.com
With Revel Systems POS, you also get a CRM service that allows you to work with a flexible loyalty program and increase the number of loyal customers. Revel Systems integrate with different kinds of software, and their tools are quite useful for selling food and drinks. If you choose Revel Systems, you should contract for three years and additionally pay for its installation $649. 
#5. ShopKeep

Source: ShopKeep.com
It is a popular and simple POS application with free custom service that also manages inventory. With the help of ShopKeep, merchants can work with barcodes, accept cash and credit cards, send or print receipts. ShopKeep also offers related hardware and other useful things for your point of sale; that can be receipt printers, paper for printing them, cash boxes, even an iPad stand (if you use an iPad in your work with POS). The price of ShopKeep relies on your business needs, software, and hardware preferences. 
Try one of these POS software to be closer to your customers and avoid difficulties of brick-and-mortar retail.