Adham Dannaway has compiled a set of 10 books about UX. The books from the list will probably do for beginners – those who make their first steps towards designing interfaces.
But still, we need something to start from.

The book is great for beginner UX designers. It deals with the UX design process and reveals the peculiarities of user experience of some definitive website elements. The book describes popular UX design processes, tools, and techniques. You'll also find real-world examples there.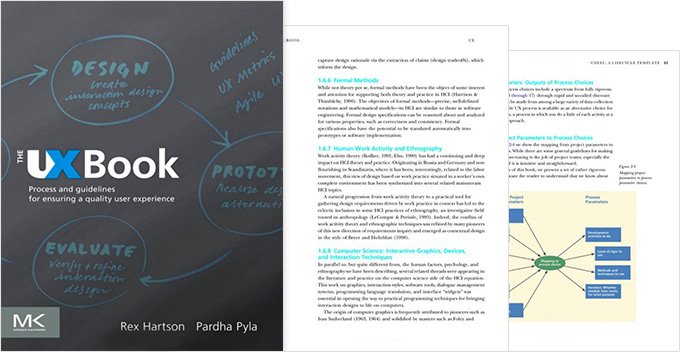 It describes the UX life cycle processes and methods in a clear and simple way, thus it's easy to understand. The book will teach you how to gather requirements, sketch ideas, build prototypes and much more.
The book contains a great amount of usability rules. Principles of human psychology described in the book will be of great help to you as you will be able to understand your users better. It's a must-read for everyone engaged in the website business.
In this book you'll find a framework and structure for an effective UX design process. It will teach you how to eliminate rubbish from the design process and enhance the efficiency of your teamwork. Theory and useful advice from working practice are well-balanced in the book.
It's a simply written guide about design and interactions on web and mobile devices. The book is easy to read and understand. It concentrates on how to make great products which users will enjoy. It provides lots of details on the goal-directed design, persona development and finest practices of interface elements.
If you're eager to study more about UX design, the book is surely for you. The book covers complex topics of creating an intuitive UX with explanations and marvelous illustrations. Description of UX design methods and techniques aren't easy sometimes, but still it's a great summary for beginners.
In the book, you'll find a great number of various UI patterns. There is also an explanation when, why and how to use them in your designs. It doesn't tell about common notions of UX but focuses on the practical use of the patterns.
It describes the main elements of the UX design life cycle. What's more, you'll get acquainted with the business side of the process, i.e. documentation and others. It's a first step to the UX design life cycle.
The first part of the book concentrates on the pros of agile UX design, the second one describes how to create UX in an agile project team. You'll find it easy to read as the book is written really well.
The book is a guide with practical advice on how to create a simple UI design. The main approaches are to remove/organize/hide UI elements and features. It'll teach you how to spot the most essential tasks and make them easy to perform. You'll learn how to create interface so that it was easy to use. The book is full of useful strategies and practical advice.