Kanban board is a management tool that helps project teams to visualize work and workflows. This tool is widely applied in various industries from software development to the more classical areas such as education, construction, healthcare, finances and so on.
This tool helps maximize efficiency, first of all by limiting work-in-progress and systemizing all the tasks.
A physical Kanban board is a whiteboard with sticky notes on columns that illustrate the status of work, progress or problems. Digital Kanban boards provide convenient online boards and movable cards.
Adopting the Kanban methodology and handy boards can help companies to be more efficient.
Kanban boards examples
Kanban boards enable project teams to have a broad view of all the items they need at different levels of the workflow.
These boards may vary depending on the work process and focus of work. Some of them are simple while others are rather complex.
Basic Kanban board example
If you just starting to use Kanban methodology, it's better to choose a simple board that consists of about 3-4 columns and is easy to manage.
At least one person should be assigned to each task that may include attached files, images or comments. Setting deadlines is also possible. Tasks pass through as many columns as your chosen workflow allows. The most usual way is to add three default sequences: To Do, In Progress, and Complete.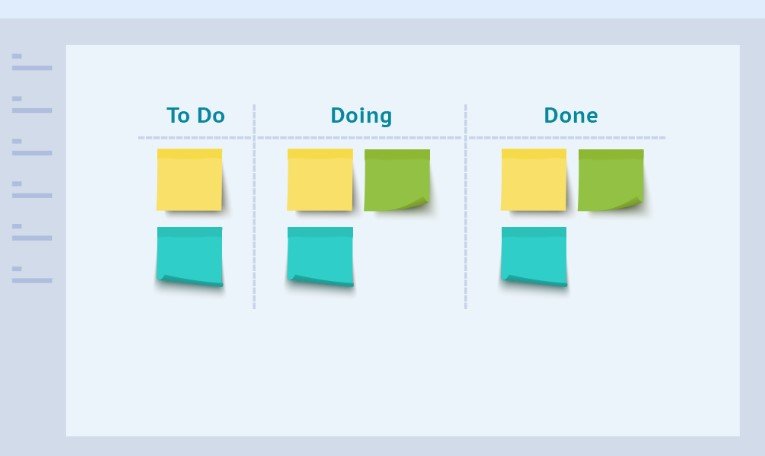 Apply a helpful Kanban-focused project management tool that will help you to work with the system. The online software will help to visualize work and set a foundation for efficiency without any complications.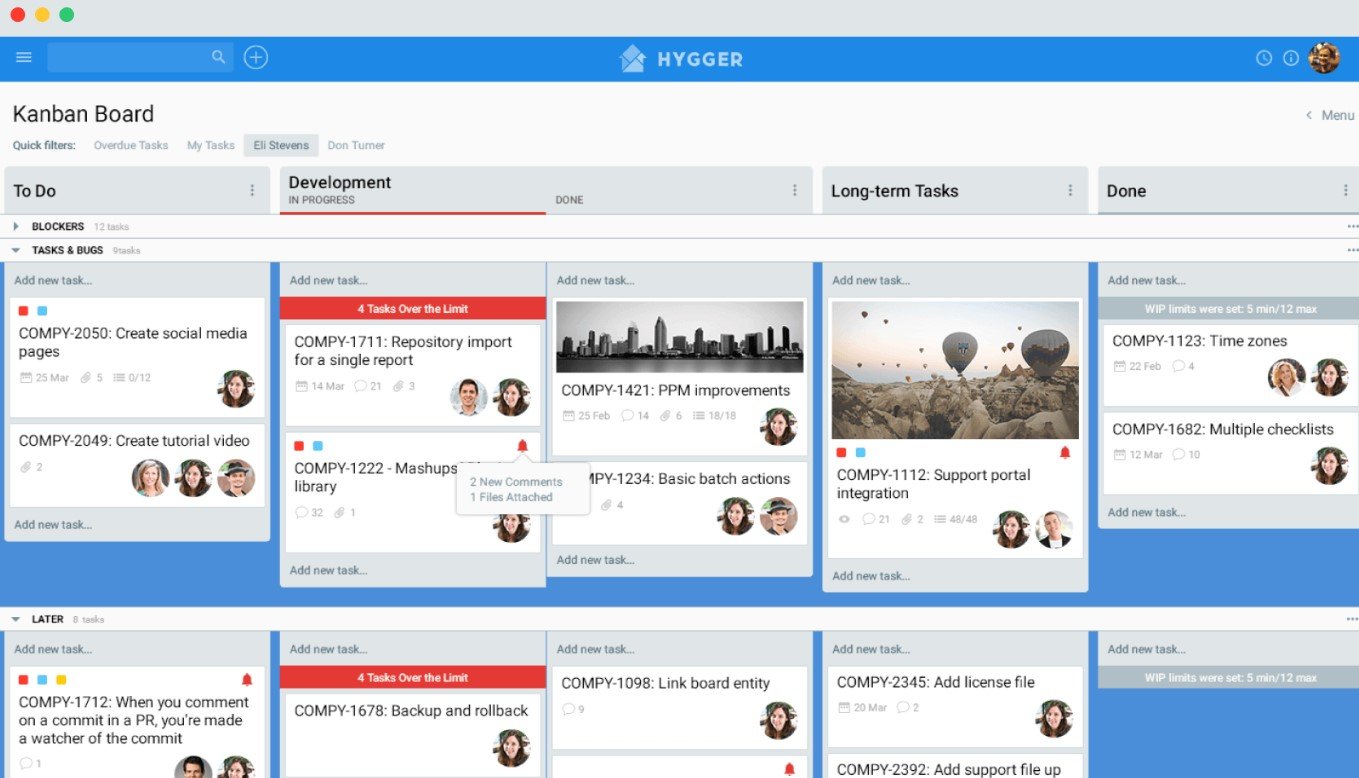 Let's consider the most popular Kanban board examples
Web development board
Design board
Marketing board
Sales board
Customer Support board
5 simple Kanban boards examples
Let's look at the most popular Kanban board examples with the help of the project management tool, Hygger.io.
Web development Kanban board
The web development Kanban board is aimed to help Agile teams to produce features, fix bugs, and resolve issues.
Workflow: To Do > Pause > Reopened > Developing > Testing > Live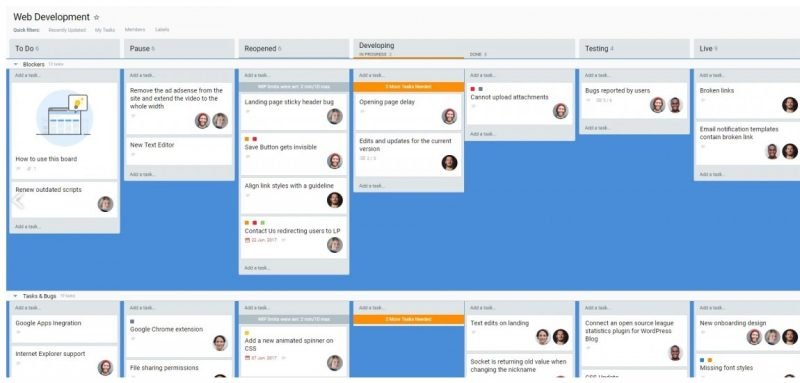 Design Kanban board
This kind of board creates interfaces and experiences for products, which will amaze customers.
Workflow: Prototype > Implementation > Review > Done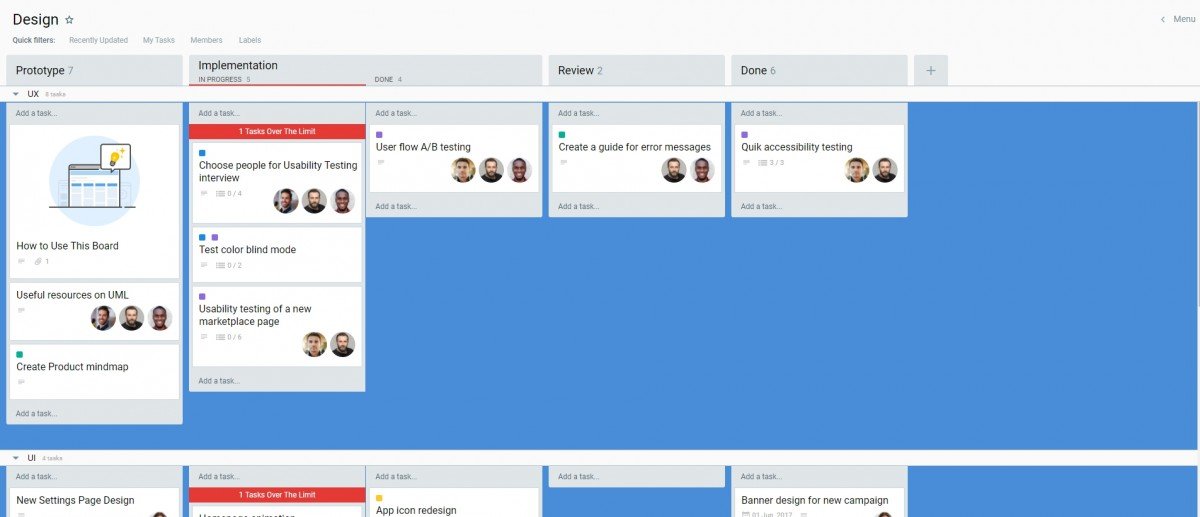 Marketing Kanban board
The board for marketing needs is used to attract attention and create interest to the product.
Workflow: Requirements > Implementation > Done

Sales Kanban board
The main goal of the Sale-board is to get leads and close deals.
Workflow: Potential Customers > Leads > Contacted us > Pending Response > Demo Arranged > Final Negotiations > Won > Lost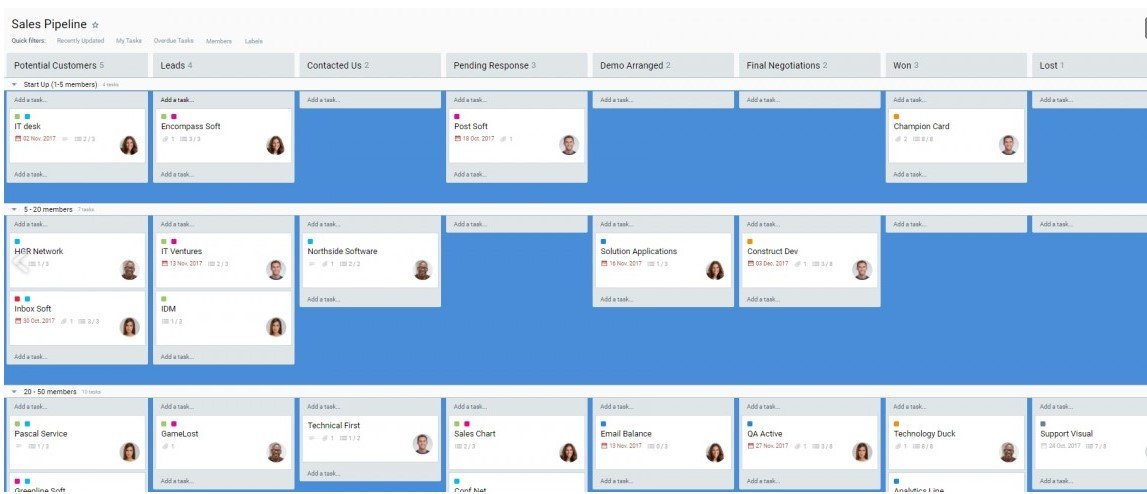 Customer support Kanban board
The structure of this Kanban board looks the same: its goal is to provide answers and solutions to users questions and issues.
Workflow: Updates and announcements > Tasks > Bugs > Quick Fix > Service Requests > Feature Requests & Suggestions > KPIs & Reports > Done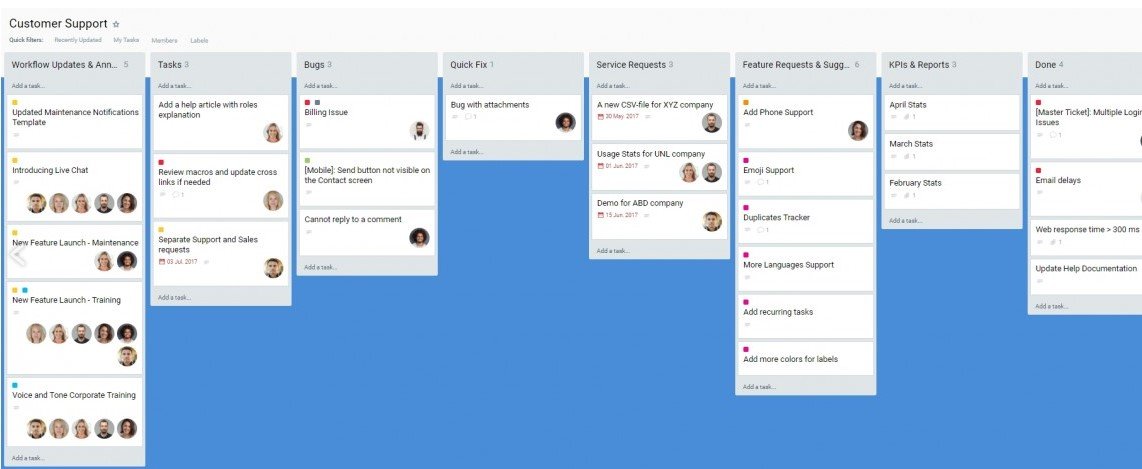 These examples of Kanban boards may seem simple for you, while others will require additional functionality such as applying multiple columns and Swimlanes.
Be sure, the Kanban board is a great tool for improving workflow efficiency as it visualizes all tasks in a work process and provides overall process transparency.
Would you like to know more Kanban board examples? Any specific suggestions? Feel free to comment and we will keep them under review.