Salesforce is a powerful multifunctional tool that can improve your business in different ways: in the sphere of marketing, customer service, and naturally, sales. If you need to enhance your business with Salesforce, you can turn to our dedicated specialists for consulting, customization, migration, or updating of your solution.
Let's consider several types of Salesforce projects and what goals they help to meet.
Salesforce as a business data analytics solution
Challenge: An enterprise engaged in the production and sales of construction equipment has a wide network of retailers and hence needs a tool for data analysis and reporting about future sales opportunities.
Solution: Salesforce Sales Cloud with Einstein AI.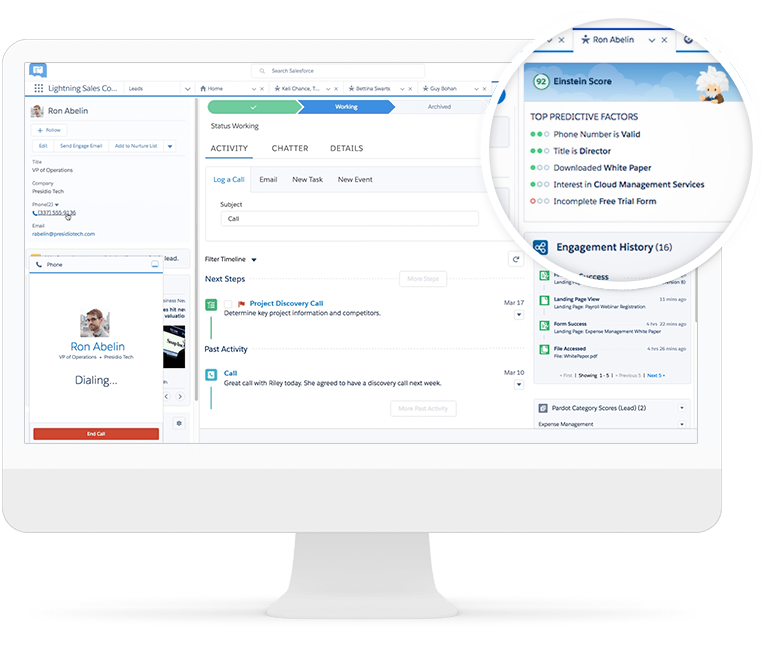 Source: salesforce.com
Einstein makes a prediction model based on the analysis of previous opportunities. This analysis includes information about the account, related actions, opportunity stages, and history. The system checks the data and automatically sends notifications to the retailer before the beginning of the new stage of the deal. Effective analytics leads to more accurate sales decisions. 
Also, Einstein Account Insights tracks news to find information about changes related to the retailer accounts. So, retailers receive information about what happens to their prospective clients: when they change the company's management, plan a merger or acquisition. The information goes to the company's account, appears on the home page, and it delivered as a notification. With this data, the retailer can stay on top and adapt its purpose to the new conditions of the company.
Salesforce as a mechanism for enhancing performance
Challenge: A company with a lack of collaboration between marketing and sales departments needs a clear view of the sales activity results.
Solution: sales and marketing cloud integration and customization of Opportunity stages.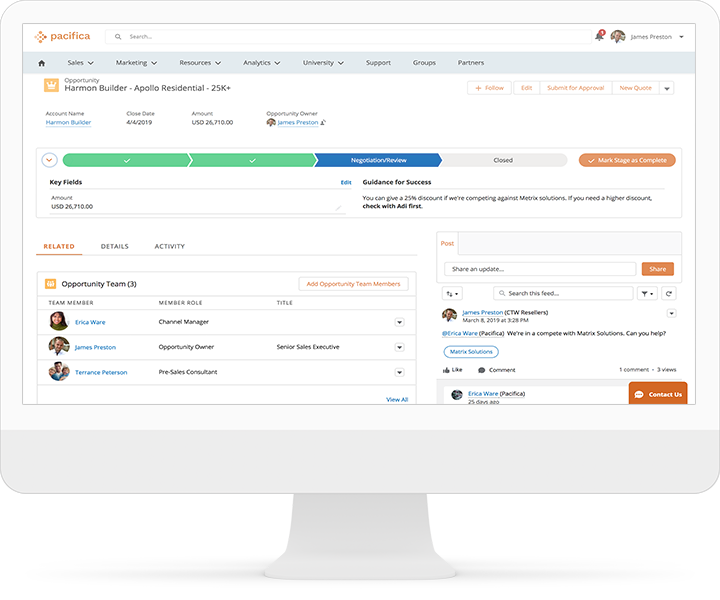 Source: salesforce.com
Such integration of the departments helps to make more efficient sales strategies and receive a greater number of high-quality leads. Reports on all previous communication with a lead help members of sales departments to build a more successful and effective conversation with clients.
Customization of Opportunity stages gives the ability to demonstrate the true sales processes of the company. With the help of the progress bar, sales managers can make the activity schedule for their employees and track their productivity on every stage of the sales cycle. On the other hand, sales reps have a clear to-do list with strict instructions about what they should do step by step.
Salesforce as a tool to improve customer service
Challenge: A railway company wants to improve customer service and expand the number of loyal customers.
Solution: Salesforce Service Cloud with the LiveMessage feature and a smart customer program.
Source: salesforce.com
Customer service agents can deliver support to their clients using all communication facilities with the help of the Salesforce Service Cloud and the LiveMessage feature: by phone, emails, social media, etc. They use a single service console to gather all the needed information in one place, which significantly improves customer service performance.
A smart customer loyalty program, integrated into Salesforce CRM, helps to retain customers. It consists of three loyalty levels that differ in the number of scored points. With this program, regular customers can score points when they buy tickets. They can pay with them for the ticket or present them to other people.
The CRM also includes 90 customized email templates that complement communication scenarios between the company and the customer. So, the company can monitor ticket bookings and searches for discounted tickets. Customers receive a personalized approach with its benefits and special offerings.
Salesforce is quite good for different companies' goals, whether it is customer retention, increasing of customer service level, enhancing the productivity of sales departments, data analytics, or profit forecasting. It provides a lot of modern and actual tools, including those powered by AI, to meet your requirements.