Running business requires a huge amount of effort and time. And there is nothing more valuable than things that can help to save time and effort. We run online business ourselves, and we like to automate our work – we let the machines to do the maximum of dirty work, saving time for us to be engaged in a more creative process. For this purpose, we use a huge set of various apps for business. So, in this article, we want to present you an overview of the most useful from our point of view business apps.
Apps can help business owners:
provide customer service (e.g. banking or transaction apps);
add value (e.g. apps that enhance customer relationships or experiences);
make money (e.g. selling apps based on the business' intellectual property);
do their business (e.g. tools for frontline or remote workers to access customer databases, fill in timesheets or manage inventory).
We provide here a list of the most useful apps for business from our point of view.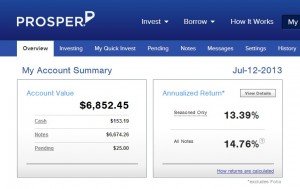 Prosper is the market leader in peer-to-peer lending – a popular alternative to traditional loans and investing options. It connects people who need money with those who have money to invest.
Borrowers choose a loan amount, purpose and post a loan listing;
Investors review loan listings and invest in listings that meet their criteria;
Once the process is complete, borrowers make fixed monthly payments and investors receive a portion of those payments directly to their Prosper account.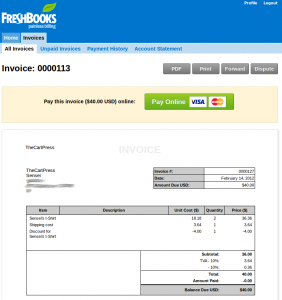 With this app, you can create professional-looking invoices on the go or in your office, easily pull time on projects from time sheet to invoice and (you're going to love this) get paid faster.
You also can:
Add your logo, and customize your invoices – and then get used to the compliments you're bound to get;
Send your invoice and see when your client has viewed it;
Easily and quickly create professional-looking estimates;
You can get paid via PayPal or one of thirteen other payment gateways, which means you get paid faster;
Set up late payment fees. Based on the terms you set, your invoices will be automatically updated;
Recurring Invoices & Auto Payment;
No matter the currency, with FreshBooks, you can bill it.
Expanse Tracking is an app that keeps track of business expenses and mileage while letting users scan and upload receipts.
You can:
Quickly add cash expenses, automatically import all card transactions;
Capture mileage, time, and other reimbursable/billable expenses;
Code expenses to GL accounts, clients/projects, and custom fields.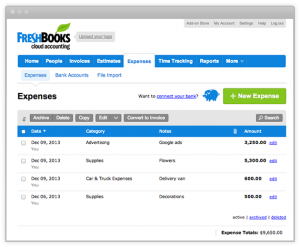 With this app you can:
connect your bank account or credit card to import expenses automatically;
snap a pic of a receipt, or log it on the spot;
you will get to know the real spending of your business.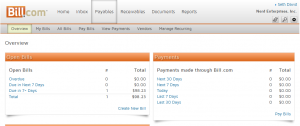 With this app, you can command and control your cash flow, payables and receivables anywhere and anytime.
You also can:
Speed up and simplify bill approvals and payments;
Scan, fax or email your bills to Bill.com. An automated system takes it from there;
View & approve them online;
Bill.com prints and mails the checks or pays electronically & syncs with your software.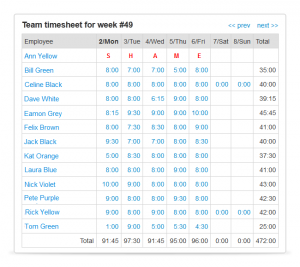 This app allows you to:
keep control over how your employees' time is arranged, as you can track time spent under user-defined categories;
pre-configure categories specific to your company;
create task types under each category and analyze what tasks are typically carried out by the departments in your company;
handle multiple projects.
32dayz:
automatically tracks the time your employees spend working, while they are working;
allows your team to easily schedule vacation time;
allows each employee to publish their news on the dashboard so that the whole team can see it. Using this feature, employees can inform their colleagues about changes to their work schedule, exchange valuable experience and congratulate each other on their achievements.
allows you to share activities and events throughout the company. Thanks to this feature, 32dayz can become the official communication channel between the administration (CEO and/or leadership team) and employees.
allows company owners to keep track of how a team actually spends its work time;
you can expand the functionality of 32dayz even further with plugins that are available for installation – JIRA to 32dayz Bridge plugin.
You can perform tasks anywhere with this functional application. Identify the immediate tasks, add and follow them on the go, plan future tasks and easily sync them with Remember The Milk.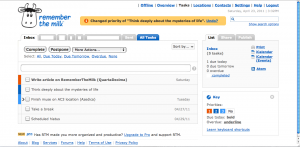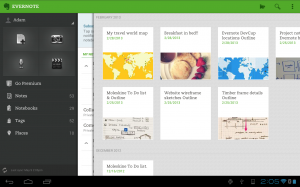 This app has the following functions:
You can quickly invite selected colleagues in one or more business notebooks and materials that you shared automatically appear in their accounts Evernote;
Similar notes automatically show the available information, that somehow relate to the theme of your new note;
You can submit your notes in a beautiful full-screen view with a single click;
A single repository for all your important work and personal documents will allow you to always be aware of where to find the information you need.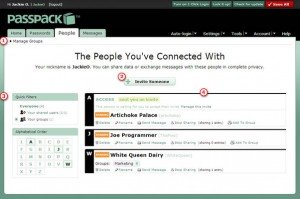 With this app you can store logins to all online accounts, share passwords on a need-to-know basis.
The app:
Helps eliminate that by letting you tag, sort, search and manage multiple logins per site;
Securely share and provision passwords using military-grade encryption;
Passpack is available to you from any browser, anywhere, anytime, no need to carry yet another device or install on multiple computers.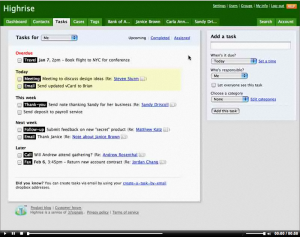 This app will help you to:
Save and organize notes and email conversations for up to 30,000 customers and contacts;
Keep track of proposals and deals. Share status with your company, department, or team;
Never forget to followup. You'll get a text message or email so you never forget to make the call.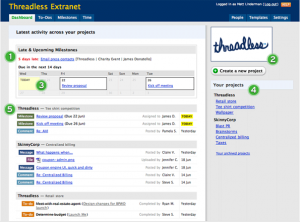 This app keeps track of project discussions, files, and events from beginning to end—all in one place.
If you're a business owner…
Basecamp helps you stay on top of every project in your business. You'll always see the big picture, what's in progress, what's coming up next, and who's in charge of what. Plus, every morning you'll automatically get an executive summary email from Basecamp telling you exactly what happened yesterday.
If you're a project manager…
Basecamp helps you define and delegate work, establish deadlines, review work in progress, evaluate what's left to do. You can also schedule meetings, keep stakeholders up to date, know who's working on what, give feedback, and keep a dozen plates in the air without them crashing down all around you.
If you're working on a project…
Basecamp lets you keep track of your assignments and check things off when they're done. Basecamp is also a great place to post work for review, brainstorm ideas with co-workers, store important project assets (logos, documents, etc.), and present work to your boss or manager too.
Mailchimp is a global mail service.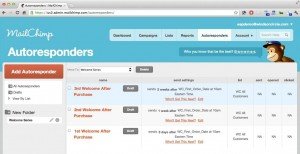 With this app you can:
Get insight about your subscribers and keep your contacts in one place with subscriber profiles;
Automate triggered emails based on your subscribers' website activity;
Monitor sales and website activity with revenue reports;
Add content and collaborate on campaigns that fit your brand, using MailChimp's Email Designer;
Access your MailChimp account from your phone with MailChimp Mobile. Check your reports, add notes about a contact, or send a campaign when your team is finished working on it;
Determine the best time to send a campaign, and quickly test subject lines before you send it.
Dropbox is a free service that lets you bring all your photos, docs, and videos anywhere.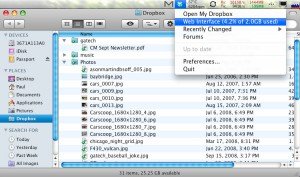 This app will help you to:
Use your documents on all of your computers, phones or tablets;
Share photos with friends. All files are automatically available only to you, so that you can fully control who sees what file;
Provide security documents using encryption AES-256 files and functions of two-stage personality.
Echosign allows you to instantly send, eSign, track and file documents securely.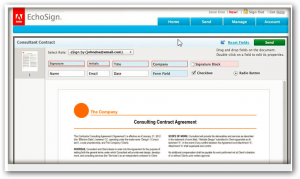 Send and e-sign documents on your smartphone, tablet, or any web browser;
Conduct business-critical transactions with confidence knowing your documents are stored on the secure Adobe cloud platform;
Keep audit trails automatically;
Collect legally binding signatures.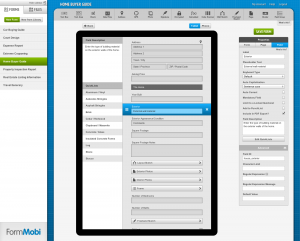 This app allows you to create forms, gather data on mobile devices and use data stored in the cloud for analysis.
G Suite is a cloud-based productivity suite that helps you and your team connect and get work done from anywhere on any device.
It includes:
Gmail – You are provided with e-mail with a powerful search engine Google, store up to 30 GB, the ability to work offline, the ability to configure addresses and more.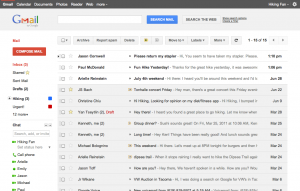 Calendar – Schedule a meeting, receive reminders about upcoming events and publish your calendars on the internet.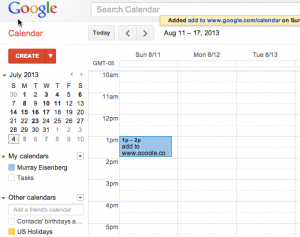 Disk – Google Drive – is cloud storage, with which you can share files and access them wherever you are.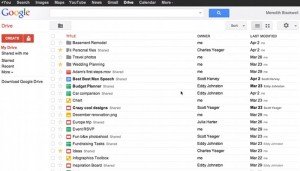 Documents – Create documents, share and organize their work together in real-time.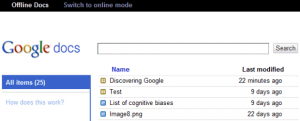 Tables – Accelerate data analysis with interactive charts and comments in the form of discussion chains.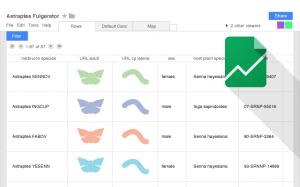 Presentations – Create presentations with colleagues and add them to video. The content of the presentation is saved automatically.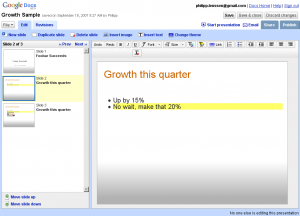 The Entrepreneur's Phone System.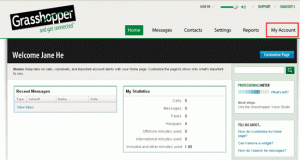 Grasshopper lets you run your business using your cell phones:
Create & customize extensions to forward calls anywhere: home, office or cell;
For both local and national presence, you can have both toll free and local numbers for your business. Add department & employee extensions easily for every member of your team;
Make calls showing your Grasshopper caller ID (instead of your iPhone's);
Grasshopper works with your existing mobile and home/office phones so you never have to purchase, install, or maintain expensive phone hardware.
Wufoo is an online form builder.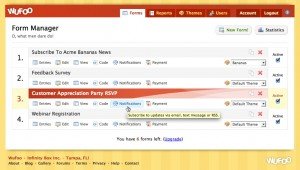 Theme Designer can help you create stunning themes to match your organization's identity and apply them to your payment forms, reports and invoices;
Code Manager provides a number of copy-and-paste code snippets to help you embed your form into your web site, blog post, email newsletter or Facebook page;
You can make any field required and we'll take care of actions like making sure emails are properly formatted or the number of words you require are met;
Wufoo provides a number of ways to deliver live updates about new payments and transactions processed by your form;
Wufoo's payment integration features allow you to easily process credit cards from your users after gathering information from them through a Wufoo powered form;
Wufoo's payment settings interface makes it easy for anyone to start making money with a Wufoo powered form within minutes;
We provide a powerful Report Builder to help you create dynamic visualizations made up of your own graphs, charts, and key metrics;
User Management allows for multiple email addresses to log in to the same account;
With our File Upload Field, you can have your users upload documents, photos and other media along with the other data you collect from them via your Wufoo form;
From our Account Manager, you can quickly upgrade or downgrade with a single click according to your data collection needs and easily forward copies of invoices from our app to your favorite billing department.